Tales of the Urban Explorer: Brook House
I did a quick google search to ensure "Brook House" is not immediately searchable. If I can, I try to keep decent explores off the TourBus for as long as possible.
Which brings me to this one; I can justifiably claim credits for finding Brook House using my technique of 'Google scouring'. What I didn't expect was to find 'Millionaire's Row'.. I mean five or six of them all in a line, all derelict and in various states of neglect.
We arrived in a deluge of rain and had to abandon for the day. I mean it was pissing down hard and it took all of @anidiotexplores muster to ditch the car, have a quick scout, and give me the thumbs up about access.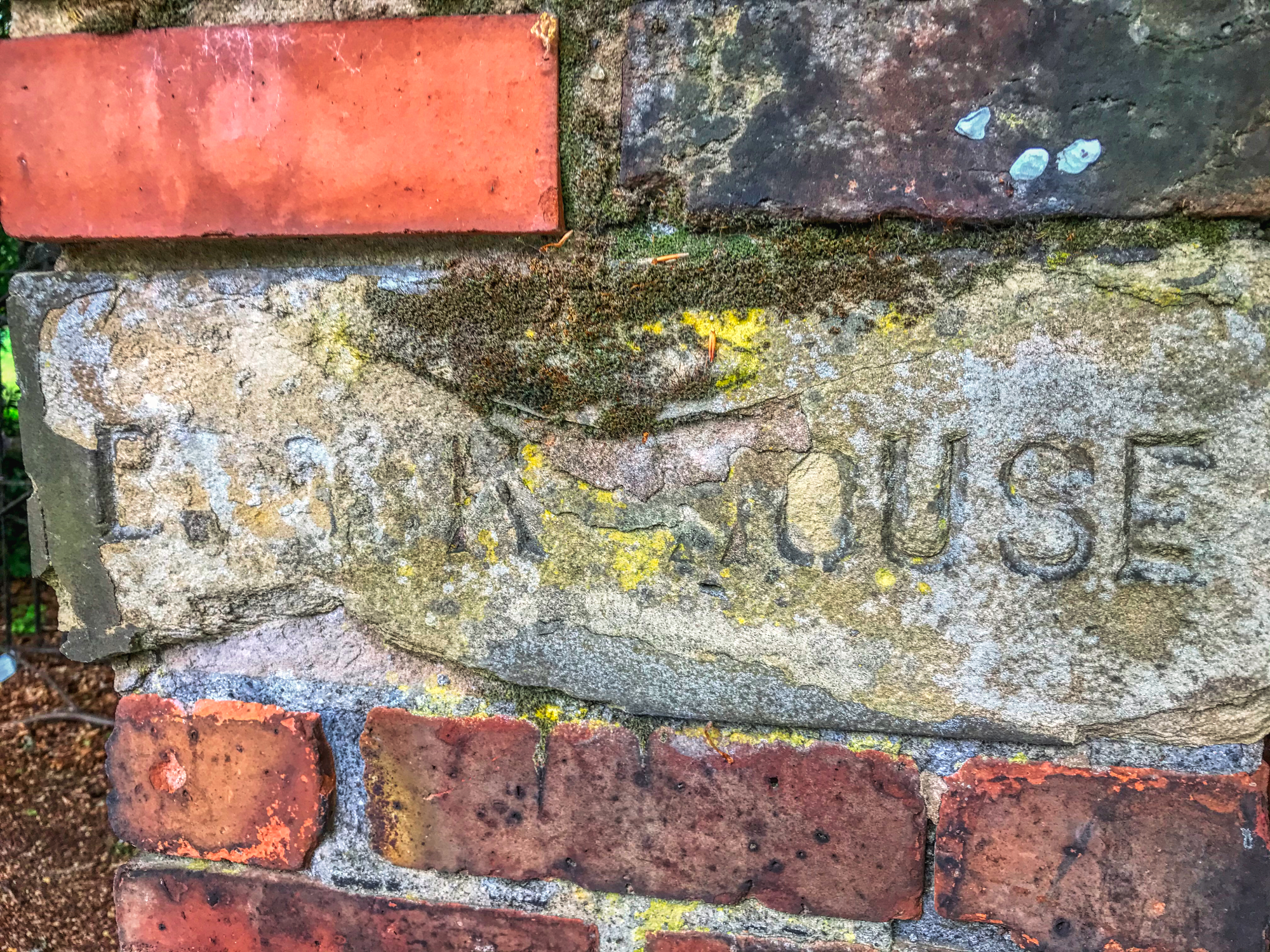 Next door looked equally promising until a homeless bloke emerged from the front entrance giving us daggers. He was dressed in workman's gear but I could see through his disguise. Arsehole!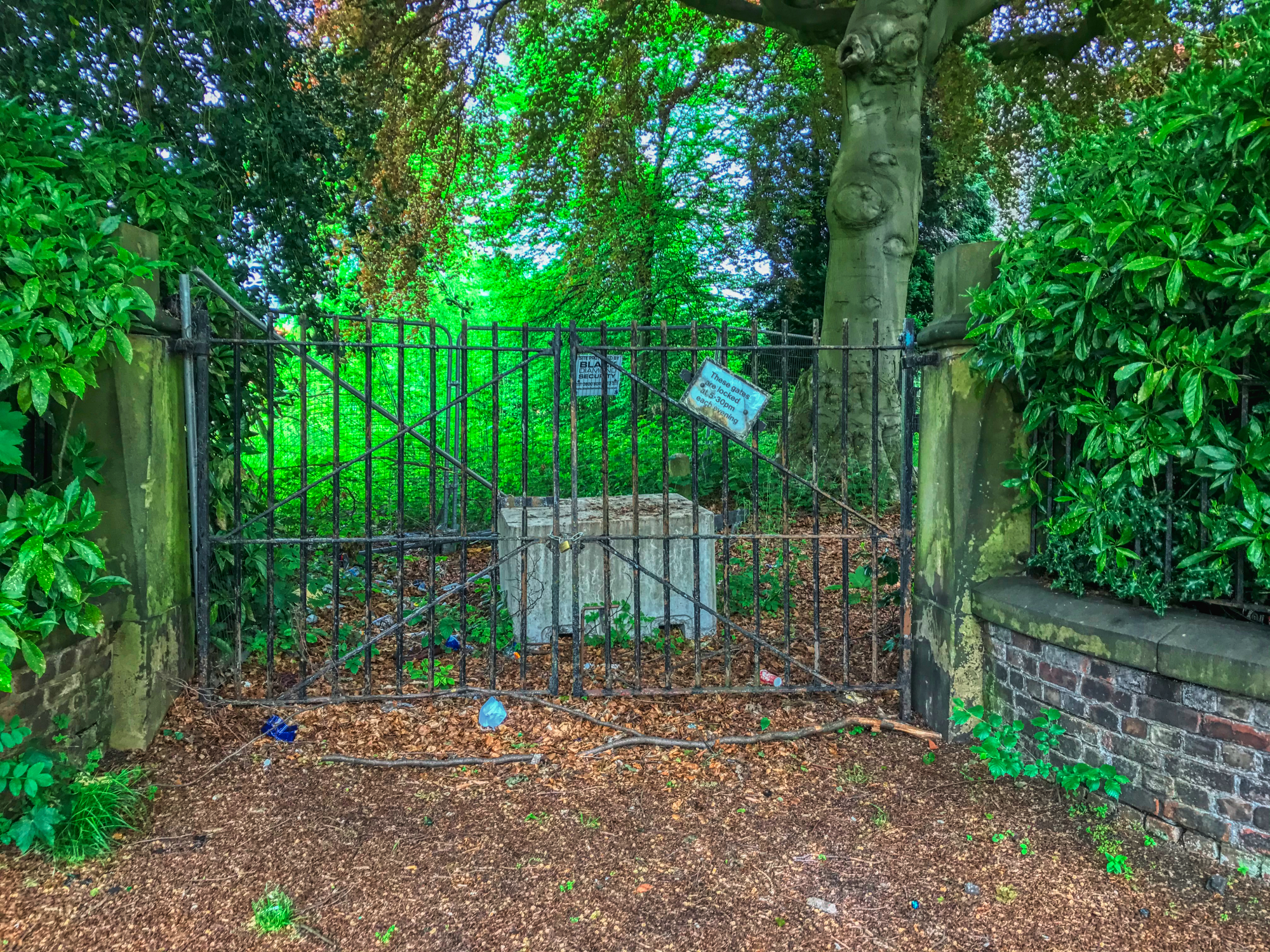 A week later we were back and quickly within the grounds. The workman's house now had a car on the grounds. Do the homeless drive cars? I was still convinced of his deceitful visual proclamation.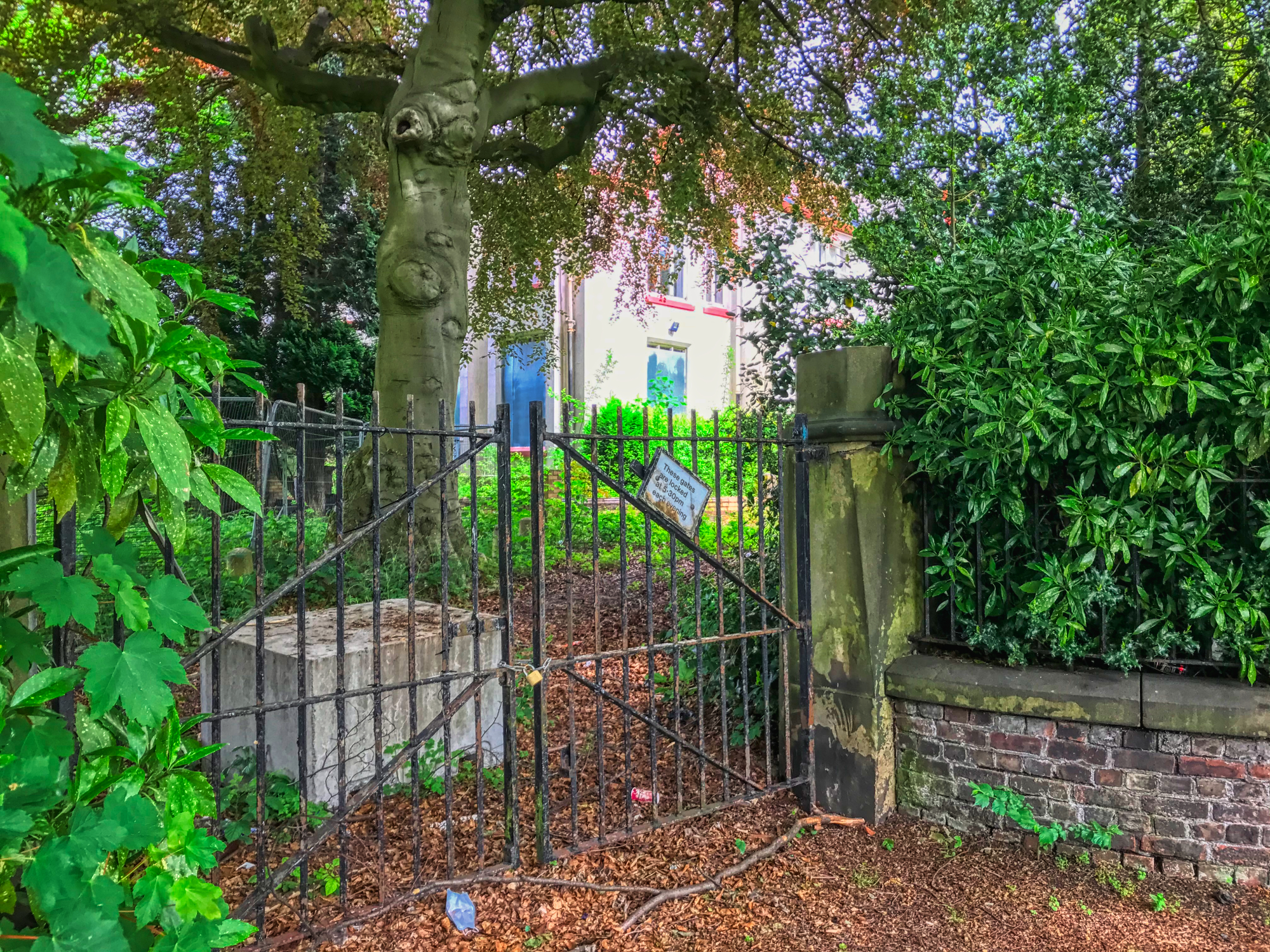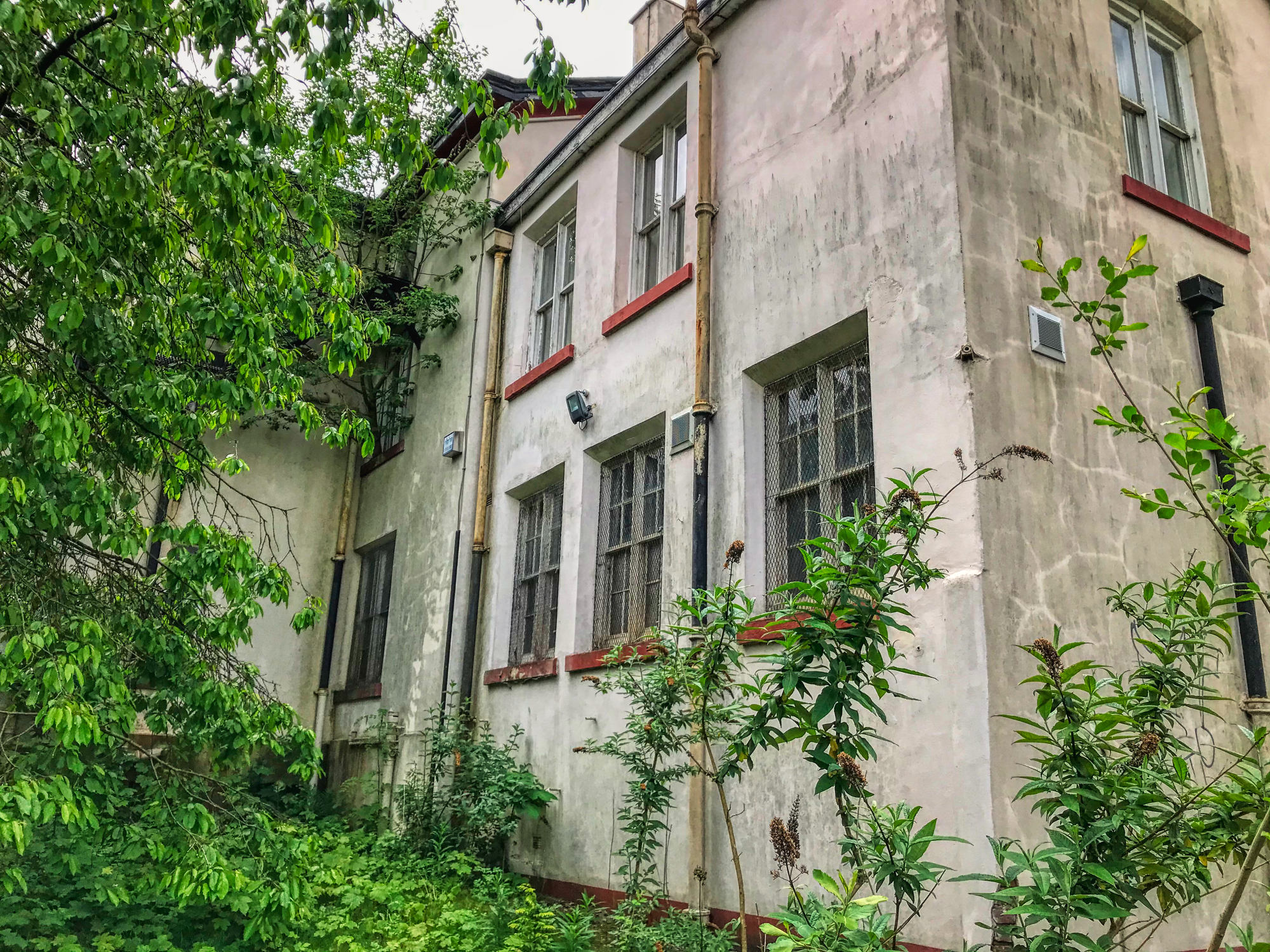 @anidiotexplores knowing the way in… vanished and I was left alone trying to figure how to get in.
This looked promising but was sealed tighter than Ann Widdecombe's vagina. I mean.. there was no going through that.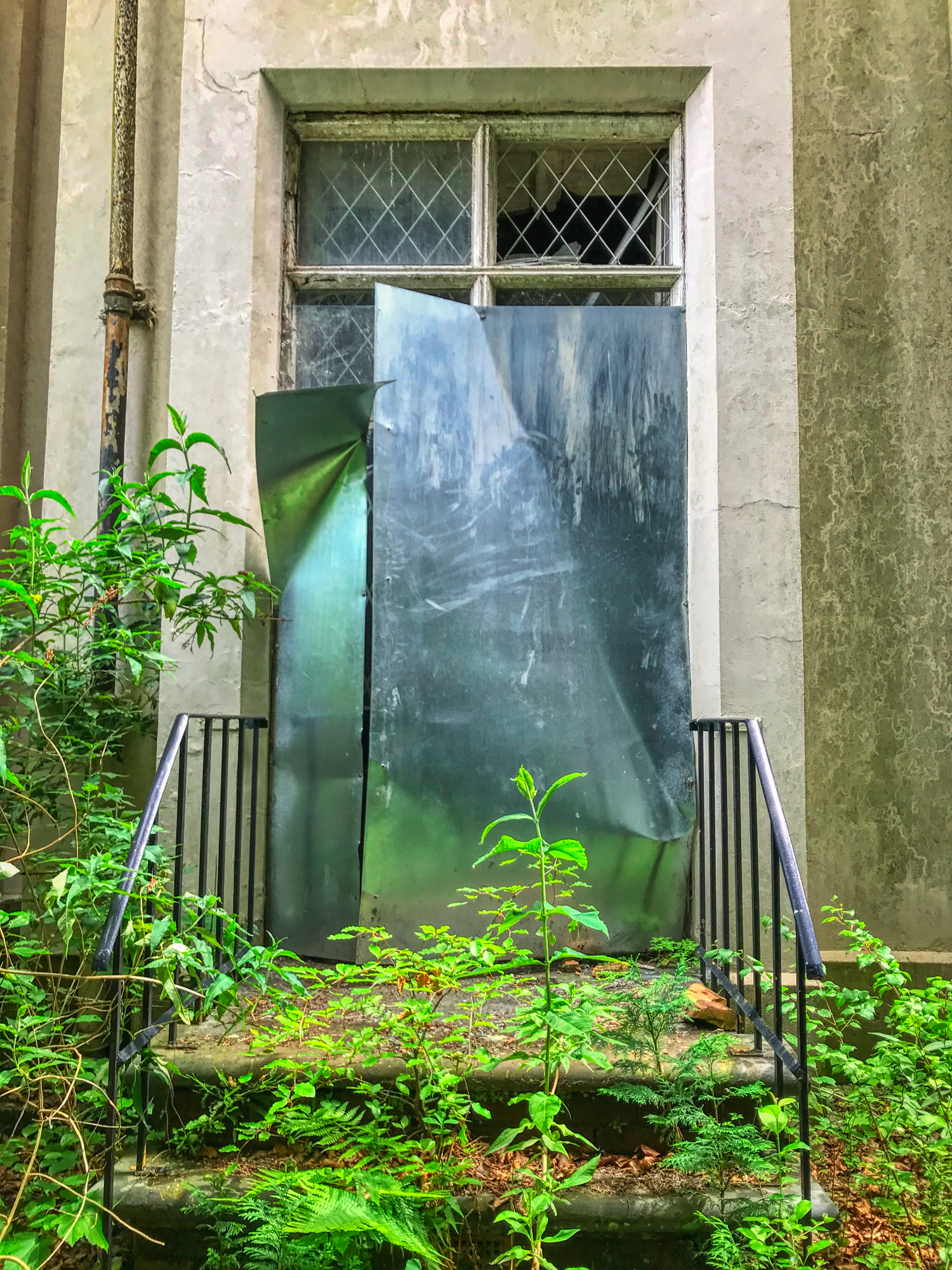 After struggling climbing a drainpipe and squeezing through an extra small window amid lots of grunting I was inside. Surely this was the only way?
A little yelling sought out my partner who seemed to be very deep inside what looked like a mansion house.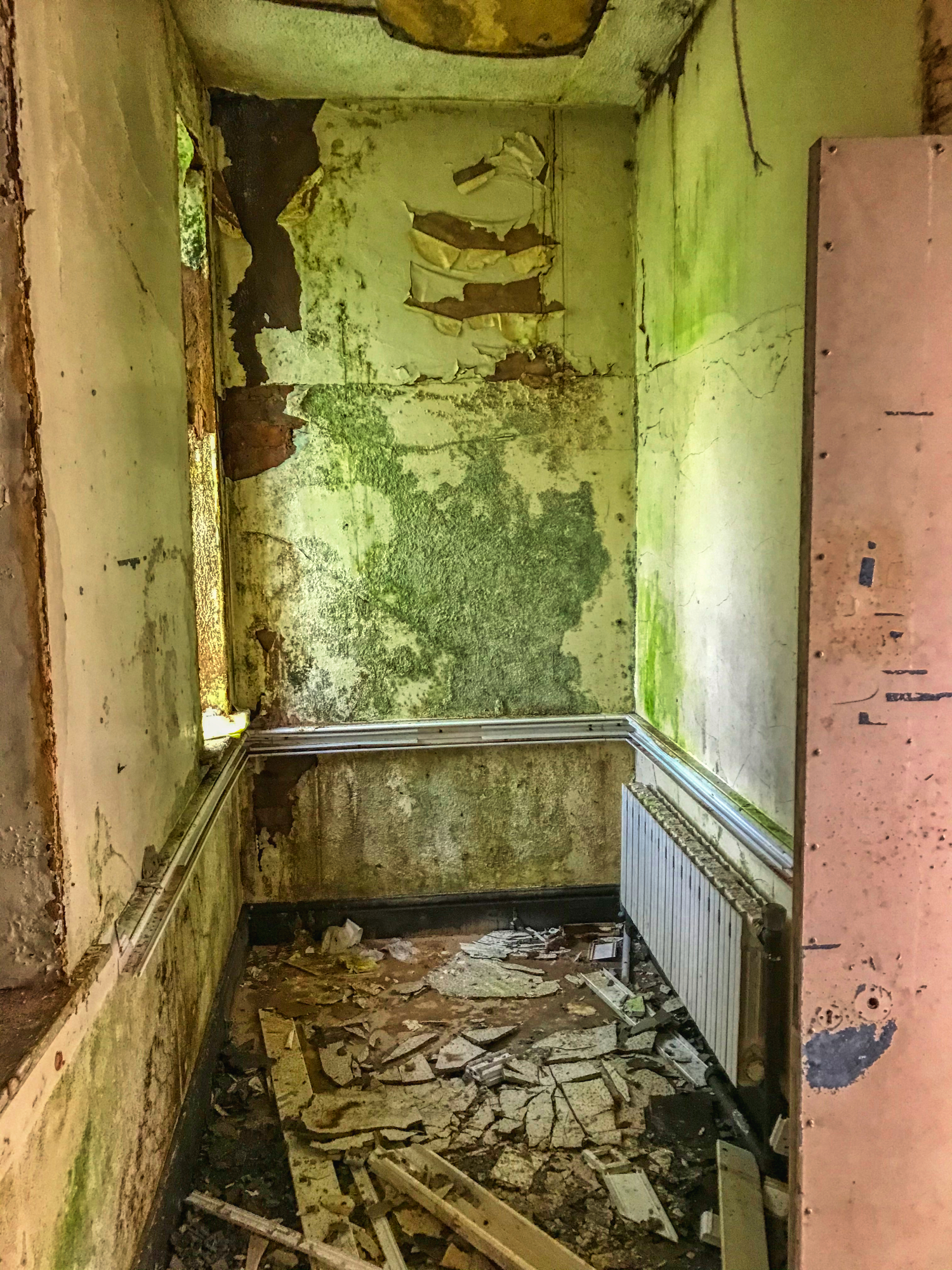 Entrance points tend to be messy.,. they are after all… exposed to the elements.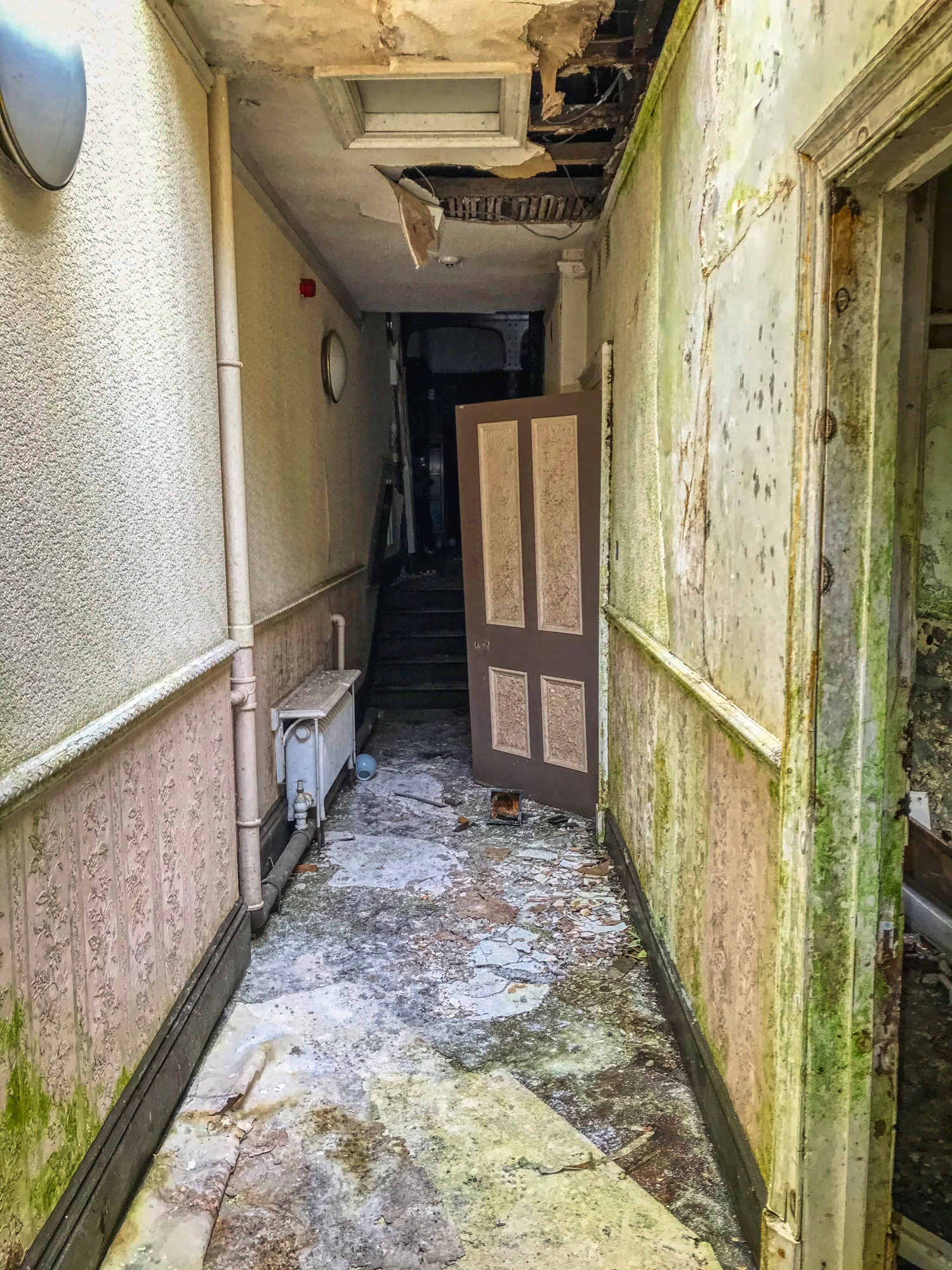 If you think there's lighting inside then think again. You can thank this massive light I have. It creates illusions. Inside was quite respectable and not like the usual shit-tips I visit.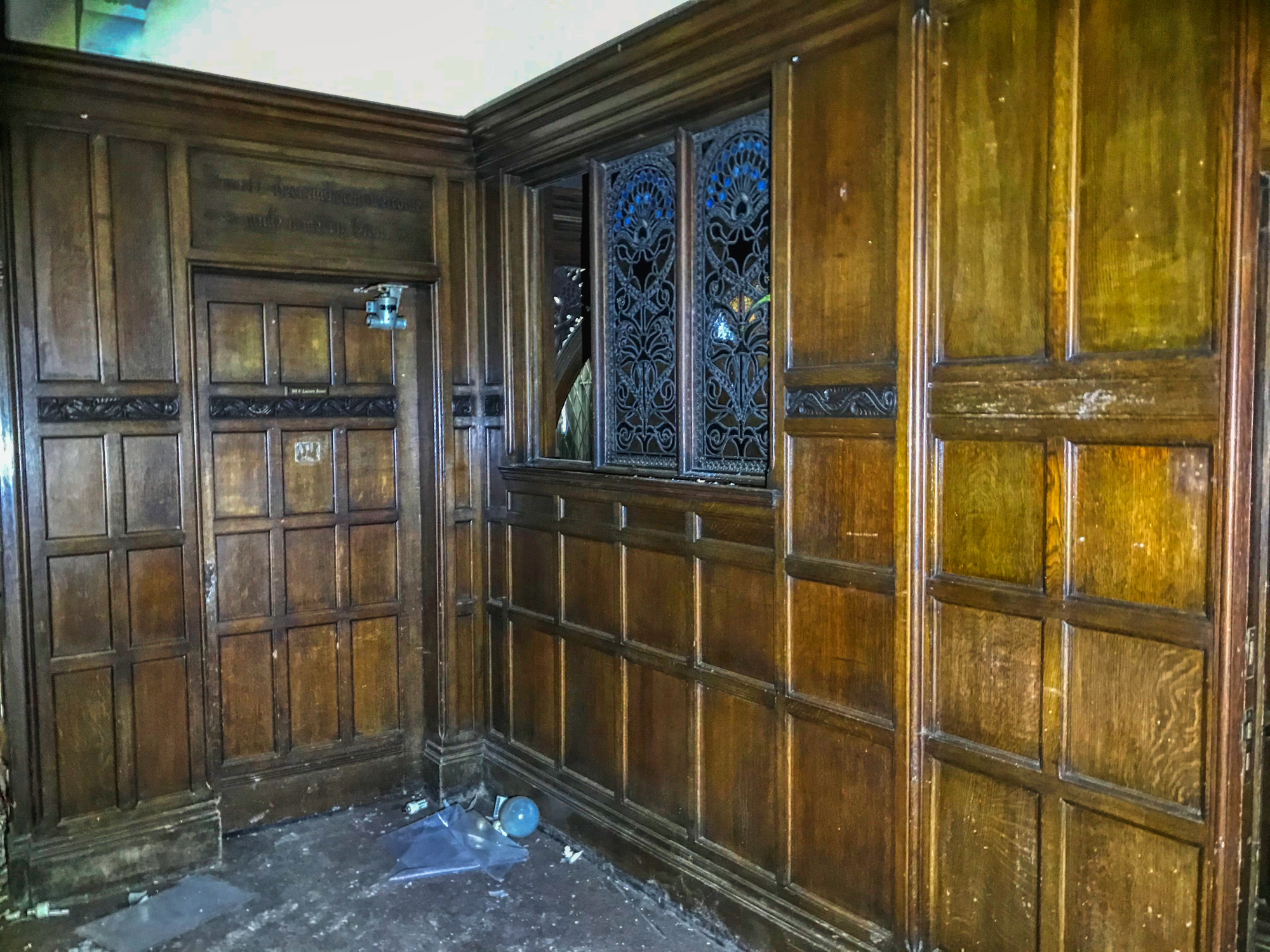 That wood panelling was very impressive and stained glass windows?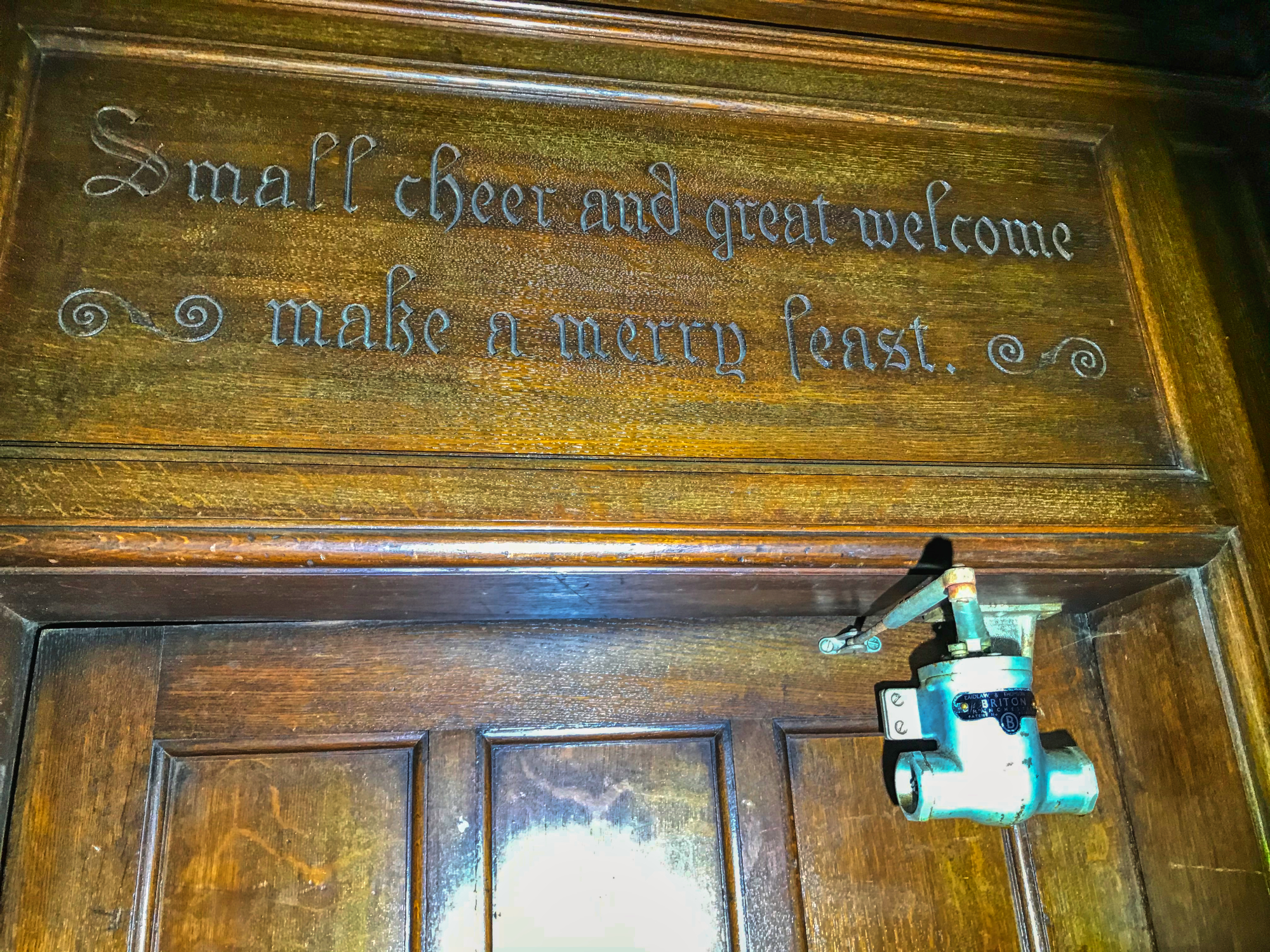 ...as well as slogans etched into the old woodwork.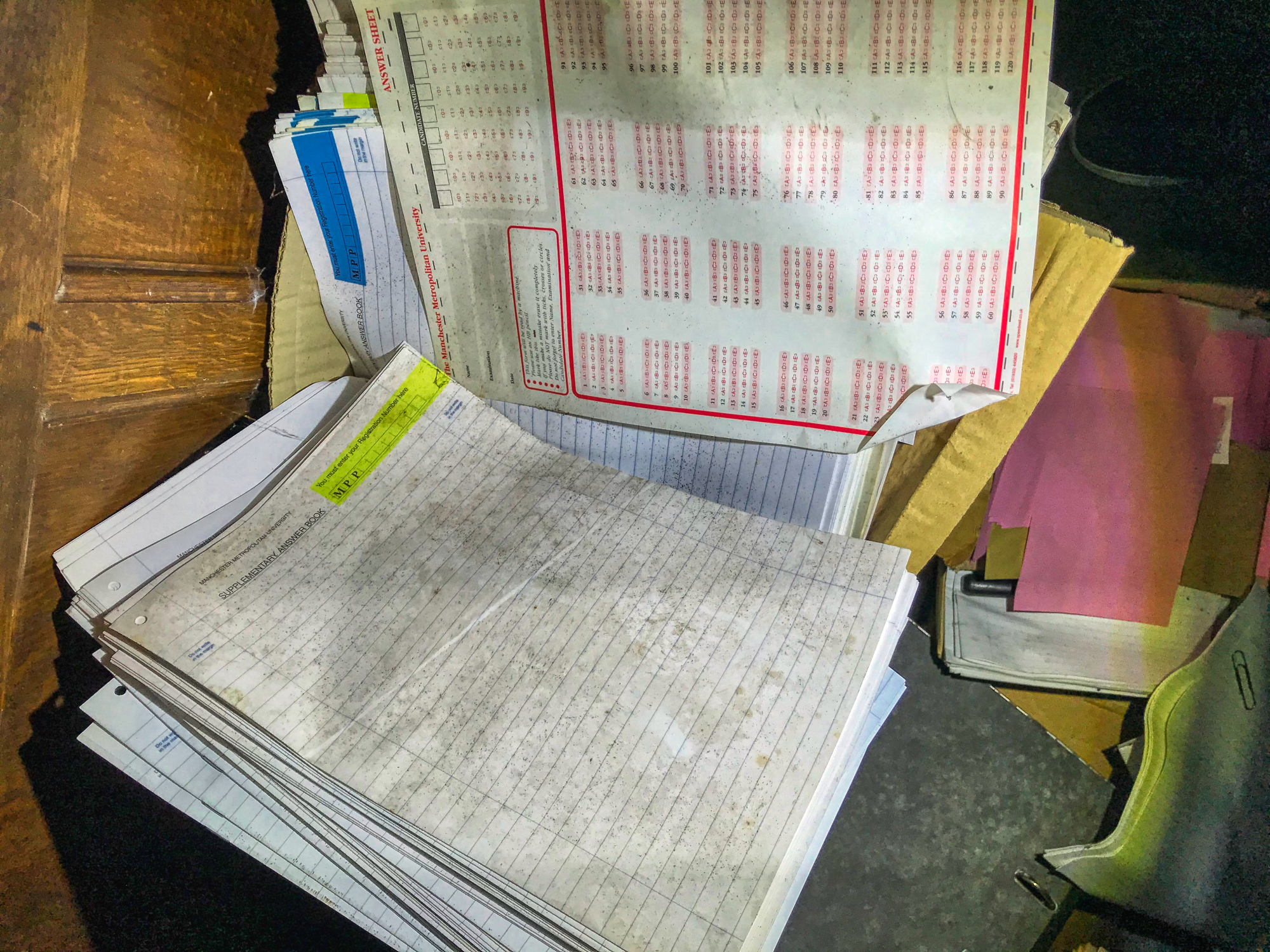 The pile of literature looked promising but was mostly made up of empty folders and binders.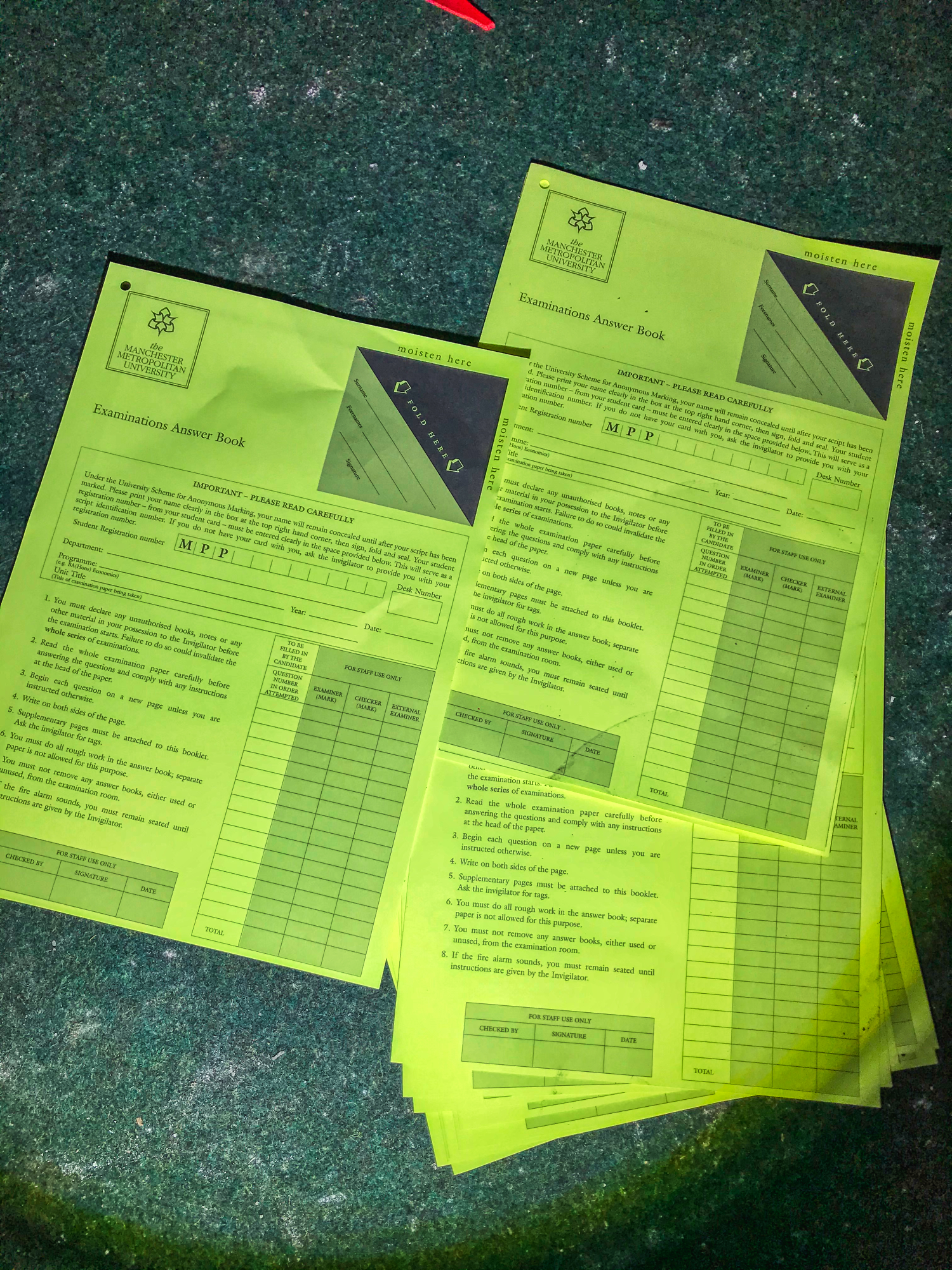 Still, it gave me a clue of what Brook House was previously used for, and it didn't look like a mansion for one filthy rich bloke with a servant named Jeeves who fed him endless alcohol.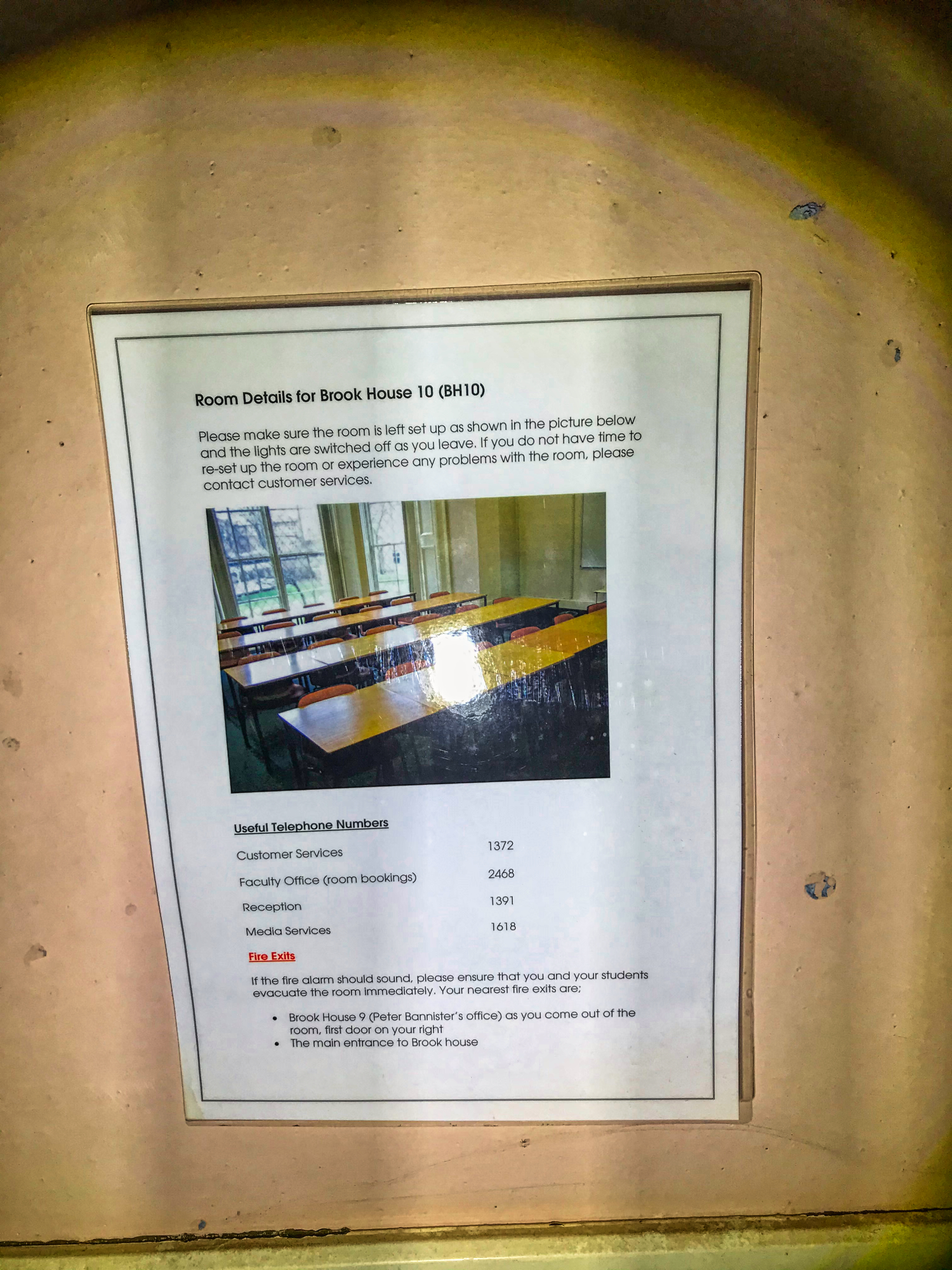 Was it related to the education system somehow? I continued searching for more clues. It looks like a classroom.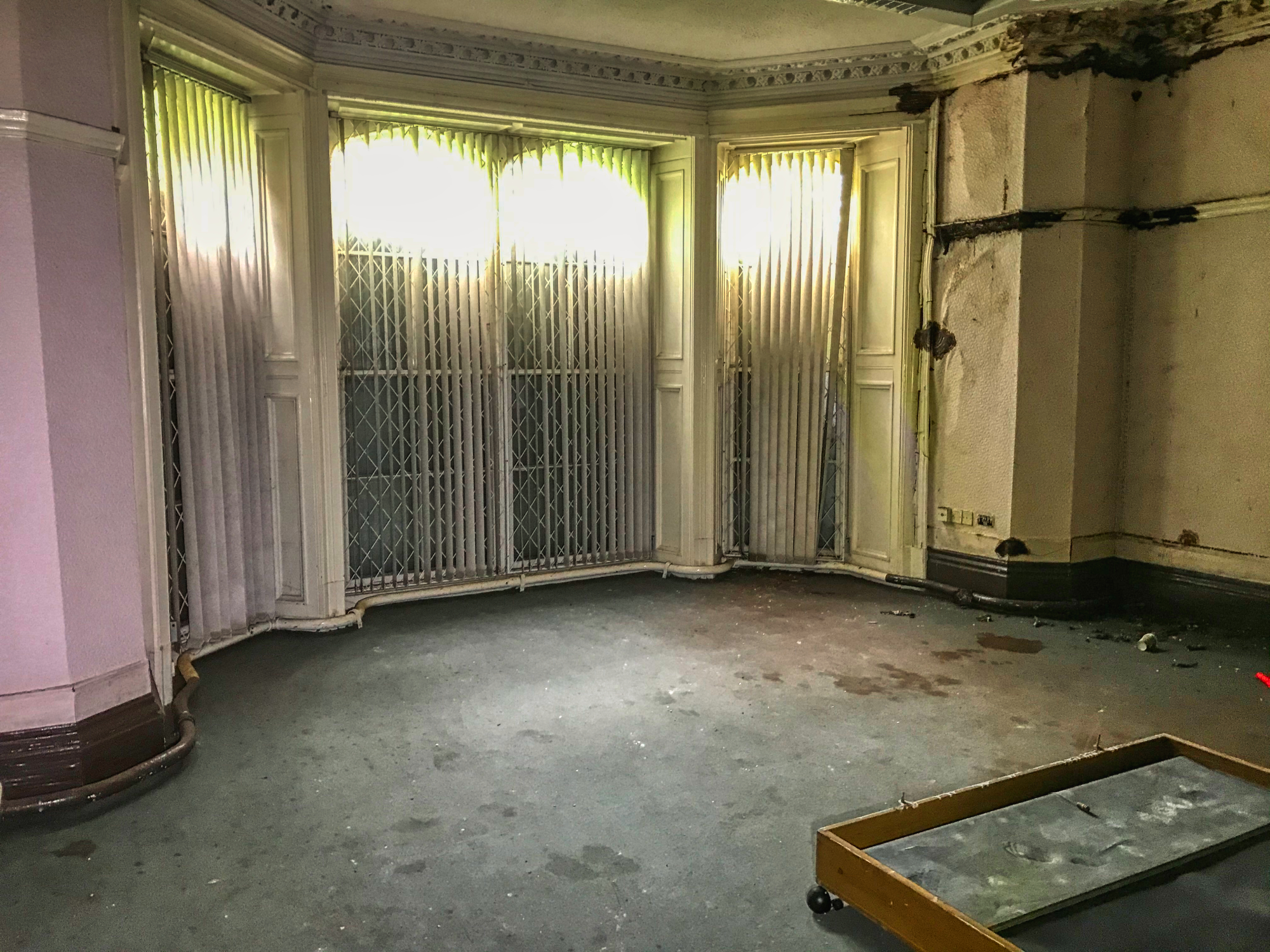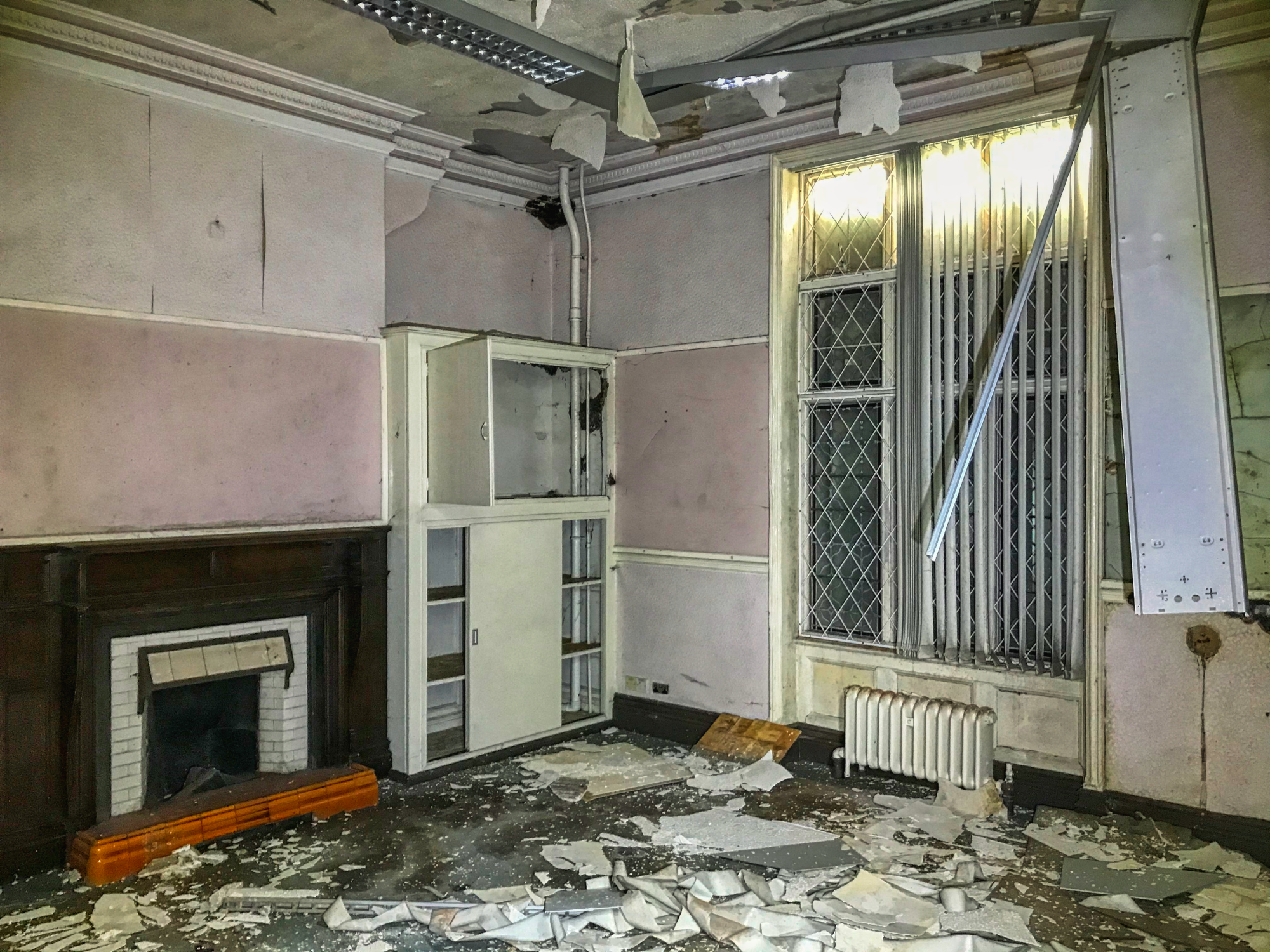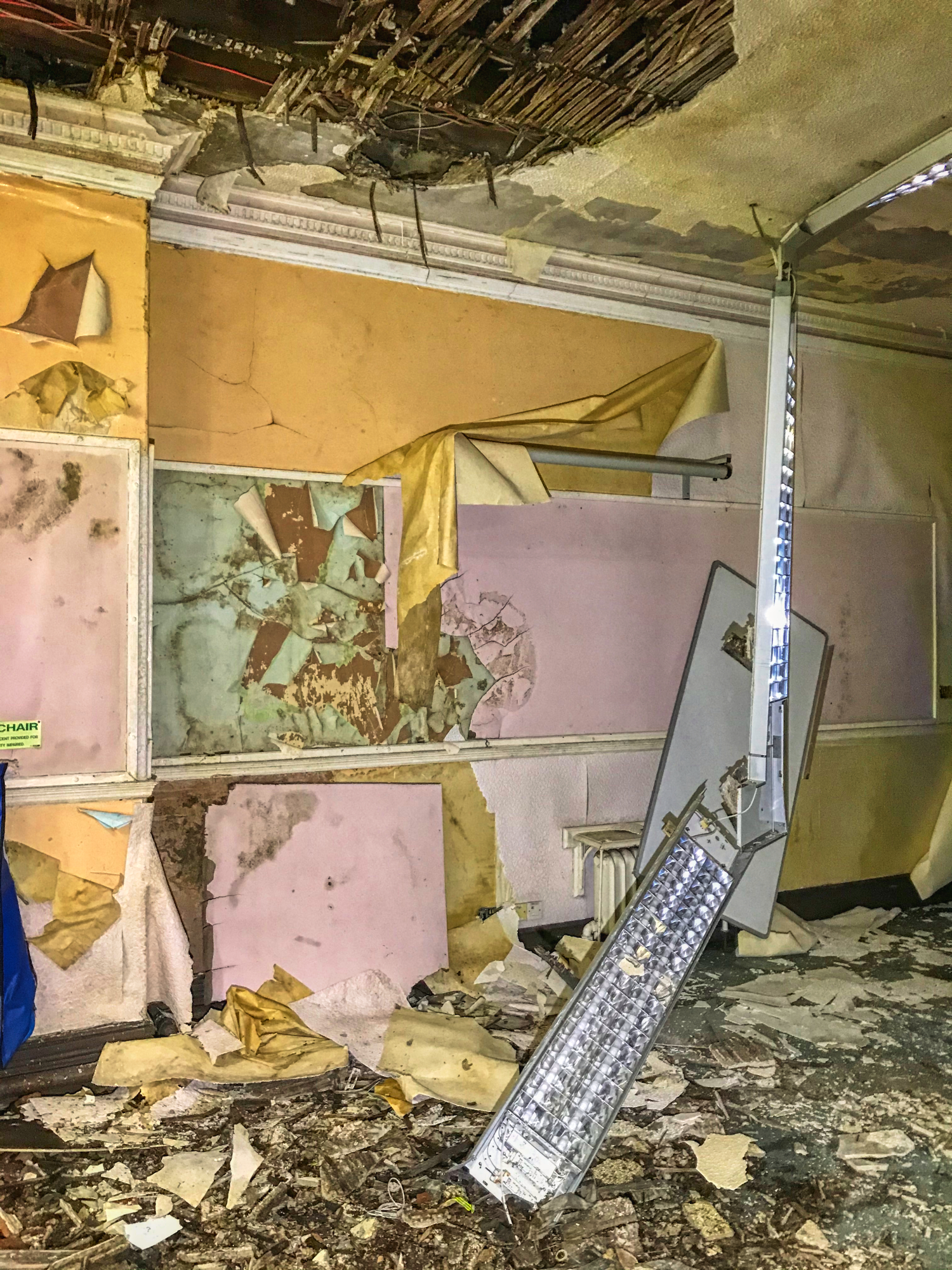 Not all the rooms in Brook House had fared well. This one was looking a little worse for wear.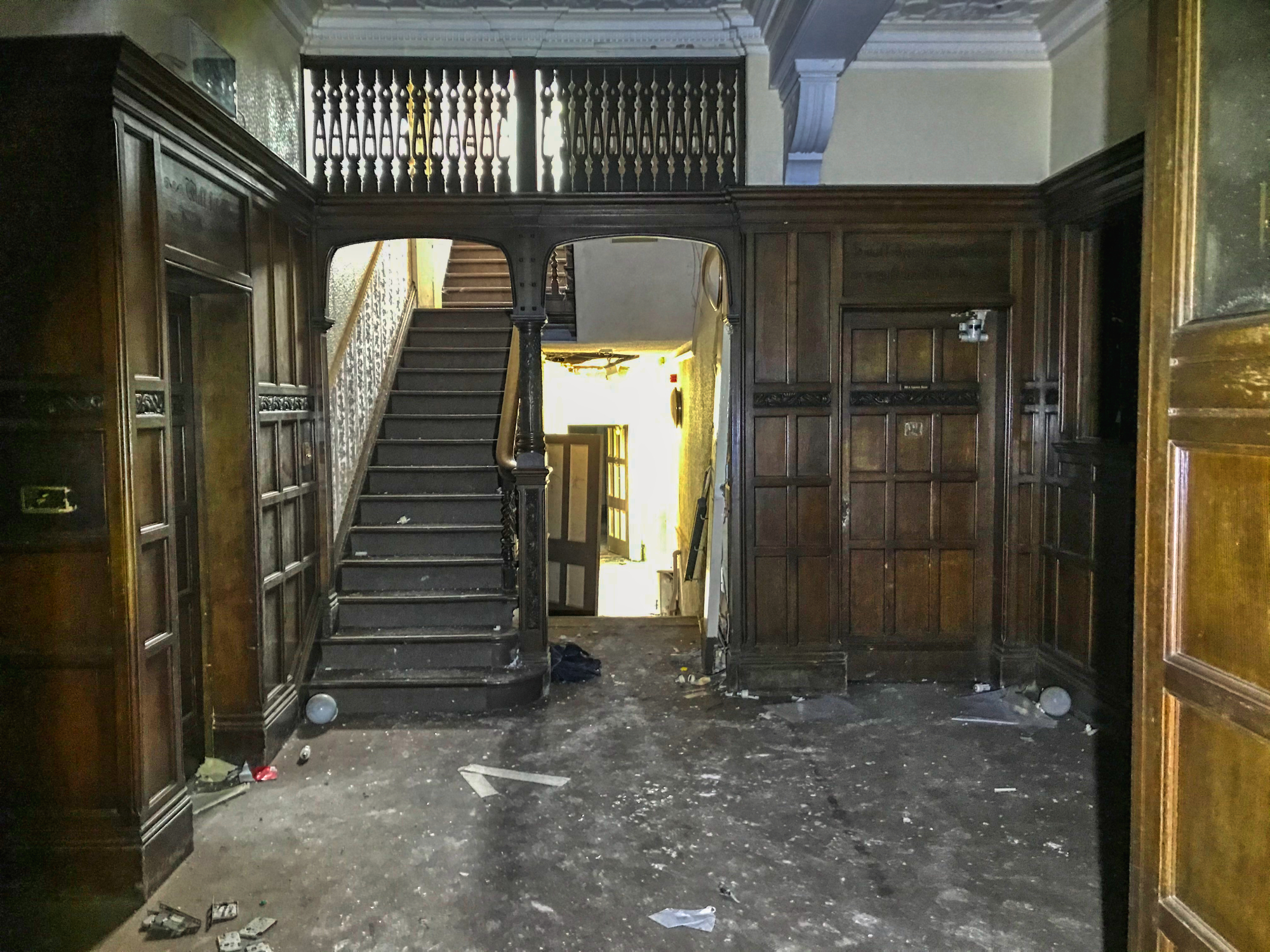 It was all very 'woody' looking.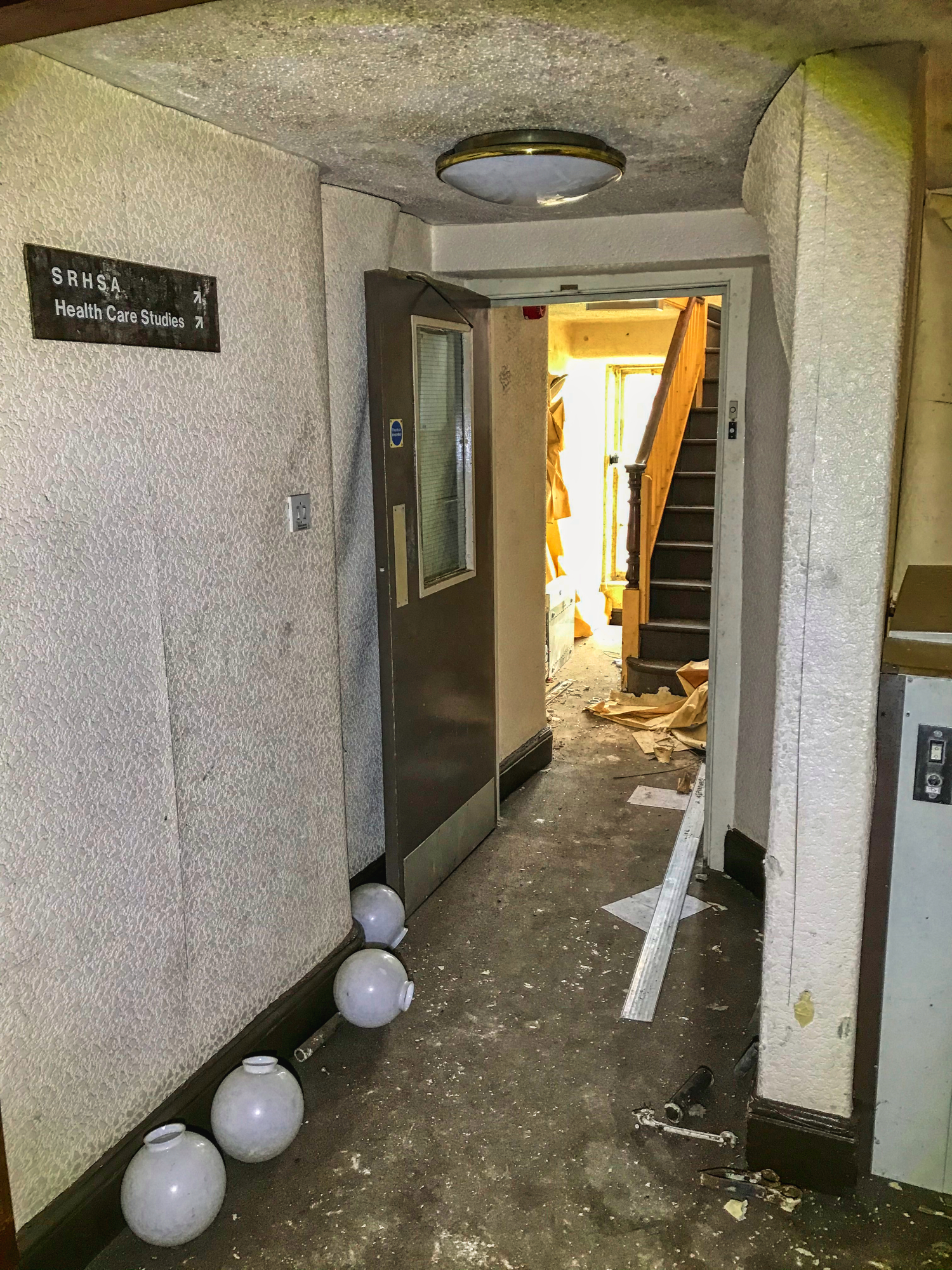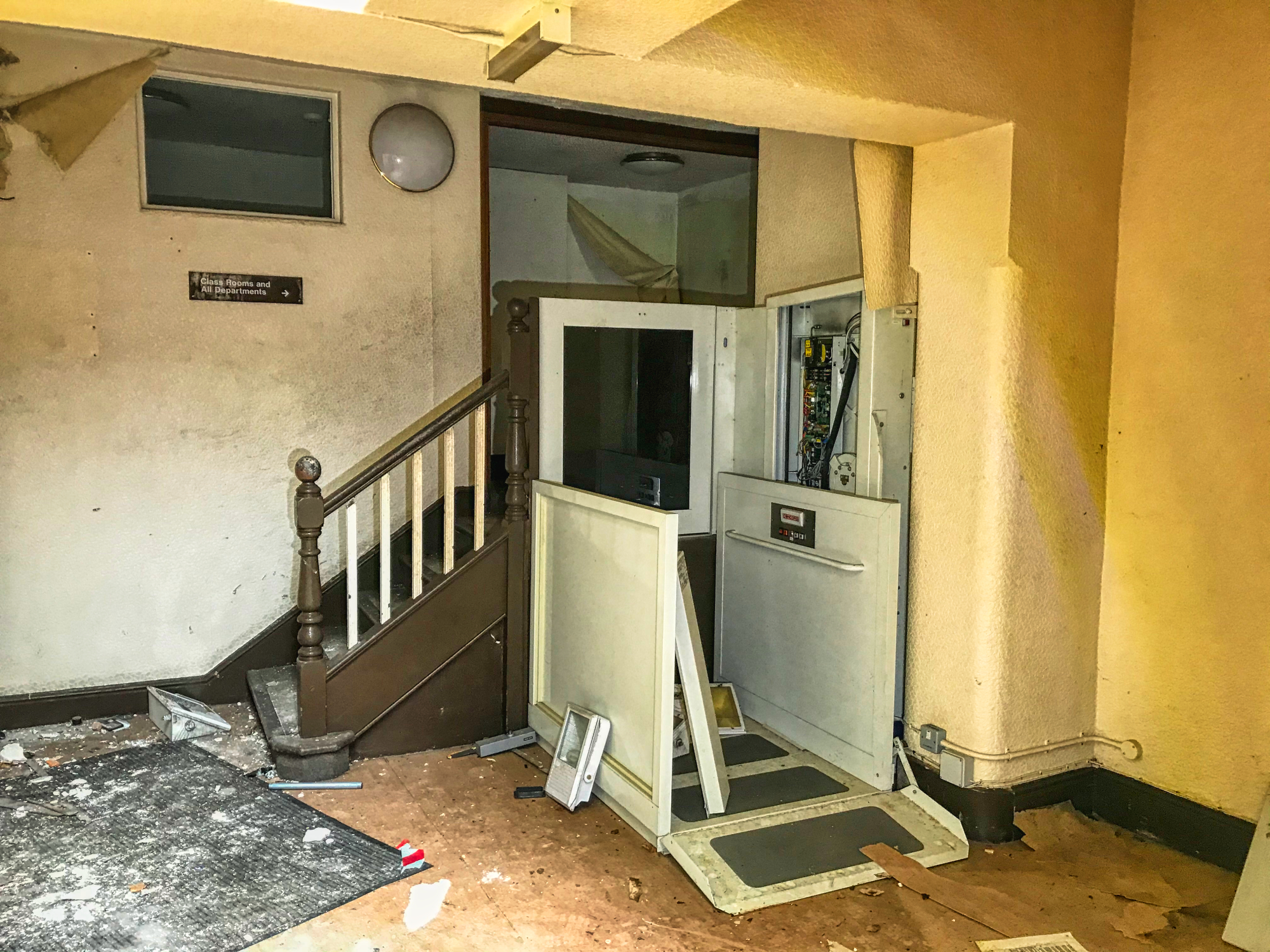 Health Care Studies, followed by Class Rooms and All Departments. It must have been some government body once.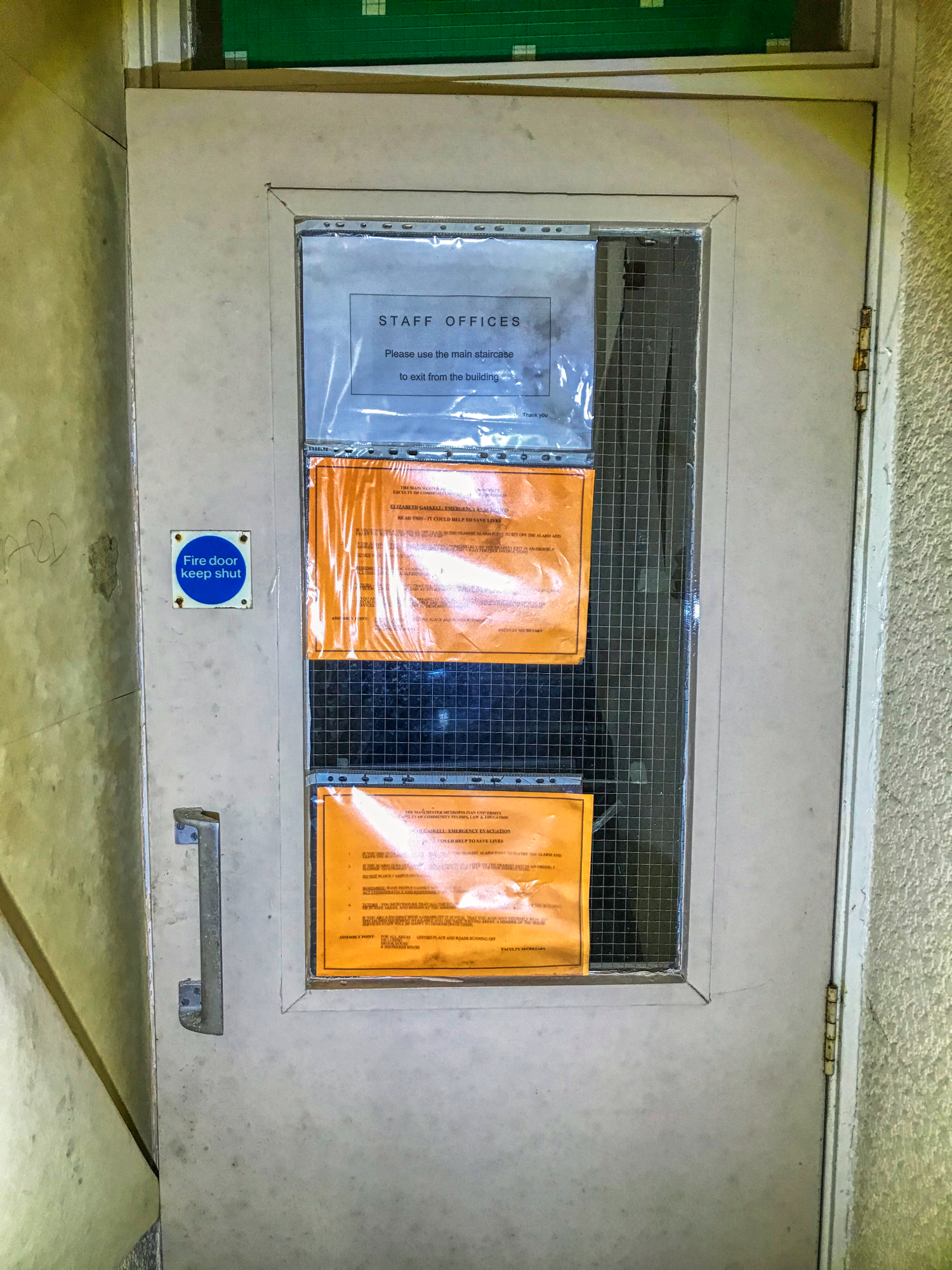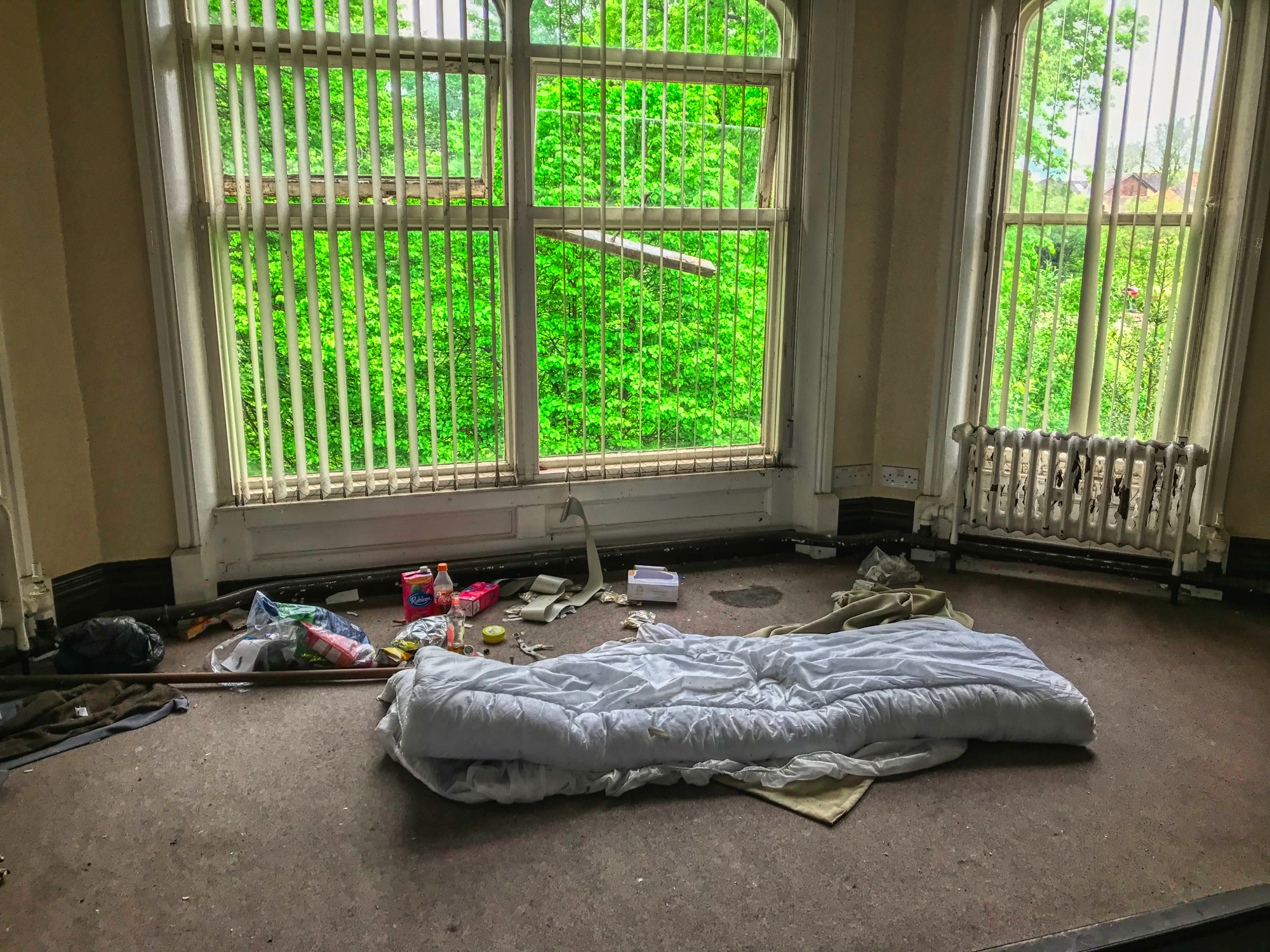 Who wouldn't want to live here for free? It was quite fresh and the inhabitant was likely out begging, getting pissed, or sticking his arm with dubious substances.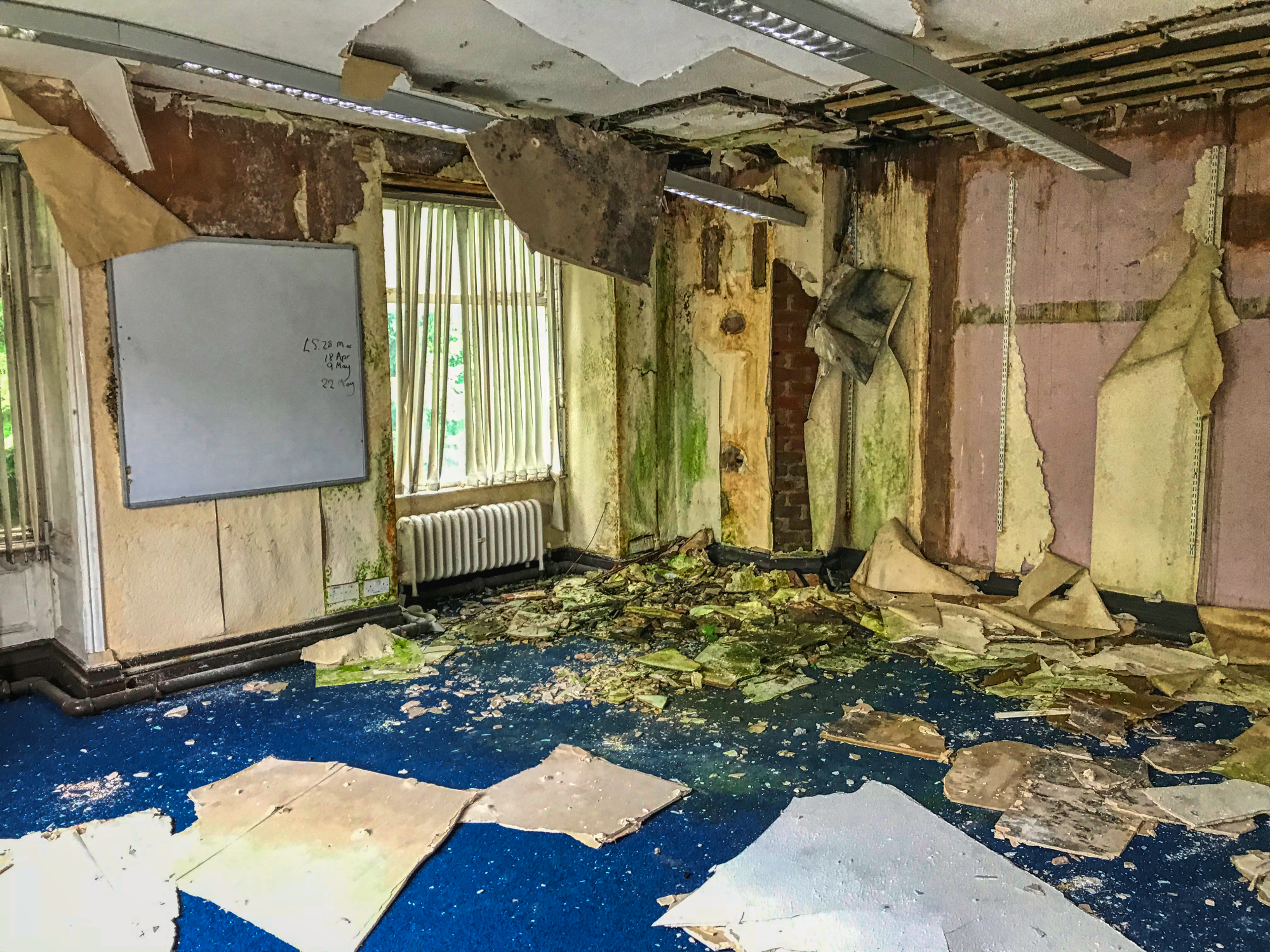 …or maybe he was trying to get clean?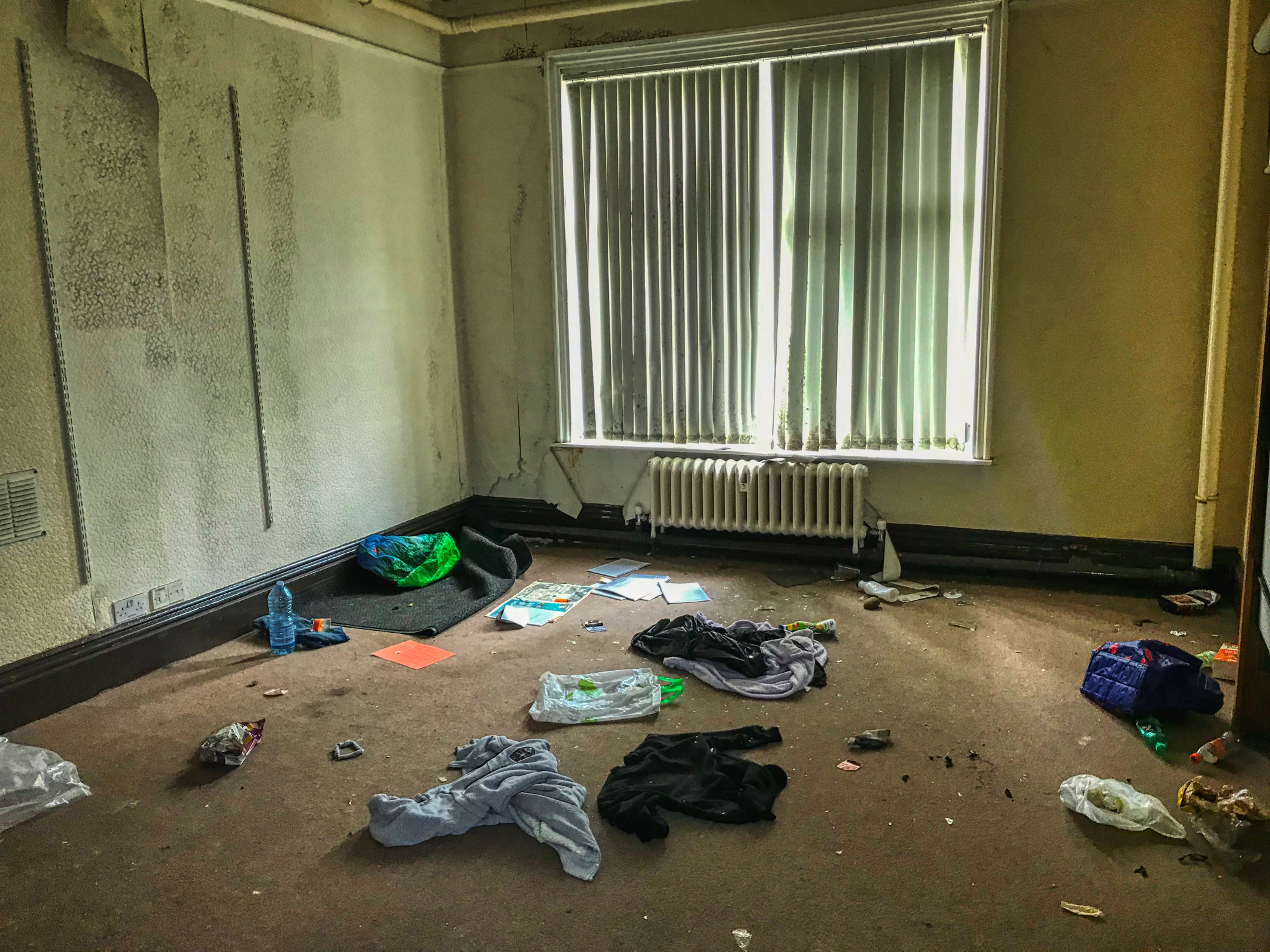 It could be there was a tribe of them living here. Visiting during daytime usually means they are not home.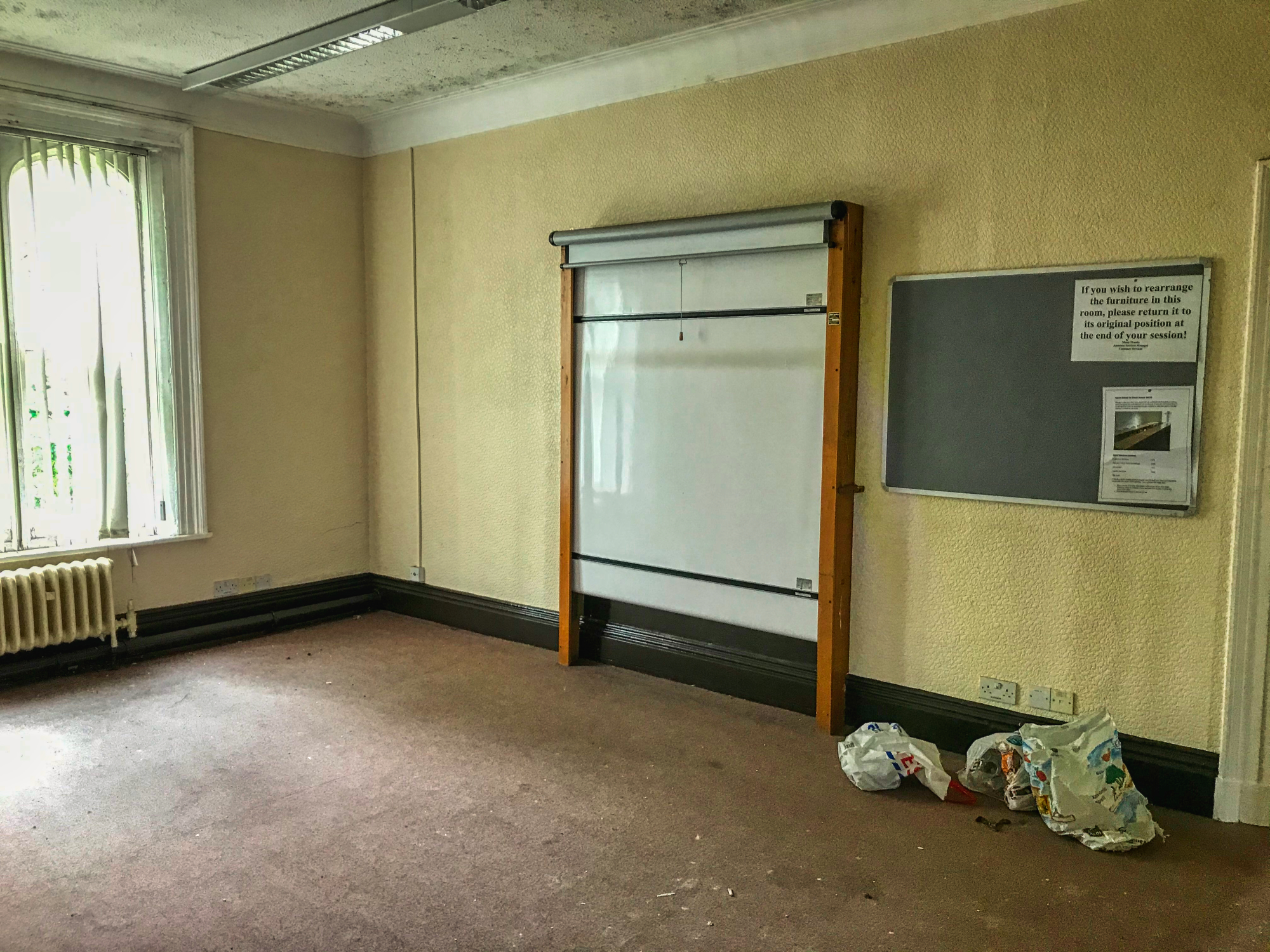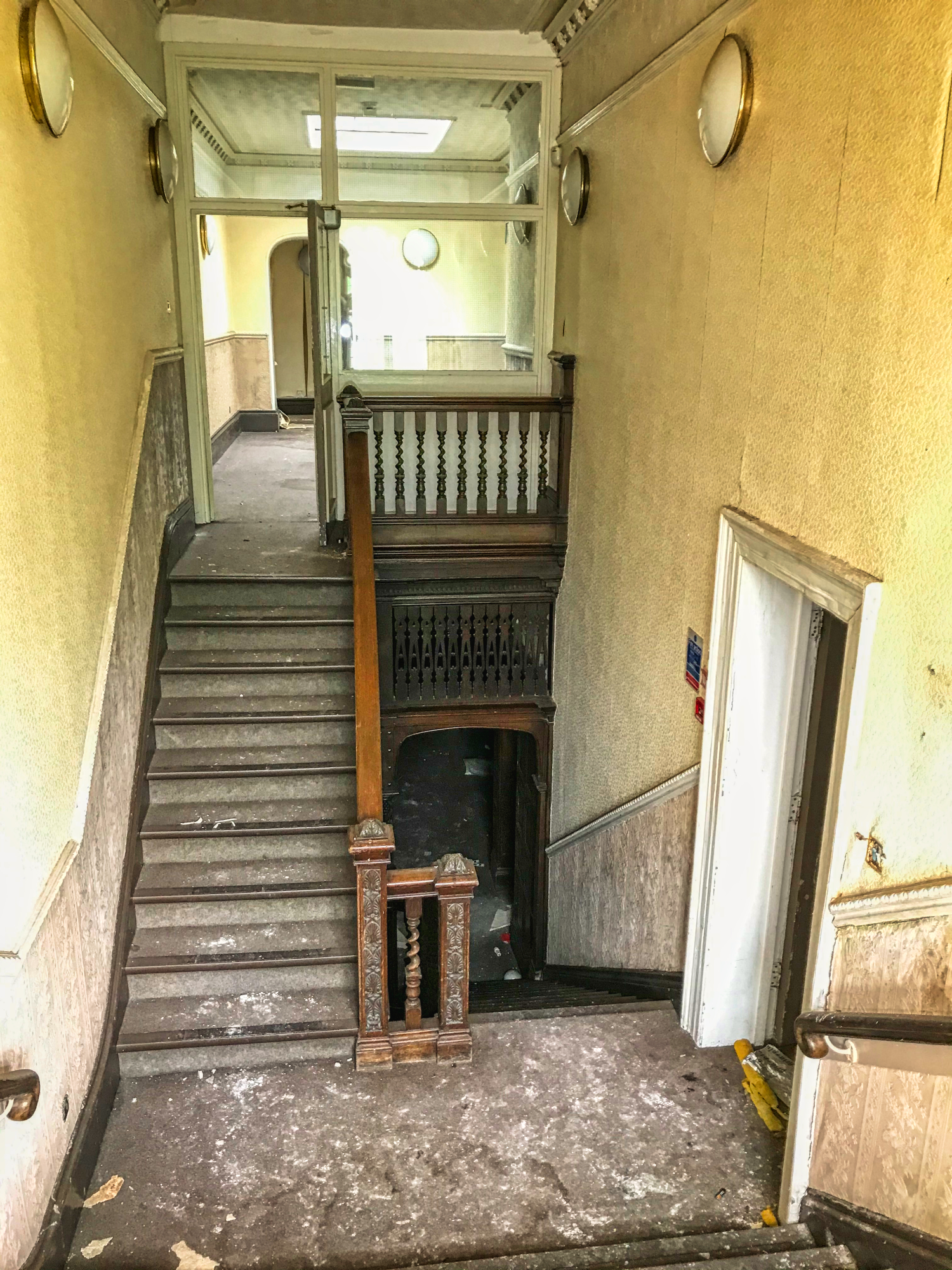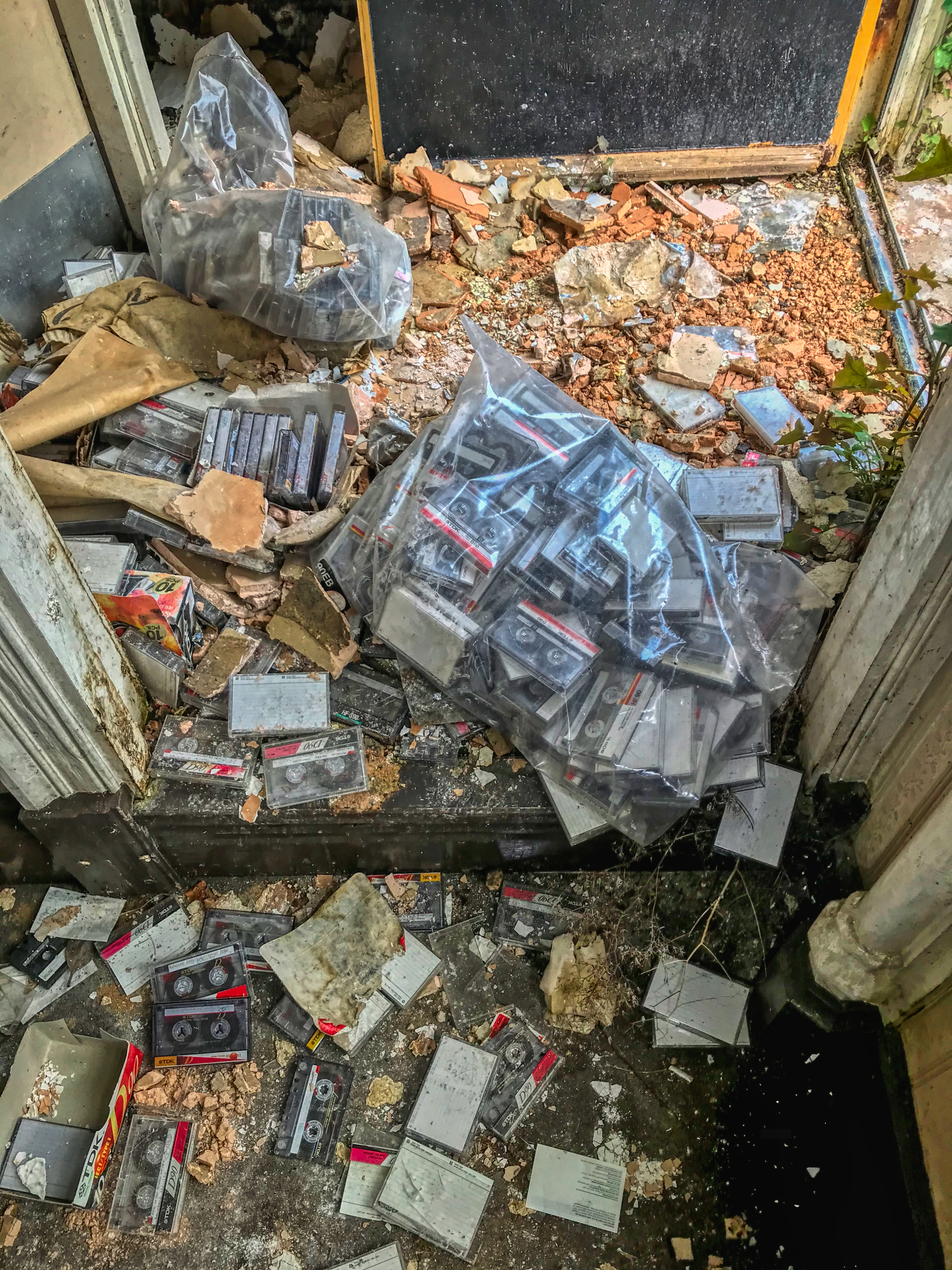 That's a lot of tapes, and not pre-recorded ones.
Does that say 'Drugs in the Workplace?'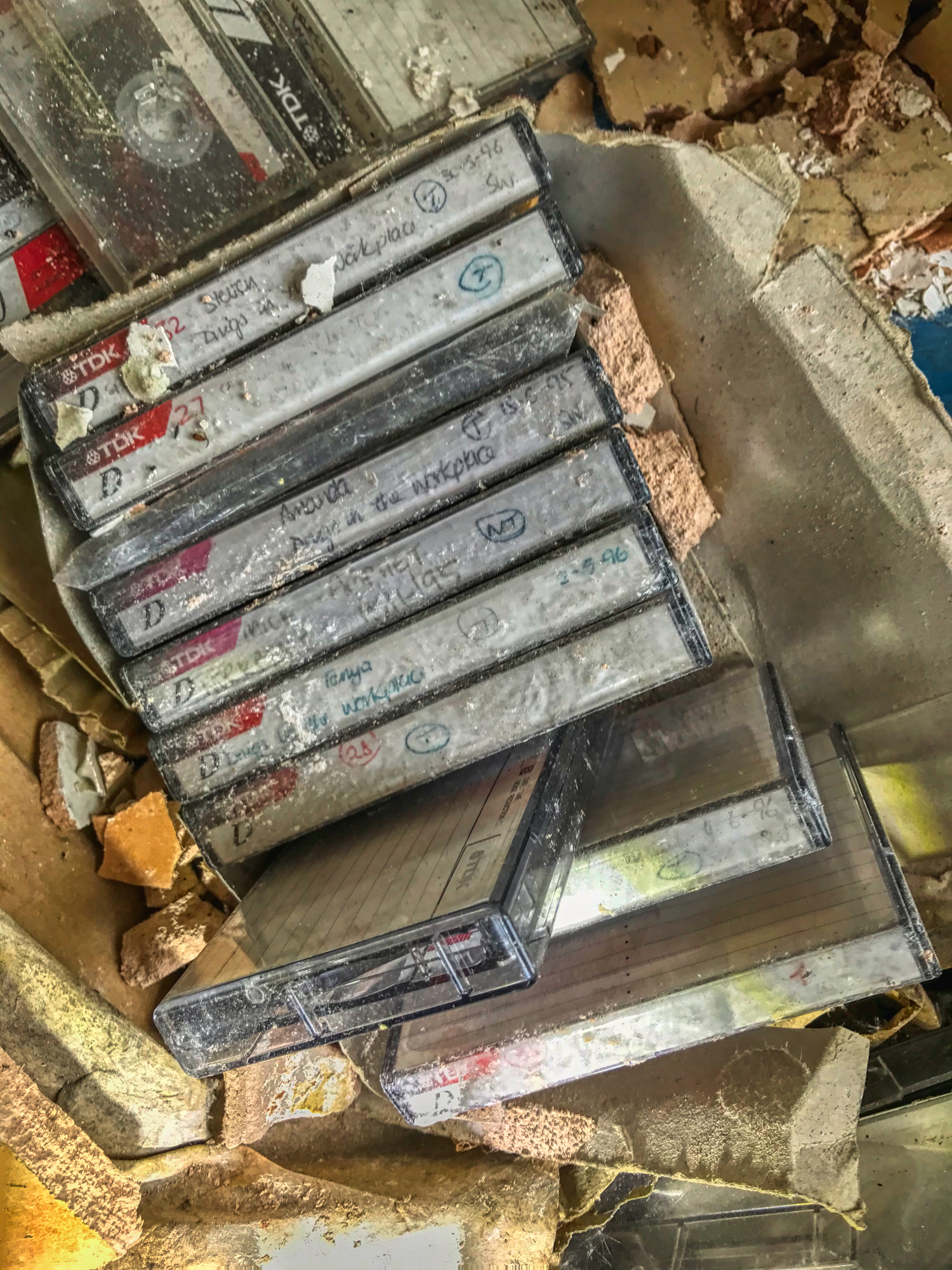 If I listened to these tapes, could I work in an office while getting high and having nobody notice? These old recorded tomes of knowledge could well be priceless.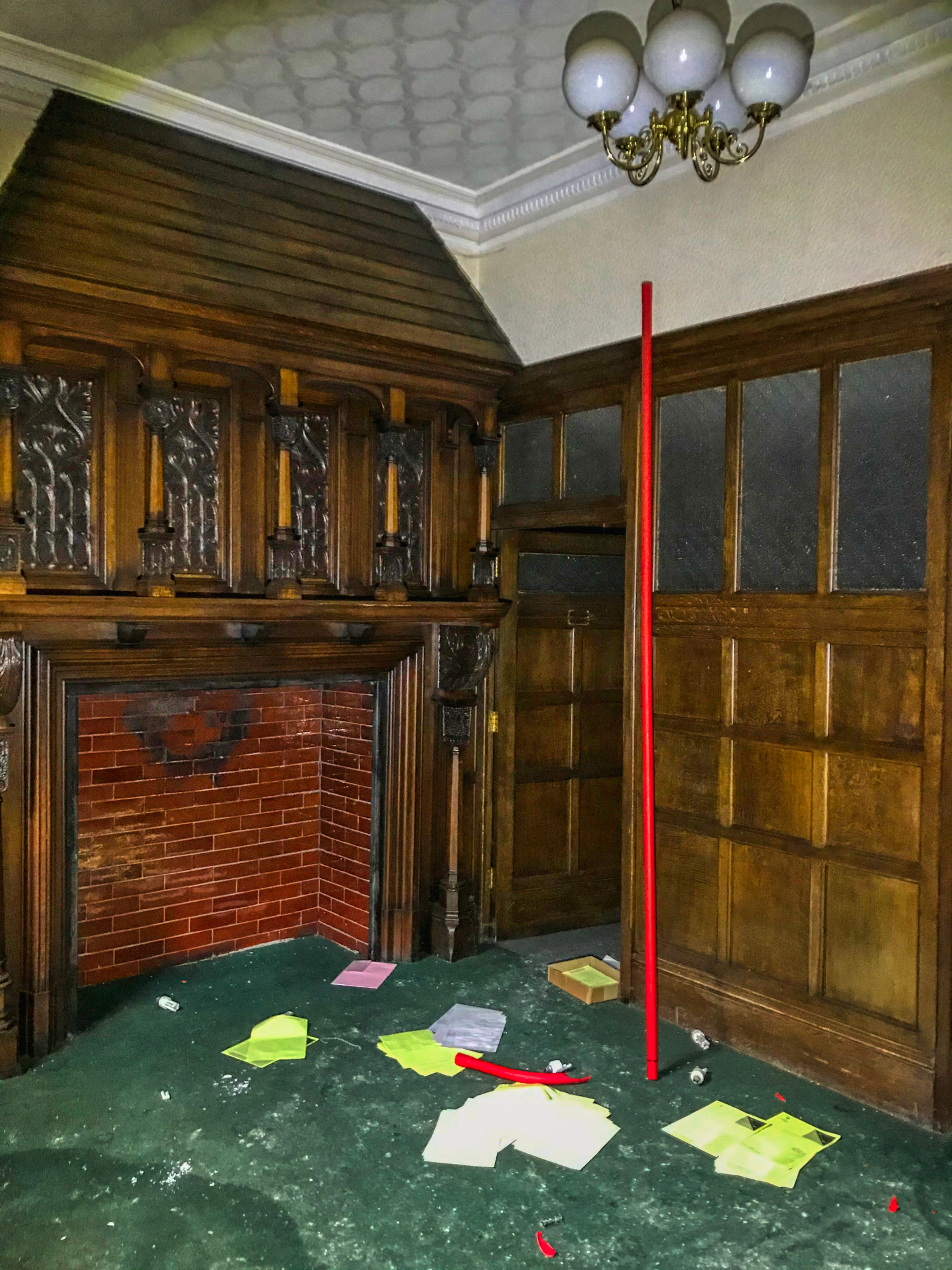 It takes some skill to balance a skinny red pole in the middle of a room and it not fall over.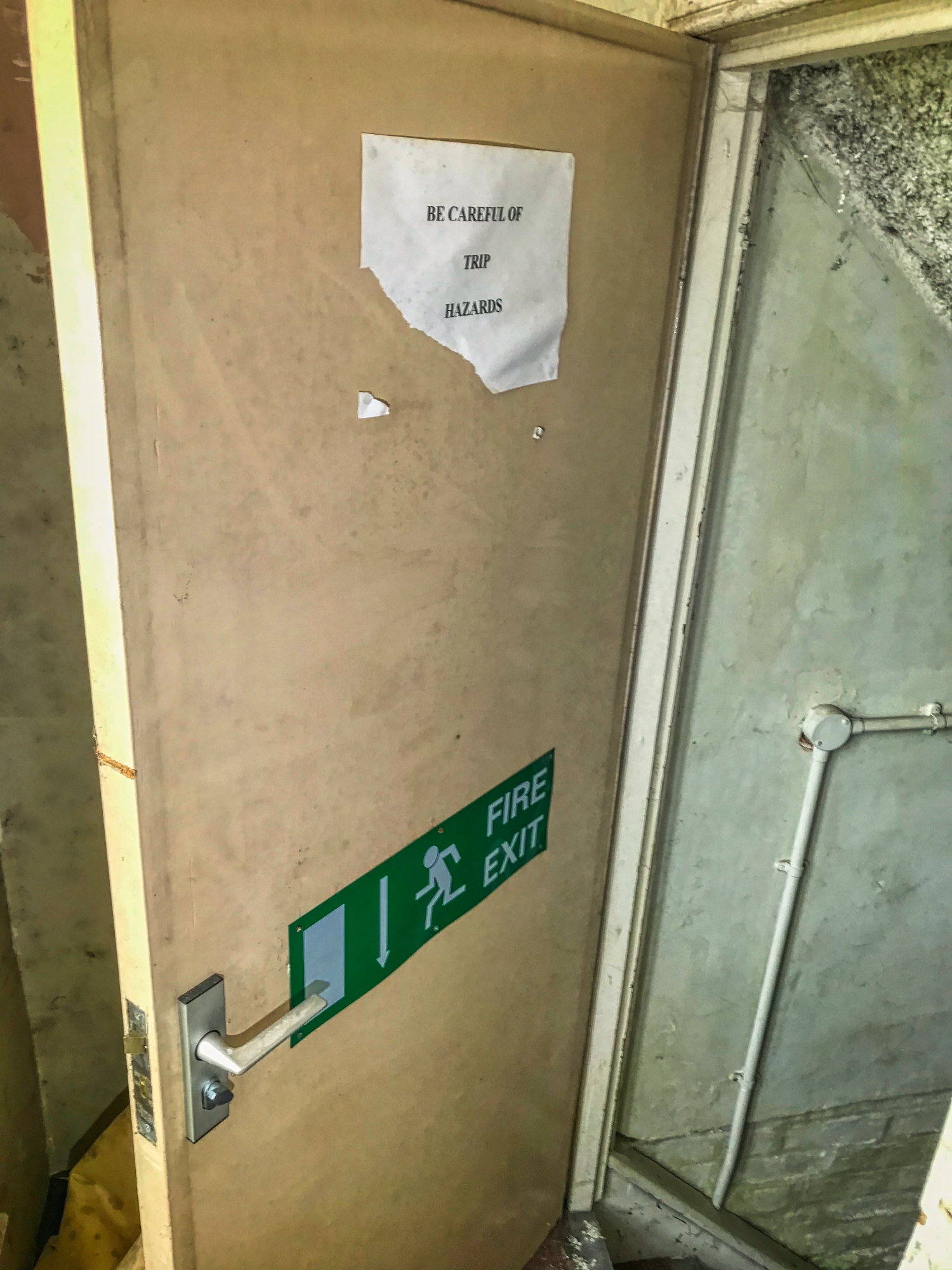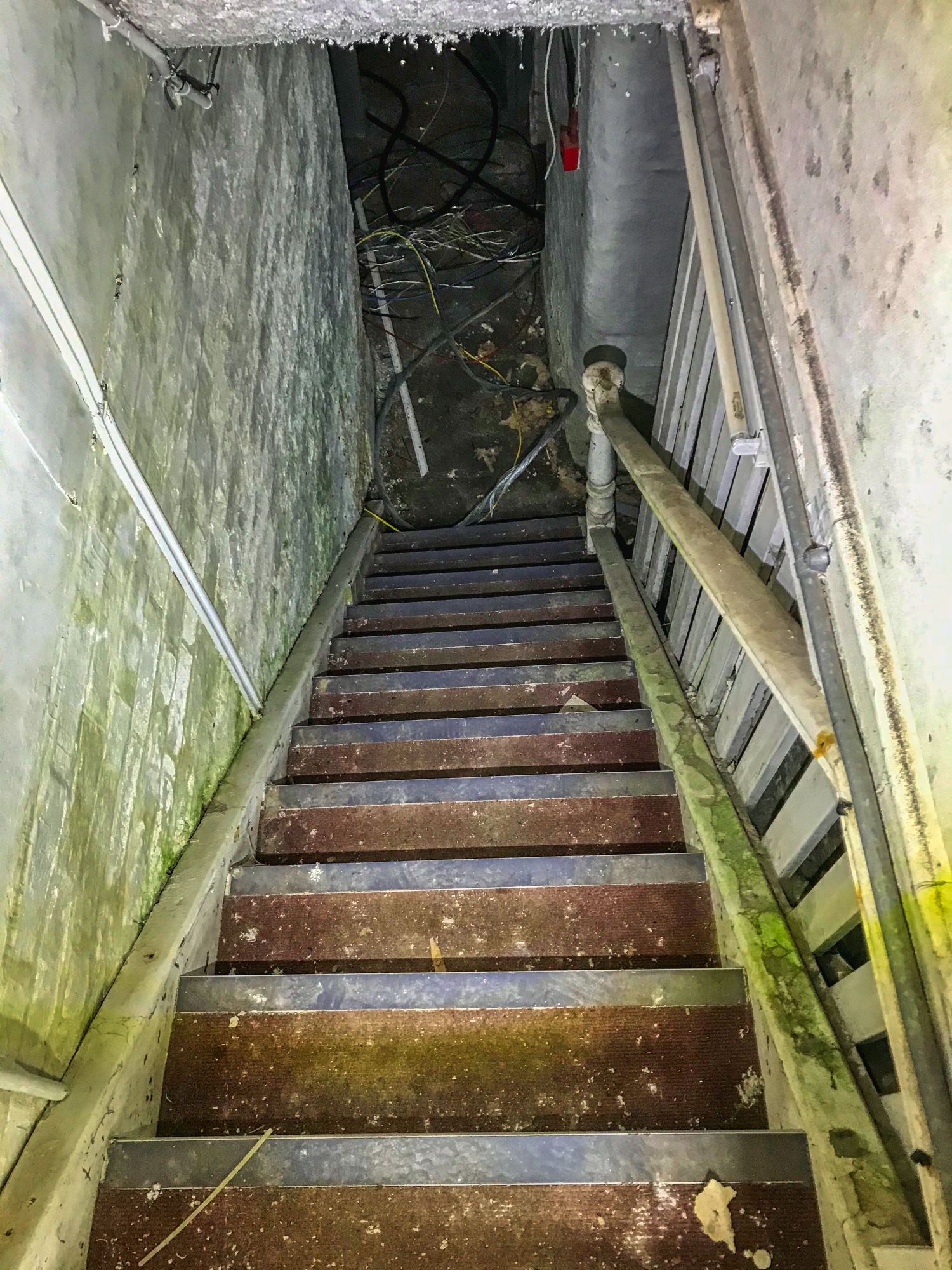 Some basements are interesting with ancient relics and some are full of nothing or worse, shit-covered floors.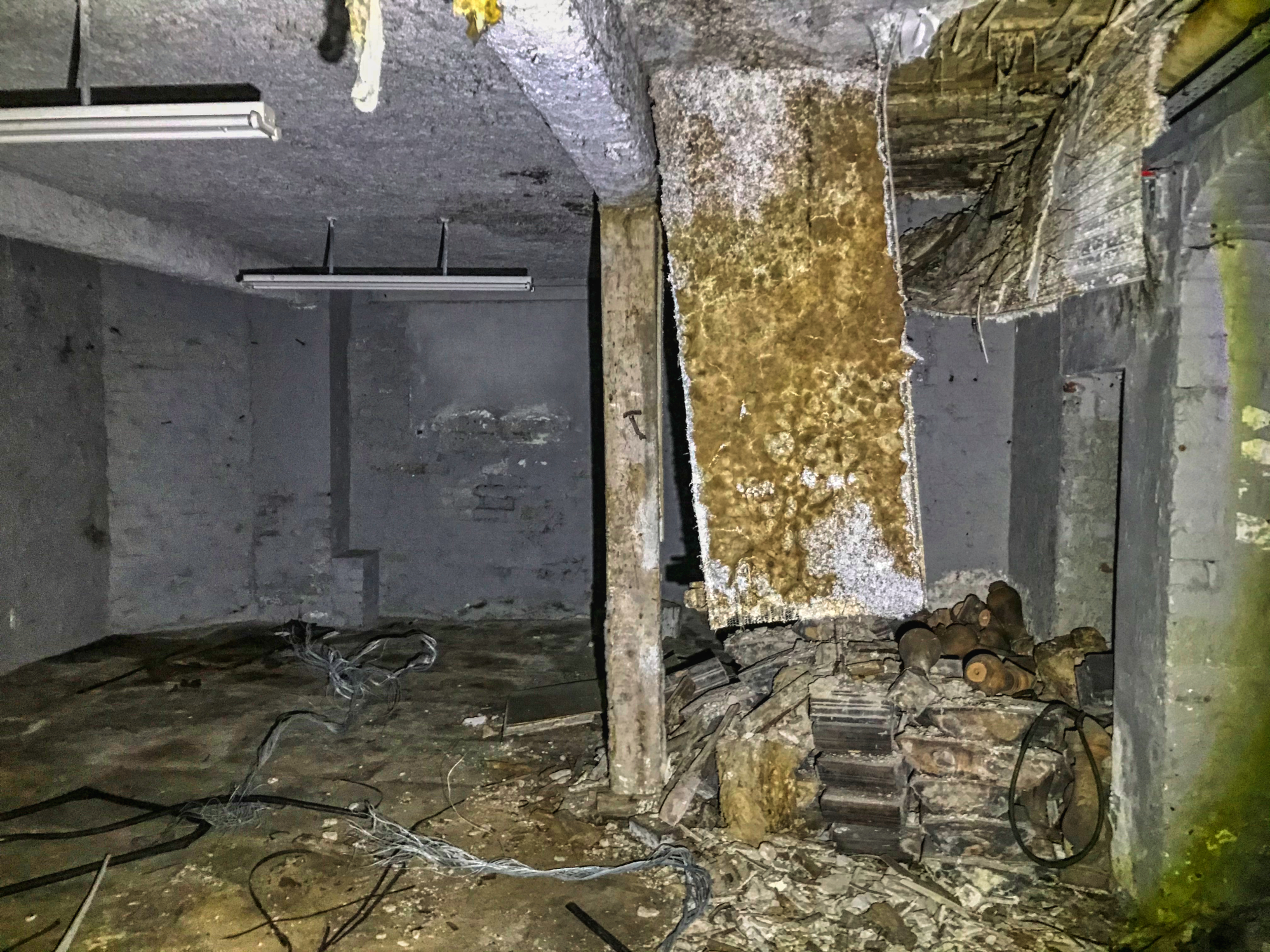 This one was quite large and I had to roam around a little checking every nook and cranny.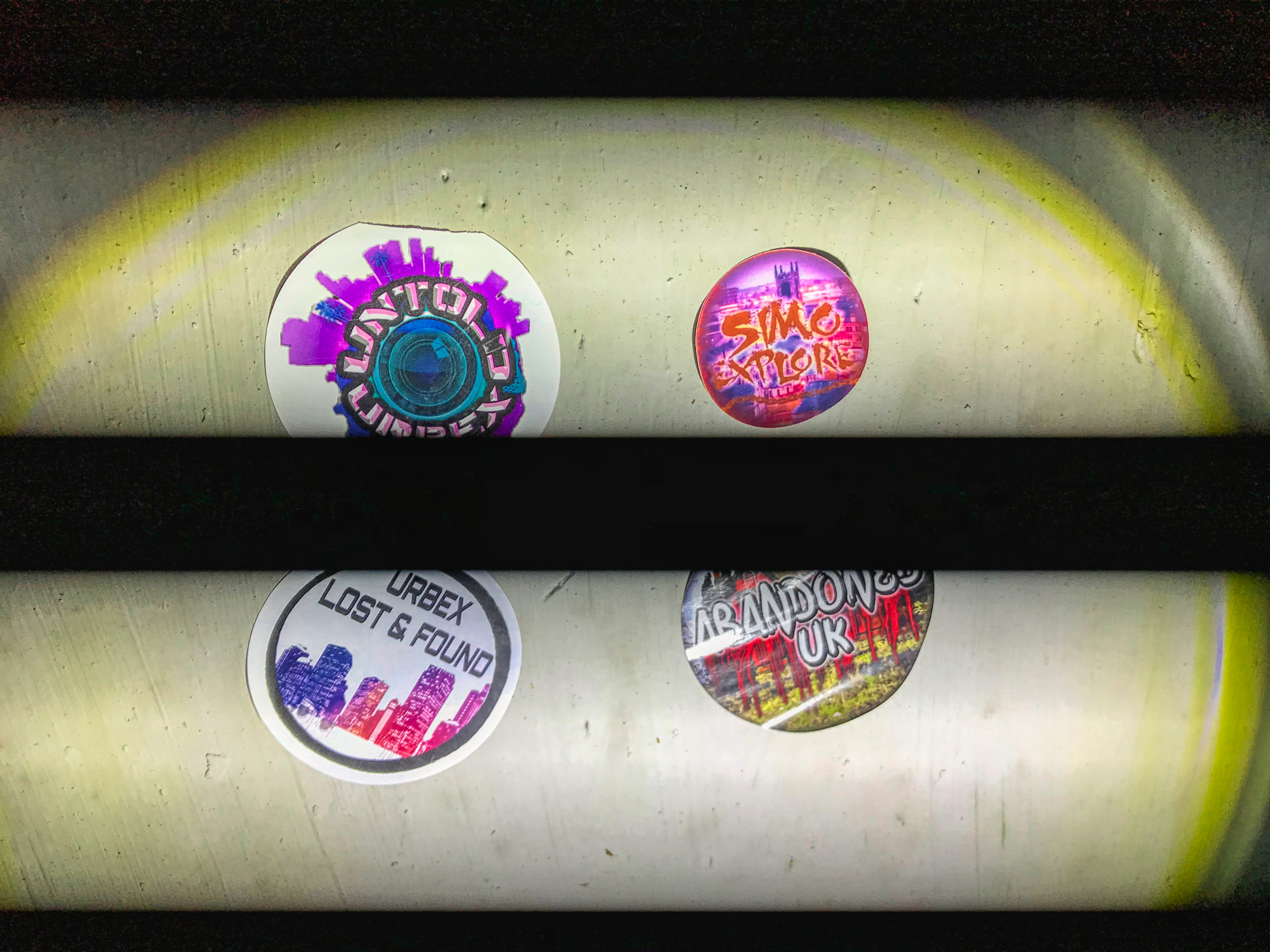 Urbex stickers; I am not a fan. It tells me these dudes are not the idiots who smash things up and at least respect properties.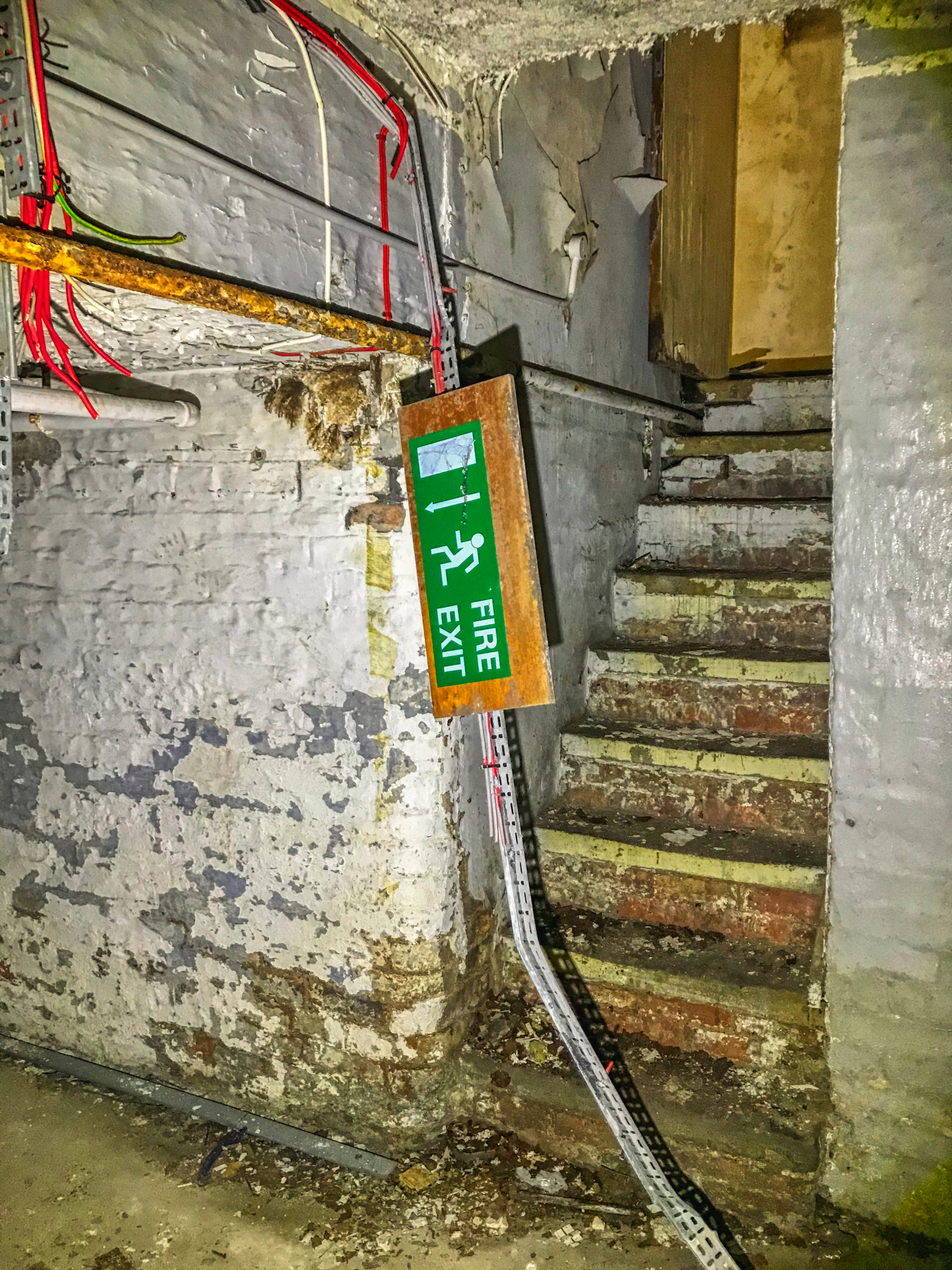 Walking down there without my light would have been kind of creepy.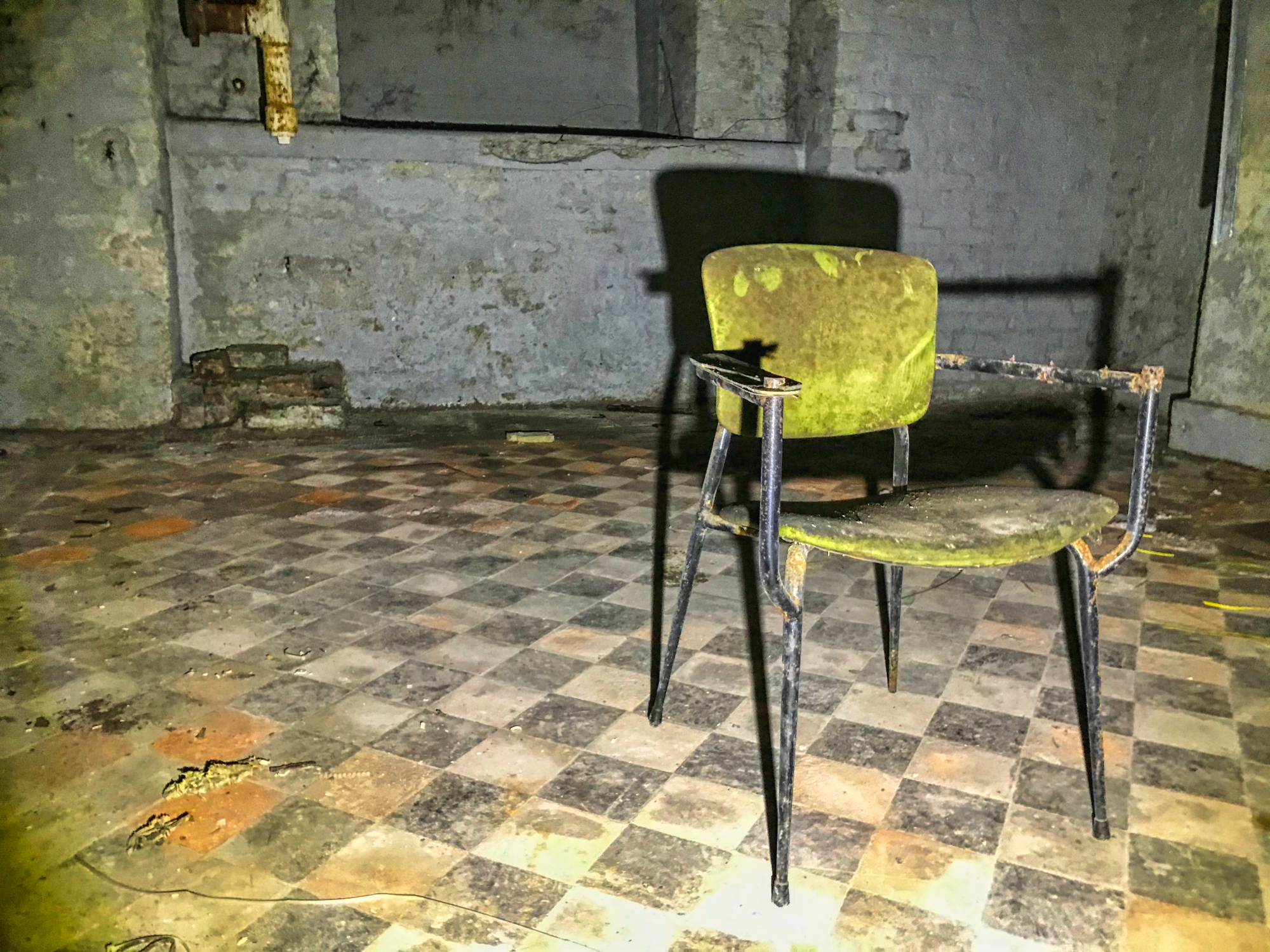 Why did someone make an open fire… in a basement!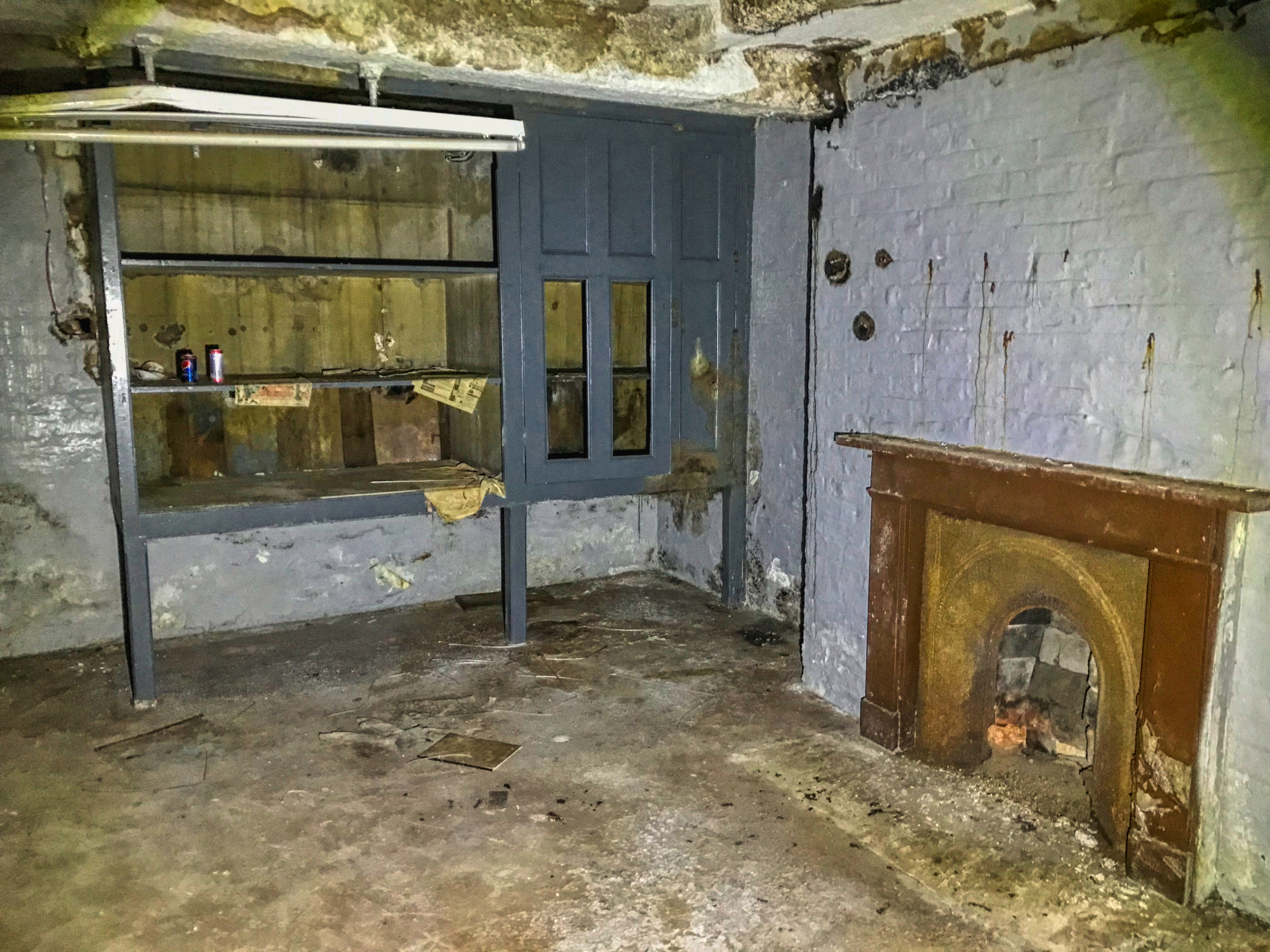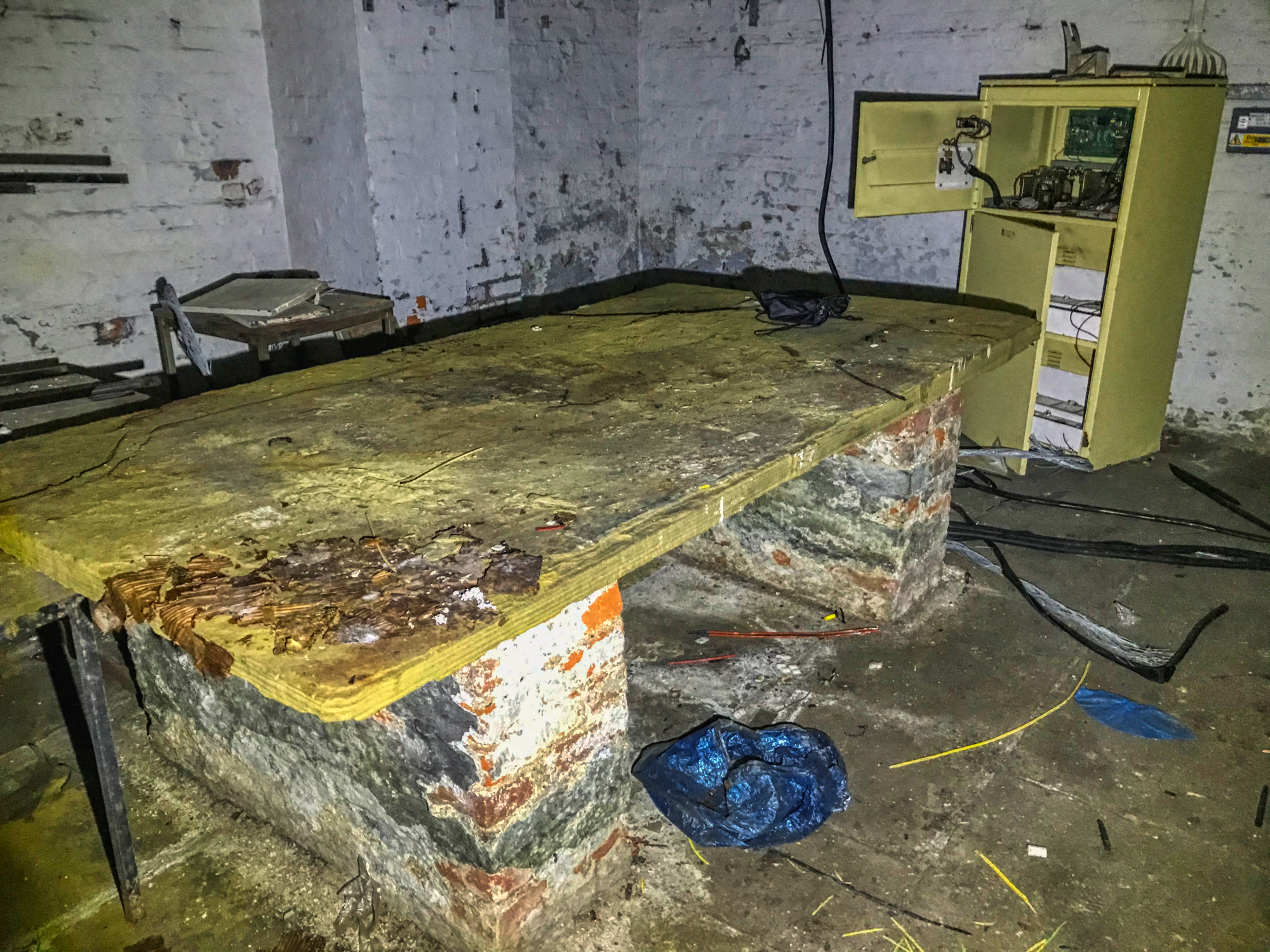 It's the sacrificial alter again. These are common and are probably not really for tying down and killing humans.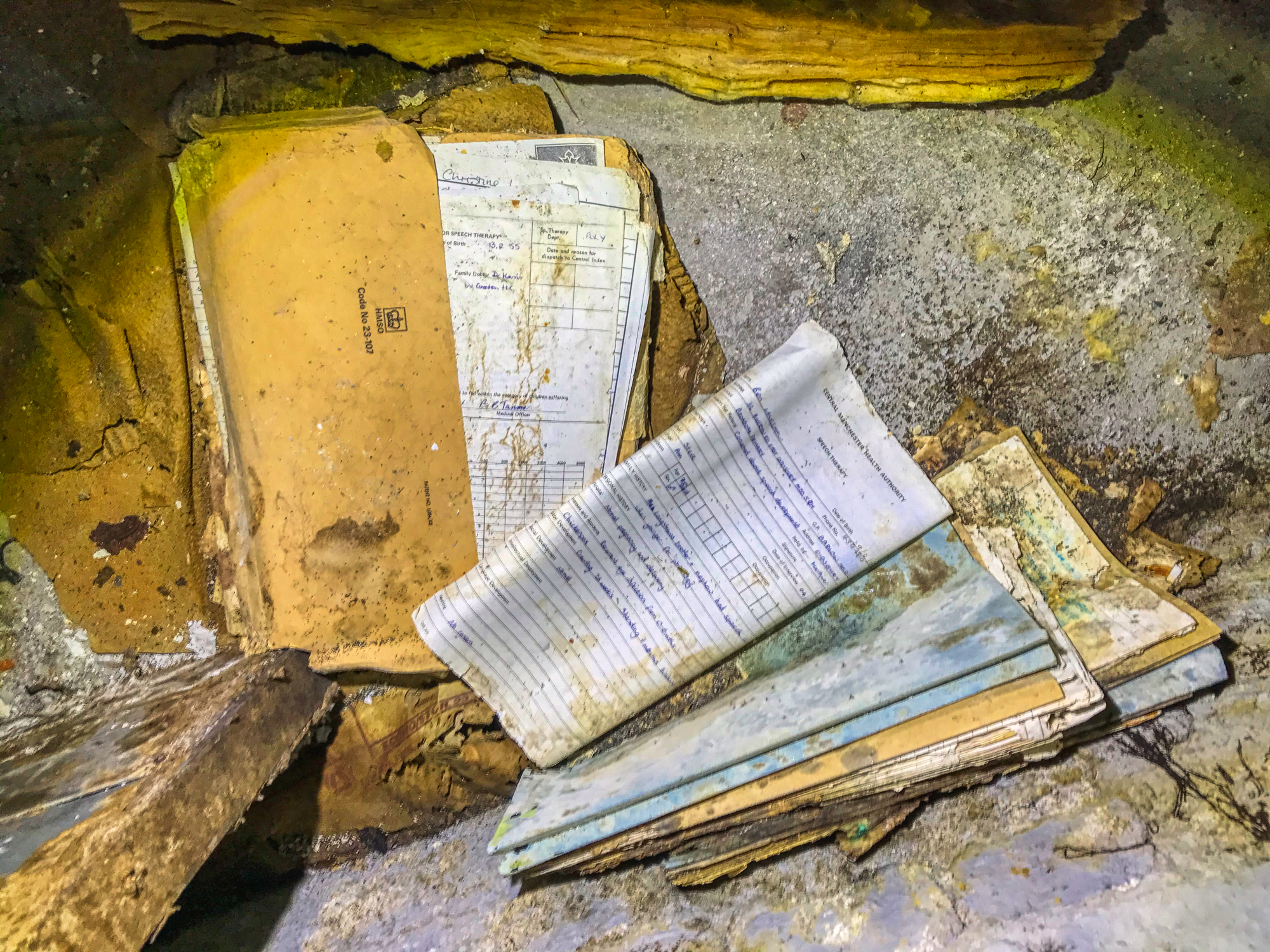 A bunch of old very wet papers. I had to go have a look.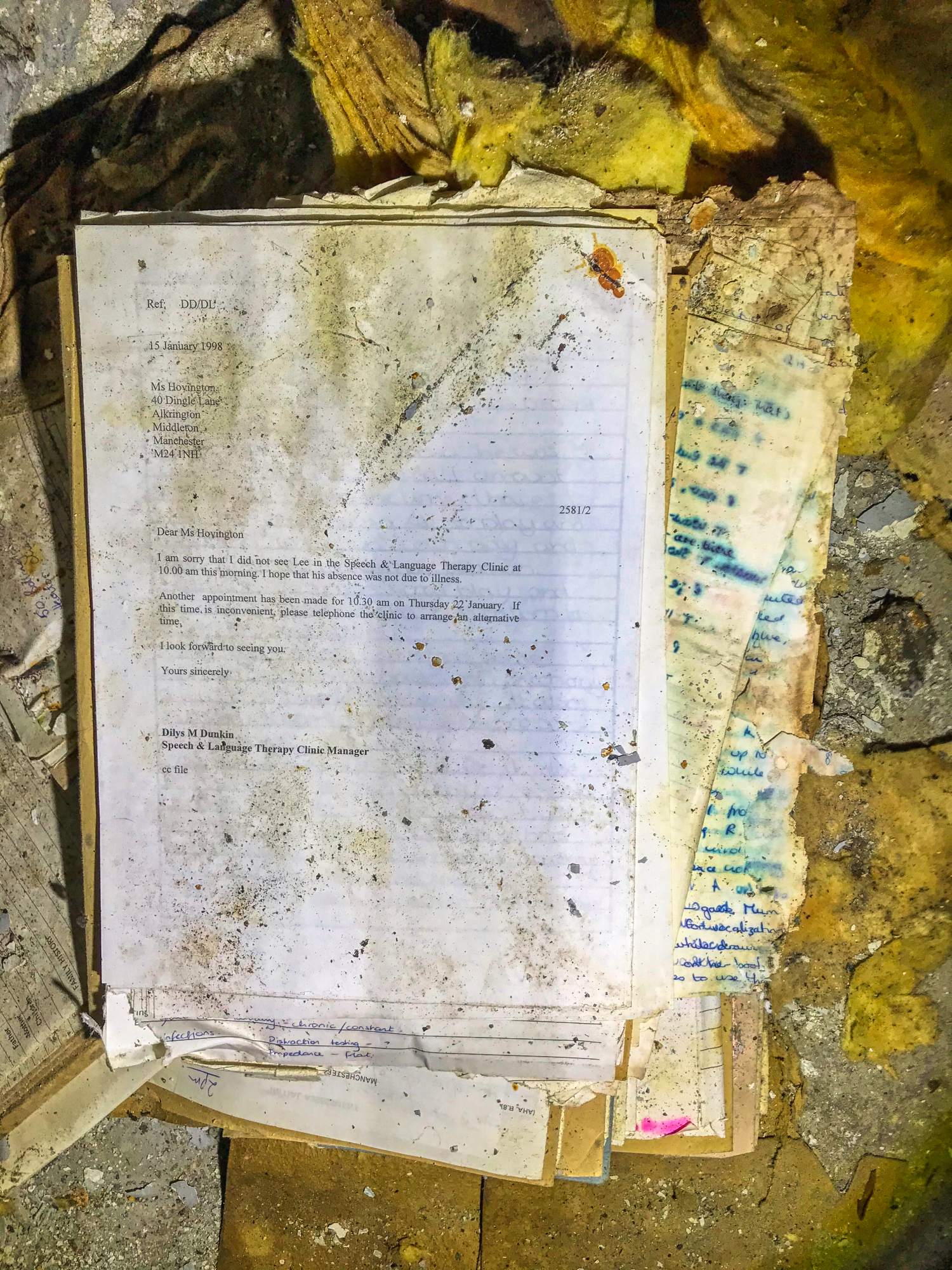 In 1998 Lee did not turn up for this Speech Therapy class. So it was a school, but not your normal type.
Even older and in 1993, Ben Langshaw also had speech issues. Adding to this Ben had a 'Normal pregnancy and delivery'. Or... is Ben the baby and already has speech issues? Gagaga.. springs to mind.
Sometimes life just confuses me…. moving on.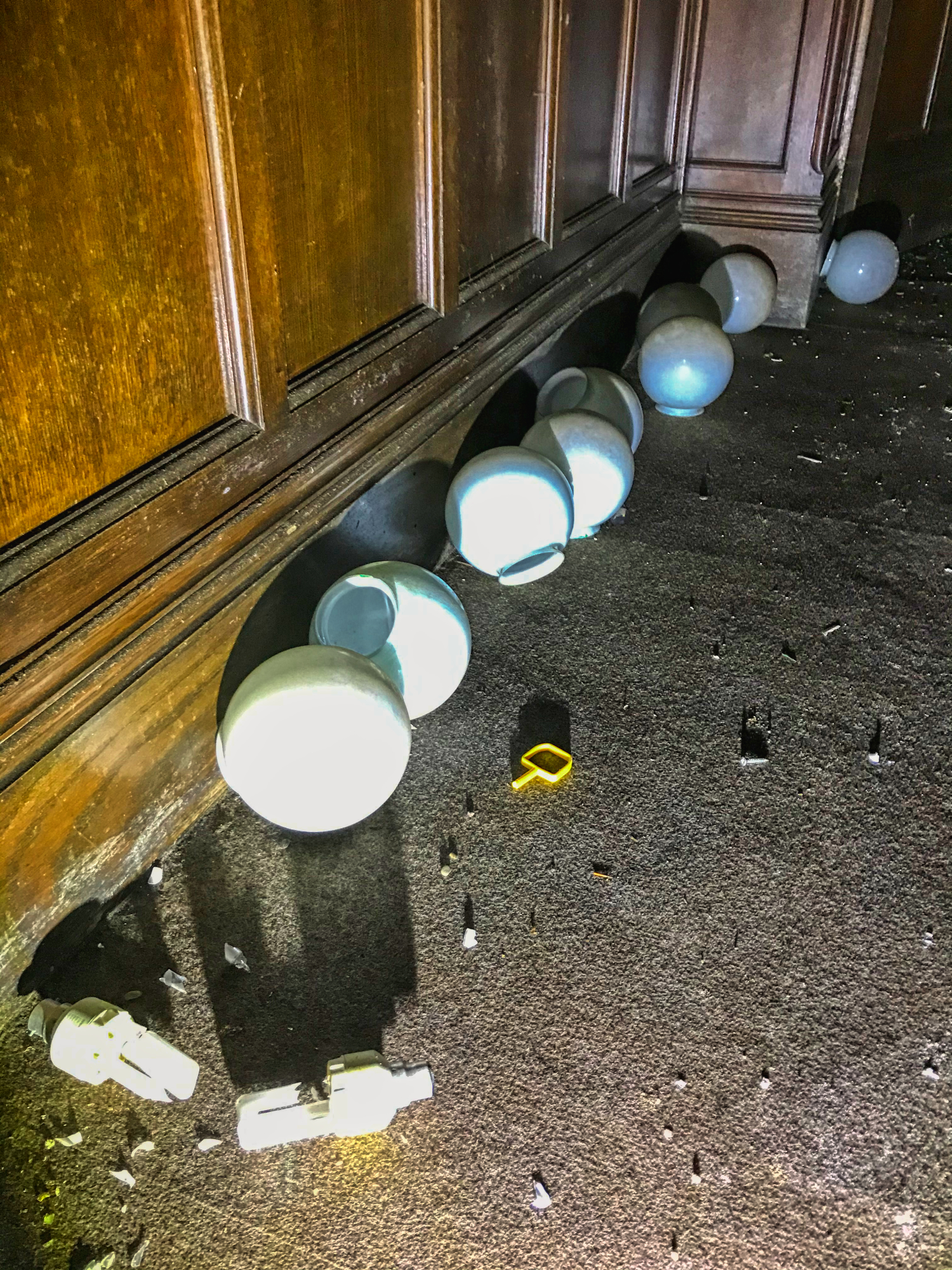 Can someone leave the bloody light shields alone?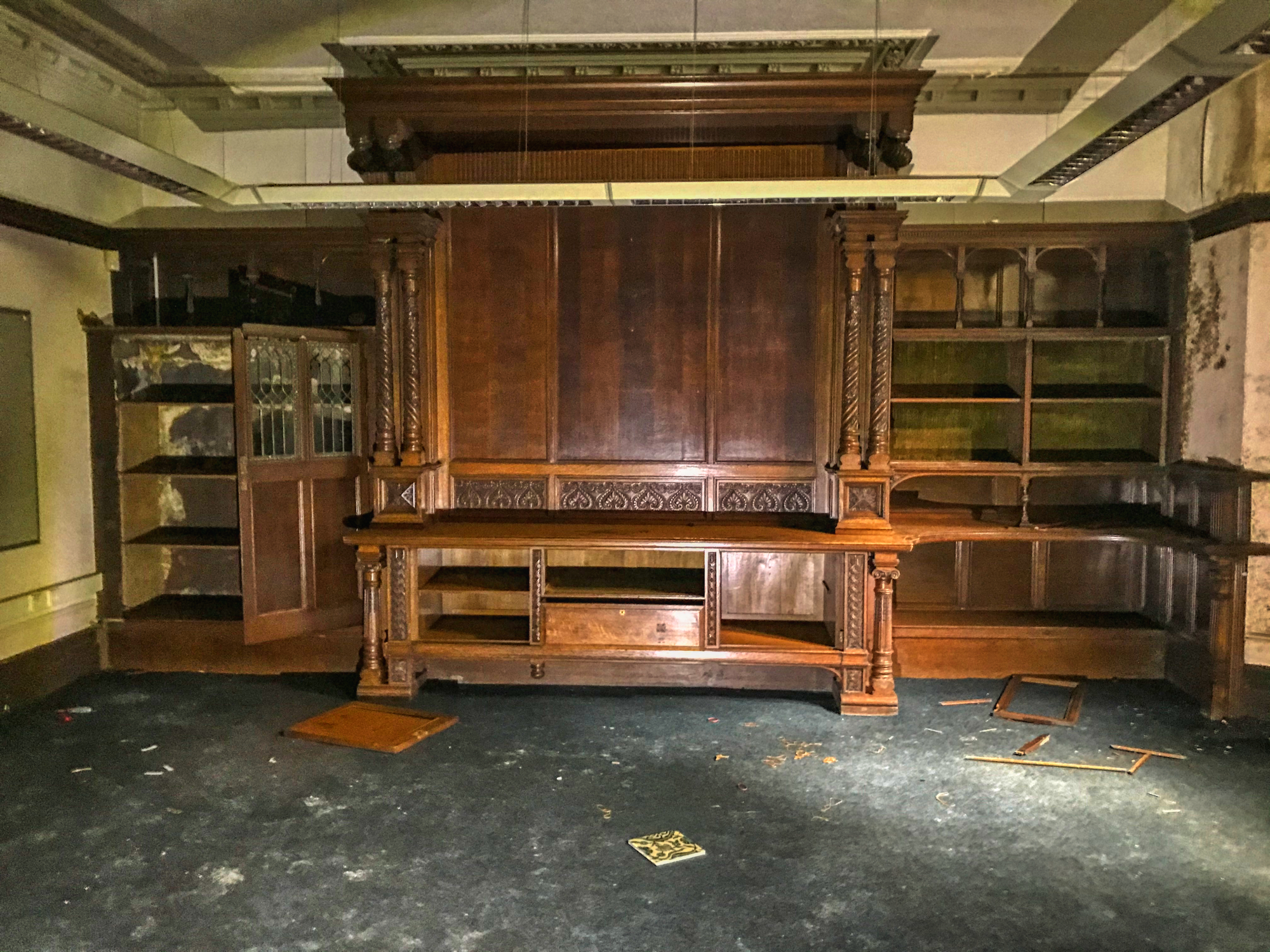 Look at that wooden furniture... all built into the design of the room.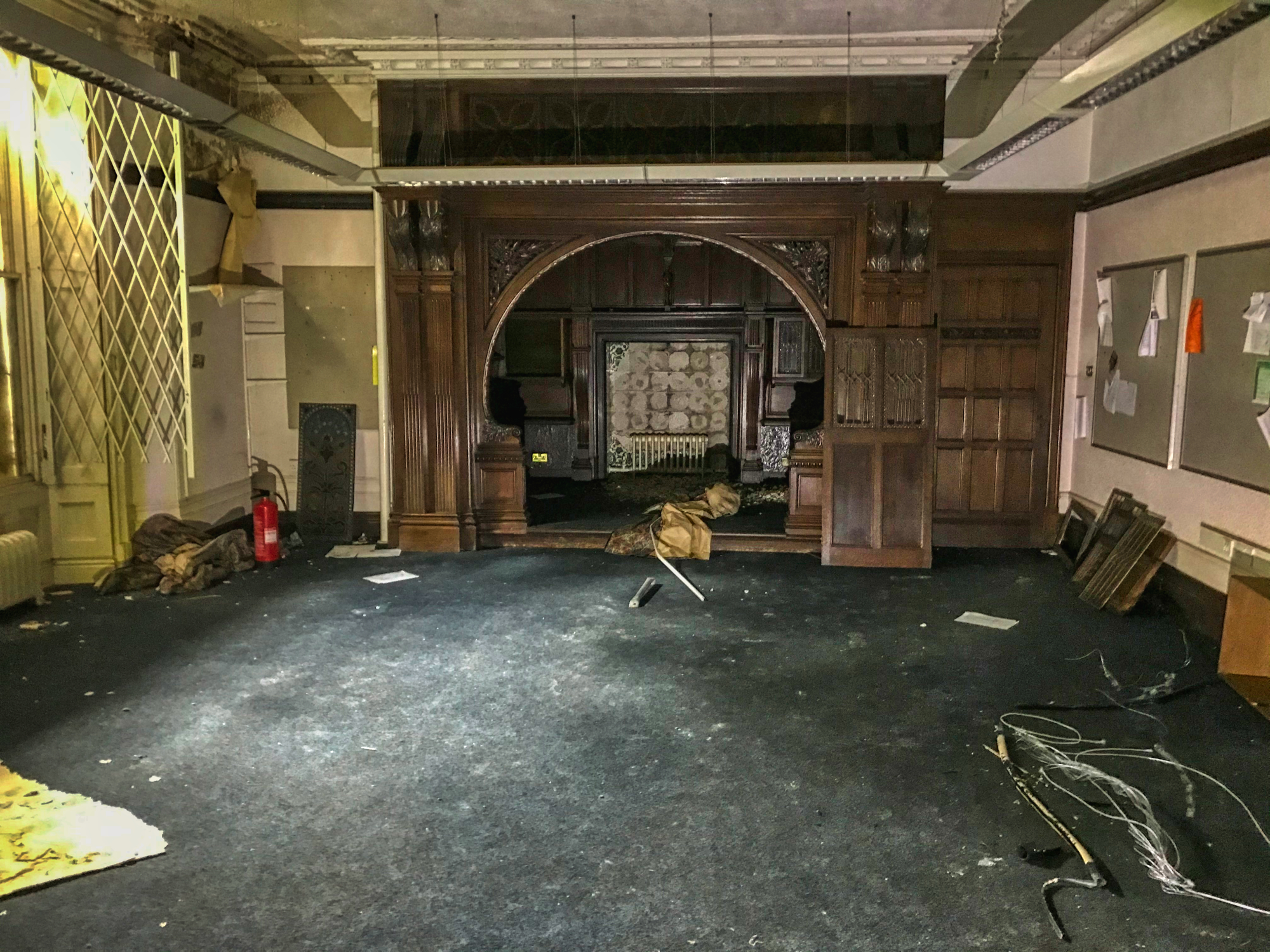 The homeless had to take centre stage and sleep in the middle of it all.
There was a distinct lack of vandalism and graffiti within Brook House. It made a refreshing change.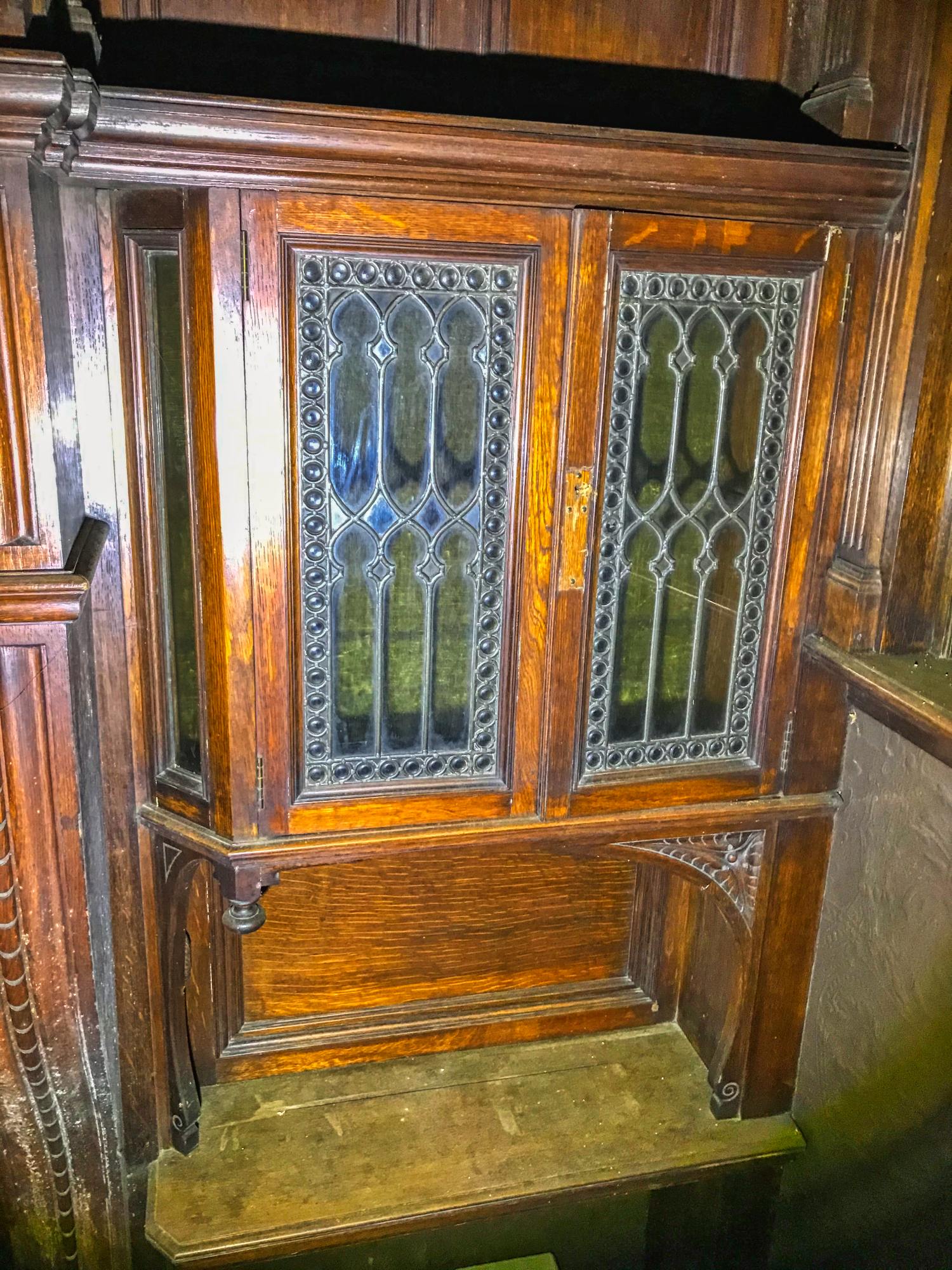 We exited without meeting a soul. Just the way I like it.
Since then I have heard reports of explorers tangling with the on-site security and them being quite abusive. 'Fuck off, and don't come back', I have been told is what you get for standing outside the gates looking in.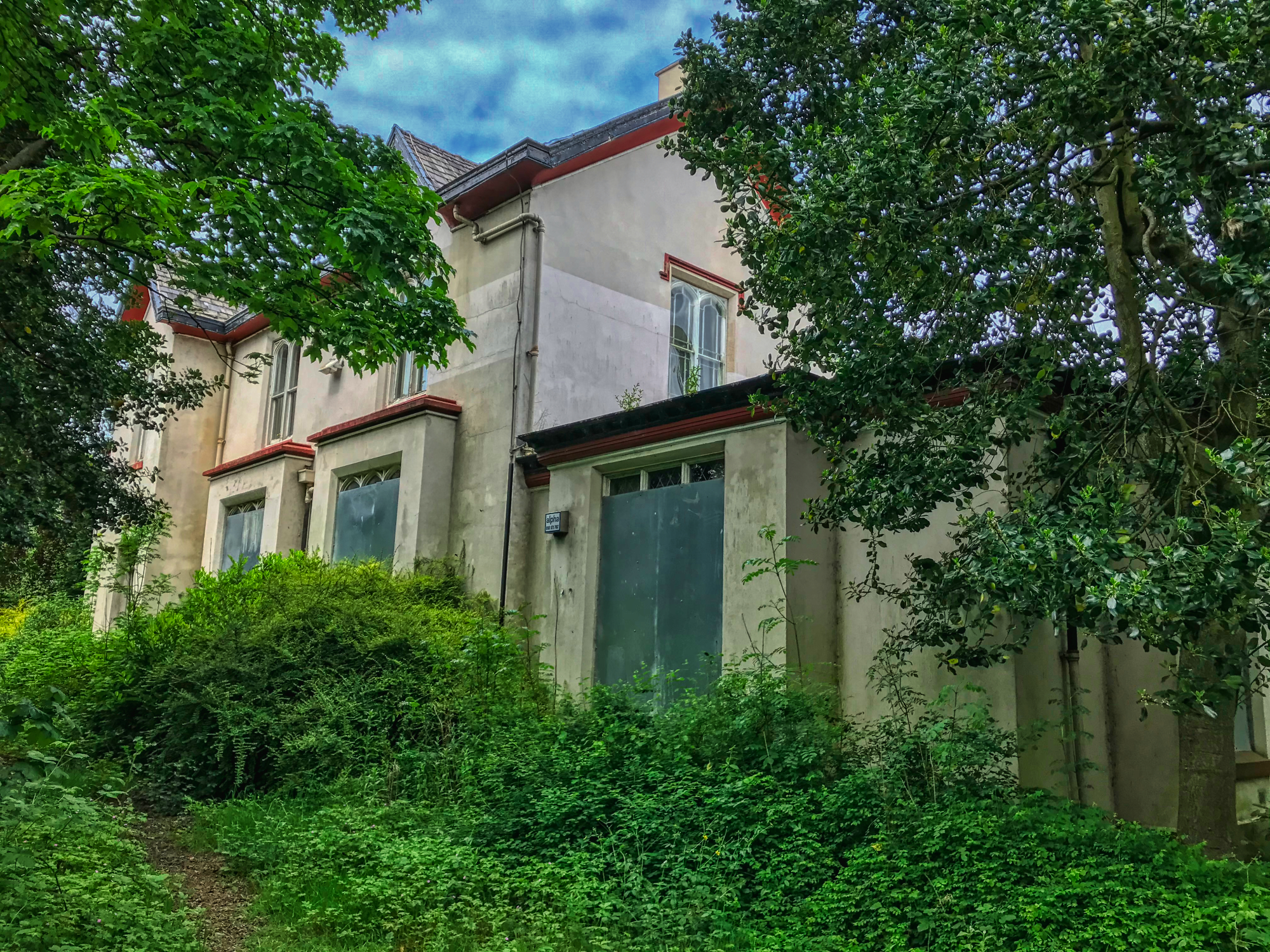 Do they have some kind of on-going deal with the current homeless squatters? It does make me wonder.

Do you like posting your Urbex content and photography for FREE on Facebook and YouTube? I like to get some form of reward for my work and every time I create I do just that. Take a look at The Urbex Community on HIVE.
If you want to keep creating for FREE then ignore what you are reading. If you want to be like me and gain something other than BUGGER ALL for your work then click here and learn about posting on the HIVE blockchain.


All my 'Tales' content is easy to find on my personal website:
'Tales of the Urban Explorer'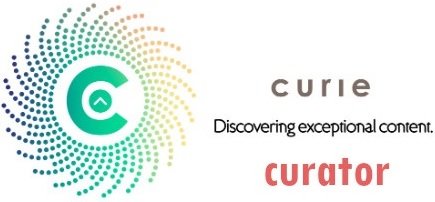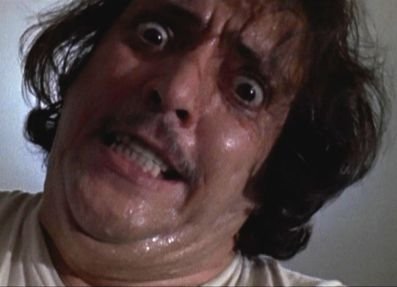 If you found this article so invigorating that you are now a positively googly-eyed, drooling lunatic with dripping saliva or even if you liked it just a bit, then please upvote, comment, rehive, engage me or all of these things.
---
---