Splinterlands Strategies: Mini-Tanks
One thing I notice when playing a match with limited mana and I mean 12 or 13 is how many players don't attempt to fill their ranks.
You have six slots so why not take advantage of them all? Filling your ranks is a great way to win a match if you have the capabilities, so don't overlook low mana monsters even if they appear to be weak.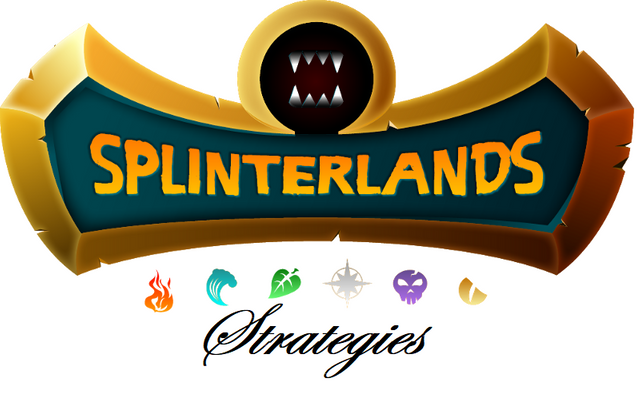 When I say 'Mini-Tanks' I mean the monster on the front line that is cheap to cast in terms of mana.
I can't count the number of times I have used 'Skeletal Warrior' and in the face of adversity won the match.
As it stands there are only THREE splinters who have these so-called mini-tanks, my definition being only TWO mana to cast.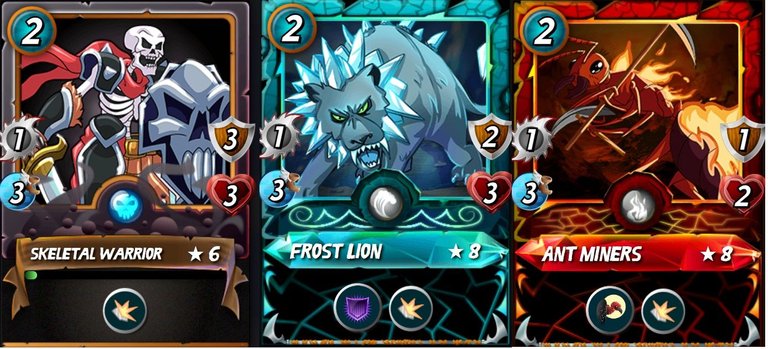 NOTE: that I used Skeletal Warrior at Level 6 and Frost Lion and Ant Miners at Level 8 as my Summoners are all Level 6. They scale accordingly both up and down the levels.
All these cards have 'shield' which I feel is important for a tank. These guys are the front are there for just a couple of turns while your mid-range monsters take your opponent apart.
That is the idea and I have found a horde works well against your opponent's bigger tank and few auxiliary monsters.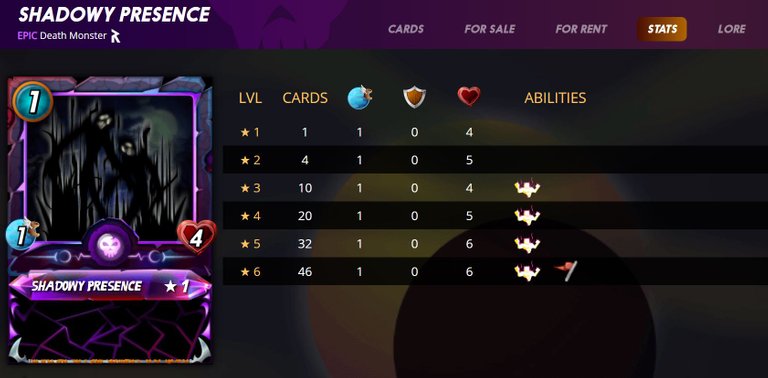 ...'while my summoners can command a Level 5 Shadowy Presence, I use a Level 3 as that is when it becomes pertinant'...
In the case of the Death splinter, it is advisable to partner 'Skeletal Warrior' with the excellent 'Shadowy Presence' and his Strength buff.
Never underestimate the power of global buffs. He's adding 6 health to your team combined for just a single mana. In these low mana games, this card is a must-play.
I would say Protect is a superior buff but that type doesn't fit with the Death splinter theme, and likely never will.
With Water, we have 'Frost Lion' which at first glance looks underpowered. When compared with Skeletal Warrior you can see the similarities.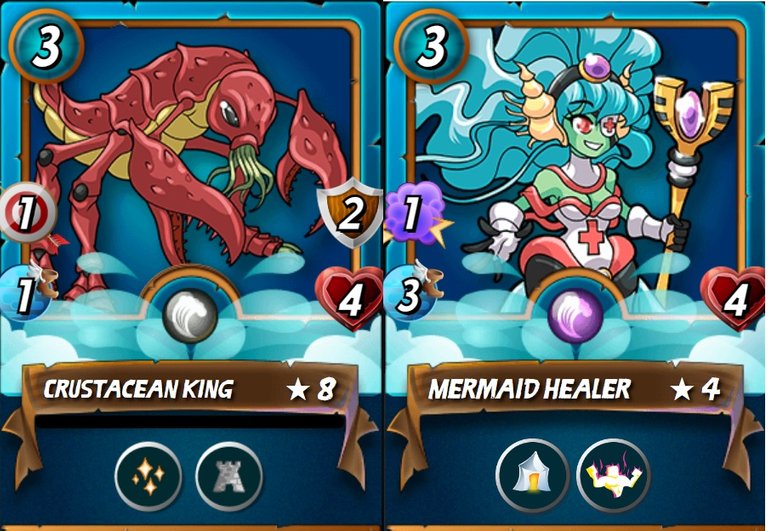 To complement the Lion I would use either Crustacean King or if ranged monsters are not allowed due to the ruleset, Mermaid Healer as an alternative.
Both are 3 mana that fit well with your limited capacity, and both offer global buffs as well as healing. I would always use Crustacean King as a preference.
For the Fire splinter, Ant Miners appears woefully weak. As an alternative, Cerebus at four mana could be used but that may compromise your ability to fill the ranks and lacks Shield.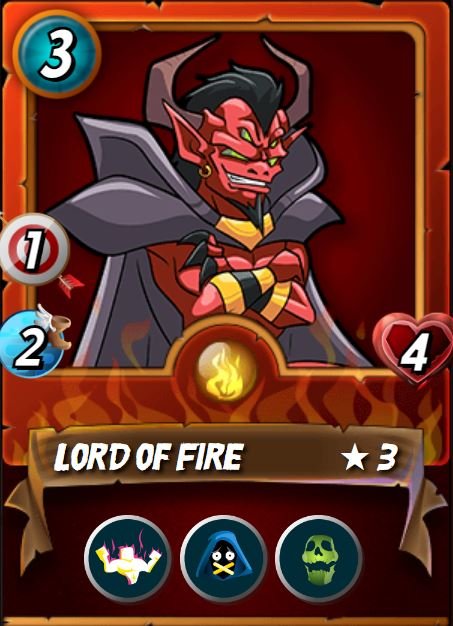 Lord of Fire is an expensive card but on acquiring a Level 3 almost 2 years ago I can vividly recall the difference.
At the time Fire was quite a weak splinter and then I started winning matches.
Similar to the other support cards, Lord costs just 3 mana, provides a global buff, a global debuff, and a single debuff.
It was the Strengthen that made me cough out quite a lot of what was then STEEM, to get my Level 3 Lord.
Like the Death splinter, Fire does not lend itself well to global buffs with no Protects and only one other card having Strengthen.
As for the other splinters.. that is Life, Earth, and Dragon, none of them contain a Mini-Tank that fits my criteria.
All the splinters contain tanks that have Shield but are FIVE mana. That is too much for me.
In most cases, if you are given a match that is 12 mana and you have a full deck, I would recommend you try these tactics.
...'Serpentine Spy...., hideously potent if you can keep him alive'...
Always have at least one large damage dealer in this small mana game. For Fire, the obvious contender is Serpentine Spy. If you want Spy to live, look for a global Speed buff amongst your monsters or use Creeping Ooze to slow your opponent down.
If your Spy hits first, he's likely to take out your opponent's hit-man. This is crucial in winning your match.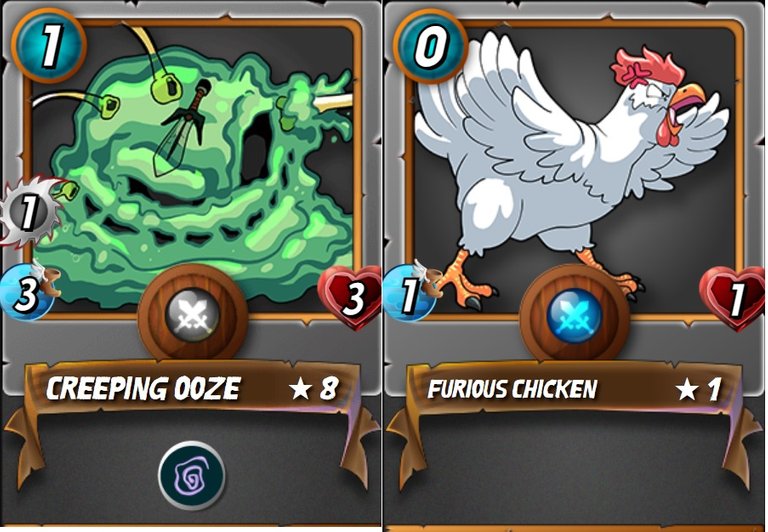 ...'I never understood the reasoning to Level up Mr Chicken..., he's bait and that's all he's good for'...
If necessary Furious Chicken or Creeping Ooze can fill that last spot. Remember the latter contains a very useful global debuff I mentioned above.
..and lastly, always rate global buffs over global debuffs as you have the control and are not reliant on your opponent's choices.

Earn currency while you play brewing virtual beer with CryptoBrewMaster
Earn currency while you play and become a global Rock Star with Rising Star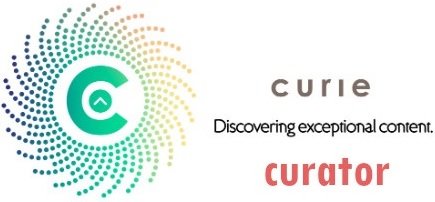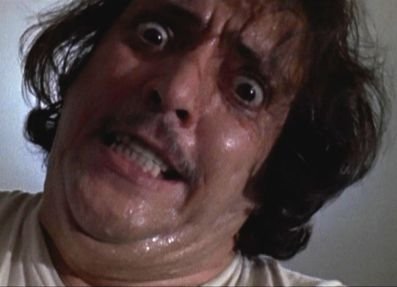 If you found this article so invigorating that you are now a positively googly-eyed, drooling lunatic with dripping saliva or even if you liked it just a bit, then please upvote, comment, rehive, engage me or all of these things.
---
---