Splinterlands Strategies: Insanity, Renting, Reward Cards.

It's been some time since I posted about Splinterlands. More like a year or so but I can't ignore what I am seeing before me.
...'Insanity'...
I see so many jumping on the bandwagon and after witnessing so many shitty blockchain games, DrakeBall being the most recent I can say with all sincerity, Splinterlands is no fly-by-night. Do me a favour, keep away from DrakeBall unless you want to get scammed.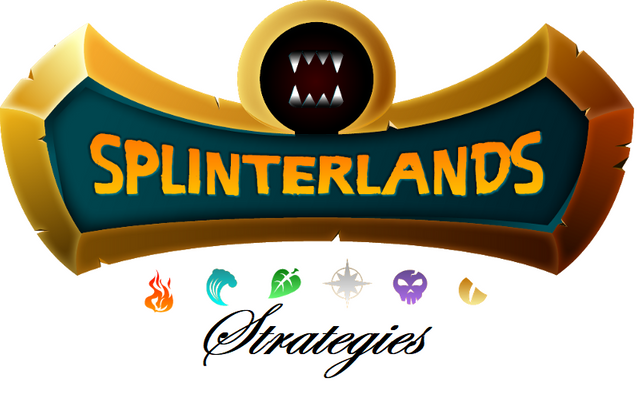 If you are here for the riches, then look on the horizon. See that tiny speck, well that's the boat you didn't jump on.
I'm not gloating, honest… (puffs out chest). Like many of us now, I regret selling way too many of my cards before all the madness happened.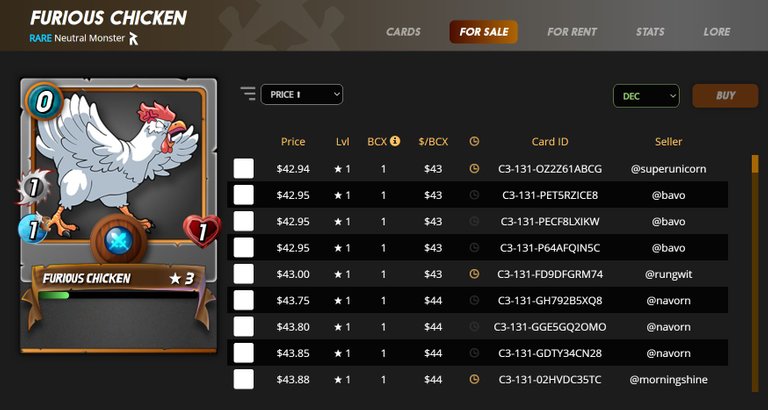 I mean Furious Chickens at $42? I had around 20 Lvl 1 chickens and why level up chicken fodder beyond Lvl 1? The rent price for standard, boring, non-barbequed chickens is now 10 DEC a day.
Should you rent a chicken? Yes! Mr. Chicken is fodder for your opponent's tank. He gives you a 1 turn gap for you to unleash your ranged and magic wrath.
I looked at the rental market and was staggered. I place something on there and it's rented within minutes.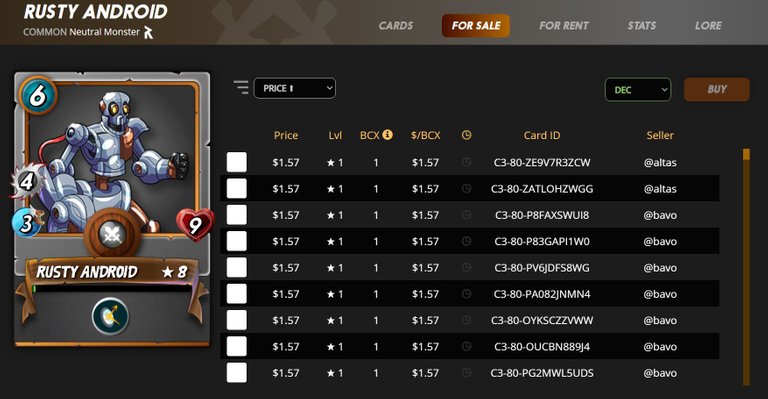 ...'Rusty Androids at $1.57. Are you taking the piss?'...
I am not talking about your Lvl.1 Rusty Android here but Betas. Betas have been OOP (Out-Of-Print) forever now and the prices are truly shocking.

Flesh Golems (Lvl.3) rent at 80 DEC a day. I had 50 or so Lvl.1 Golems doing nothing. After some combines, these once redundant cards are now paying me while I sleep.
Who would have thought a common card would demand $36? It's no coincidence I leveled my spares to (3) as that is when he gets the self-heal.
Yet other cards which I feel are staples do not fare so well.
I can't get a renter for my Level 6 Giant Roc. He has three abilities and fares well as a reach monster in position (2). Some joker has added one for rent at 5 DEC a day recently.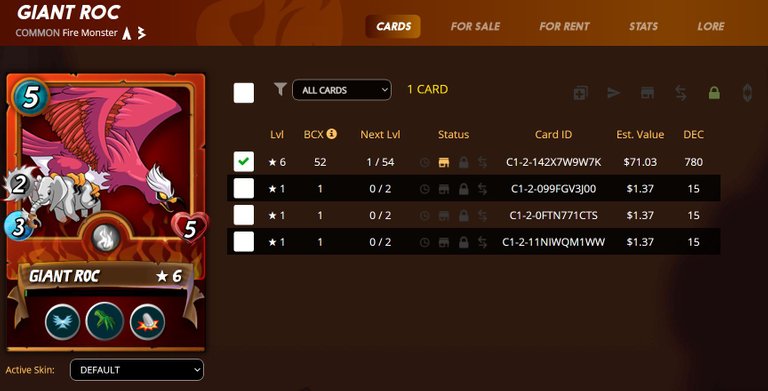 This post is quite rambling but I do want to discuss the current reward cards or lack of them.
Like most, I don't like getting potions as I already have hundreds already waiting for Chaos Legion.
Many reward cards have recently gone OOP but do you know which ones? I dug up this old link from 2 years ago that appears to be still current.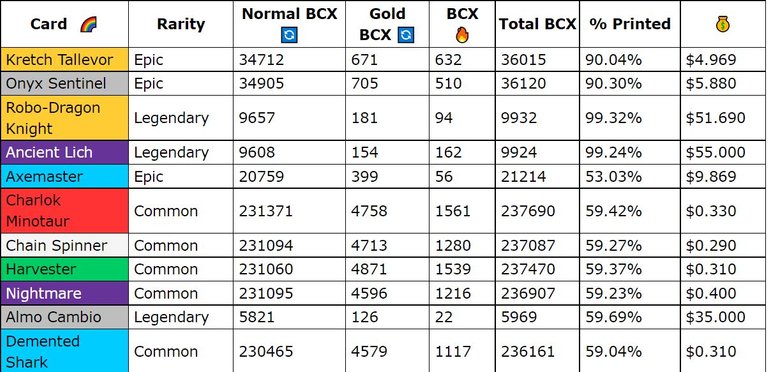 I only tend to hone in on a few reward cards, level them up, and sell or hoard the rest.
https://kiokizz.github.io/Splinterlands/rewardCards.html
Dark Ferryman was one card I was trying to upgrade to Level 6 and I have been forced to buy the rest lest they go up even more.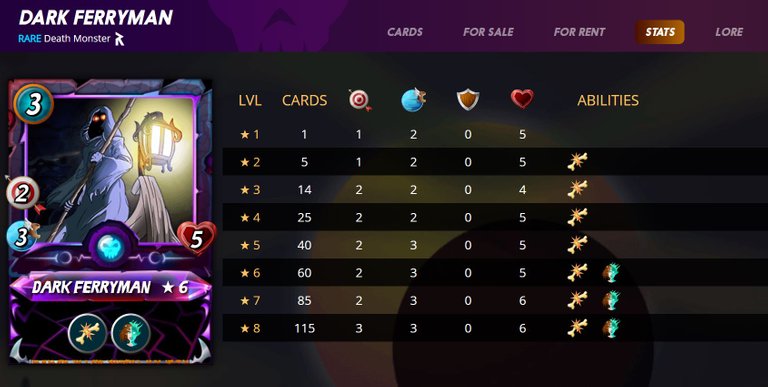 A 3 drop ranged monster with decent health and 2 single debuffs goes well with me. At $1.29 each, I expect the Ferryman to increase in price.
Nectar Queen is another card I have been laboriously upgrading to Level 8 for what seems forever.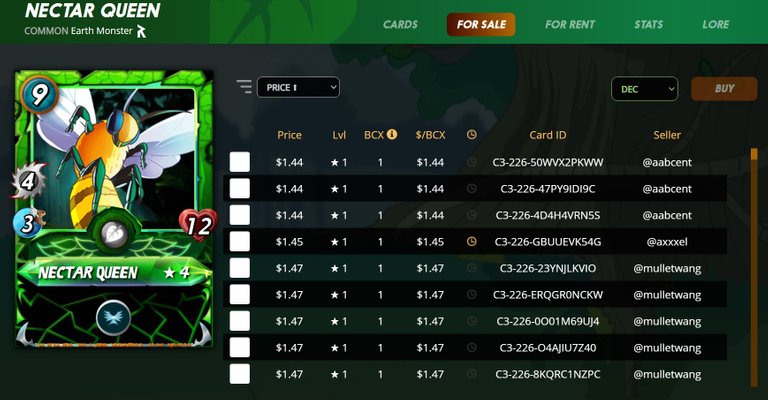 The card again is now OOP and I was shocked to see this common demanding almost $1.50 per BCX. I only needed 5 fortunately and have now managed my target.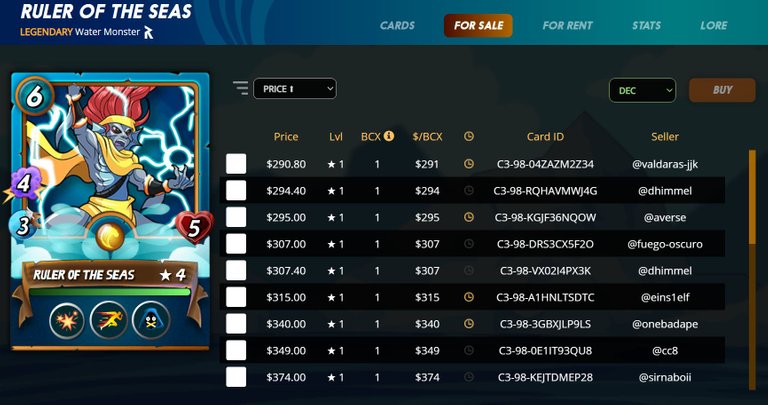 It does make me wonder how new players can possibly get in now with old reward cards that are essential for competitive play knocking at $300 per BCX. Renting is the ONLY real option.
I for one am glad I held on to these cards and bought a shit-load of legendary summoners thanks to the STEEM/HIVE divorce.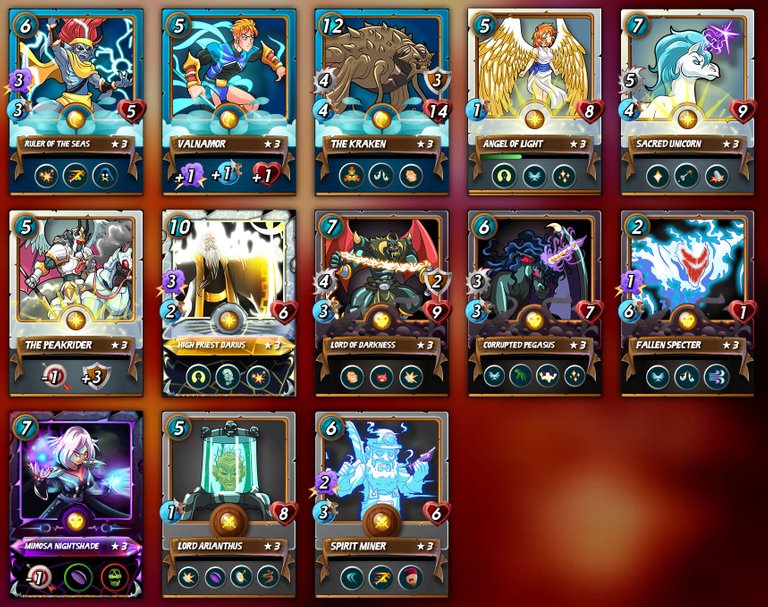 ...'WARNING: Looking at the prices of these cards may induce cardiac arrest, ensure you have a medic next to you'...
That STEEM came in very useful for my big hitters which are now obscene prices, so thank you very much Justin you did some of us a big favour.
If you are new to the scene and want to rent, don't ignore the gold cards. Some of them rent for less than the regular ones and earn you more DEC!
I guess new players don't even look judging them to be overpriced.

Also, look at renting Lvl3 summoners. Mine are far too cheap and I will be raising the rent soon. You are not going to get very far at Lvl1.
Finally, give this game some trust. It's been around for over 3 years now. It is not going away and you likely will gain your ROI back in just time.
I know I have.

Earn currency while you play brewing virtual beer with CryptoBrewMaster
Earn currency while you play and become a global Rock Star with Rising Star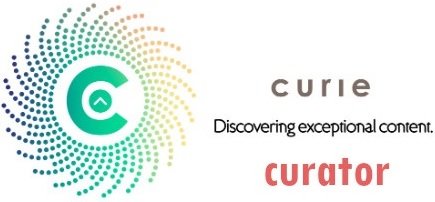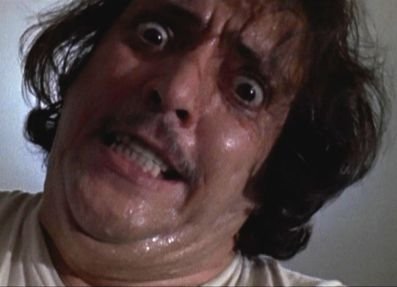 If you found this article so invigorating that you are now a positively googly-eyed, drooling lunatic with dripping saliva or even if you liked it just a bit, then please upvote, comment, rehive, engage me or all of these things.
---
---