SHIBA INU - The Freefall Continues! 🪂🪂🪂

SHIBA PRICE - Last Chance to pull the ripcord???
The current price of Shiba Inu today is $0.000024 USD, with a 24-hour trading volume of $420,448,658 USD - WOW! Shiba Inu is down another 1.10% in the last 24 hours.!! SHIB's CoinMarketCap ranking is still #15, with a market cap of $13,288,977,917 USD. Shiba Price Stats Source: Coinmarketcap!
That's How SHIB Does it...
When it's up, it goes down, then it goes down a little bit more before it either splats on the "core" and finally bounces. It's been a long Grueling past 7 months of Shiba Inu in decline.
Shiba Inu still can be really great coin for trading, if you' re patient enough, especially when the price tends to keep dipping. That's why it may be a good idea to wait for it just a little bit longer each time before buying, this is a really big downtrend.
More like the "Expensive Fall" Continues!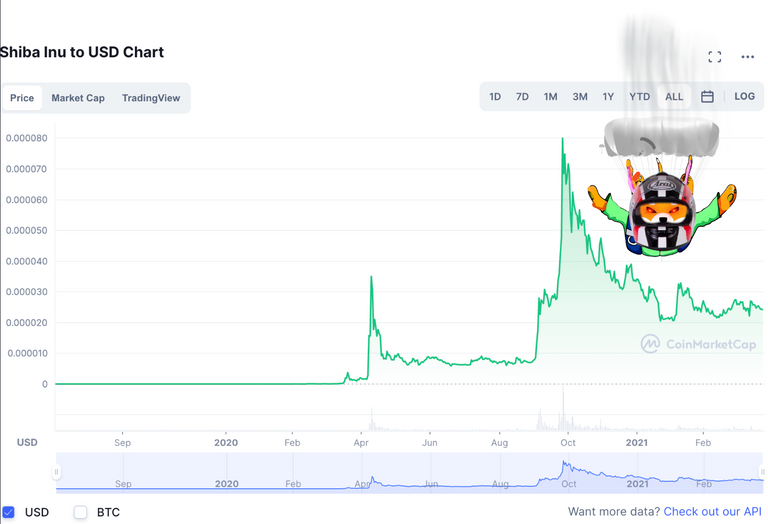 Yesterday when we were going sideways, I thought it might turn, but alas we continued to fall down a little bit more. Since we didn't bounce yet, and it's already Friday where I'm at, I don't expect it to bounce again until next week Tuesday at the earliest! Seafloor Sunday will be upon us, and the trend has been for bloody stock market Monday opens, so that never bodes well for SHIB. It's a free-fall death spiral for SHIB lately, and that trend appears to be set in motion, until it's not!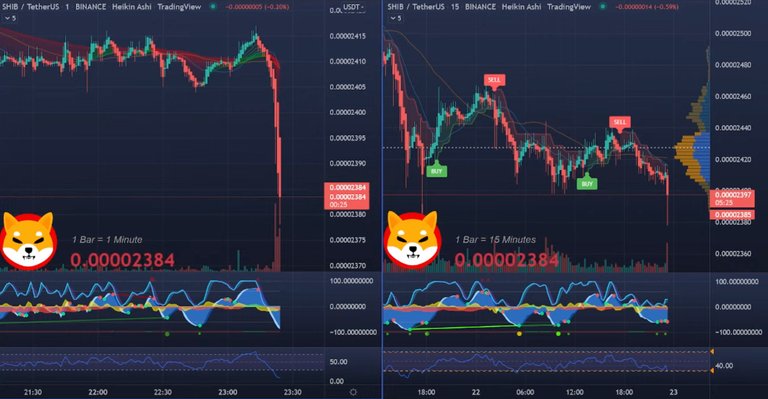 Bullish Divergence on the 1 minute, & 15 minute chart, was not enough to stop the dissent!
Check out SHIBA LIVE Streaming, Here on youtube!!
Up Down Sideways DOWN: Wen Up again is the question?
When it's not UP, Down, SIDEWAYS, UP, it's usually down some more. We'll just have to see as the patterns unfold! My prediction is SHIBA will dump some more this weekend, but as we all know, anything can happen in crypto!
Buy low, buy lower, that's the way the world of Shiba works. Just keep "DCAing", meaning buying more as it goes down, eventually it will pop up and erase the losses, you'll just have a heck of a lot more coins to profit off of when it finally turns around. However keep the timespan in between DCA buys longer right now untill it looks like we hit bottom.
The good news is the extreme volatility of SHIB can provide many opportunities for DCA trading, and for me it makes posting about SHIB a snap. Every day there seems to be something to blog about. So if you're interested in this new meme coin SHIBA INU, which you probably are if you're still reading, then be sure to slap us with an upvote, and follow @shiba.inu for more!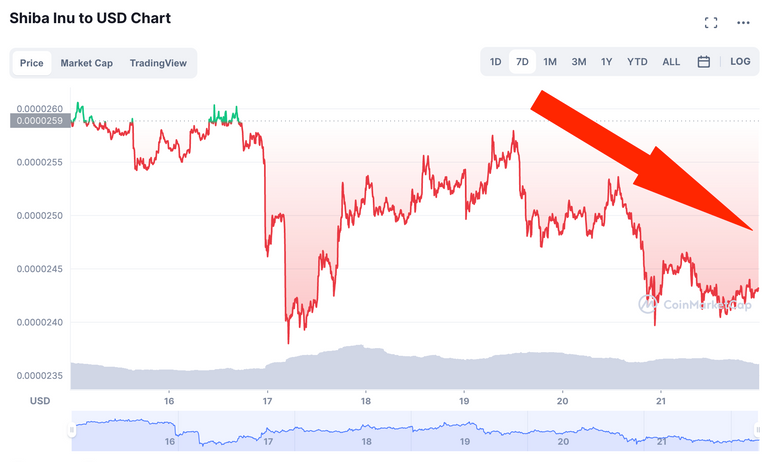 Follow @shiba.inu for updates every day!!
---
---