Uraeus (Epic) & Venari Wavesmith (Rare) from Daily Quest Chests! (+Venari Heatsmith)
Hello, and welcome again to another report of my best/worst moments in Splinterlands!
This time i want to share what i got from today's chest rewards.
I'm currently battling on Silver II League, so i get 3 reward chests every time i clear my daily quests. Usually i get a card or two (commons mostly) and a potion or some DEC. Ocassionally a Rare or a Epic card drop, very rarerly a Gold Foil, and Legendaries i still haven't got any from chests.
Today i got three Cards: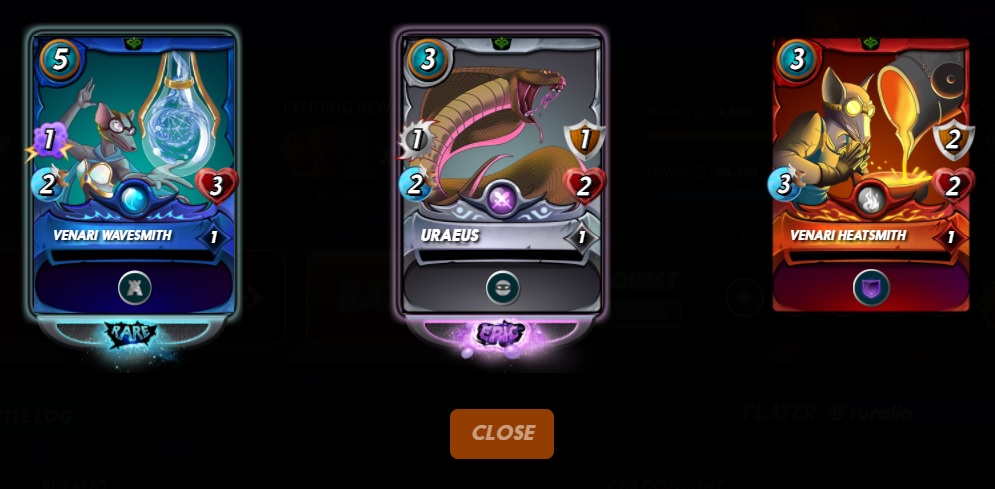 Venari Wavesmith (Rare), Uraeus (Epic) and Venari Heatsmith (Common)
None of this cards is super-expensive, but both Venari Wavesmith and Uraeus are versatile cards that will provide great utility in most battles, at least on Leagues up to Silver.
Venari Wavesmith provides 2 Shield to all allies, which can turn a fragile, shieldless lineup, into a decently armored one.
Uraeus might look simple, but can be a game changer in melee combats where the back line gets striked first. It's 1 Shield will let it resist 1 extra attack usually, which can be crucial for the battle.
Venari Heatsmith isn't, in my opinion, as versatile as the other two cards, but it's stil a card that may get played under some rules. Since it's a common card that i get quite often from reward chests, i collect and combine them to increase their level.
Overall, i think it was great set of cards that i got from today's reward chests.
Is not all about Legendaries or Gold Foils (which are certainly nice!). Getting a couple of low mana, high utility cards on a single day is good enough for me.
It kinda makes up for my terrible finale last season, where i got my rentals cancelled on the last day and ended up on Bronze III, getting nothing but potions and credits from season chests ( you can read the story at https://www.splintertalk.io/@ruralio/rentals-cancelled-on-last-24hs-of-season-from-silver-ii-to-bronze-iii )
Thanks for reading and hope this can inspire you to keep grinding and battling for those daily quests!
---
---