Sesión de juegos de mesa #29 // Board games session #29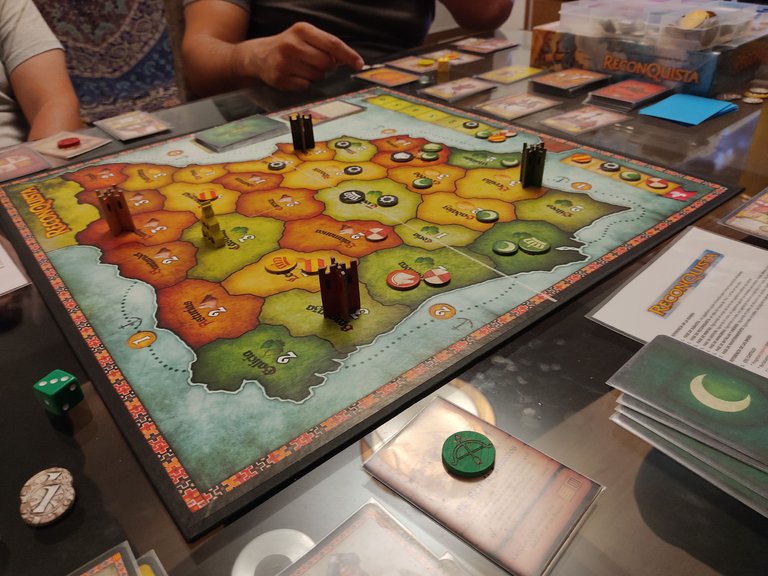 Después de varias semanas, tuve una nueva sesión de juego con mis amigos. Detallo:
After several weeks, I had a new gaming session with my friends. I detail:
ORLÉANS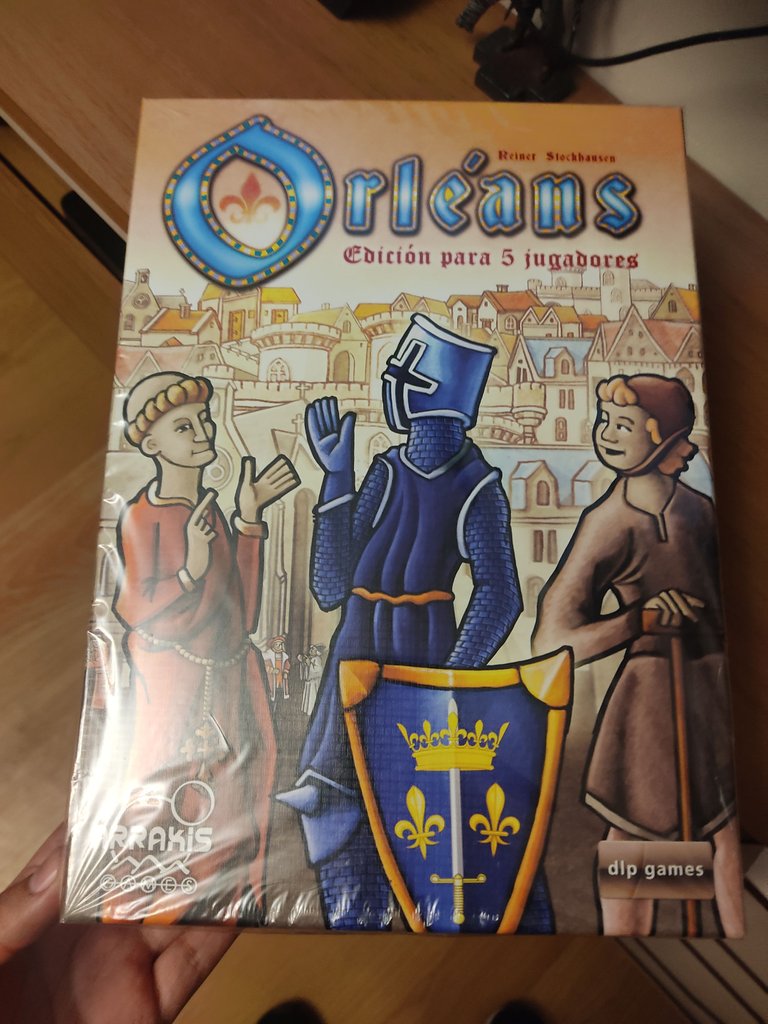 Un juego al que ya quería jugar hace muchos años, se dio la oportunidad. Su mecánica de bag building es lo más llamativo de su propuesta. En cada turno un jugador sacará fichas de una bolsa, estas fichas dependiendo de donde lo pongas en un tablero personal podrás hacer diversas acciones que a su vez aumentará la cantidad de fichas para tu bolsa y tus posibles acciones. Gana el que tenga mayoría de puntos según ciertos objetivos.
A game that I have wanted to play for many years, the opportunity was given. Its bag building mechanics is the most striking of its proposal. In each turn a player will draw chips from a bag, these chips depending on where you put it on a personal board you can do various actions which in turn will increase the amount of chips for your bag and your possible actions. The winner is the one who has the most points according to certain objectives.
Es un euro que con esa mecánica le da su toque particular. Me divertí bastante y que si bien no logre un buen resultado, me interesa probar más partidas para mejorar mi estrategia.
It's a euro that with this mechanic gives it its particular touch. I had a lot of fun and although I did not achieve a good result, I am interested in trying more games to improve my strategy.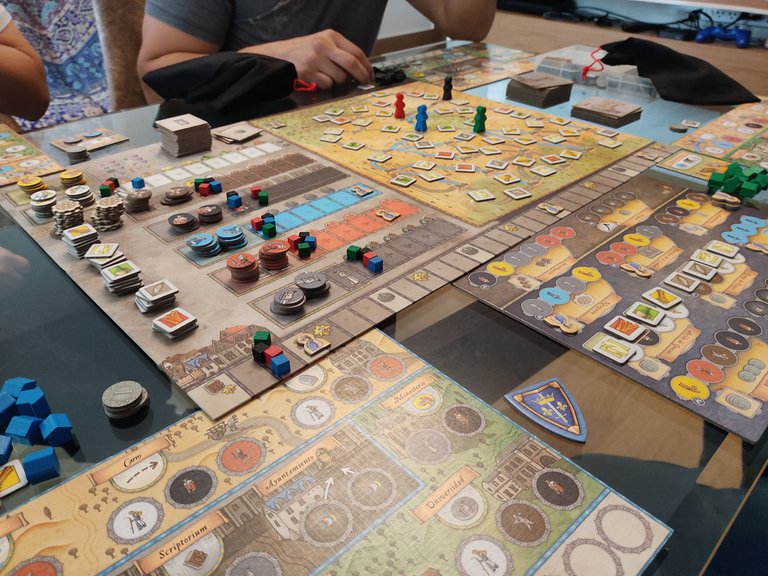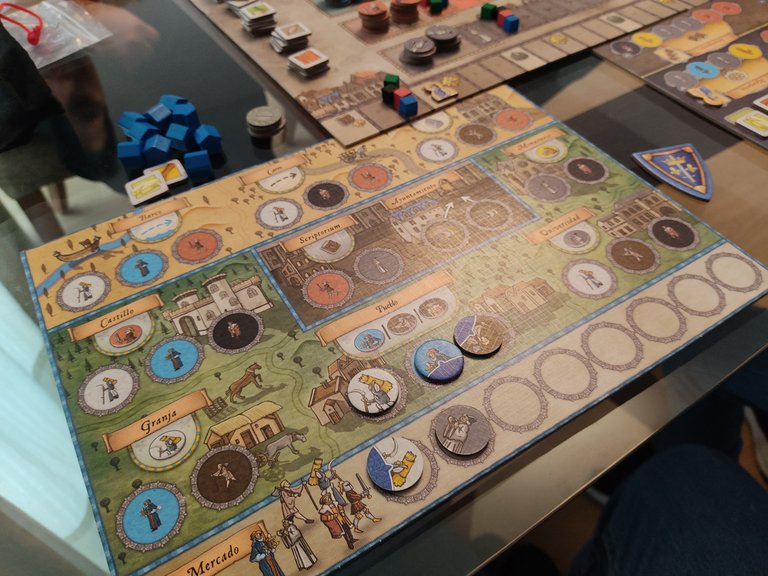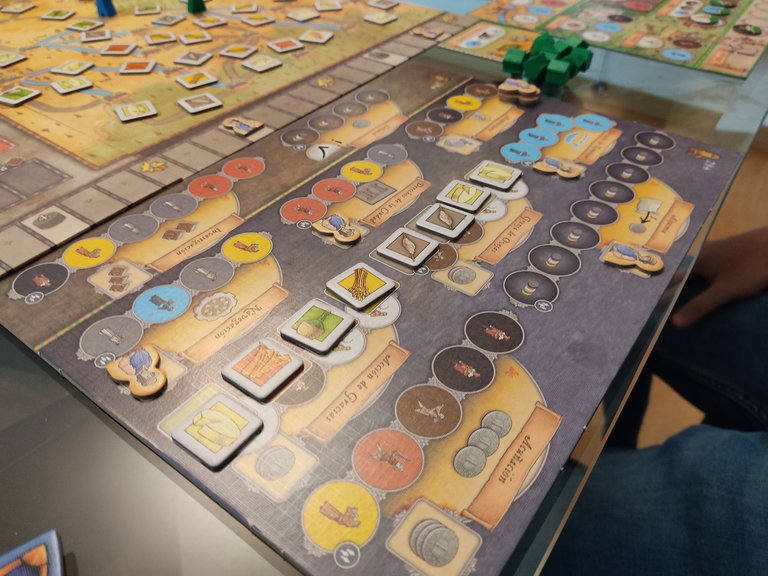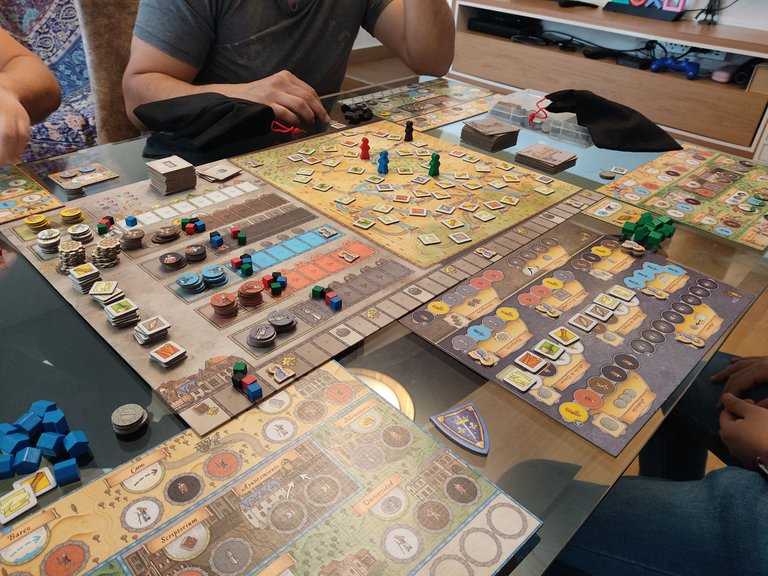 ---
RECONQUISTA
Un juego de control de territorio, en donde los jugadores irán formando sus tropas, bases y castillos, para obtener cierta cantidad de puntos antes que los demás y con ello ganar la partida. Con monedas iremos adquiriendo tropas, construiremos bases y otros. También podremos hacer uso de cartas o arqueros según nuestra estrategia. La ambientación es la de la guerra en la Península Ibérica en el siglo 11.
A game of territory control, where players will be forming their troops, bases and castles, to obtain a certain amount of points before the others and thus win the game. With coins we will acquire troops, build bases and others. We will also be able to use cards or archers according to our strategy. The setting is that of the war in the Iberian Peninsula in the 11th century.
Si bien el juego a primera instancia parece entretenido, entender las reglas puede ser un tanto complicado. Yo me perdí demasiado en mi primera partida, y se me hizo un poco pesado ciertas fases del juego. No veo mal el juego, pero veo difícil que me interese seguir probando una nueva partida.
Although the game seems entertaining at first glance, understanding the rules can be a bit complicated. I got lost too much in my first game, and certain phases of the game became a little heavy. I don't think the game is bad, but I don't think I'd be interested in trying a new game.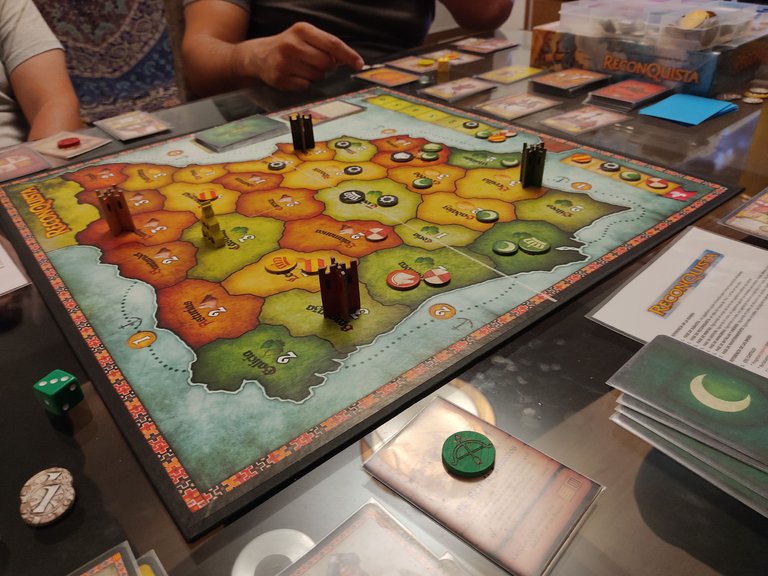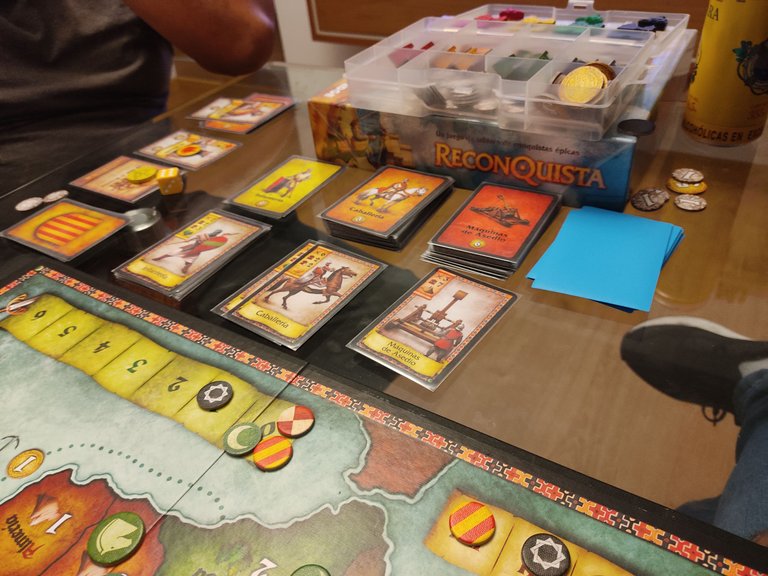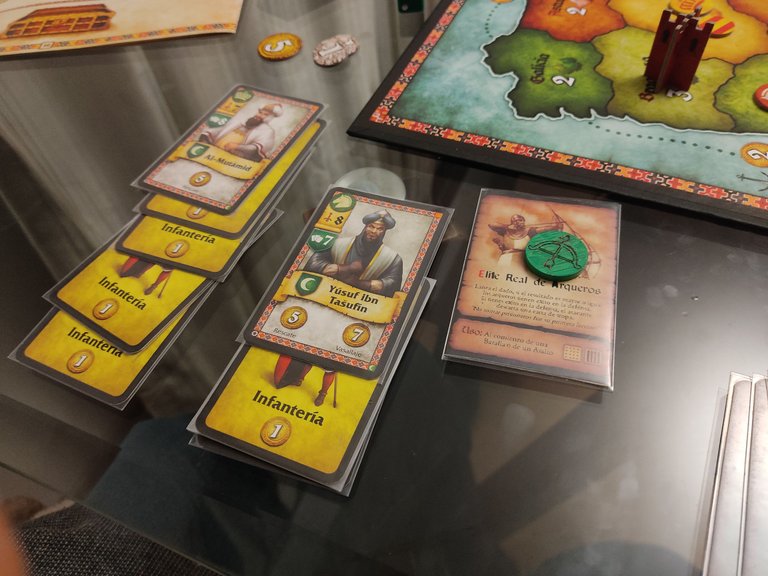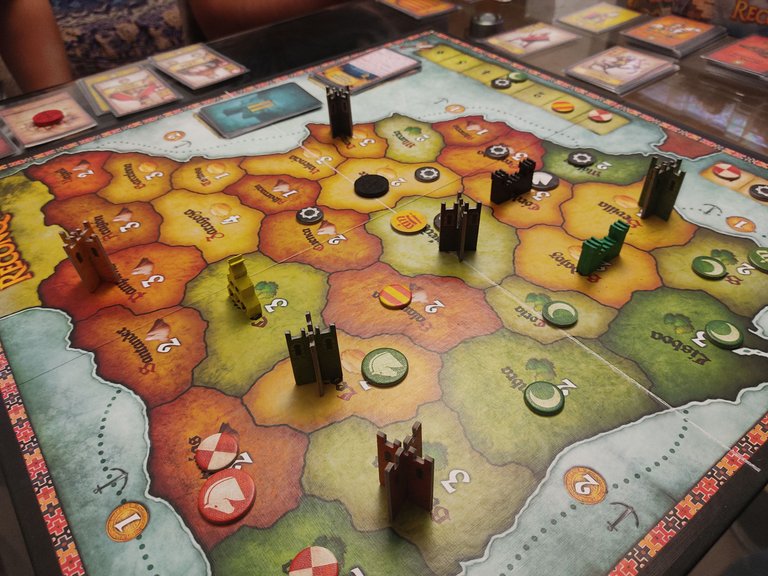 ---
SMASH UP
Un juego que mezcla un diseño divertido con una mecánica de mayorías. Al comienzo del juego elegiremos 2 facciones de muchas posibilidades, como pueden ser dinosaurios, zombies, robots, etc. Se nos darán cartas que barajamos para formar un deck. En cada turno usando una mano inicial, jugamos nuestras cartas en diversas bases para ir formando mayorías, llegado a cierta cantidad de puntos, las bases explotaran y reparten puntos a los jugadores. Gana el que obtenga cierta cantidad de puntos antes que los demás.
A game that mixes a fun design with a mechanics of majorities. At the beginning of the game we choose 2 factions of many possibilities, such as dinosaurs, zombies, robots, etc. We will be given cards that we shuffle to form a deck. In each turn, using an initial hand, we play our cards in different bases to form majorities, reaching a certain amount of points, the bases will explode and distribute points to the players. The winner is the one who gets a certain amount of points before the others.
El juego es divertido no solo por la mecánica y estrategia que tiene, sino por el diseño que tiene su gracia. Es un juego que gana bastante con sus diversas expansiones. Es un juego que recomiendo probar al menos una vez, ya que sus reglas no son complicadas y es divertido de jugar.
The game is fun not only because of its mechanics and strategy, but also because of its design, which is funny. It is a game that gains a lot with its various expansions. It is a game that I recommend to try at least once, since its rules are not complicated and it is fun to play.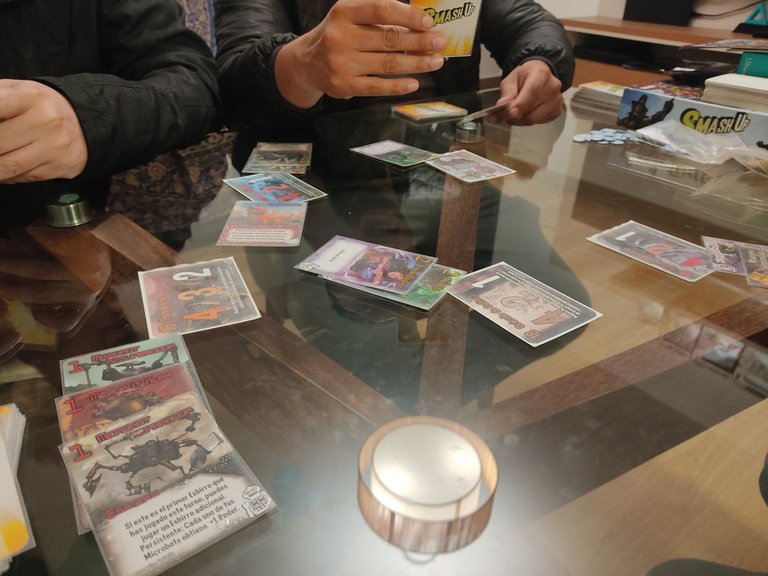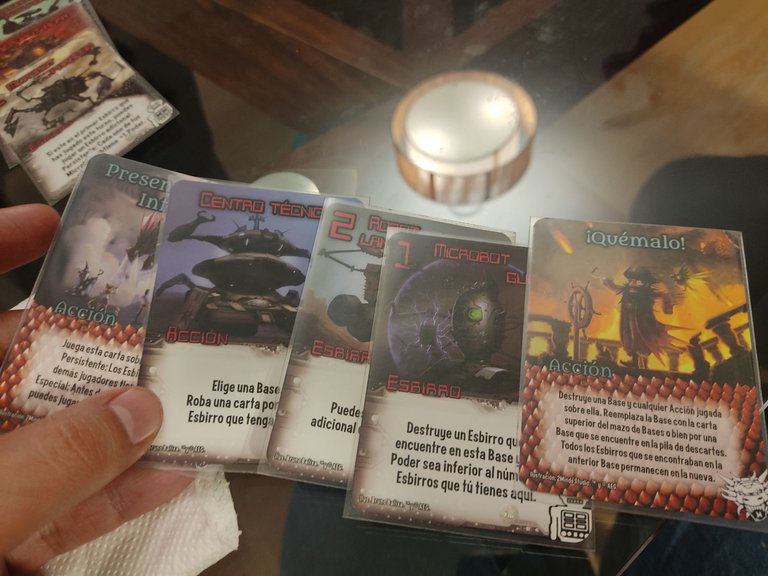 ---
Terminado ese juego, terminamos la sesión.
Finished that game, we ended the session.
---
---