Reseña: Pinocho // Review: Pinocchio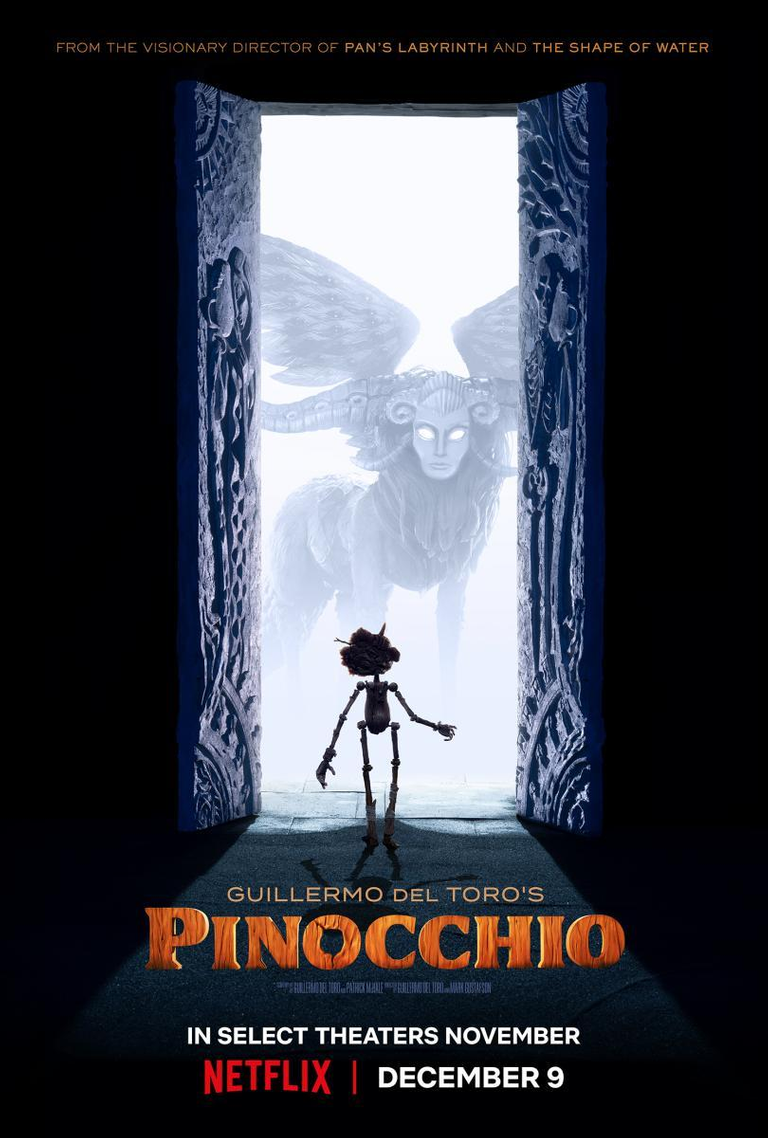 A veces una misma historia puede tener diferentes versiones o visiones, especialmente cuando la historia es de libre uso, como podrían ser las fábulas o cuentos de hadas. En este caso, Guillermo del Toro acaba de estrenar su versión de Pinocho en Netflix. Una animación desarrollada en stop-motion.
Sometimes the same story can have different versions or visions, especially when the story is free to use, such as fables or fairy tales. In this case, Guillermo del Toro has just released his version of Pinocchio on Netflix. An animation developed in stop-motion.
Sinopsis: Geppetto es un carpintero que vive con su hijo Carlo en un pequeño pueblo italiano. Debido a la guerra, Carlo fallece en un bombardeo. Geppetto en un ataque de ira decide crear un nuevo niño hecho en madera, Pinocho. A partir de ahí, Pinocho tratará de adaptarse a la vida acompañado de diversos personajes.
Synopsis: Geppetto is a carpenter who lives with his son Carlo in a small Italian village. Due to the war, Carlo dies in a bombing. Geppetto in a fit of anger decides to create a new boy made of wood, Pinocchio. From then on, Pinocchio will try to adapt to life accompanied by various characters.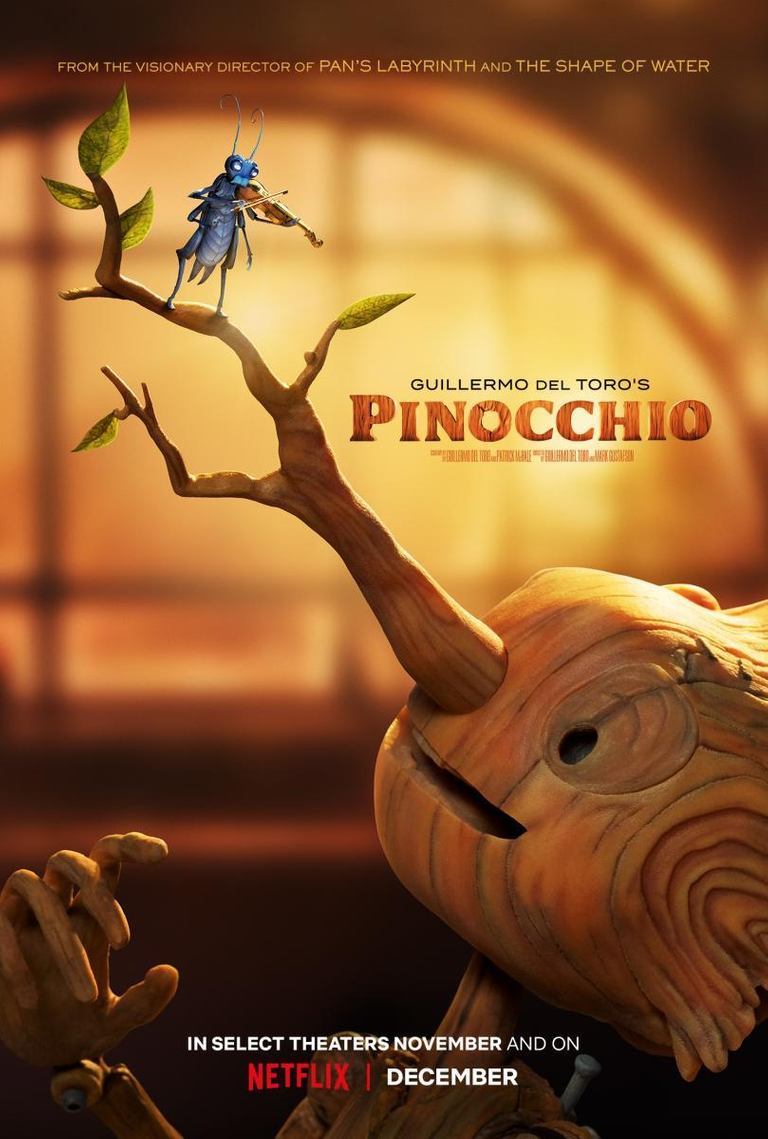 Si alguna vez has visto alguna adaptación de Pinocho, veras que sigue en muchos aspectos la historia ya conocida; sin embargo, el tono es más sombrío, mostrándonos por ejemplo como Geppetto acaba en el alcoholismo debido a la muerte de su hijo, o mostrándonos un contexto pre 2da guerra mundial, donde la sociedad italiana convive con el facismo de Mussolini. A su vez, los seres mágicos que veremos en la cinta, mostrará el toque de las películas de Guillermo del Toro.
If you have ever seen any adaptation of Pinocchio, you will see that it follows in many aspects the already known story; however, the tone is more somber, showing us for example how Geppetto ends up in alcoholism due to the death of his son, or showing us a pre World War II context, where the Italian society coexists with Mussolini's facism. At the same time, the magical beings that we will see in the film, will show the touch of Guillermo del Toro's films.
Si bien a la trama se le da una visión particular, creo que el ritmo no es tan bien llevado como uno esperaría. Aparte, siento que al querer transmitir varios mensajes, no permite enfocarse en uno, sintiéndose apresurado en varios pasajes. Aun así, es entretenido y se nota que estamos ante un resultado distinto a adaptaciones pasadas.
Although the plot is given a particular vision, I think the pace is not as well paced as one would expect. Besides, I feel that by wanting to convey several messages, it doesn't allow to focus on one, feeling rushed in several passages. Even so, it is entertaining and you can tell that this is a different result from past adaptations.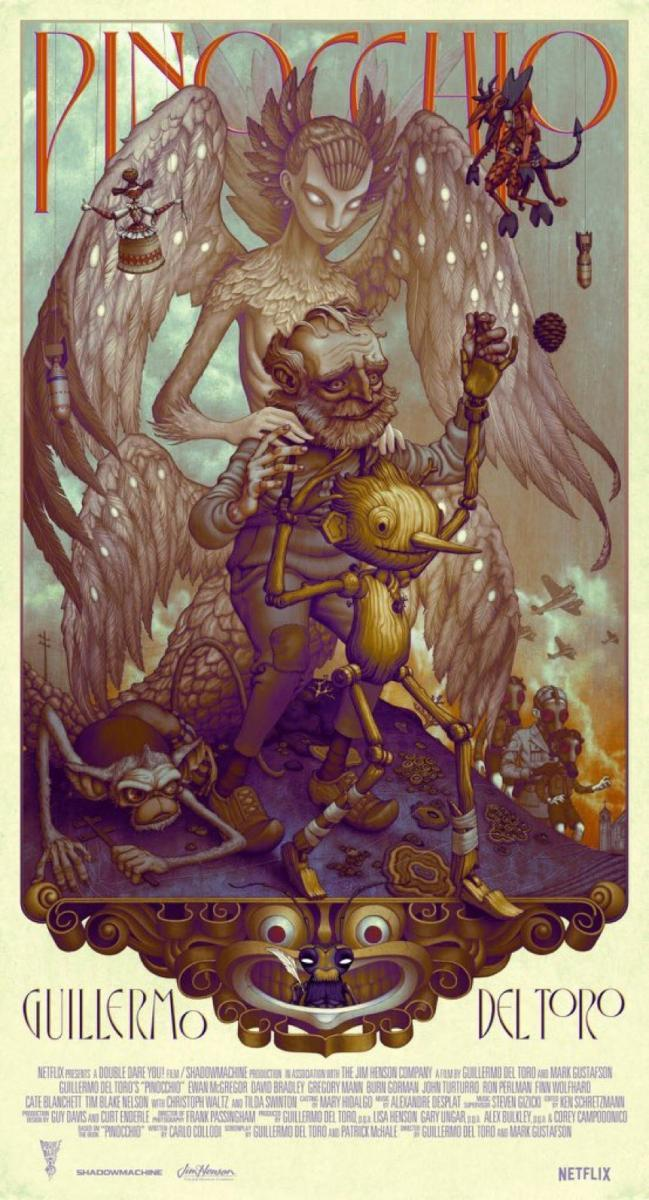 La animación stop motion es espectacular y como indique los diseños de los personajes tienen el toque característico del director. Hay canciones y ciertas coreografías, que entretienen pero no deslumbran. Los demás aspectos técnicos son correctos.
The stop motion animation is spectacular and as indicated the character designs have the director's characteristic touch. There are songs and certain choreographies, which entertain but do not dazzle. The other technical aspects are correct.
Al final, esta nueva adaptación entretiene y gustará bastante al que no haya visto ninguna versión anterior. Recomendable.
In the end, this new adaptation entertains and will please those who have not seen any previous version. Recommended.
Calificación personal 7.5 de 10
Personal rating 7.5 out of 10
---
---