Jugando PC Building Simulator // Playing PC Building Simulator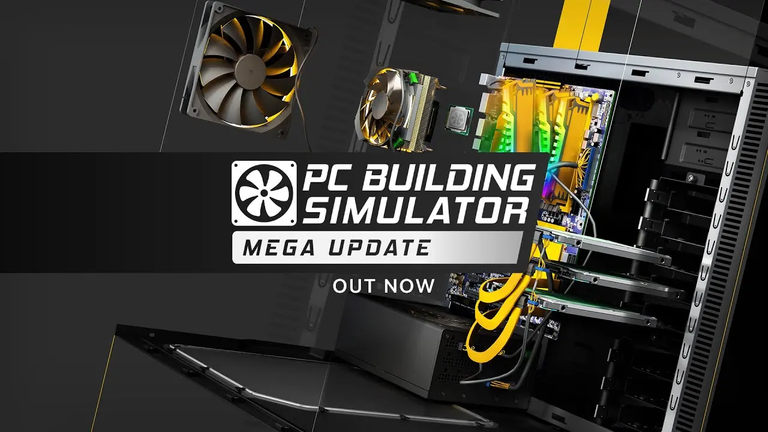 Tal vez uno de los juego más inesperados que alguna vez pensé probar. PC Building Simulator, como su nombre indica es el de un simulador de un técnico de PC, donde resolveremos problemas de diversos clientes. Fue lanzado el 2019. Desarrollado por The Irregular Corporation y Claudiu Kiss.
Perhaps one of the most unexpected games I ever thought of trying. PC Building Simulator, as its name suggests is that of a simulator of a PC technician, where we will solve problems of various customers. It was released in 2019. Developed by The Irregular Corporation and Claudiu Kiss.
El modo principal es el modo carrera, donde nos cuenta la historia de un joven que está manejando el negocio de reparaciones técnicas de PC de su tío. El juego se realiza en un cuarto donde tendremos acceso a un pc con mails y otros programas, a su vez hay diversas áreas que servirán para realizar las modificaciones necesarias a una pc. Desde cambiarle su tarjeta gráfica, realizar limpieza, cambiar cables, etc. Con el dinero que irás ganando podrás pagar mejoras, los servicios, el alquiler, etc. El juego es progresivo en su dificultad, a su vez, nos dará feedback con los ratings de los clientes, y los niveles de progresión.
The main mode is the career mode, where it tells us the story of a young man who is running his uncle's PC tech repair business. The game takes place in a room where we will have access to a pc with mails and other programs, in turn there are several areas that will serve to make the necessary modifications to a pc. From changing its graphic card, cleaning, changing cables, etc. With the money you will earn you will be able to pay for improvements, services, rent, etc. The game is progressive in its difficulty, in turn, will give us feedback with customer ratings, and progression levels.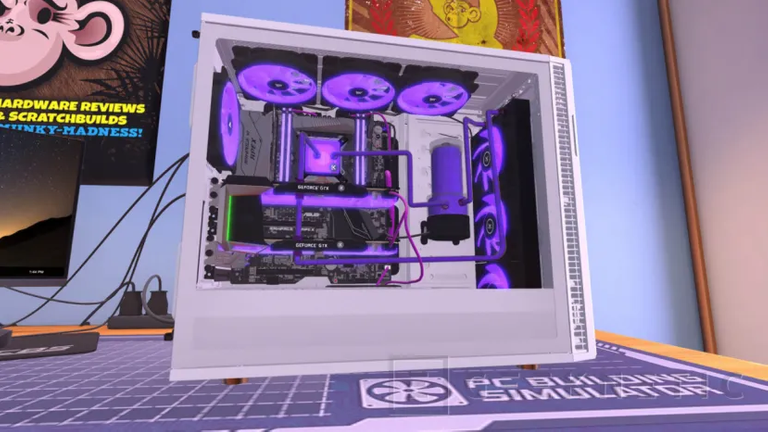 Si no sabes nada de montar una computadora, en el menú hay un tutorial que te explicara el montaje de un PC básico. También hay otro modo enfocado en el de un técnico informático, más enfocado al software de una PC. Este juego poco a poco te va botando sorpresas, y el tener que ir realizando una planificación de compras, y querer avanzar lo más rápido posible, lo hace adictivo.
If you don't know anything about setting up a computer, there is a tutorial in the menu that will explain how to set up a basic PC. There is also another mode focused on that of a computer technician, more focused on the software of a PC. This game is gradually throwing surprises at you, and having to go planning purchases, and wanting to advance as quickly as possible, makes it addictive.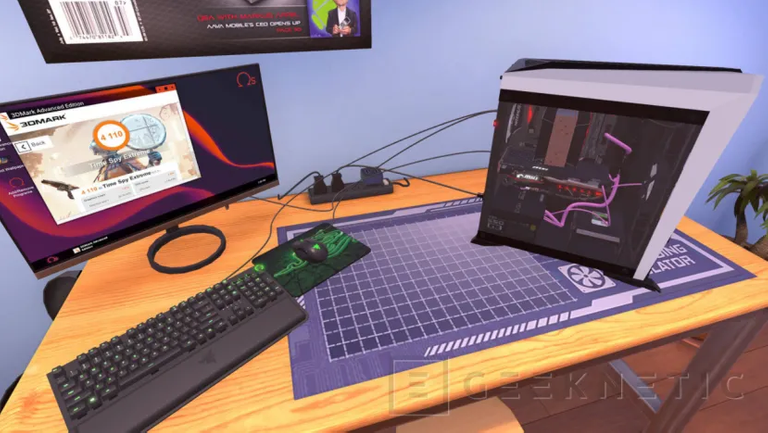 El juego es en modelado 3D, no destaca en su ambientación. Si tiene una interesante selección de canciones, que podremos escuchar para acompañar las tareas. A veces es un poco complicado entender cómo resolver un problema, pero es progresivo como mencioné antes.
The game is in 3D modeling, it does not stand out in its ambience. It does have an interesting selection of songs, which we can listen to accompany the tasks. Sometimes it is a bit complicated to understand how to solve a problem, but it is progressive as I mentioned before.
Me ha gustado el juego, y espero poder darle más horas para conocer qué más puedo ir conociendo del ensamblaje de una PC.
I liked the game, and I hope to give it more hours to learn more about the assembly of a PC.
---
---