I almost missed it…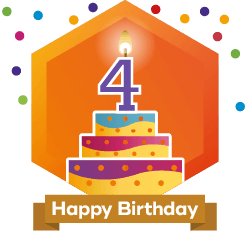 ---
... but thanks to the guys at @hivebuzz and the fact that I happened to post again yesterday, I remember!
It's my birthday today!
Normally a birthday doesn't mean much to me. Ultimately, after x number of years, a year more is just…a year more. Nothing more or less…
But this birthday is of course different.
4 years!
Besides the fact that the figure is way below my age, and thus makes me feel much younger 😉, I also consider it a milestone!
It must be about the longest period I have ever been active on any social media.
Okay, okay, I admit it. Active might not be the right word when you look at the past year. But those who follow me know that I had good reasons for doing so. AND, that career-switch period is almost over... another month of studying and... I can conquer the IT world with my newly acquired C# knowledge... Funny in itself that as a 50+ I have to look for a position as junior developer 😂
Anyway, within a month I hope to finally be more active here on Hive!
I'm sure many will be very happy with that... and by a lot I mean at least my 3 skinny friends... they're really tired of being in a drawer right now. 😉
So...on to the 5 years
And thanks again to the guys at @hivebuzz for reminding me of my own birthday! 😊
---
You liked this post?
Right you are 😉
Just follow me here to make sure you don't miss any new work. As you can see below, you will be in good company... my 3 skinny friends are waiting for you 😉


BTW: I will not ask you to upvote my posts… deep down inside you know you have to 😉
Curious to see my other work?
Although I spend most of my time here, you can also find me in other places… just take your pick…






---
---