Worldcup2022, great initiative by Hivebuzz!
Write and vote to earn
Hivebuzz, we all know it from the badges we get we hit the 10000th upvote, or entered the HPUD or LPUD. But now @hivebuzz has done something different, they initiated a prono for the World Cup 2022, and found lots of sponsors for it. A prize pool of over 6500 Hive already, 50000 Ecency points, SOULS, DOOM, CROP and other tokens, and 10 million SPORTS will be shared among the participants.
A great initiative, which makes Hive the great place it is. Over 450 participants already, which all put their votes on their prediction for the game.
These are the initiatives that will make Hive thrive in the long run. It makes the community tighter, and it creates a place for people to enjoy posting and voting.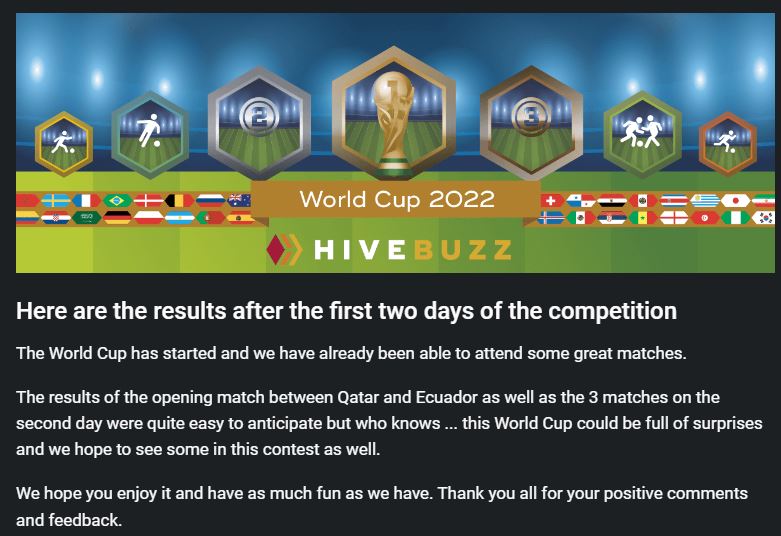 Watching football is more fun
This way, watching the games of the World Cup 2022 is a lot more fun. Because I must be honest, some of the games, like for instance Denmark vs Tunisia, are not the games I am looking so forward to. But when you have some skin in the game, it makes it a lot more enjoyable to watch the game, and hope you made the right bet.
And while I am talking about this, I must congratulate the 5 players that voted Saudi Arabia to win against Argentina. I must contact those guys, and maybe they can predict the lottery numbers for me. That was an incredible bet!
Let's hope some more people can join the competition and make the prize pool even bigger!
Sincerely,
Pele23
Posted Using LeoFinance Beta
---
---