Why some decent marketing could make a huge difference for Hive!
Briefly in the Top 100 of CoinMarketCap
Thanks to another pump by our Korean friends that are trading immensely on Upbit, Hive pumped to 0.70 $ this morning. This catapulted Hive to position 90 of CoinMarketCap. So what, one would say, but think again. Being in the top 100 makes a huge difference in visibility and attractiveness to possible investors. And I can make that quite visible. For a few hours Hive was in that top 100, and immediately a few hundreds of people added Hive to their "Watchlist". Imagine what would happen if Hive was permanently in that top 100, or we found another way to advertise Hive more to the outside world?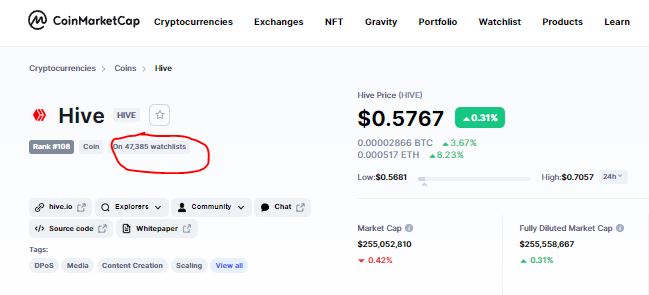 In a few hours, Hive was put on 350 more watchlists of CMC users, while it was in the top 100
Visibility and repetitiveness
Anyone that has read a bit about marketing knows that visibility and especially repetitiveness of that visibility is key to "sell" your product. Being in the top 100 of CoinMarketCap brings that automatically. But maybe there are other ways in which we can bring that visibility. By doing ads on certain crypto news sites. With a message like "Earn money with blogging", "tired of Facebook earning from you? Try Hive", etc... I think this could attract a lot of new users to the platform, and that is what we all want, right? Isn't this possible with some of the funds that are in the DAO? I don't know shit about how this DAO thing works, but I know there are funds available for such things. And I think, today showed, how much of a difference this visibility brings. Maybe we should check how much new accounts were made yesterday and today, to really see the difference.
Anyway, advertising Hive should become a priority in my opinion. Everyone would benefit from this. Pricewise, and action wise! Hopefully this sifts through to the people that are in charge or in the possibility to do these kind of things.
Sincerely,
Pele23
Posted Using LeoFinance Beta
---
---