We are the modern day "Preppers"!
Inflation, crisis, civil unrest,...
When you open mainstream media or just about any form of media these days, you get slammed in the face with bad news. Inflation is at a 40 year high, above 10 %, the energy crisis is forcing people to stay in unheated homes, a nuclear war is "imminent" with the conflict in Ukraine, and the stock market sank 20 % in 2022. And I would forget that a recession is at the doorstep. All very uplifting news, "sigh"! But there are ways to prepare for what is all happening, and let this be the place to be at the right spot to do that!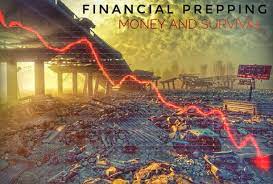 Decent return for your investment
Whether it's Hive of HBD, if you invest it into this platform, and you stay active, you get a premium return for your investment. Regardless of what the price of Hive is doing. With inflation at 10 %, you need a return above that, and that is where Hive and HBD come in.
Hive Backed Dollar is simple, put it in savings and in the end of the year you will have a return of 21.2 % on your money. That is beating inflation by a very nice margin. And there you even have the security of a stable coin.
Hive is something different, you have to power it up, and use your stake to vote. If you do that you will approximately get around 10 % in curation rewards, but that is not all. Your curation rewards will get staked back, and will in return get you more curation rewards in the future. So the return is actually a lot bigger, as you get extra stake daily. And your coins inflate by + 3 % yearly. So, without even posting, you are quite sure of a return of around 15 % on your HP, if you vote wisely. That is again beating inflation by a margin. And Hive is currently valued very low, which gives it amazing upwards potential.
Free information on the platform, especially via Leofinance
And then there is the most valuable asset of them all over here, information! And good information, where you have the possibility to use it in your favour. If you read the posts of @taskmaster4450, @edicted, @cryptoandcoffee, and of course @khaleelkazi, I guarantee you it will bring you in a return in the long run. Some of the brightest minds, sometimes out of the box, are here on this platform. So take advantage of that. And steal with your eyes, that is where Leofinance is built for!
If you put all that together, you could call us the "Modern Day Preppers", but not with guns, but with crypto currency and vital information! We are ready for what is coming...
Sincerely,
Pele23
Posted Using LeoFinance Beta
---
---