Silence before the storm? Major airdrops coming!
Hive at 1.30 USD
The last few days Hive has lost some traction. It was kind of understandable after a big chunk powerdowns got sold in a very short period of time. I saw some very big accounts power down big, which is their right of course. But it also makes their stake lower. And the reward pool a bit bigger for the rest of us, that aren't powering down. I see that some have stopped their powerdowns, so that will stabilize price a bit more in the next few days. But then what...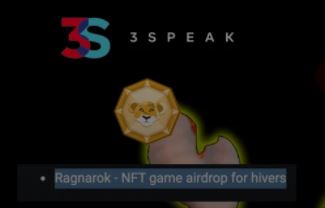 We all know 3Speak, but Ragnarok is a new NFT game that is coming to Hive
There are two major airdrops coming on for Hive holders, 3speak and Ragnarok. Then there is the Polycub airdrop for CUB holders, and the Vybrainium airdrop for POB holders. This will for sure put pressure on the Hive price in the next few weeks, and even months. I would be very surprised if it wouldn't. But, I also expect a great leap for Hive in the first quarter of 2022. The post by @penguinpablo this morning showed clearly that we have grown from an average of 20000 posts per day to almost 28000 in a matter of months, the amount of accounts that are being created is growing... This traction will pull Hive up to unknown heights!
The future is bright my friends, very bright!
Sincerely,
Pele23
Posted Using LeoFinance Beta
---
---