Hive's price is close to a clear "BUY"!
Dropped to 32 cents
Today Hive's price dropped to 32 dollar cents, to my surprise. There seemed to be quite a dump on the market at a certain time. Which made Hive lose about 8 % of its value. Nothing to be worried about in my opinion. But it does bring opportunities with it.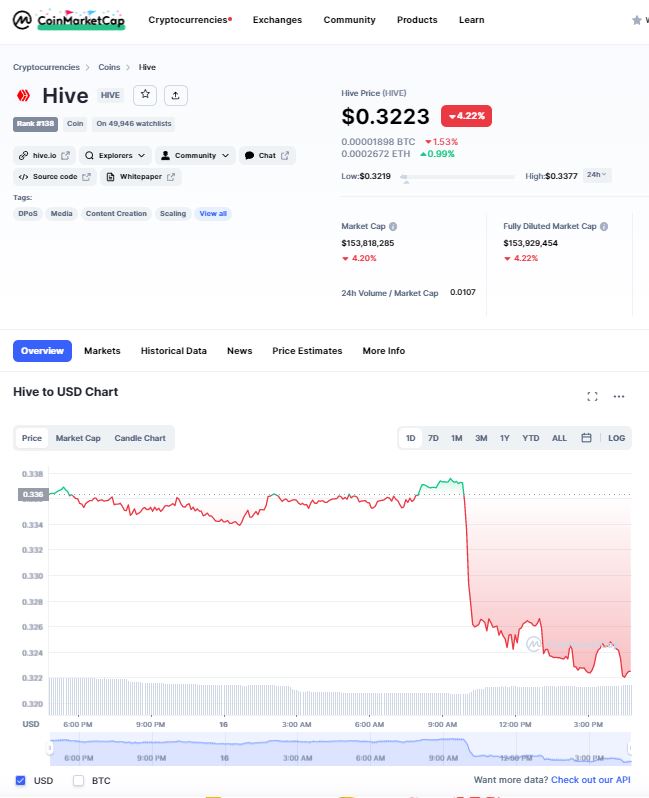 If Hive ever will go to 5 or 10 USD, nobody knows. I think it sure has the potential to get there. But what I am sure of is, that Hive won't stay at 32 cents forever. It will get back to that 1 $ mark, and it will happen in 2023. So, In my opinion this is becoming a real buy opportunity.
It is possible that Hive drops even lower, I won't say that that isn't a possibility. But that doesn't mean that Hive isn't a sure "BUY" right now. The endless potential of this blockchain is only used for 5 % or even less right now. There is still the release of Ragnarok pending, there is the success of Splinterlands, the rebirth of Leofinance... And who knows what is all to come.
The future of Hive is definitely bright, and some day these days, the next bull run of crypto will start.
So for me, this means, another nice buy opportunity for Hive, of which I will profit.
I don't know about you, and this is definitely no financial advice, but I will buy some extra Hive, at these prices!
Sincerely,
Pele23
Posted Using LeoFinance Beta
---
---