Hive is gaining traction everywhere... Slowly
Growing slowly but steadily
I am not going to talk about the price of Hive today, it is at 0.40 USD and that is about it. Nothing special to say about that. But my daily check of coinmarketcap spotted me something much more interesting. The "watchlist".
I never really noticed this feature of CMC before, but since a few weeks I have been looking at the number of people that are registered on CMC that have Hive on their "watchlist". And you know what? That number is growing pretty damn good. Slowly but steadily, this number is going up. I noticed that in a matter of 10 days the number went from 46000 to 47000. That may not seem much, but it is.
For instance, Steem is only on 40k watchlists at the moment. And the infamous USDD by our "friend" Justin Sun is right now on about 10k watchlists.
This all may seem unimportant to some, but it really is. You have to see it like this, say 80 % of the people on the watchlist of Hive are not on Hive yet. Those are all possible accounts for the future, and possible investors in this beautiful blockchain. And this number will only go up in the future. As things are going now, we could get to 50k in July. All potential Hiveans.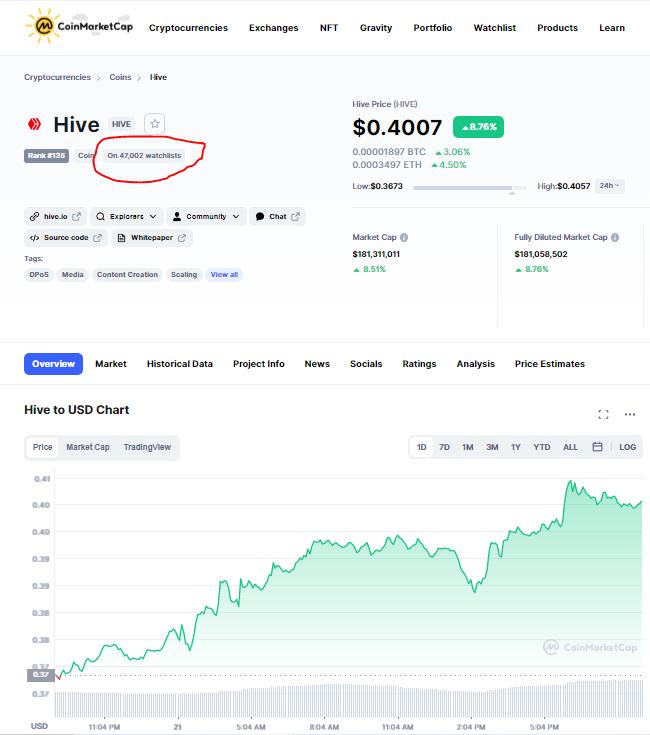 In my opinion this means that Hive is getting some real traction lately, not only pricewise and developmentwise, but it gets noticed, and that is something very important. Because once that ball gets rolling, it can go pretty damn hard. If you know that over 1.5 million people have Solana on their watchlist, you know what kind of volume I am talking about.
I have said it before and I will say it again, the future of Hive is bright, very bright!
Sincerely,
Pele23
Posted Using LeoFinance Beta
---
---