Are stablecoins deliberately being attacked by big players?
Now USDTether dipped 5 % lower
We all know what happened to Terra(Luna) and USTerra this week. What not everyone realises is that this was a very well played attack by the consortium of BlackRock and Citadel. BlackRock being one of the biggest financial institutions in the world is no surprise with this. Is this done deliberately to destabilize crypto in general? I asked myself the question when the sources came out with the names of BlackRock and Citadel. This could very well be the start of an attack against crypto as a whole. Or maybe it was just a hit and run...
But than I saw the chart of USDT today. And I spotted something that is very strange. For a brief moment USD Tether dipped to 0.95 USD. And then it went back up again, to slowly regain its peg with the Dollar. I checked the all time history of USDT, and this has not happened since 2017. There have been a few dips, but never this deep. So, the question here is, again. Was this another attack? Was this done by the same players, and are they using stablecoins as victims for their agenda to destabilise crypto currencies? I hope not, but I truly fear so.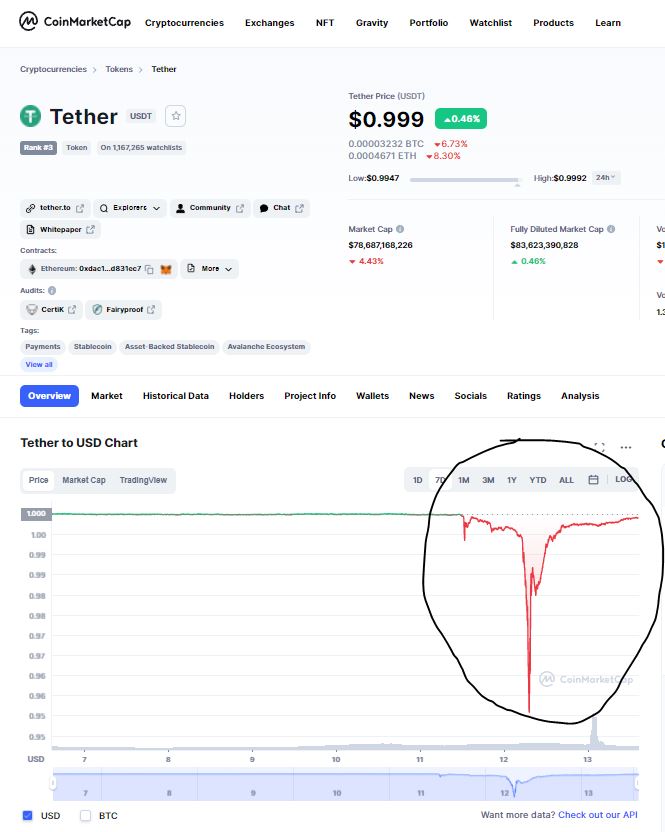 USDT is a lot more capitalized than UST, so it won't be that easy to break the peg, but still, with players like BlackRock, money is not an issue to try their best at it. I really hope I am wrong here, and I am seeing ghosts. But I must say, this chart scared me. And a lot more than with what happened with USTerra. An overthrowing of USD Tether would cause turmoil that would make the last week look like a summer breeze.
Stay away from stablecoins, and stick to HBD
My lesson with this is, I will stay away from stablecoins in the next few weeks, and will stick to HBD, which has a completely different mechanism than the ones above. And I can't imagine HBD being a possible victim of such players, as there is very little money to be made with it, compared to what happened with USTerra.
Have a great weekend, and be careful!
Sincerely,
Pele23
Posted Using LeoFinance Beta
---
---