Step by Step to my passion Drawing & Painting versus NFT ART (ENG/FR) #12

In order to diversify my different paintings I decided to show you some paintings of objects quickly drawn in pencil then painted in 1 or 2 days.
You can see my previous posts on animals and those on boats

This new series will be dedicated to portraits of children. These portraits are some of the most requested by my friends and family, who mostly request portraits of their children's faces. This is one of the activities that I recommend to young artists in order to train and have some pocket money.

In the case of children's portraits, I will only present fictitious portraits so as not to make public the real portraits which are with their sponsor.
The little boy playing on the sand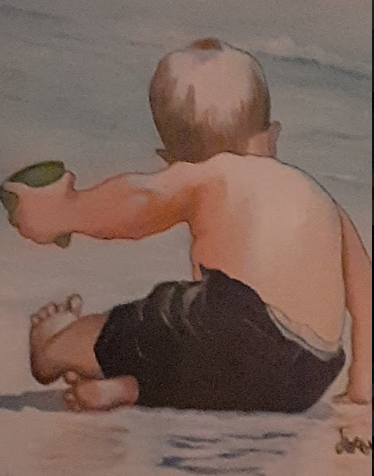 What I like in this type of drawing is to find elements for:
Represent youth with its specific traits: in this case concentration on task, carelessness, discovery of the elements of the world,....
Make certain shades appear between very similar colored objects/subjects (here skin and sand)
Duplicate the colors (here the shadow of the shorts and the color of the sky)
FOR THOSE WHO WANT TO HELP ME
All the paintings I present will either be for sale, offered or included as NFT art.
I am still trying to find out how to promote them on the web3.
I welcome all suggestions and ideas....
---
---
VERSION EN FRANCAIS
Afin de diversifier mes différentes peintures, j'ai décidé de vous montrer quelques tableaux d'objets rapidement dessinés au crayon puis peints en 1 ou 2 journées
Vous pouvez voir mes posts précédents sur les animaux et ceux sur les bateaux

Cette nouvelle série sera dédiée aux portraits d'enfants. Ces portraits sont parmi les plus demandés de mes amis et de la famille, qui demandent surtout des portraits de visages de leurs enfants. C'est une des activités que je recommande aux jeunes artistes afin de s'entraîner et d'avoir un peu d'argent de poche.

Dans le cas des portraits d'enfants, je ne présenterais que les portraits fictifs afin de ne pas rendre public les portraits réels et qui sont chez leur commanditaire.
Le petite garçon jouant sur le sable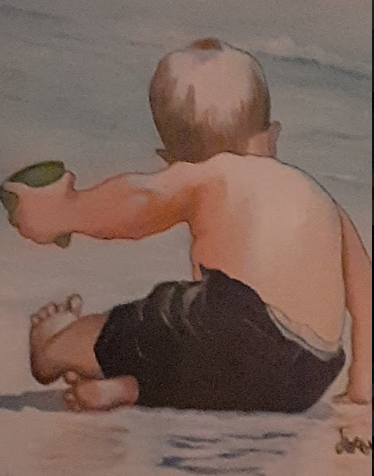 Ce que j'aime dans ce type de dessin c'est de trouver des éléments pour:
Représenter la jeunesse avec ses traits spécifiques: dans ce cas la concentration à la tache, l'insouciance, la découverte des éléments du monde,....
Faire apparaitre certaines nuances entre des objets/sujets de couleur très voisines (ici peau et sable)
Dupliquer les couleurs (ici l'ombre du short et la couleur du ciel)
---
POUR CEUX QUI VEULENT M'AIDER
Toutes les peintures que je présente seront soit à vendre, soit offertes ou incluses en tant qu'art NFT.
J'essaie toujours de trouver comment les promouvoir sur le web3.
Toutes les suggestions et idées sont les bienvenues....
---
---
Peintures actuelles d'enfants
---
---
All images are my personal productions and under my signature and my copyright (Pierre Dameron)
---
---