I`m millionaire en Rising Start 🌟 | yo soy millonarion en Rising Start 🌟 (eng/espa)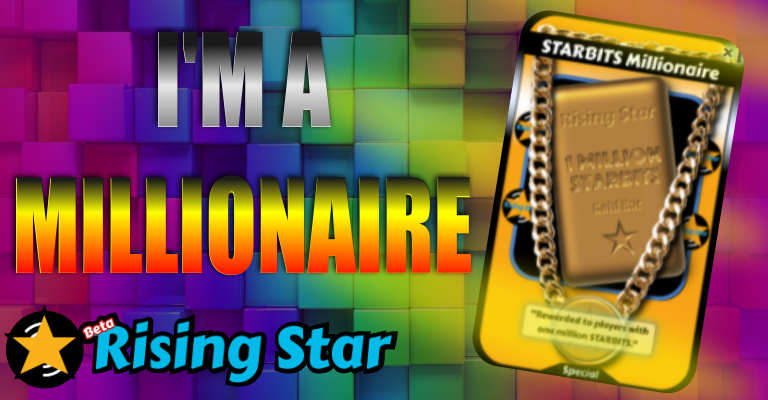 The hard road is over
During the last month the people who participated in my raffle saw how little by little I was adding starbits to my account, and two days ago I stopped putting my progress since I was waiting for the bet I had in risingstart to end, I already knew that I had reached the goal, and decided to increase the prize of my draws immediately although not yet for this position.
The community that has been generated through my daily posts is what motivated me to achieve this, which for me is a big step.
that's why I like to mention it.
It is very nice to wake up one day and see that the things you fight for are achieved little by little.
At Hive I found a world of beautiful people who show me every day that dreams are possible.
Before entering the world of cryptocurrencies I had a conventional job, which due to the pandemic I closed and with it everything I had.
I've been trying to get up from that steep drop for a while. and the things that I see every day at Hive help me to follow my path towards my dreams. small and humble. I'm not looking to be a true millionaire, but today I am, in one of the games that I spend the most time a day.

With this achievement there are also personal achievements in the game, I want to be at the top.
And that is the path that now begins and I hope to see people who helped and supported me, gave me advice on how to do things. by my side.
THANK YOU VERY MUCH TO EACH ONE OF THOSE WHO SUPPORT ME DAY BY DAY.
I am very happy for this personal achievement!
◣◥◣◥◤◢◤◢◣◥◣◥◤◢◤◢◣◥◣◥◤◢◤◢◣◥◣◥◤◢◤◢◣◥◣◥◤◢◤◢◣◥◣◥◤◢◤◢◣◥◣◥◤◢◤◢◣◥◣◥◤◢◤◢◣◥◣◥◤◢


El duro camino ha terminado
Durante el último mes las personas que participaron en mi sorteo vieron como poco a poco fui agregando starbits a mi cuenta, y hace dos días dejé de poner mi progreso ya que estaba esperando la apuesta que tenía en ascenso de inicio a fin, ya lo sabía que había alcanzado la meta, y decidí aumentar el premio de mis sorteos de inmediato aunque todavía no había hecho este post
La comunidad que se ha generado a través de mis publicaciones diarias es lo que me motivó a lograr esto, que para mí es un gran paso.
por eso me gusta mencionarlo.
Es muy lindo despertar un día y ver que las cosas por las que luchas se van logrando poco a poco.
En Hive encontré un mundo de gente hermosa que me muestra todos los días que los sueños son posibles.
Antes de entrar en el mundo de las criptomonedas tenía un trabajo convencional, que debido a la pandemia cerro y con ello todo lo que tenía.
He estado tratando de levantarme de esa empinada caída por un tiempo. y las cosas que veo todos los días en Hive me ayudan a seguir mi camino hacia mis sueños. pequeño y humilde. No busco ser un verdadero millonario, pero hoy lo estoy, en uno de los juegos que más tiempo paso al día.

Con este logro también hay logros personales en el juego, quiero estar en lo más alto.
Y ese es el camino que ahora comienza y espero ver personas que me ayudaron y apoyaron, me dieron consejos sobre cómo hacer las cosas. a mi lado.
MUCHAS GRACIAS A CADA UNO DE LOS QUE ME APOYAN DIA A DIA.
¡Estoy muy feliz por este logro personal!
---
---