OREDEBBY WRITES #9 ~ BEWARE OF FRIENDS!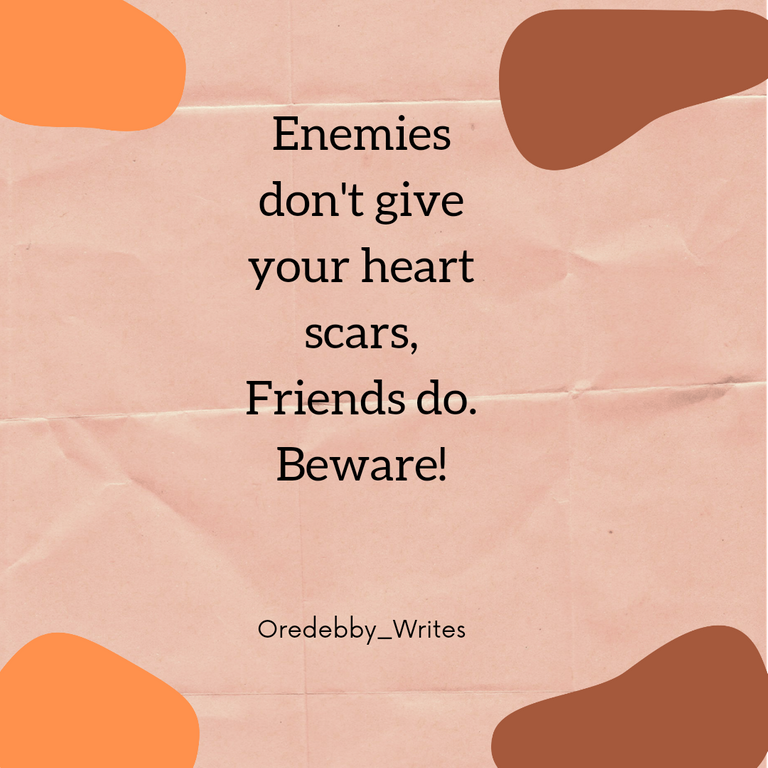 Good day beautiful people. Hope you all are doing awesome today. I have come again with another special quote which says "Enemies don't give your heart scars, Friends do. Beware!" This simply means that your enemies most times don't really have your time to want to hurt you.
It is those you call friends and think are close to your heart that really mess you up and cause heart aches for you. Some friends are just friends on the lips and nothing more, they don't have any positive impact on you or have any responsible thing they are doing for you. All they do is speak evil of you behind you and smile and joke when they are around you.
Please beware of such people. Remember the Bible says in Psalm 109:2-5 that
For people who are wicked and deceitful have opened their mouths against me; they have spoken against me with lying tongues. With words of hatred they surround me; they attack me without cause. In return for my friendship they accuse me, but I am a man of prayer. They repay me evil for good, and hatred for my friendship.
Beware!!!
Thanks so much for reading
I remain my humble self @Oredebby
---
---