Son choose Neymar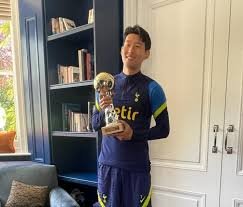 Licenseable
We all have different wants, what I prefer may be different from what the whole world prefer. In the world of football, up till now, Christiano Ronaldo and Lionel Messi are the ones people talk about till date, if you are not Ronaldo fans, then you have to be Messi fan, but it's different from some people's opinion, people like Heung Min Son. Son was interviewed and he was asked who is the best player among Christiano Ronaldo and Lionel Messi but he didn't choose any these two legends, he said Neymar Junior is the best player in the world.
I have been wondering how that could be ever since I read the news, maybe Son just want to ignore the interviewers or save his time from wasting because I never see a footballer that would prefer Neymar Junior than Christiano Ronaldo and Lionel Messi. Neymar only won just a Champions League and that was when he played at Barcelona, as he left Barcelona by running away from Lionel Messi's shadow and went to PSG, maybe he can have the kind of respect that they give to Messi in Barcelona. Yes he received the respect but he never make or break any record other than the record history.
Heung Min Son even said that he is working hard to be like Neymar Dasilva when he was interviewed ahead of the friendly match between Brazil and Korea at Seoul World Cup Stadium on Thursday. Recently, Son became the first Asian footballer to win the English Premier League Golden Boot after he finished the 2021/22 season with 23 goals, the same number of goals with Liverpool's Mohamed Salah. He scored 23 goals without penalty, if he plays penalty with his goals, he would definitely score more than Salah, but Harry Kane is the taker.
To me, Son Heung Min even tried more than Neymar Junior this season, without him, Tottenham may not qualify for Top 4 but Paris Saint German can play without missing Neymar Junior because much players are there to replace him and they have complained that he didn't come to training anymore, he goes to club and drink to stupor, how can the best player in the world stop training and his team not miss him? Well I respect Son Heung Min's choice since we can't all choose the same thing.
---
---