Rudiger's departure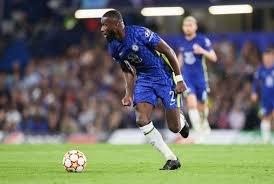 Licenseable
Thomas Tuchel finally revealed that Rudiger leaving Chelsea is affecting them psychologically. It's what I personally expected, because Rudiger isn't just an ordinary player that Chelsea should just let go like that, he is one of the leaders in the dressing room, he is skillful, powerful and sharper than most defenders, but because Chelsea have to follow their way of doing things, they didn't give the the Contract he wanted and before they even consider him, Real Madrid has already offered him the best offer he needed, even more than the year he demanded from Chelsea.
Even before this time, Thomas Tuchel should stop introducing Rudiger, if he has tried that, I'm sure it won't affect them so much like it did now but since there is no replacement for him, then he have no choice than to introduce him always. Or maybe Thomas Tuchel didn't know that this it would later end this way. Malang Sar is the only defender at Chelsea that I know he can play Rudiger's place, but he can't ever be like Rudiger, he didn't fit and agile like Rudiger, he didn't even have Rudiger's criteria so I've been since Chelsea didn't have replacement for Rudiger, then why did they let him go.
Any player that has clocked 30 years of age, Chelsea don't give them contract, I hope that theory won't affect Chelsea this coming season. Rudiger is just 29, so Chelsea is offering him just a year more contract and they aren't ready to give him additional money, Rudiger and Chelsea has been on this long time before Real Madrid offered him 300 thousand pounds with 4 years contract, but he still love Chelsea and ready to stay if Chelsea can give him such amount and at least 2 years contract but they didn't, so he have no option than to leave.
Chelsea would have to buy another defender now, and it would surely take time before the defender adapt with Chelsea's play way and together with the rest players and I am very sure that this is where Chelsea would have problem next season. What made Chelsea give Thiago Silver more years contract should make them give Rudiger 3 years contract, he would accept 250 if they have given him the contract when he demanded before Real Madrid offered him contract but they didn't, I am sure if they have given him 3 years, he would sign since he don't know what he would meet at Spain.
---
---