Mbappe's arrogance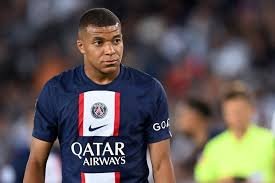 Licenseable
Right before Kylian Mbappe win the World Cup, he used to be a low mind player with the way he does with his teammates at As Monaco and as he keeps scoring goals, people has really lay their love on him that after Lionel Messi and Christiano Ronaldo, he would be the next in world class but after he won World Cup things really changed. So it means the real him is not the attitude he has had at As Monaco, the real him is now that he has won World Cup and pack so much money home and now he hasn't even show what he really is because the world cup that he won is team work, if he win any individual award, his attitude would really worst.
Neymar Junior was rated after Lionel Messi and Christiano Ronaldo but as Neymar didn't monitor his life, he dropped form and eyes is on Mbappe and now that Mbappe's arrogant is affecting him, people would shift the eyes away from him and look for another upcoming player that didn't have arrogant and with gradual process, he would fade away, even more than Neymar Dasilva junior. Star comes from football every blessed year, it's Eling Brut Haaland that is shining now and by next season, another star might have emerge. So it's possible for Kylian Mbappe not to win Balloon Dior until he will retire as a footballer because people don't vote the arrogant ones.
The arrogant was in him ever since he was in Monaco but because he hasn't become anything then, it didn't show, and now that he have the money and star that footballers work towards, it shows in him and he didn't know that his Ego is too much and unfortunately, he didn't belong to the club that would help him because Paris Saint German should not give him the contract they have with him presently, it's not helping him at all. For Kylian Mbappe to say that he won't go to Paris for the Balloon Dio'r award giving if he is not in number one to three of the players that would win the Balloon Dio'r, it's damn forking high Ego!
Already, Paris Saint German is in Paris, so Mbappe would only drive his car there to see what's going on. One of those that could be in the front to win the Balloon Dio'r is Kareem Benzema that is a team mate to with Mbappe in France. Mbappe is one of the reason why they call Kareem Benzema back to the National team because he was complaining that Oliver Giroud didn't give him pass and Giroud has apologized but still, they had to call back Kareem Benzema just for him to be happy. The same Giroud that he won World Cup with and Giroud apologised to him on what he is not guilty of but upon that, he shun Giroud.
---
---