Liverpool vs Manchester City on Sunday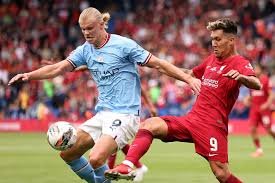 Licenseable
Liverpool met Rangers at away and beat them 7-1 but Manchester City met Copehangen and played draw match and they will play on Sunday at Afield (the noise stadium). To me, Liverpool is the ones that know how to beat Manchester City most and Manchester City is the obstacle of Liverpool for winning the premier league For many seasons now. But the reason why Liverpool won that much is because Liverpool is on pressure, so they played all their best players and won that much but Manchester City has rest their own players and that is why they played draw match with Copehangen. Liverpool has played their best players and it may happen that they have get tired but Manchester City players that didn't play the last match can't be tired.
Manchester City is in form, that is why they rest their players for the match that they would play against Liverpool by weekend. For Liverpool to get back to form, they had to always play their best players, so the match at Afield by weekend won't be easy. As Messi be the saviour of Barcelona then, so is Eling Brut Haaland is to Manchester City now. Although Mohammed Salah is a saviour to Liverpool as well but he's in form in champions league, not in premier league, so he may not be in form on Sunday because those that he played against at Rangers are different from those he would play against at Manchester City.
Jorggen klopp has been a defeating Pep Guardiola for a very long time but this time, he didn't have the material to beat Manchester City and that is more reason why Klopp rest his players. The England fans are even complaining that Eling Brut Haaland should not be allowed to play in English premier league because they seem his as a robot, not human being, the striker that surpass the center defenders, even Lisandro Martinez that is shining now couldn't stop him. But I think both Pep Guardiola and Jorggen klopp rest their players because Mohamed Sallah didn't start, and Thiago Alcantara didn't start the match the match but Salah come from bench to score the fastest Hatrick in champions League.
Although Manchester City didn't have lucky to always win at the Afield stadium but the present form that they are could help them, so if Liverpool want ti win the match, they should just play defensive game with the physical ball that they always play which is their playing style. It is in cup that Liverpool surpass Manchester City, talking of the premier league, Manchester City has winning more than Liverpool; Manchester City has won in 4 times and Manchester City has won in 3 times since Jorggen klopp and Pep Guardiola has been meeting in English premier league so it's not always easy and it's Manchester City that had ever beat Liverpool 5-0 since like 5 years back.
Reason why Liverpool don't always loose to Manchester City is because Liverpool isn't a club that plays defensive game, they always attack to score too, their own play way is what I call military ball because the ball may not touch more than two players and goal would occur and because Manchester city don't play hard at the back, the defenders are just there like figure head, they all want to score of which John stones and Kyle Walker can't play the match.
---
---