My Solana Journey (Beauty of long-term Investment)

Before I start writing about my Solana Journey, let me first give the definition of what long-term Investment in cryptocurrency is.
Long-Term Investment in Cryptocurrencies:
This type of investment in crypto is when you expect its price to increase over time — usually an investment that must be maintained for a minimum of 6 months to 1 year. In some cases, long-term crypto investors plan on holding their investments for multiple years. Investments can be made in parts, and dollar cost averaging is a great strategy for many investors.Source
How I made my Solana trade: some time in May this year, Solana made an ATH (All-Time-High) at $58 after few days dumped 65% back to $21.
Then i made my research about Solana, checked for the total supply and value supply.
Total supply for solana => 488,630,611 million
Available supply for solana => 291,086,543 million.
Check CoinGecko for more information on Solana.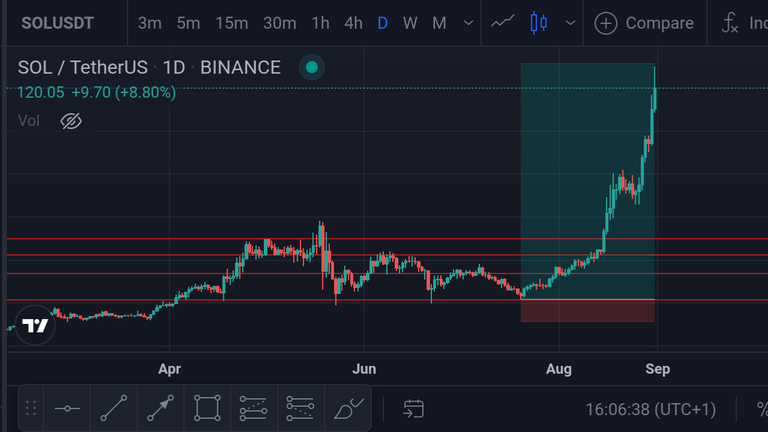 Screenshot taken by me from: TradingView and Edited with Canva
When supply is low the demand is high, so price is likely to go up, so I decided to buy some certain amount of Solana. But note my decision was backed up by technical analysis.
My trading strategy was when price goes up to a certain amount or a resistance, I take some profit either 50% or 25% profit then wait for a little correction or pull back then I buy more, continuously till it's current price, earlier today when Solana got too $120, i sold off 25% of what I'm holding and left the remaining 75% to run.
The major point am making is that when you're holding a coin for long-term you make insane amount of profit, but at the same time still take some little profit along the way.
Any one who bought Solana at $21 in May or in June when price came back to the support at $21 and is holding till today has made +500% profit.
Posted Using LeoFinance Beta
---
---