Some top football clubs have lost millions of pounds in the transfer market
In life you win some you loose some....
Currently The top two football clubs in the Premier League table which is the Manchester City and also the Manchester United have been known to be clubs that do invest heavily on football players....and they are known for their big spending....
The two football clubs have been confirmed to have the two basic and largest net transfer deficits which really existed across all of the Europe's top five leagues which exist over the past ten transfer windows......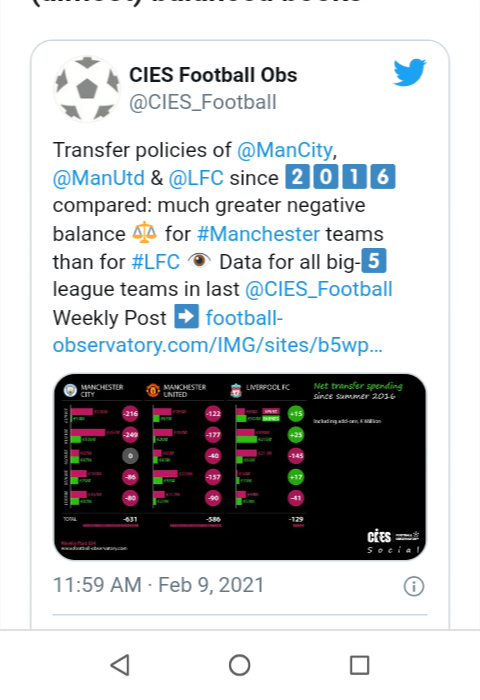 This information was actually reported by the CIES Football Observatory.....
The CIES research as a media platform have been able to use an accurate data which is often published by the football clubs or also actually reported by media since the beginning of 2016....
The cies research was able to discover that Manchester city have really spent more than €1 billion on various successful and incoming transfers --
They spend up to ($1,217 000m), to be exact -- and they were only able to recoup just €375m in various outgoing sales......so that means that they are actually left with a kind of the largest negative net spend which happened in Europe with a huge loss of about €631m........
Manchester United spent up to €832m on various signings and was only able to earn back €246m in various outgoing transfers, and that left them with an actual net spend of up to -€586m over 10 transfer windows....
Yeah football clubs have various avenues to use to make money from the sport business but we also need to understand that just like every other business, loss can happen too...
.in life we win some and loose some...
---
---