Latest champions of Europe🤣❤️❤️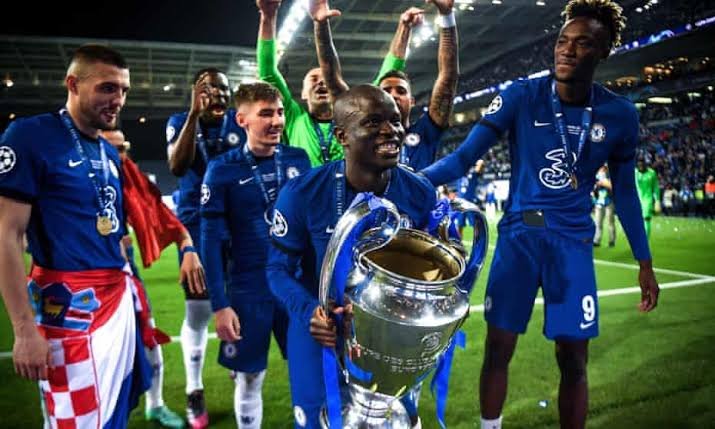 source
.Wow wow!! Good evening friends it has finally ended the race of who will be the next champions of Europe,🤣 and Chelsea won the title. If I was told ealier that they gonna be the ones to take the title home I would have bet on it with my last Kobo💵 it got to a point some Chelsea fans stopped believing that they can make it to the top.
However they finally narrowlly made it to become the champions of Europe. Beating the almighty Manchester city one goal to nothing is not an easy thing. After scoring the goal all I that was on my mind was that the city will players will equalize but no they didn't, Chelsea began to care for their dear goal post and made sure nothing goes past the keeper all the defenders at alert 🤔😎
That was really interesting game truth be told. But I will say most of the credits should go to the former coach Mr Lampard in case you don't know that man really changed things in the club before leaving though at that time it never showed out , but I know he changed the mindset of some players and he install some power in them I don't know how. So of we are praising Tuchel we also should do same for Lampard he deserve it.
Chelsea from zero to hero, I was thrilled by their excitement in the changing room after the game, and not lying at all I became jealous, I only could wish it were my club manchesterunited in that position. See the way Chelsea fans were all out that Saturday doing giveaway to other club fans😃🤭 I bluntly refused to collect the one given to me, yes and it was because I was jealous 🤣🤣
Ngolo kante name was just all over the city, please I will advice the authorities to please check again the DNA of that guy let see if he is really a human or a machine 🤔😎 Mhen! That dude is never tired and he seems to be everywhere. I suppose he be taken and giving balloon de or award🤔 or what do you think isn't he qualified? Of cus he is.
And the faces of manchesterunited fans during the giving of price was bad no joy at all on them, well I would say the boys tried, but not their best. They should have put in more effort. I will partially blame the coach also for their failure, he should be that gingaring type of coach that will always be on the side of the pitch to shout on who is not getting it right, not just sitting where even the camera can't see him😃
That is another thing the players need they should be shouted on from time to time, not just let Rashford succeed in all his misfutunes 🤣😎 by being one on one with the keeper and throwing the ball away😰😃. Well it has all ended, I just hope manchesterunited Lean from their mistakes and improve in the future, not just that they should engage in bringing new players, I know they have the money for that so no money should not be an excuse at all.
Let me just stop it here, once again congrats to all the Chelsea and all their supporters you guys deserve it 😄❤️❤️
Thanks for reading through my blog.
Please stay safe love y'all from @obrisgold1 your number one sports man😎
---
---