Rising Star Game: Billy Korg's NFTs on Sale!! [🇬🇧 EN/ES 🇪🇸]

🇬🇧 ENGLISH
Hello everybody
In the previous post we already commented on the operation of the new function of the "Rising Star Angels" game and today I want to show you the NFTs that I have put up for sale, there are currently three, one is the Kali song by Billy Korg, the other is Crypto Warriors, a collaboration of Juxta, The Turtle Project and Billy Korg made exclusively to be marketed as NFT, is not available on any music platform, and The Road, a well-known song from The Stress Cones.
Prices range from 20k SB for Kali or The Road to 40k SB for Crypto Warriors, which as I was saying is an exclusive theme for the NFT world.

They can also be purchased with other tokens such as LEN STARPRO HIVE or VIBES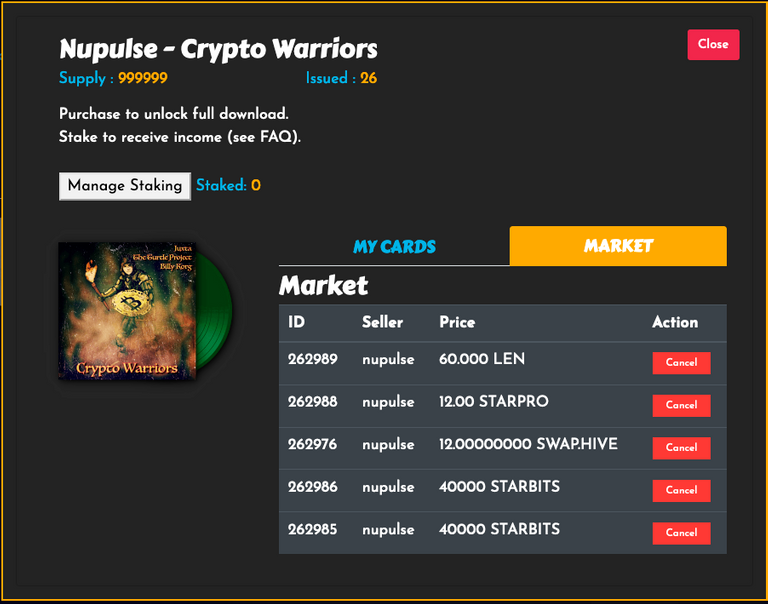 So, whether you want to expand your collection of unique cards, or if you want to collect independent music NFTs, this option covers both needs 😉
---
Oh by the way, with a lot of effort and I don't know how many attempts I finally have the three Easter 2021 cards, it has never cost me so much to get hold of the special edition "seasonal" cards.
---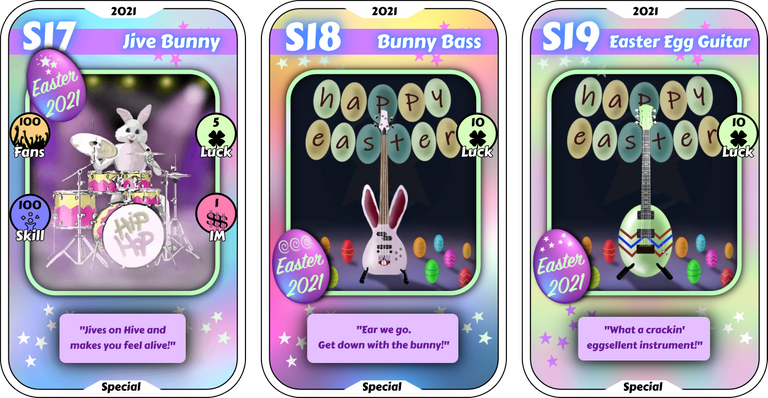 ---
This is all for today, I remind you that playing Rising Star is free, click on the banner below to start playing !!!
---
ESPAÑOL 🇪🇸
Hola a todos
ya comentamos en el post anterior el funcionamiento de la nueva función del juago "Rising Star Angels" y hoy quiero enseñaros los NFTs que he puesto a la venta, son de momento tres, uno es el tema Kali de Billy Korg, el otro es Crypto Warriors, una colaboración de Juxta, The Turtle Project y Billy Korg realizada exclusivamente para ser comercializada como NFT, no está disponible en ninguna plataforma de música, y The Road, un tema ya conocido de The Stress Cones.
Los precios van desde los 20k SB de Kali o The Road hasta los 40k SB de Crypto Warriors, que como os decía es un tema exclusivo para el mundo NFT.

También se pueden adquirir con otros tokens como LEN STARPRO HIVE o VIBES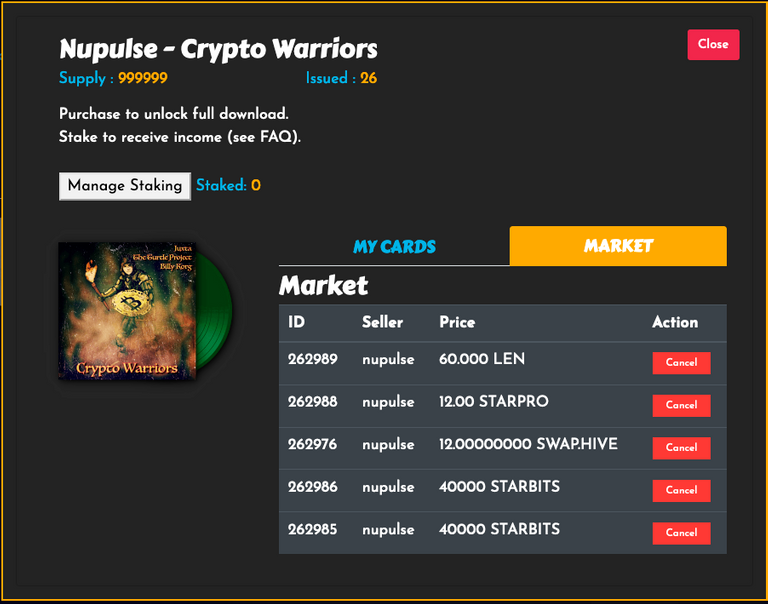 Asi que, tanto si quieres ampliar tu colección de cartas únicas, como si quieres coleccionar NFTs de música independiente, esta opción cubre ambas necesidades 😉
---
Ah por cierto, con mucho esfuerzo y no se cuantos intentos al fin tengo las tres cartas de Easter 2021, nunca me habá costado tanto hacerme con las cartas "estacionales" de edición especial.
---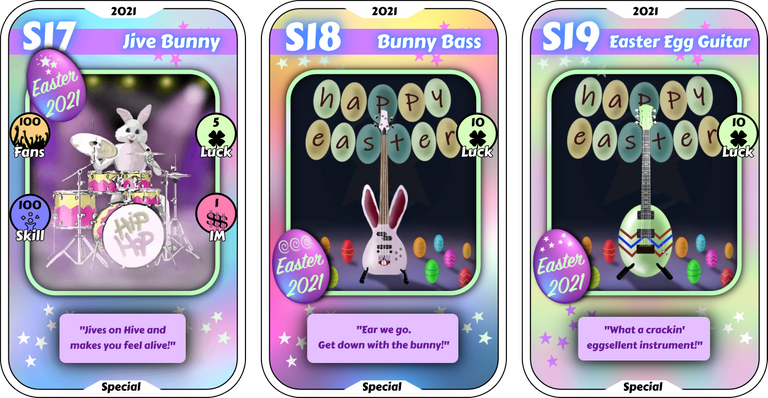 ---
Esto es todo por hoy, os recuerdo que jugar a Rising Star es gratis, pinch en el banner de debajo para empezar a jugar!!!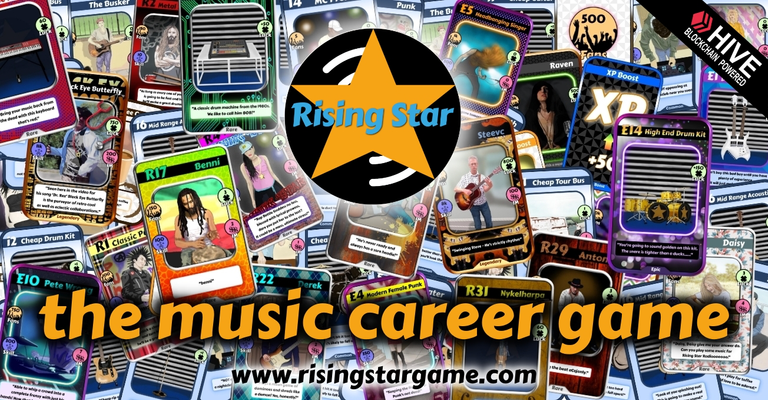 ---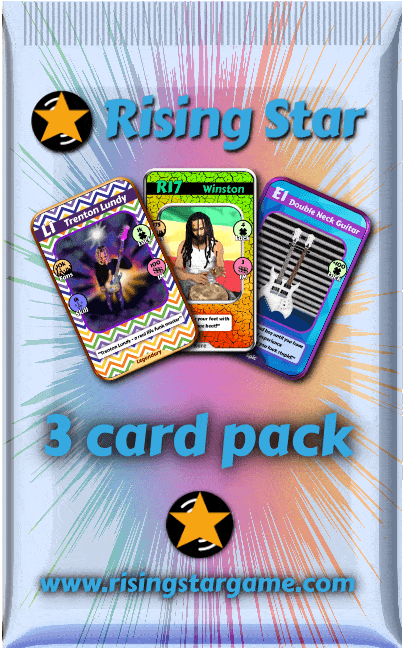 ---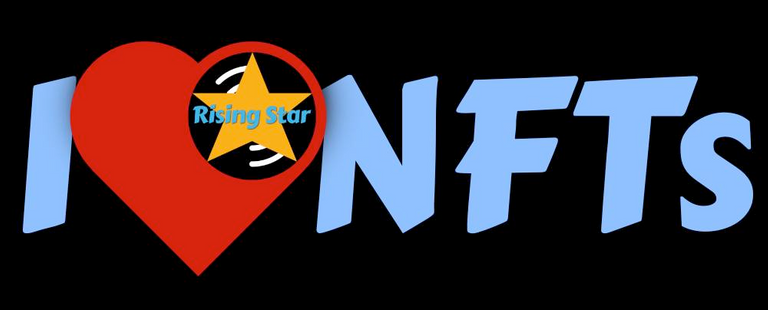 ---
---