Why Models are Usually Skinny: One Less Known/Talked About Explanation
I've established a number of times now, through this post: SEX EDUCATION #2: Size of Body Parts and Sex
and this one: Nevies on Fat Girls that different people like different body sizes and that we are hardly the ones that chose what we like, we just come into the world and find out that so and so catches our fancy and so and so others do not but we are fond of going around talking down on the things we don't like forgetting that other people like them and we ourselves would have liked those things if fate chose that for us.
Also, it was established that our talking down on the body sizes/parts we don't like goes a long way to make those who like them ashamed of liking them and various factors prevent some people from elevating the things they like instead of being ashamed to like them.
So after establishing these things, as regards skinny/thin girls dominance of modelling I had said one of the major reasons for this should be that people who like skinny/thin girls won in that field of modelling, and while this is still one of the reasons there is still another huge factor I didn't bring to light, but we're bringing it to light today, let me get my torch real quick.
On a more informed view of the matter, we'd find the huge factor is actually that curvy girls with big busts and butts are usually considered too provocative for public shows/displays.
We all know this stand, it has been there right from time, and we know how conservativism and censoring of sexually provocative material reigned supreme in the past centuries. One good example that really struck me was while I watched the movie The Aviator (2004) about the life of the legendary Howard Hughes (played by Leonardo di Caprio), in that movie Hughes made a 1943 movie titled 'The Outlaw' and starred a busty actress called Jane Russel, the movie took a lot of attacks from what was then known as the Motion Picture Association of America (MPAA) (and now simply the Motion Picture Association (MPA)) because of the display of sizeable boobies.
The MPAA would not approve the movie for audiences due to this display and in one of the scenes of The Aviator one of Hughes men arguing for the movie to be approved had to pick up a calibrator to show the measurements of Russell's boobs and compare it with other sizes of boobs that have been permitted just to prove that Russell's boobs are not so bigger than the ones already allowed and it is well around the permissible sizes. My Goodness!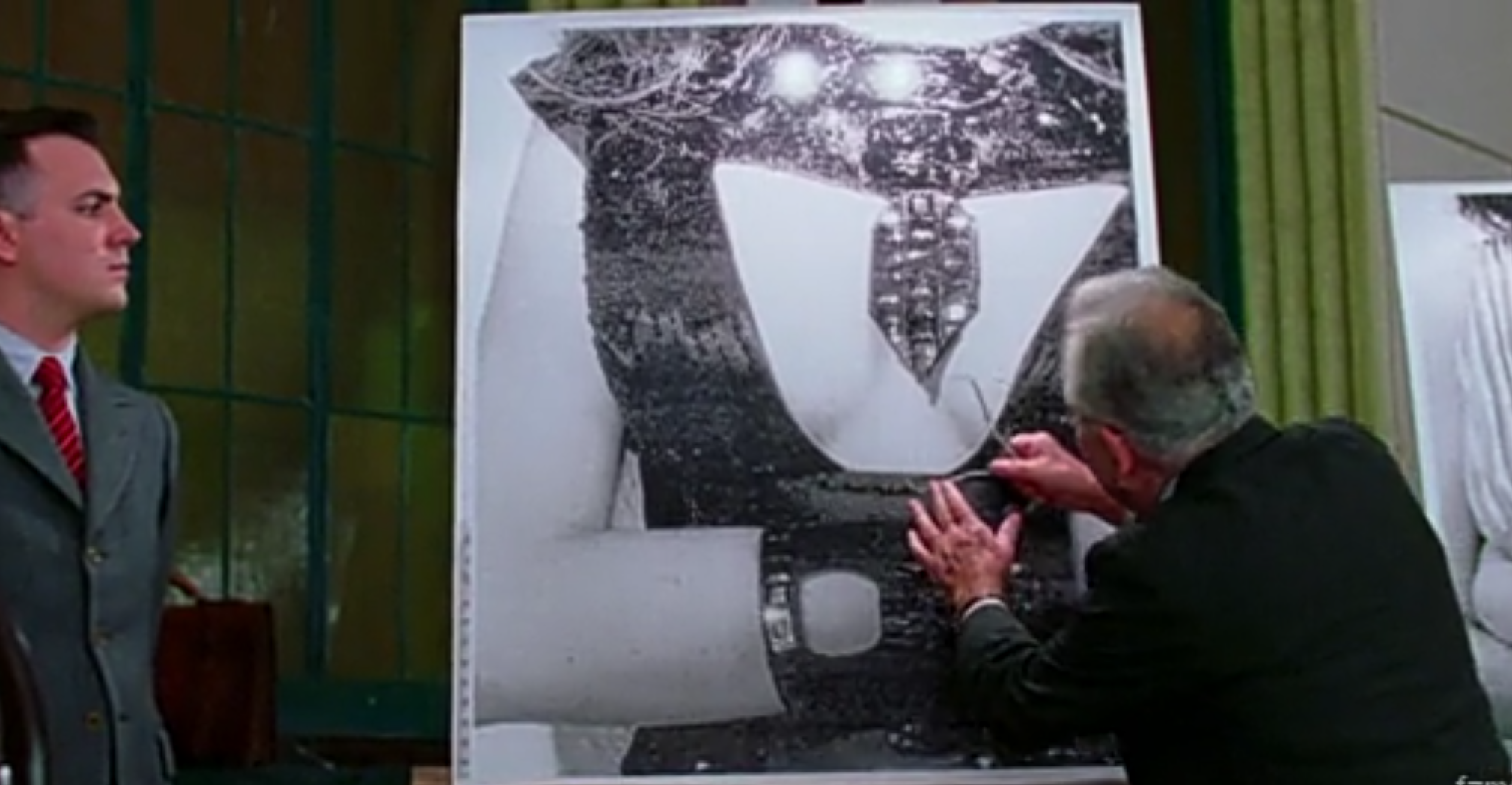 [Screenshot of the measurement from The Aviator]
That's how much display of sizeable parts were fought in those days, and ratings for adult content is quite a new development these days. But yet, the general sentiment is that big busts and butts are too provocative for public displays like modelled, they're trying to avoid situations where a man would pick up a body cream/lotion and get an erection from the female model on the cream's container, for example. Or get erections from watching ads on casual days, etc.
So, due to this, skinny girls became the face of modelling and because humans usually follow practices without much questioning and after years of following practices turn out to become like unbreakable laws this has continued and some bosses in the modelling field would talk about the thin frame required of their models and treat some little extra fat as an abomination in modelling without understanding the origin of the practice.
---
Now since this discussion has talked about the popularity/ elevated status of big busts and butts, I'll like to remind us that different people like different things, some men don't like those parts big like that and their own talk down is: 'what do you need those big parts for? Isn't it mainly the hole that matters?' and further, the way pop culture glorifies the size of busts and butts usually pressure even those that don't really care for big ones to always talk favourably about big ones and even disfavourably about the small ones they like.
---
Posted via proofofbrain.io
---
---