Funny African Customs #4: About Greetings
Intro
Hello people, and welcome to the Funny African Customs series! This is a series I started here on Hive/what-it-was in 2017! You can check out the three previous episodes 1, 2 and 3. And I found out there's usually a problem with pictures when you check out old posts like that so I've brought the Steemit links too, here they are: 1, 2 and 3.
So, if it is not obvious from the title, this is a series where I talk about funny African Customs that I see and experience as an African (Nigerian) living in Africa (Nigeria). Every society the world over came up with different customs and ways of life mostly peculiar to them and usually the people who grow up with these customs don't see the humour in them, it usually takes an outsider from a different culture to hear it and crack up
And usually, the person laughing doesn't realize that they have customs of their own that they don't consider funny but would double crack an outsider up.
Well, a couple of us are broader kinda thinkers and can see our customs and understand how they would be funny to someone else, that's sort of what I'm doing with this series for African customs (but, some of the customs I'd talk about in this series are not that of my own tribe because Nigeria has so many different tribes, over 370 ethnic groups, and a brother gotta pick from groups other than mine sometimes 😊) so without further ado let's kick today's edition off!!
Confetti🎊🎊🎊🎊
Edition 4: About Greetings
In many parts of Africa respect for one's elders is a very big deal and one of the ways you show this respect is by greeting your elders when you see them. All these are very true about Nigeria where I live. The Yoruba tribe of Nigeria has the most interesting form of greeting, though, this picture shows how males greet their elders and how females do too:
And, yea, for real, as a male you have to go all the way and lie down, here is a man doing it on the bare ground: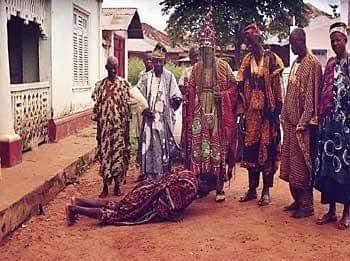 I'm not Yoruba, I'm Igbo, but that's not the reason why I think the only time I should go that low in front of a person is when I want to reach deep, go down as low as I can in order to come up with a thorough bred uppercut:
It's not because I'm not Yoruba that I think so, though, Its because I usually don't do stressful things when there are easier ways just because that's how they have been done (custom).
That said, other tribes of Nigeria don't really have interesting ways of greeting, they simply say the word or sentence used for greetings the same way you say 'good morning' for English, for example. Even some Yoruba people are beginning to leave all that prostration in the past and just saying their greetings with the mouth and moving on. I can imagine that Yoruba men of the past all had massive gains from all that lying down to greet and getting up with the help of their arms, imagine how many times they'd do that to greet elders in a day that would be enough to serve as push-ups:
And their women must have had massive calves from all that kneeling and getting up, that can serve as squats can't it?
And, not to sound like every beautiful music can be traced back to Africa 😉😉, but that Bruno Mars's song called The Lazy Song that started with the words: 'Today I don't feel like doing anything, I just wanna lay in my bed... No, I ain't gonna comb my hair
'Cause I ain't going anywhere...' I suspect this song began in Yoruba land, young people would think about all the pushups and squats they'd have to do to greet all the elders they'd meet for that day and be like, 'nah Today I don't feel like doing anything, I just wanna lay in my bed... No, I ain't gonna comb my hair
'Cause I ain't going anywhere...'
---

Roll with

@nevies

, I run a Humor, deeper thoughts and sex talk blog here on Hive🌚
---
Posted via proofofbrain.io
---
---