Jugando Gunspell: Batallas largas y duras de jugar [blog escrito en esp - eng]
---
Hola gente ¿Cómo están? Aquí estoy trayendo un nuevo Gameplay.
Esta vez iniciaremos con batallas bastante movidas en dónde fue bastante complicado ganar. Aunque me divertí un montón la verdad, es que cada vez se hace más complicado subir de nivel. Y esto lógicamente hace que el juego se retrasé bastante pero podemos ver un poco de historia en el próximo capítulo.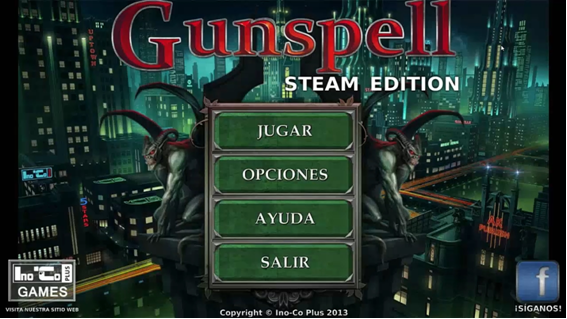 Hoy terminamos de limpiar el mapa principal y nos metemos a uno de los portales para poder ver qué hay muchísimo, pero muchísimo más juego que hacer en este solo nivel.
La verdad este juego me ha sorprendido gratamente por la cantidad de horas que se pueden jugar y estoy jugando todo en pantalla, por lo tanto, ya llevo varias horas de juego grabadas y subidas en mi canal de 3speak.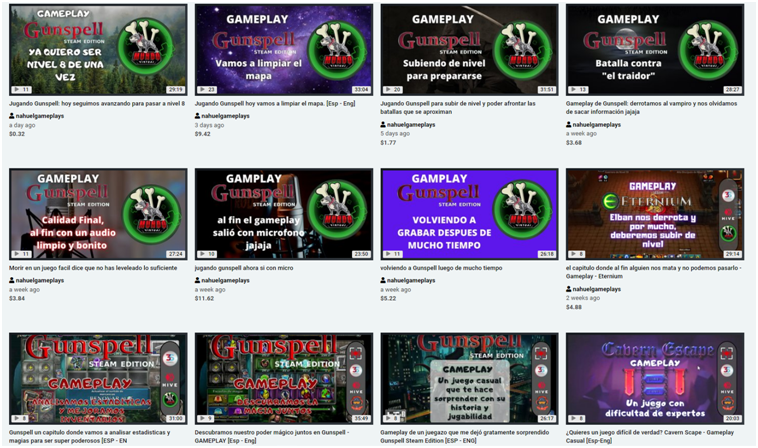 Sí les interesa este juego pueden encontrarlo en Steam y en Android.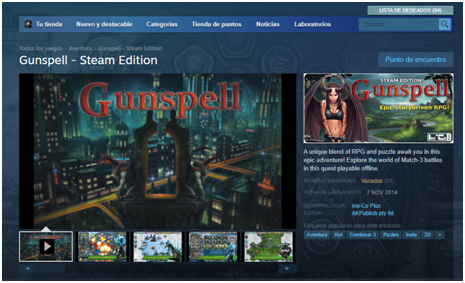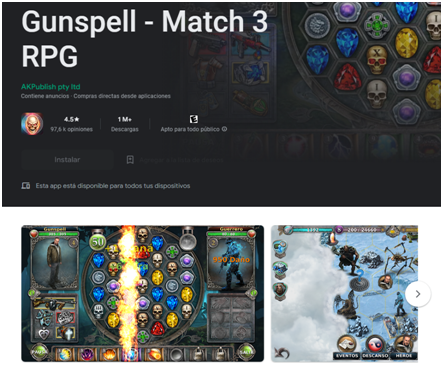 La historia se basa en que nosotros encontremos a nuestra hermana quién está perdida en diferentes dimensiones ya que fue secuestrada por unos monstruos que se alimentan de los seres humanos. Nosotros somos un policía que fue reclutado por una especie de organización que se basa en rescatar a los seres humanos y aniquilar a estos monstruos que vienen a comerse las energías de nuestro mundo. Entre las misiones podemos ver que estamos siguiendo distintas tipos de señales de radio que se encuentran dentro de estos mundos para encontrar a los compañeros de mi hermana y conseguir información. Lamentablemente nuestro personaje es demasiado impulsivo y cada vez que vamos a conseguir información terminamos con matar al monstruo que nos debería hablar sobre el paradero de nuestra hermana Alex.
Sí bien es un juego de combinar gemas también aumenta la estrategia al poner un poco de RPG en el juego para poder subir de nivel y comprar artículos mágicos que nos ayudan en la batalla.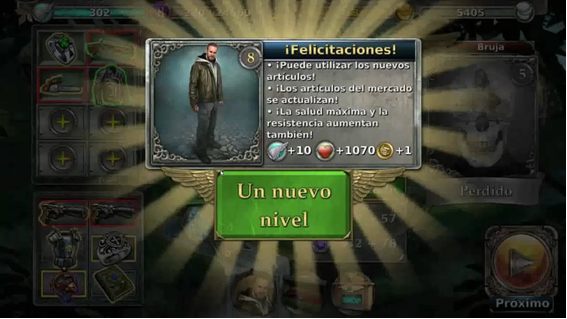 Actualmente ya somos nivel 8 y estamos intentando subir un poco más de nivel para poder recibir las batallas que se vienen ya que los monstruos cada vez son más fuertes.
He descubierto dentro del juego que no es grato tener todas las herramientas de un solo color si no combinar uno o dos colores al mismo tiempo para poder conseguir Maná tanto rojo, como amarillo o azul y así cargar los artículos mágicos más rápidos.
Puede que este juego no sea el más agradable a la vista pero si lo recomiendo mucho por su jugabilidad y por su historia, ya que, la historia va avanzando a medida de que nosotros pasemos de mundo en mundo y consigamos información sobre Alex. Además nuestro personaje se va volviendo más poderoso y las batallas también se vuelven mucho más agotadoras y largas.
---
Te recomiendo pasarte por mi canal para poder ver capítulos anteriores y además ir siguiendo el hilo de la historia. También iré escribiendo en los blogs cada parte de la historia que aparezca nueva a partir del capítulo que sigue, ya que tendremos un poquito más de historia.
También estoy subiendo tutoriales en mi otra cuenta la cual puedes visitar en el siguiente enlace: Canal con tutoriales: nahueldare3627
---
Créditos: Todas las imágenes fueron capturadas del mismo video o de internet entrando a la página de google o Steam por lo que no tienen problemas con los derechos de autor

Hey guys, how are you? Here I am bringing a new Gameplay.
This time we will start with quite busy battles where it was quite difficult to win. Although I had a lot of fun, the truth is that it becomes more and more difficult to level up. And this logically makes the game lag quite a bit but we can see a bit of history in the next chapter.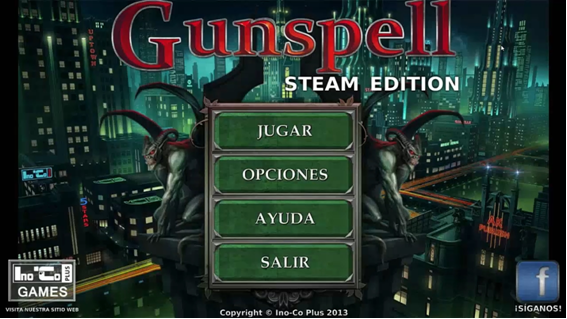 Today we finish cleaning the main map and we go into one of the portals to see that there is much, much more game to do in this single level.
The truth is that this game has pleasantly surprised me because of the number of hours that can be played and I am playing everything on screen, therefore, I have already recorded and uploaded several hours of gameplay on my 3speak channel.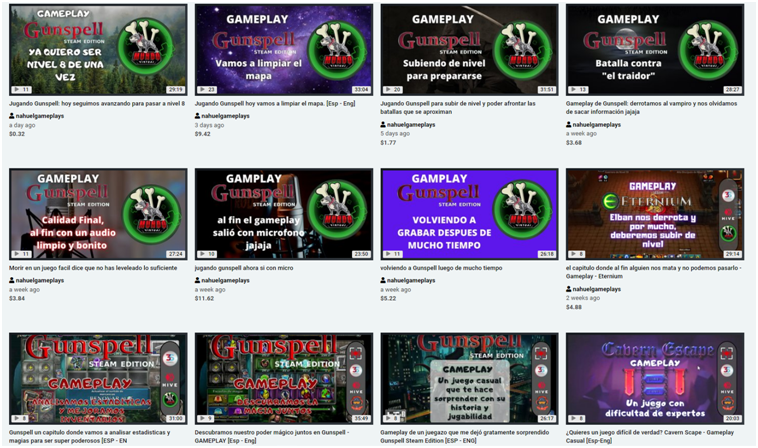 If you are interested in this game you can find it on Steam and Android.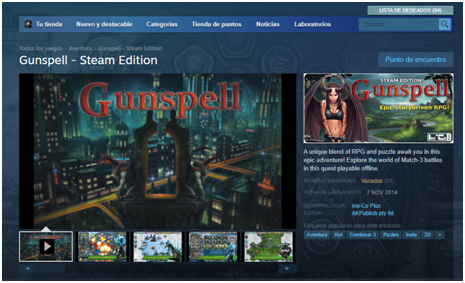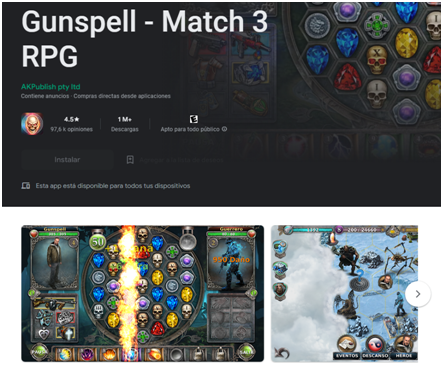 The story is based on us finding our sister who is lost in different dimensions since she was kidnapped by monsters that feed on human beings. We are a policeman who was recruited by a kind of organization that is based on rescuing human beings and annihilating these monsters that come to eat the energies of our world. Between the missions we can see that we are following different types of radio signals that are within these worlds to find my sister's companions and get information. Unfortunately our character is too impulsive and every time we go to get information we end up killing the monster that should tell us about the whereabouts of our sister Alex.
Although it is a game of matching gems, it also increases the strategy by putting a bit of RPG in the game to be able to level up and buy magical items that help us in battle.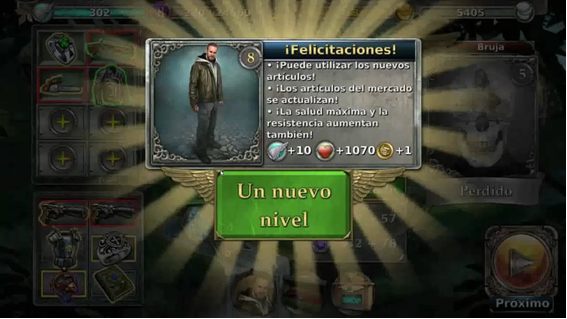 Currently we are already level 8 and we are trying to level up a little more to be able to receive the battles that are coming since the monsters are getting stronger and stronger.
I have found within the game that it is not pleasant to have all the tools of a single color if not to combine one or two colors at the same time to be able to get both red, yellow or blue Mana and thus charge the magic items faster.
This game may not be the most pleasing to the eye, but I highly recommend it for its playability and its story, since the story progresses as we go from world to world and get information about Alex. In addition, our character becomes more powerful and the battles also become much more exhausting and long.
---
I recommend you stop by my channel to be able to see previous chapters and also follow the thread of the story. I will also be writing in the blogs each part of the story that appears new from the next chapter, since we will have a little more history.
I am also uploading tutorials on my other account which you can visit at the following link: Channel with tutorials: nahueldare3627
---
Credits: All images were captured from the same video or from the internet by entering the Google or Steam page, so they have no copyright problems

---
▶️ 3Speak
---
---