Let The Music Lessons Begin
Woohoo! I finally reched level 10 in Rising Star.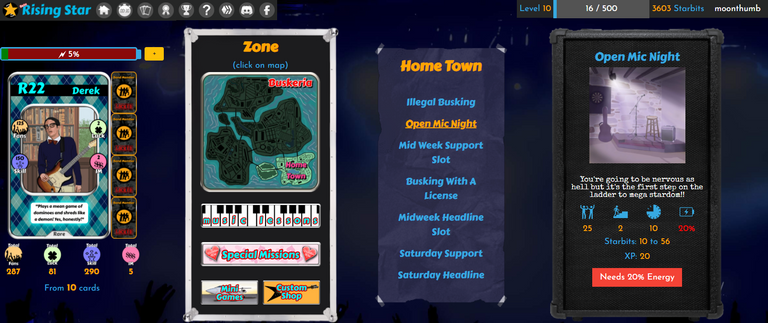 This is the next milestone I needed to attain in order to progress to the Midweek Headline Slot and to start those acursed Music Lessons (did you ever have to take thse as a kid?), which is IMHO a necessary evil in the game in order to keep your EGO down. Currently, I have almost as many fans as my skill level, so this could be an issue without those lessons.
Since my number of fans is where it is, my next milestone is level 15 where I can start completing the Saturday Support mission, the last step before Saturday Headline (which you need to accomplish in order to open up the next zone on the map).
So, at this point, I will start alternating between Music Lessons and MISSIONS so that I don't run into EGO problems. In case you don't know, when you get to level 15 (or 1000 fans), if you have more fans than you have skill, your EGO increases. The more EGO you have, the less Starbits you earn. I don't want to run into this problem when I hit Level 15. Therefore, my progress may slow down a bit as I change my strategy. I guess we will see how all of this plays out.
If you haven't started playing Rising Star yet, it dosn't cost anything, so join the fun...besides, you can earn free crypto just for playing this game.
---
---