Hit and Run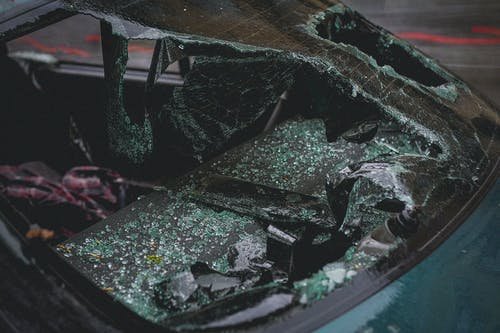 1am says the clook as Gay Halverson sat in his dark living room. He hadn't moved for over an hour. The accident earlier that evening kept playing over and over in his mind. The light turned red, but he was in a hurry and accelerated. An orange blur came from his right, and in a split second there was a violent jolt, then the bicyclist rolled across his hood and fell out of sight on the pavement.
Horns blared angrily and he panicked, stepping on the gas and screeching away from the chaos into the darkness, shaken and keeping an eye on his rearview mirror until he got home. Why did you run, you idiot? He'd never committed a crime before this and punished himself by imagining years in jail, his career gone, his family gone, his future gone.
Why not just go to the police right now? You can afford a lawyer. There was a knock on the door. Someone tapped on the front door! He panicked. His world suddenly crumbled away beneath him. They found me. There was nothing he could do but answer it. Running would only make matters worse. His body trembling, he got up, went to the door and opened it. A police officer stood under the porch light."Mr. Halverson?" asked the grim officer. He let out a defeated sigh. "Yes. Let me —"I am terribly sorry, but I'm afraid I have some bad news. Your son's bike was struck by a hit and run driver this evening. He died at the scene. I'm very sorry for your loss."
Fear gripped him. Did I kill my son?! He walked to a seat and sat down.
"We're very sorry for your loss sir" they took off leaving Gay traumatized. Should he turn himself in so his son could get Justice? He was totally traumatized, he couldn't move or even utter a word. He couldn't even cry. "I'd turn myself in," he said. He picked up his keys and headed for the station.
He got to the station and reported the crime.
"You mean to tell me that you ran over your own son and ran away?"
" You know we can't take action without evidence. Have a seat, we'd get back to you sir". Gay sat in a his misery. About thirty minutes later, they called on him.
"Sir, you own the truck outside?"
"Yes, I told you that I was responsible, take me officer! "
"You're under arrest Mr Gay for…. "
"Enough with the formalities, arrest me already before I do something tragic". " I'm a bad person! I murdered my son!". He was taken to a prison cell to be sentenced at the mercy of the judge. He just wanted his life too. How could he live with such trauma?
---
Posted via proofofbrain.io
---
---