My Weekly Update for Saturday 8/6/2022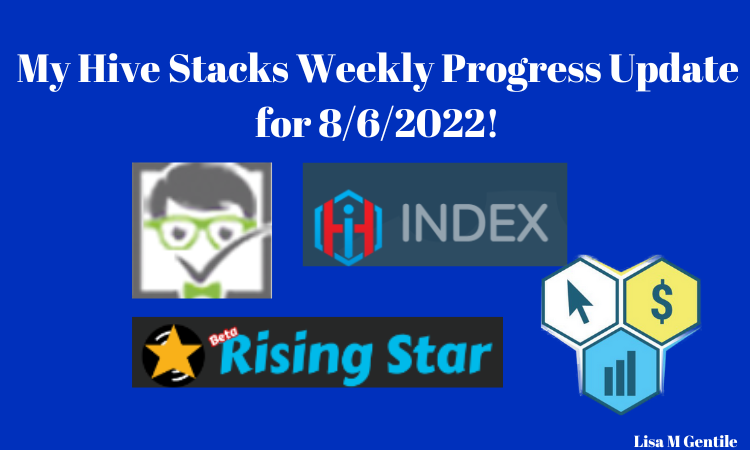 Image Created using Canva Pro!
Hive Power for This Week

587.415 HivePower away from the 5500 I need to reach the Dolphin, officially.
89.32% there which is nice but a little frustrating too. I mean finding out that I am not as close as I thought is frustrating. So, nothing to do but keep going.

What I Bought With My Fiat Investment This Friday (8/5)
Got $11.10 USD in Litecoin in my Coinbase account from my $12.50 fiat investment.
11.09 worth of LTC went to Blocktrades to get my Hive this week and after sending it to Blocktrades I got 18.723 Hive tokens.
20.07474612 Swap.Hive including what was in there from earlier trades.
Did a few more trades ended up with a total of 20.08449034 Swap.Hive to reinvest.


HE-INDEX -- First One Every Week!
Because getting passive income is awesome.
Half of my available Swap.Hive, 10.09799978 used to buy 22 more HE-Index @0.45899999 Swap.Hive each.
New HE-INDEX total: 1799.0002637

I Never Played Any Kind of Games Before But I Am Enjoying This One!
For me a big part of it is the mostly passive nature of it.
I do a few shorter missions during the day while I am working on other stuff.
In the evening I start a longer mission like a Saturday Support mission. I can get a good start on knitting a dishcloth in the 2 hours it takes to run the mission. That works well for me. I've been playing more often because I can do that.
And because I can run longer missions I am getting more Starbits more quickly than having to run a bunch of Illegal Busking Missions to get anywhere.
Yesterday I deposited all of my in game Starbits, 4504, into my Hive Engine Wallet. I had 3,012 sitting in there from last week. So, 7516 Starbits with that deposit.
I put in 4.73 Swap.Hive to buy 50000 more Starbits @0.00009460 Swap.Hive each.
57516 Starbits to buy some cards.
Bought a rare discontinued R106 Lewis for 13200 Starbits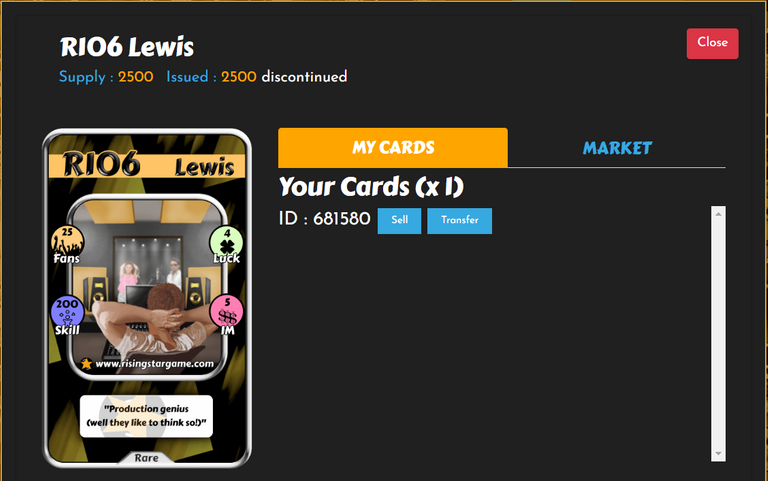 My next purchase was also a rare and discontinued card. The R39 Clive for 26,000 Starbits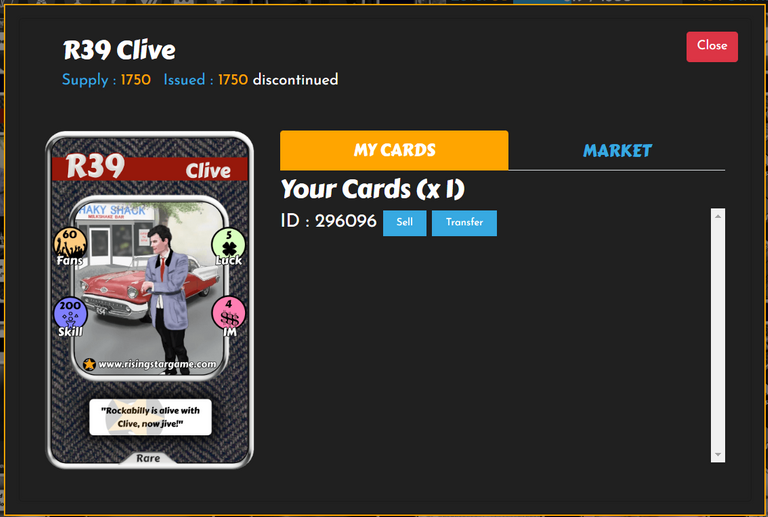 Those two cards increased my skill by another 400 points, 85 more Fans, 9 Luck, and 9 Income Modifiers.
Had 18,316 Starbits left and bought two more booster cards. Another Pizza Box and another Coffee Cup for 7500 and 5000 Starbits respectively. Now I have 6 of each of those to store my energy.
Left with 5816 Starbits for next time and as of this morning after playing a couple of missions I have 1154 in the game.
This is what my Dashboard looks like this morning: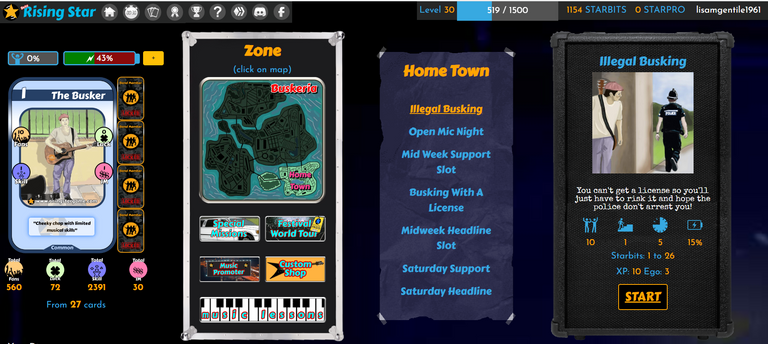 And I was resisting the whole game playing thing. I couldn't get my head around it for a long time. Couldn't believe I could actually earn crypto for playing a game. Glad I was wrong.

Progress on CTP and LISTNERDS Tokens
CTP Power on CTPtalk
Total as of 7/30: 53229.883
7/31 Claimed and staked: 54.864 New total: 53284.747
8/1: Claimed and staked: 16.706 New total: 53301.453
8/2: Claimed and staked: 28.856 New total: 53330.309
8/3: Claimed and staked: 21.516 New total: 53351.825
8/4: Claimed and staked: 21.906 New total: 53373.731
8/5: Claimed and staked: 19.613 New total: 53393.344
Used the remaining 2.732 Swap.Hive in my HE Wallet to buy me some more CTP tokens to stake.
Buying 187 more CTP @0.014599 Swap.Hive each for a total of 2.73001300 Swap.Hive.
New total after staking them: 53580.344
8/6: Claimed and staked: 14.864 New total: 53595.208
365.325 (0.69%) increase of CTP tokens staked this week.
21,404.792 tokens away from 75000 staked CTP
Or 71.46% of my goal achieved.
LISTNERDS Staked on ListNerds
Total as of 7/30: 22456.943
7/31 Claimed and staked: 1531.333 (1181.608 reward from Solo mail verified instantly and paid today and 349.725 earned passively from LISTNERDS staked on platform) New total: 23988.276
8/1: Claimed and staked: 374.580 New total: 24362.856
8/2: Claimed and staked: 360.091 New total: 24722.947
8/3: Claimed and staked: 384.563 New total: 25107.510
8/4: Claimed and staked: 388.973 New total: 25496.483
8/5: Claimed and staked: 396.848 New total: 25893.331
List Nerds are still on sale @0.044 Swap.Hive each.
Going to stack some more while I can.

Got 60.705 more ListNerds to stake
New total: 25954.036
8/6 Claimed and staked: 302.512 New total: 26256.548
3,799.605 (16.92%) increase in staked ListNerds
13,743.452 away from my 40000 staked ListNerds goal
or 65.6% of goal achieved.

That's pretty much it for this week.
Going to finish off my task list for today.
Including helping my Dad pay his credit card bill online.
He finally conceded to let me do that and stop writing checks for it.
He still wants to go through the statement and check it against his receipts.
That's okay. It is victory to just get him to stop writing checks and using postage stamps. I let him keep using the paper register. LOL
Have a great day and weekend.
Have a great
---
---