Timber Town, Drvengrad, Serbia - it felt so strange!
Prior stepping inside this controversial place I knew one thing about it only, that it has been built by Emir Kusturica. Later on, deeply impressed by what I saw there I researched and learned a lot more!
I am pretty sure you all know who Emir Kusturica is, but just in case some don't he's a film director, musician, actor, a great artist in my humble opinion. He's "responsible" for more than a dozen of great movies, my personal Top 3 consists of "Arizona Dream", "Underground" and "7 Days in Havana". In that order exactly. He is the director and the writer of the first two and actor in the last one. I watched those films several times and I highly recommend them in case you've got some spare time and wonder how to have a cozy evening. I am not sure popcorns would be a good choice while watching "Underground" as you would probably choke while laughing :P
Anyway, now let's get back to Drvengrad or what the literal translation in English would be "Timber Town". The name isn't by an accident as most of it is built with planks and all the floors and patios are created by using old sleepers from old railway roads. Now here this is a thing that all photographs are not able to tell - the strong smell of that black impregnation material the engineers use to preserve the wooden sleepers for as long as it takes.
Personally for me, that smell, I better use the word "aroma" as I like it a lot, brings so many associations with many travels by trains. I loved so much to travel by train in my childhood, with my parents and grandparents who had all passed away long ago. I bought my first car more than twenty years ago and that put train travels to an end. I consider this period quite romantic for those two reasons above.
View from the main square: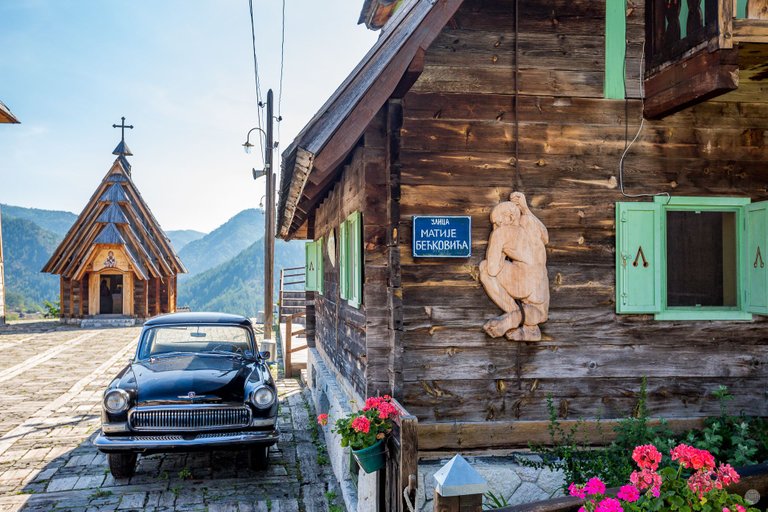 I also thought this town (the size of it is more like of a small village) has been created as a movie site scene. It seems I was wrong about that.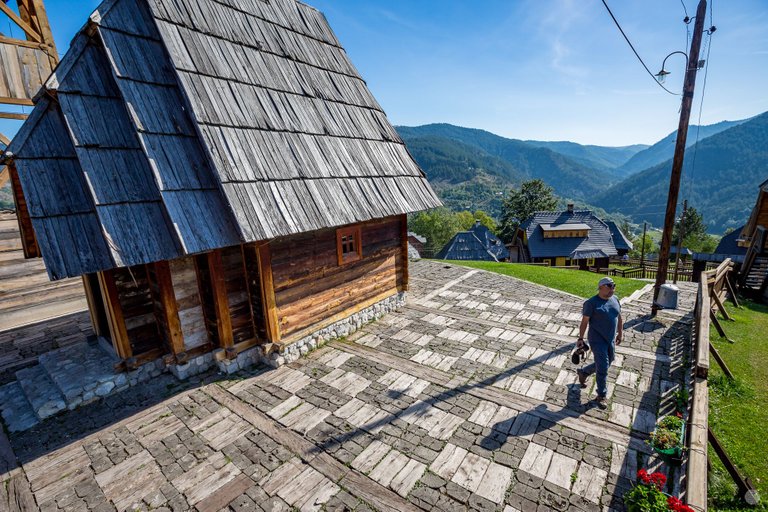 Kusturica has created it with the idea to gather artists from all over the world for creative purposes. Also, to pay his deepest respects to the people who he admires.
Check out some of the street art and street and square names I've seen there: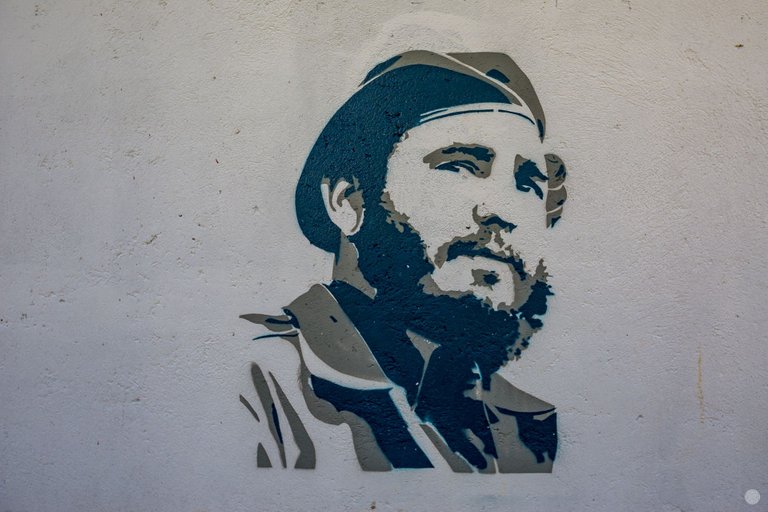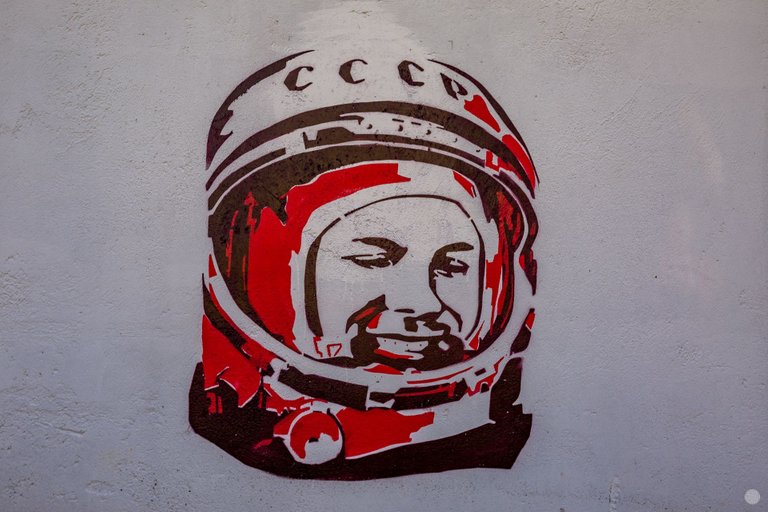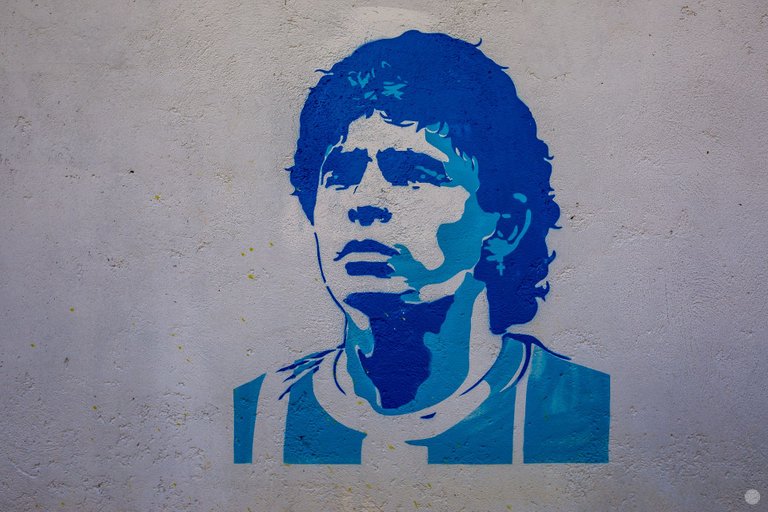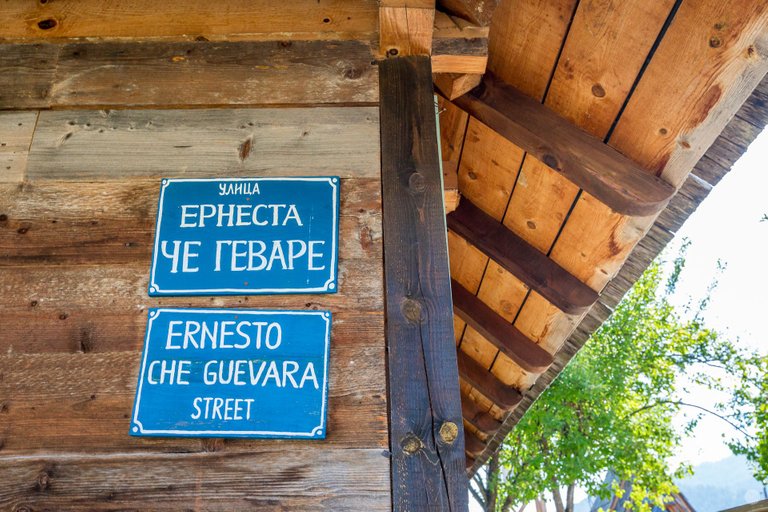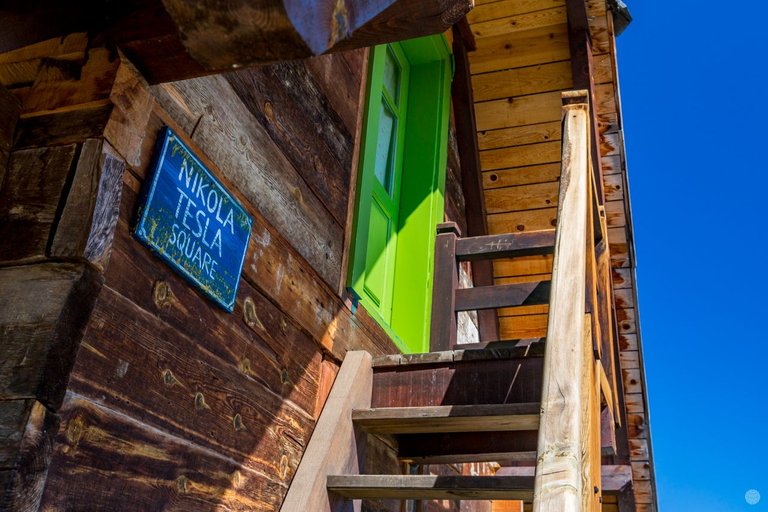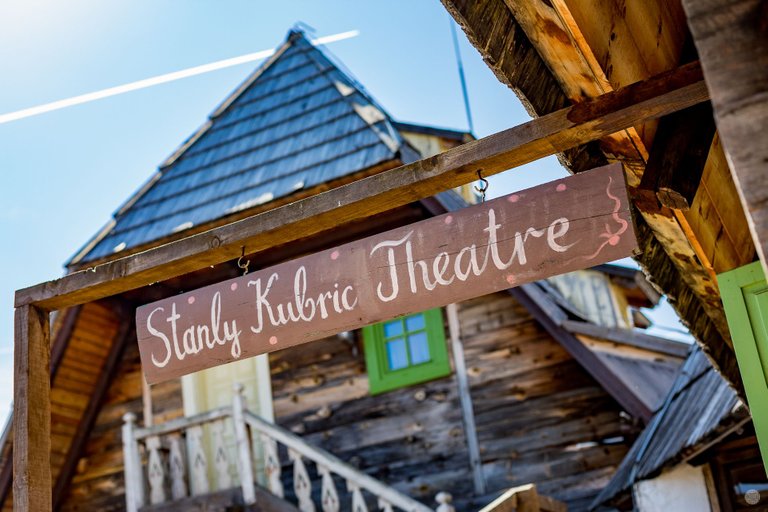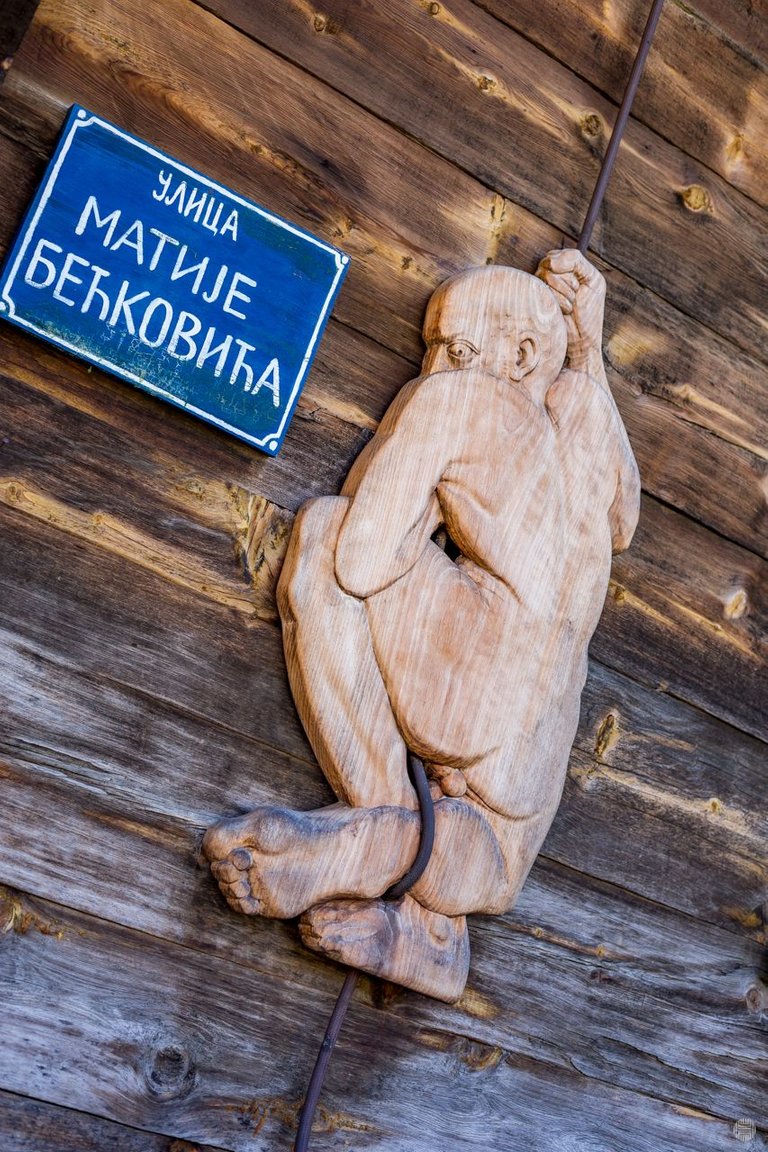 Yes, some of the street art there screams and shouts, but hey, that's what good art does to us, right? It has to poke us and get us thinking and dreaming :) Like this one, what was he trying to say here? I have an idea, as a man who lives in the Balkans and I see from time to time people doing that while they drive their cars and trucks. But the rusty military helmet is probably trying to imply something else? What do you think: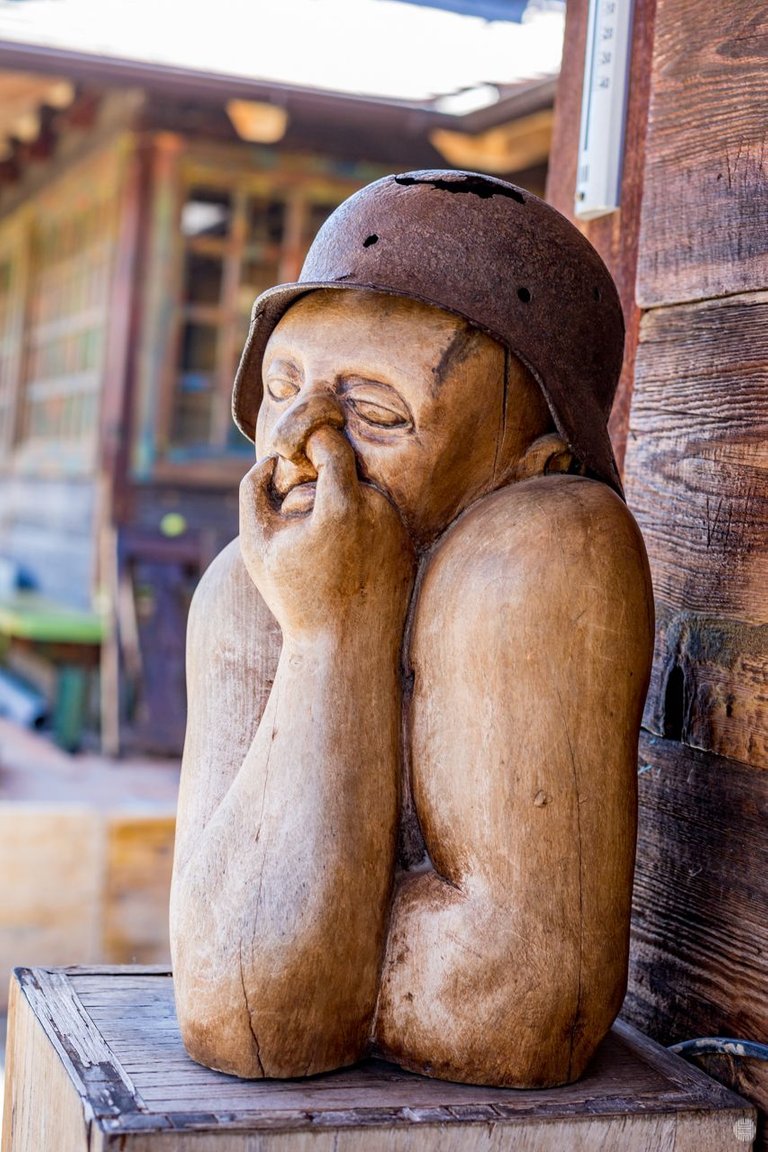 The black "Gaz" limo you saw on the first photos was the favorite car for the communist dictators on the Balkans for some period. Check out what it looks when you squat in front of it. Yeah, I did it for the photo. To me it feels like I am before the mouth of a shark that's going to bite me!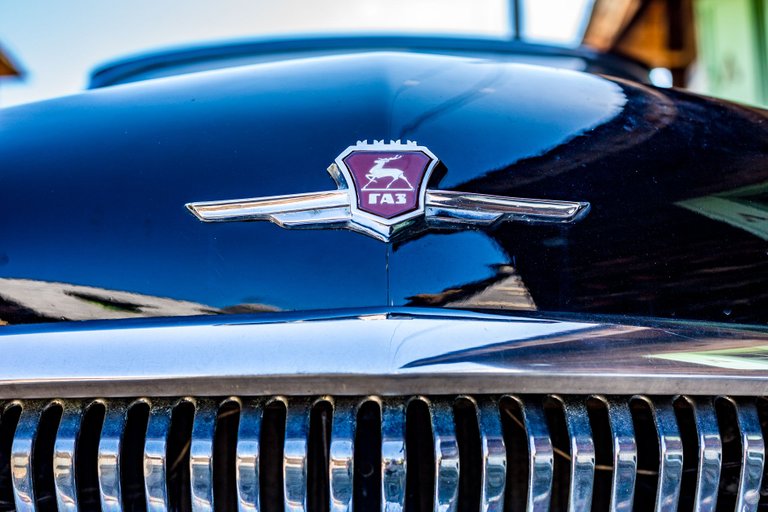 I could recognize few other items from his movies, like this Trabant limo: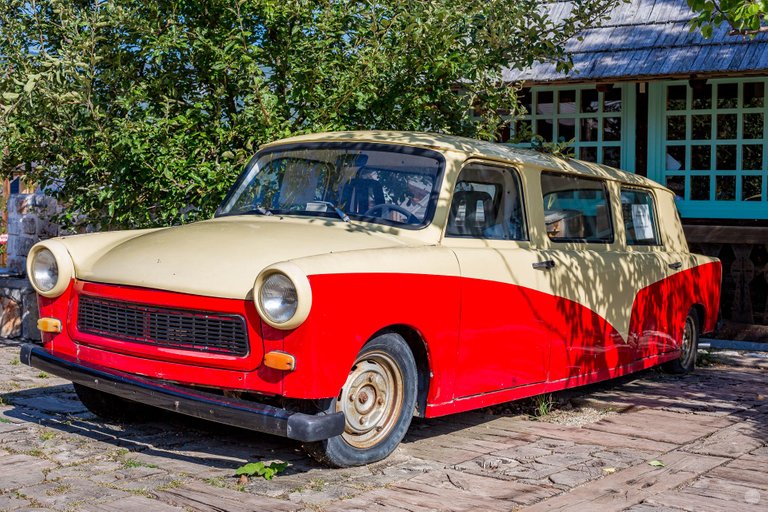 I use to drive Trabant for five years of my life, that is the purest and absolute symbol of the dying communism back then and in some periods back then I was looking on my "Trabi" as an abomination. I recall once I had to make five (yes 5) urgent and different repairs on the road to reach a 250 kilometers destination within the same day. I was a fun learning exercise though, always caring a full bag of tools and spare parts in the trunk :)
One of those manual coin-to-medallion pressing machines ;)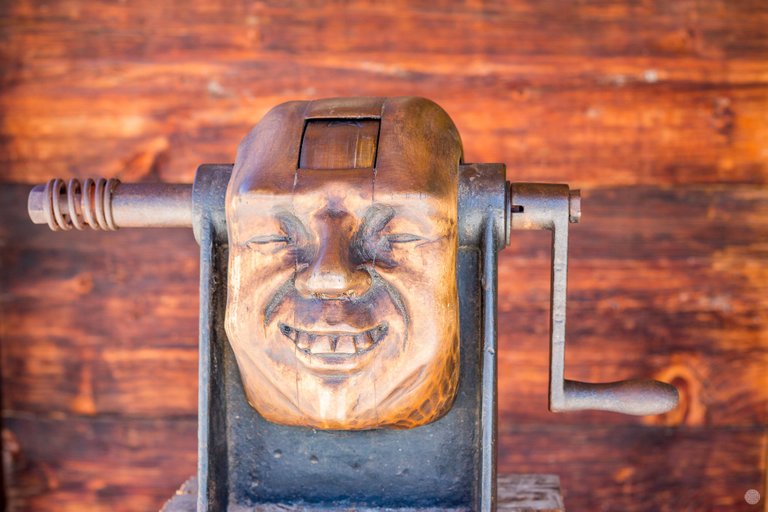 I liked a lot browsing the wooden streets and discovering such small pieces of art everywhere: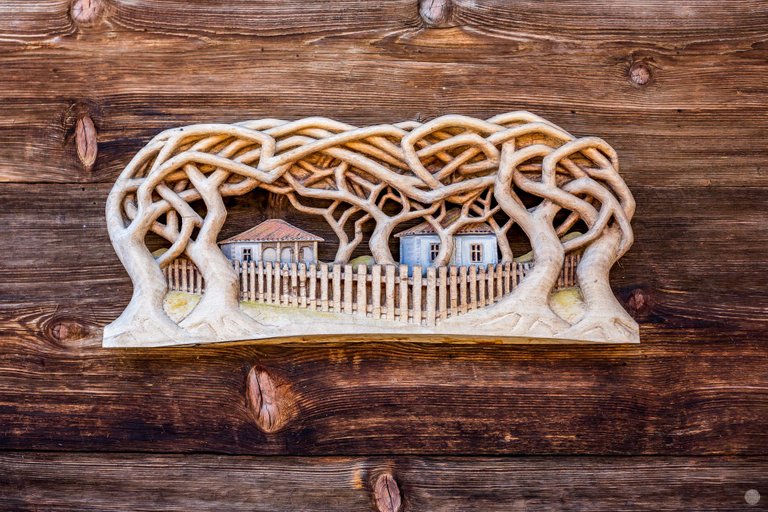 Ah, here is a close view of the patios: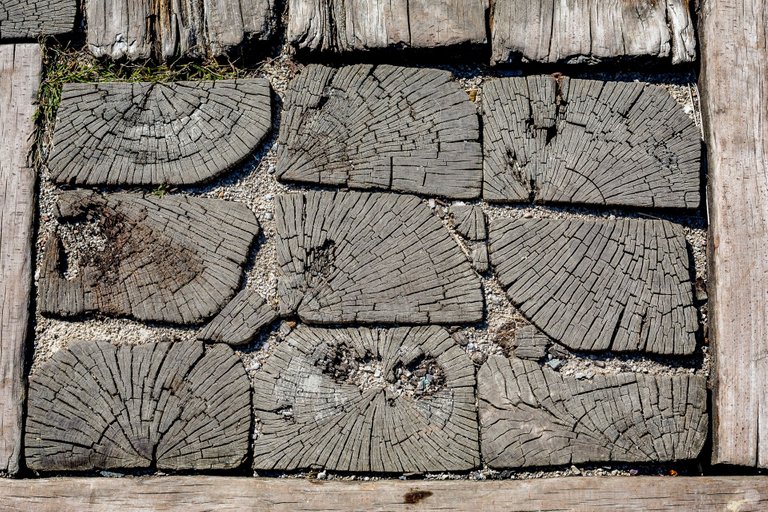 Another thing that got me thinking was this "City Prison: Humanism and Renaissance".
I think Serbians, or the most of them will never forget USA and NATO for bombing their cities, towns and bridges. See for yourself: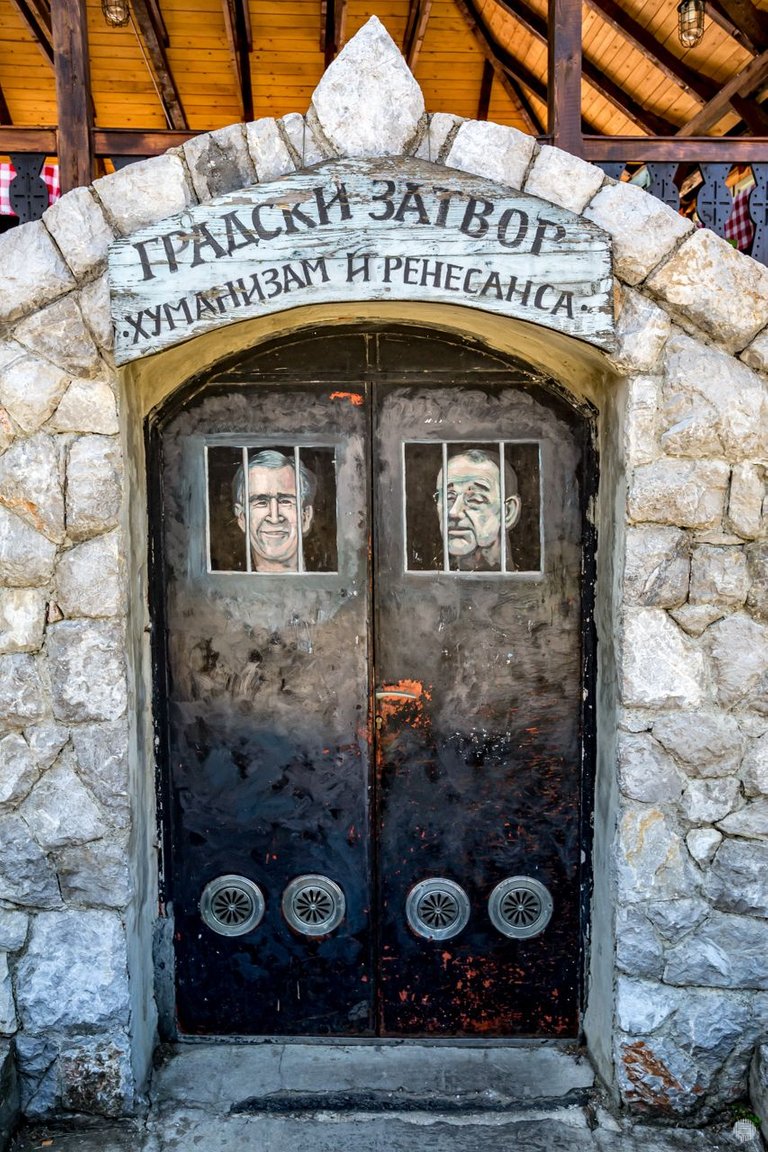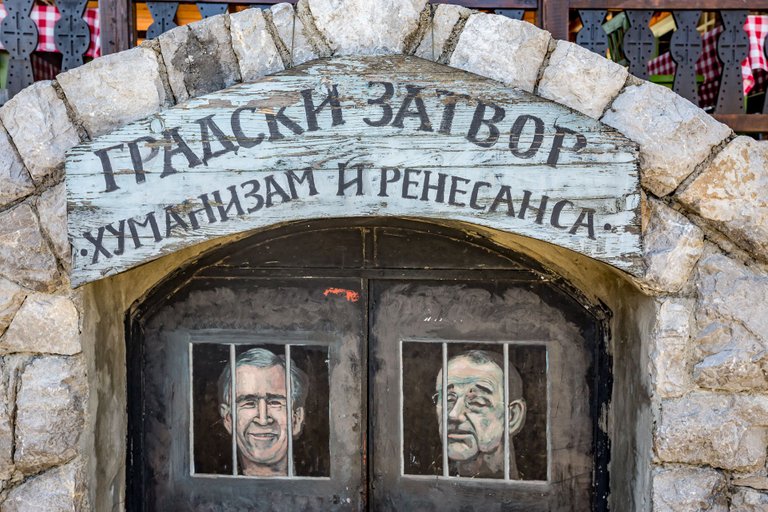 (George W. Bush and Javier Solana)
---
It was very peaceful that day, it wasn't overcrowded, the only noise was coming from a group of enthusiast flying a huge drone: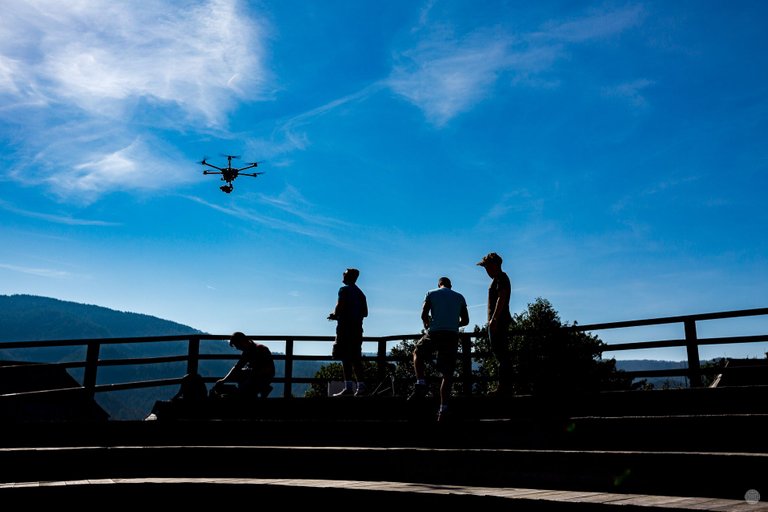 Now enjoy few wide angle views from this scenery mountain village: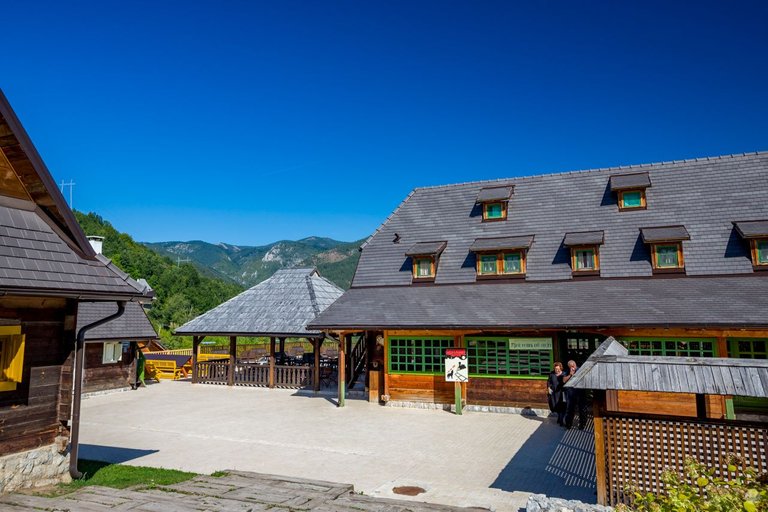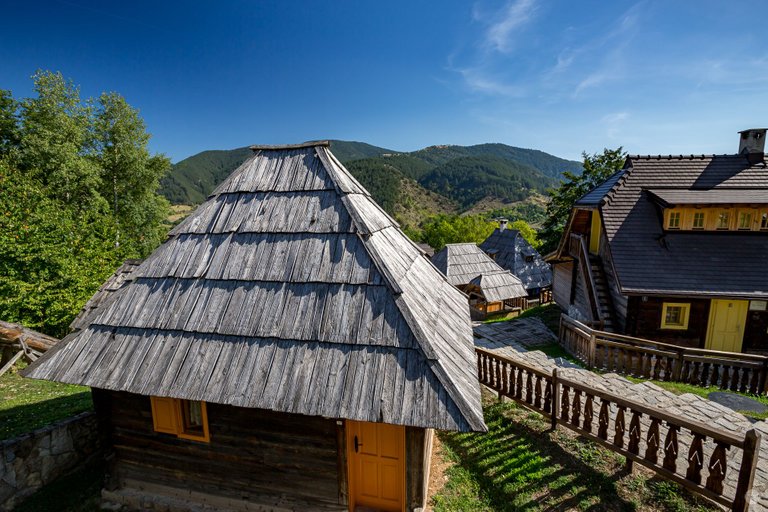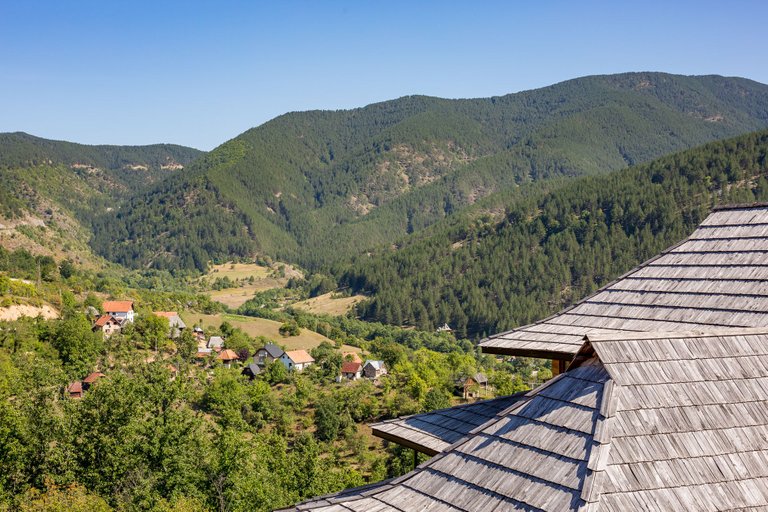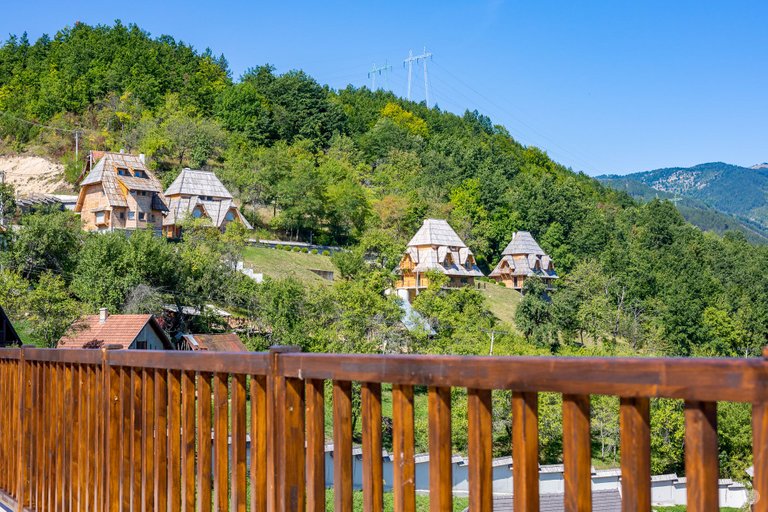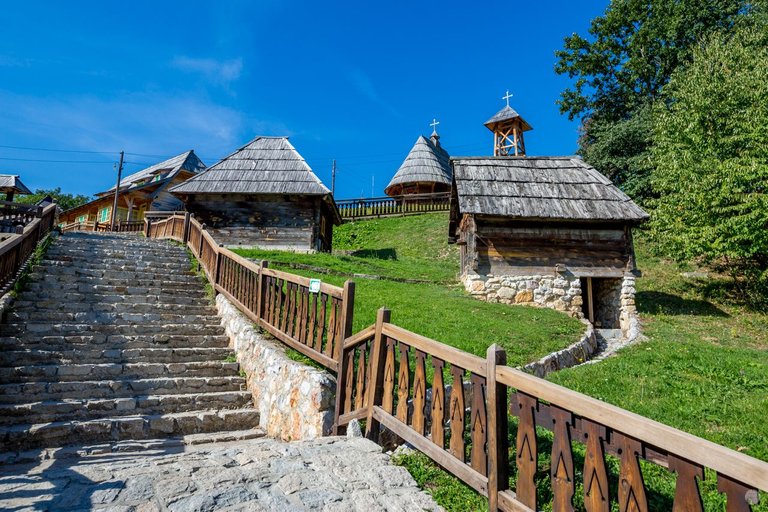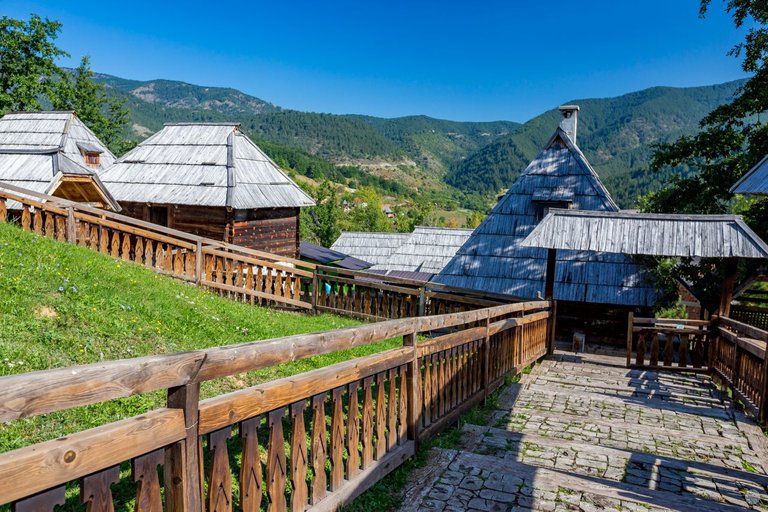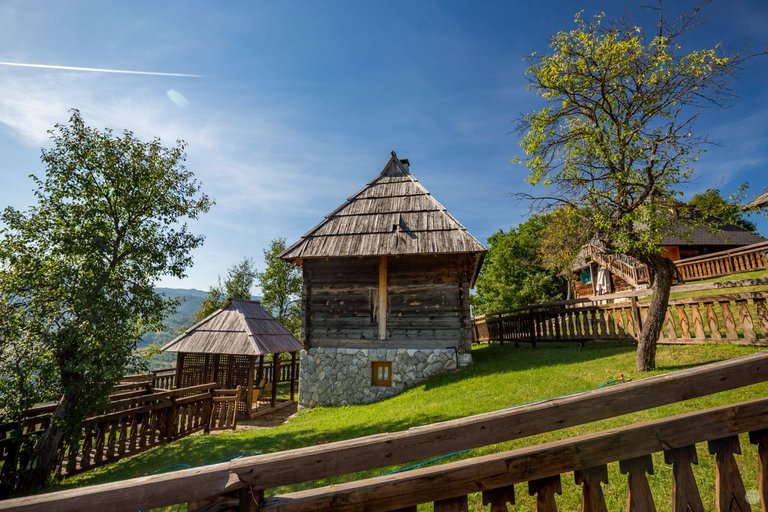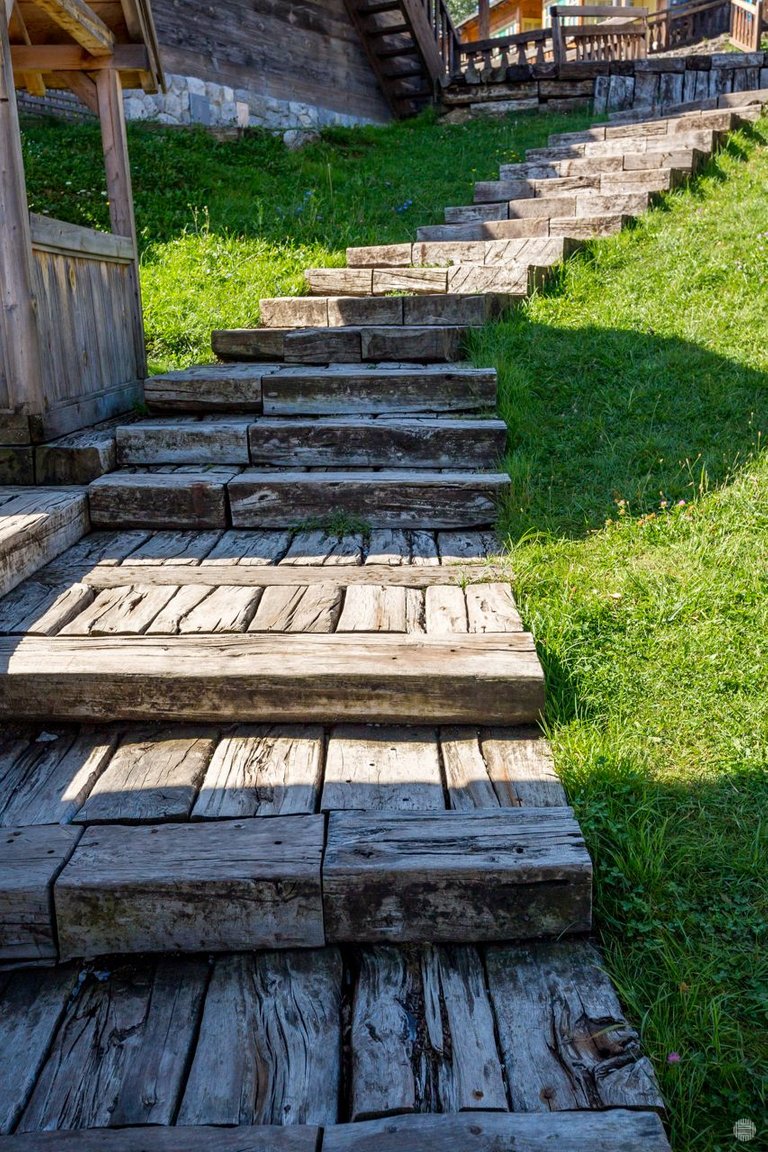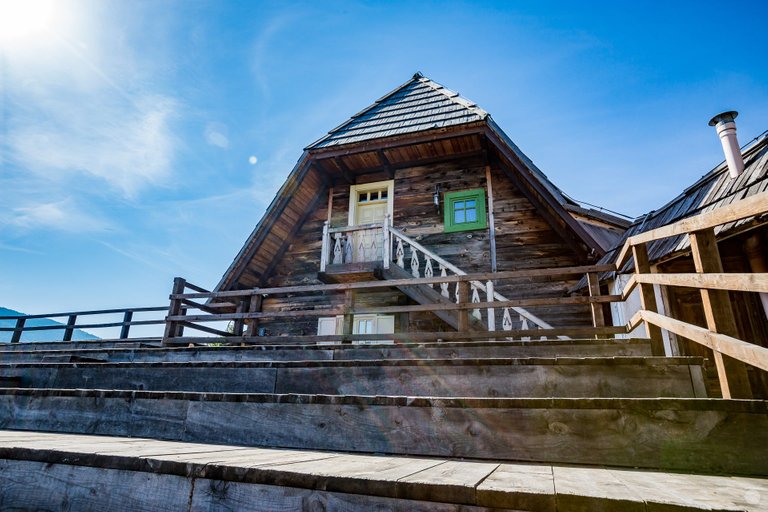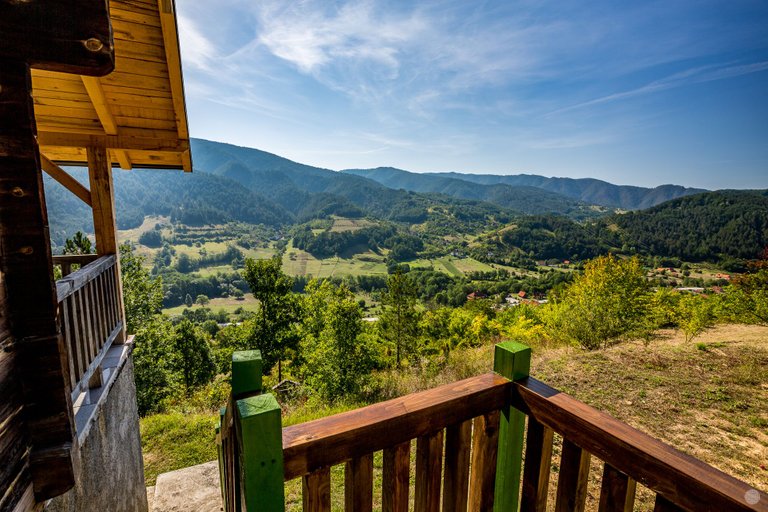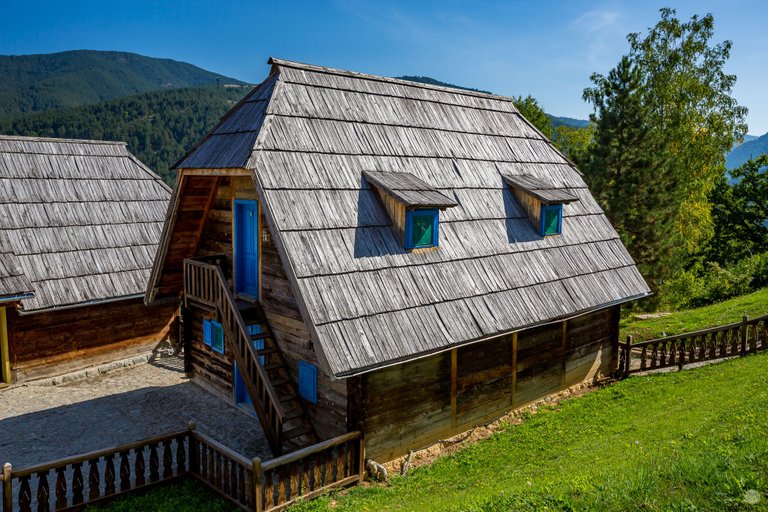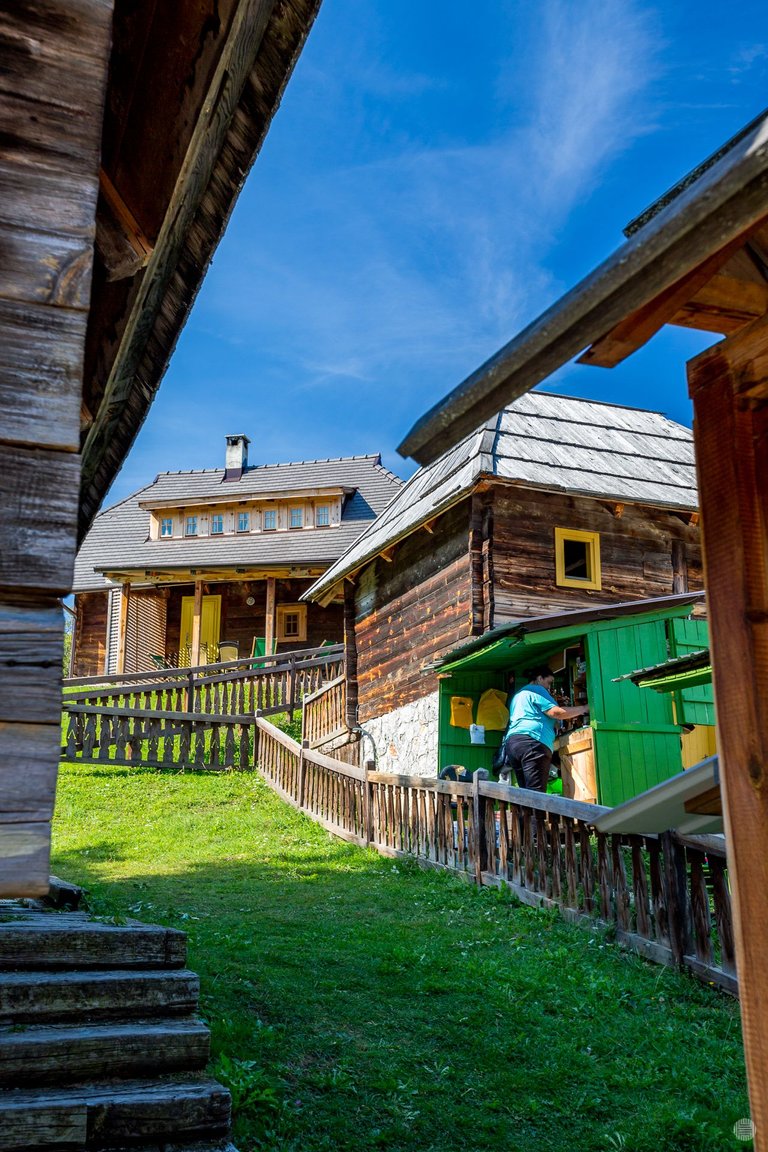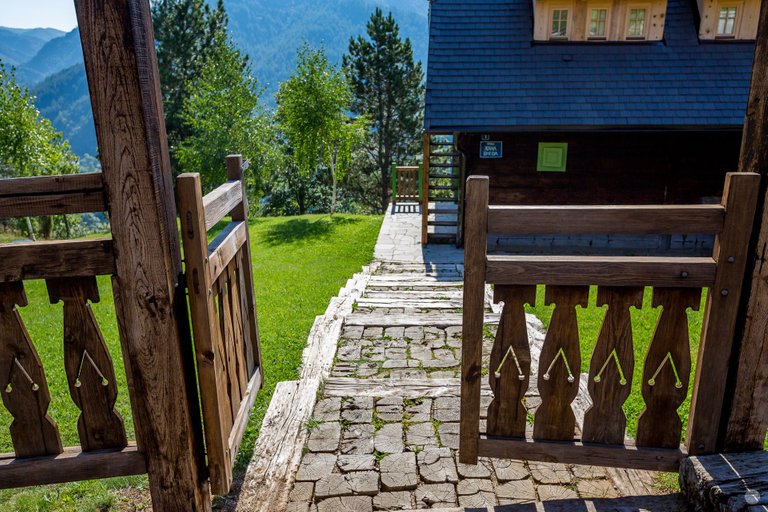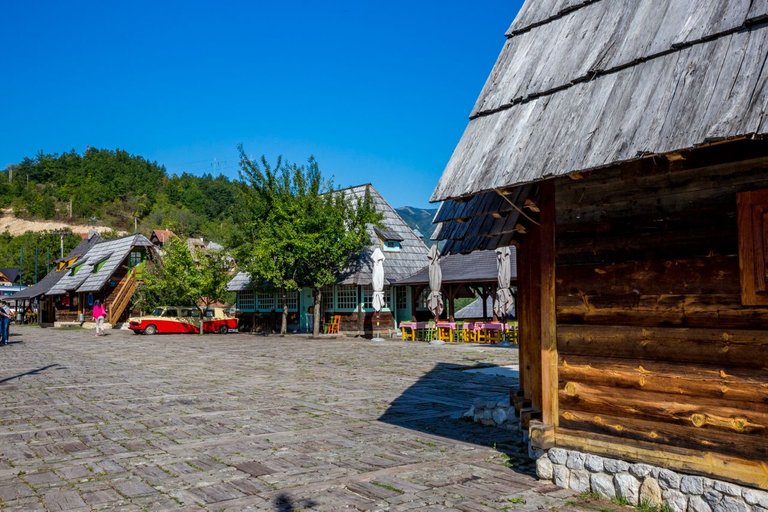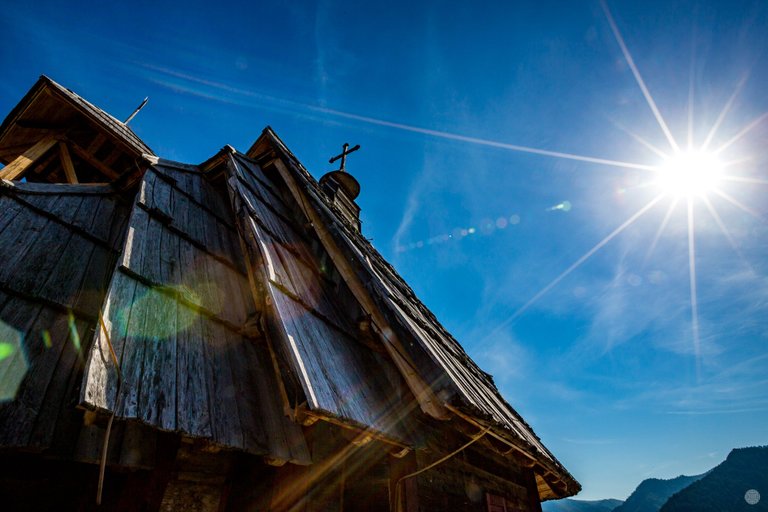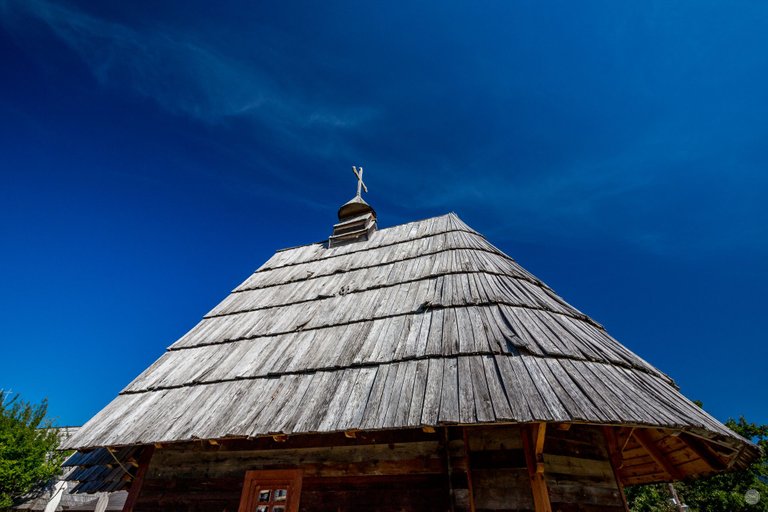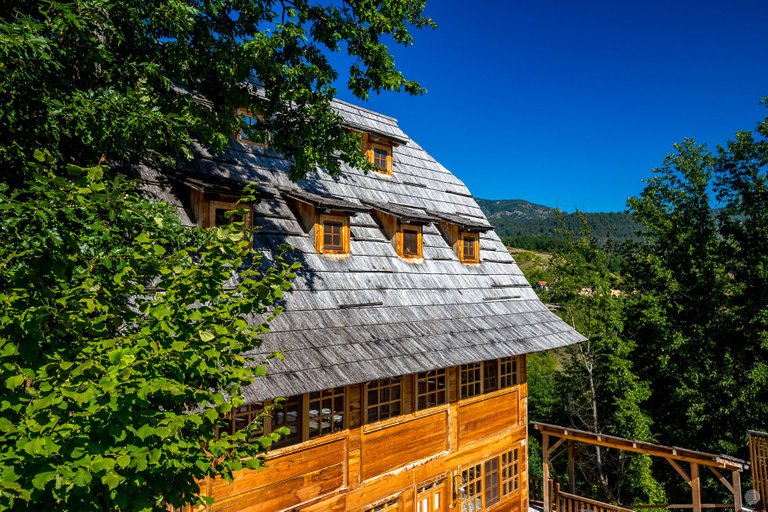 You've probably noticed the small church with bell tower by its side, named after St. Sava: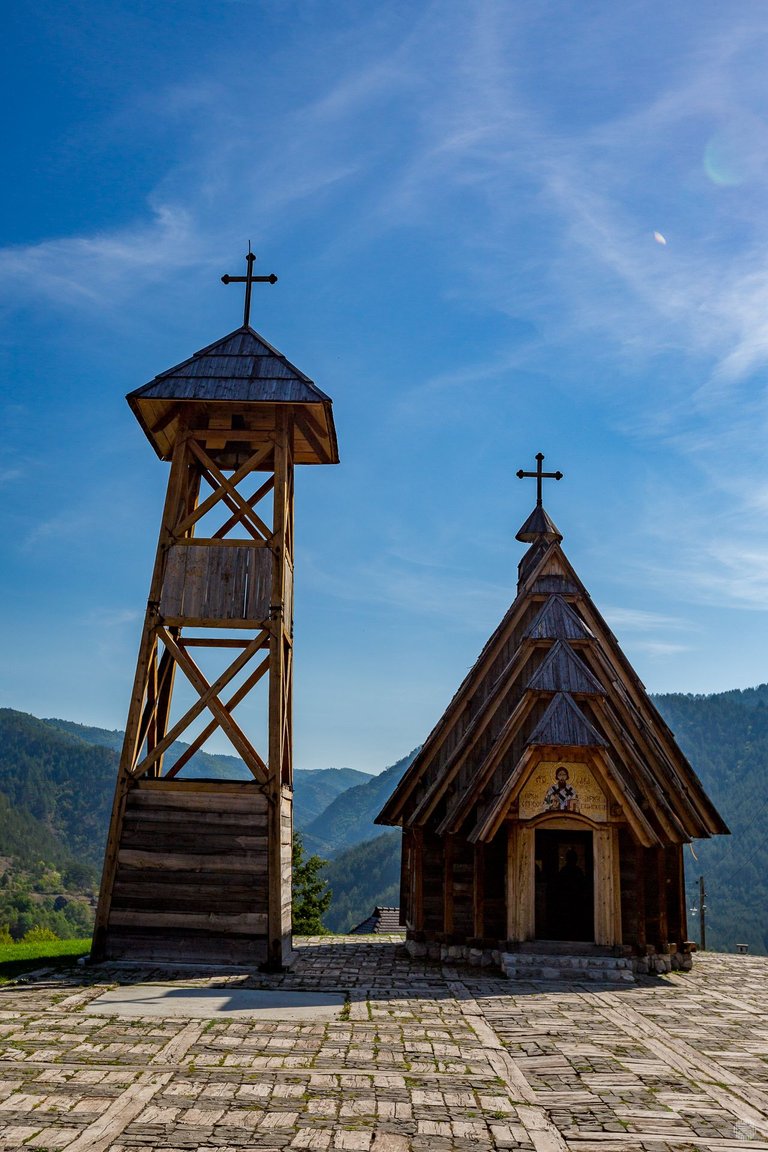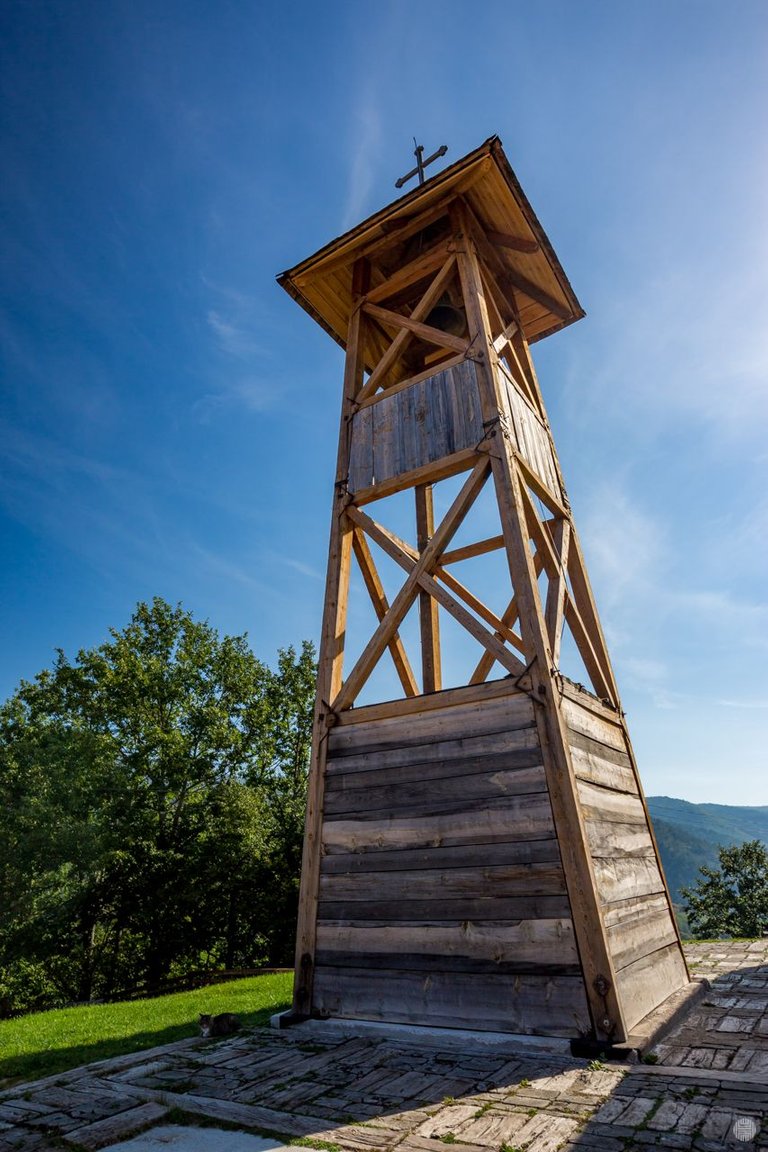 I was a bit disappointed to find out it has been turned into a hotel where you could rent a room/house but I suppose spending one or few nights there would be very good for the health and the state of mind, as I think this area has special healing and recharging energy.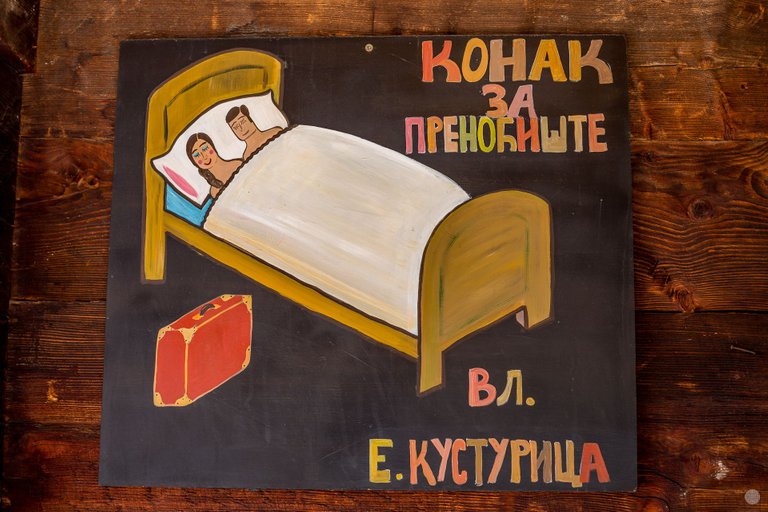 Aren't those bright colors splendid and healing? :) :P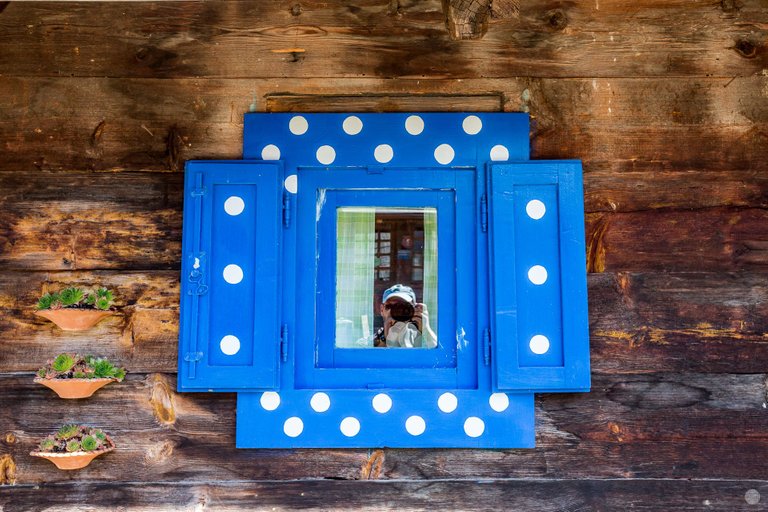 That photo above was a "selfie", have you noticed? :P
There has been some Discovery Channel challenge and thanks to it I had the chance to "feel" the bigger picture :)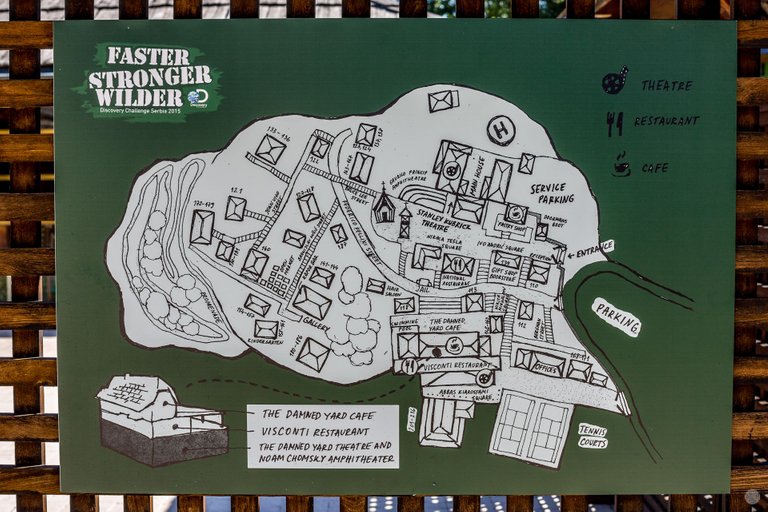 Strange, controversial, artistic, scandalous, I could continue adding adjectives... No doubt, this is a special, very creative place. I would love to visit it again and discover and feel even more!
---
Thank you for your time and support, please check out below few other ways to encourage me in my difficult visual art endeavor and stay in touch!
---
My photo site: https://hadjiyvanov.com/
---
My twitter: https://twitter.com/hadjiyvanov
---
My single edition unique digital art NFT on Ethereum at OpenSea: https://opensea.io/collection/art-by-lightcaptured
---
You could get a license here for some of my visual works approved by the quality review team of Adobe, Inc.: https://stock.adobe.com/contributor/206416265/lightcaptured
---
My NFTShowroom Gallery with NFTs for art collectors: https://nftshowroom.com/lightcaptured/gallery
---
My Lensy.io Gallery with Photos for NFT collectors: https://lensy.io/lightcaptured
---
My NFT art works on EOS: https://gallery.pixeos.art/profiles/damian-hadjiyvanov
---
---
I use and recommend those services below, following my referral links is a win-win for both you and me:
---
---
Copyright: Damian Hadjiyvanov, Light Captured
For licensing my photos, please drop me a message on Discord: lightcaptured#2698
Have a great day, stay safe, stay strong and let your muse be always on your shoulder!
---
---