The Fire Tamer - entry to Female Portraits Photography Lovers Contest
Greetings!
Here is my entry to "Female Portraits", a Photography Lovers Contest by @derangedvisions, thank you!
I love this portrait as it combines so many things... from her side, persistence, devotion, passion, sacrifice (if you don't trust me on that, check out the arms of few poi artists, they are covered with scars). From my side, experimenting, passion, experience, persistence too. It is not easy to captures such a portrait without knowing what you do and without failing for like hundreds of times.
I am well aware this entry isn't going to be the winner. It is probably not that impressive at first sight, and it is only one photo so it is outside the successful Hive stigma of a long post with several images. However, I have nothing else to do apart from sharing it :)
From a pure photographic perspective, this picture is a great example of a combined usage of long exposure with two light sources; motion blur of light coming from fire and a portable flash, synchronized over the camera second curtain. An experienced eye could tell that by the good details of the face of my friend playing with fire here. So, I hope you really like that picture :)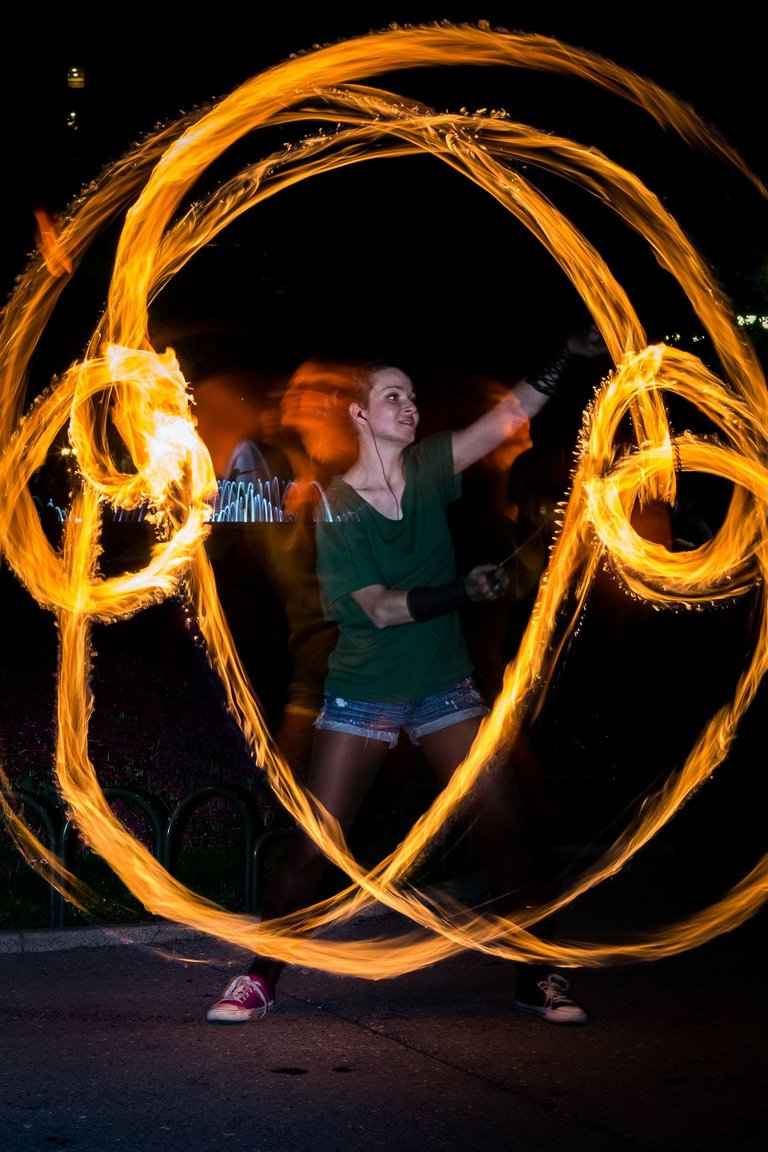 Here are the specs for those interested:
| | |
| --- | --- |
| File Name | DDH_6050.jpg |
| Camera Model Name | Canon EOS 5D Mark III |
| Shutter Speed | 2 |
| Aperture | 11.0 |
| Metering Mode | Multi-segment |
| Exposure Compensation | 0 |
| ISO | 250 |
| Lens | EF50mm f/1.4 USM |
| Focal Length | 50.0 mm |
| Image Size | 1280x1920 |
| Flash | On, Fired |
| White Balance | Auto |
| Sharpness | 30 |
| Saturation | 0 |
| Color Space | sRGB |
| File Size | 1139 kB |
| Serial Number | 203020003615 |
---
Thank you for your time and support, please check out below few other ways to encourage me in my difficult visual art endeavor and stay in touch!
---
My photo site: https://hadjiyvanov.com/
---
My twitter: https://twitter.com/hadjiyvanov
---
My single edition unique digital art NFT on Ethereum at OpenSea: https://opensea.io/collection/art-by-lightcaptured
---
You could get a license here for some of my visual works approved by the quality review team of Adobe, Inc.: https://stock.adobe.com/contributor/206416265/lightcaptured
---
My NFTShowroom Gallery with NFTs for art collectors: https://nftshowroom.com/lightcaptured/gallery
---
My Lensy.io Gallery with Photos for NFT collectors: https://lensy.io/lightcaptured
---
My NFT art works on EOS: https://gallery.pixeos.art/profiles/damian-hadjiyvanov
---
---
I use and recommend those services below, following my referral links is a win-win for both you and me:
---
---
Copyright: Damian Hadjiyvanov, Light Captured
For licensing my photos, please drop me a message on Discord: lightcaptured#2698
Have a great day, stay safe, stay strong and let your muse be always on your shoulder!
---
---