Around lake Kerkini, a sunny spring day to remember
Lake Kerkini in Northern Greece.
A wonderful natural park and reserve for the people loving wildlife and birdwatching. A place I have been several times and I would love to visit again, many times as it always finds ways to surprise me and I always discover and photograph something new, if not many new things.
It is obvious birdwatching isn't the most popular activity to do in Greece and the only thing I don't like about the place is that with every new visit, I see the facilities there deteriorate and I have the feeling people care less and less about the wild nature. I cannot support my observation with confirmed stats and numbers but it seems to me I see more and more livestock around the park, mainly water buffaloes however I suppose their number is regulated by the state. Anyway, the food products related with the local water buffalos are quite famous and extremely delicious so if you happen to visit the region don't miss to try a sausage or a stake or if you are a vegetarian, some cheese, it has unique taste and aroma!
Today I am going to share with you a short visual story for the beginning of a day where we made a round trip around the lake. Usually people don't do round trips as there are only two-three points where a boat trip could be taken. We have decided to drive around in the full circle to be able to see the lake and its life from all possible angles and light, as you know, light changes drastically throughout the day.
It was a lovely sunny spring day and our first stop was at the wetlands and the most Northern part of the lake, near the cozy small village of Mandraki. Quite an interesting fact was we found an old man, an owner of a local shop who spoke German only, apart from his mother's tongue, the Greek, of course. We went to his shop to buy some buffalo cheese, but we couldn't find there unfortunately, despite the several animals we saw near the wetlands.
In the beginning of this June, the level of the water was quite low, but the view was colorful: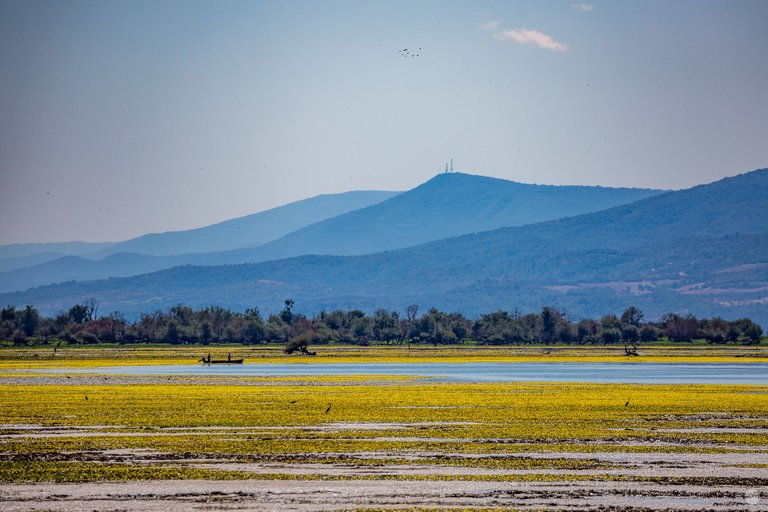 This location is quiet and full of life, even the insects are very curious, check out this dragon that landed on my snickers ;)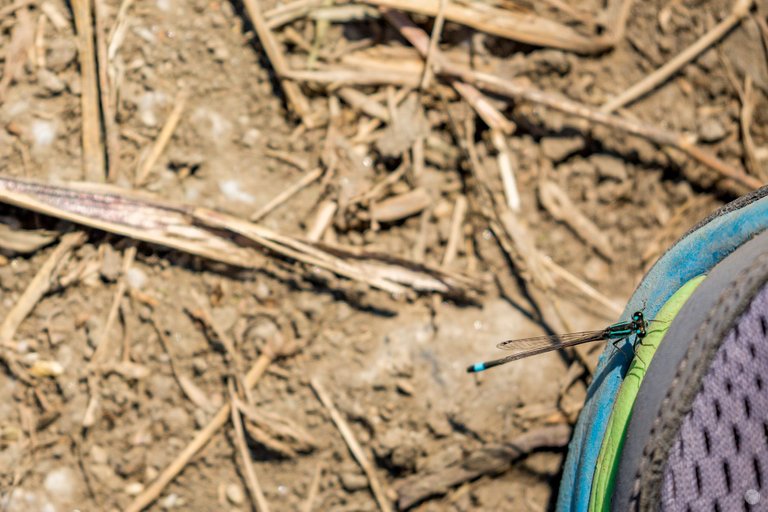 I remember this particular place from a previous visit, the trees looked like they are put in the water and now it all seemed like a meadow with small torrents, while before we were sailing between the trees with the boats and getting closer to the various species of birds.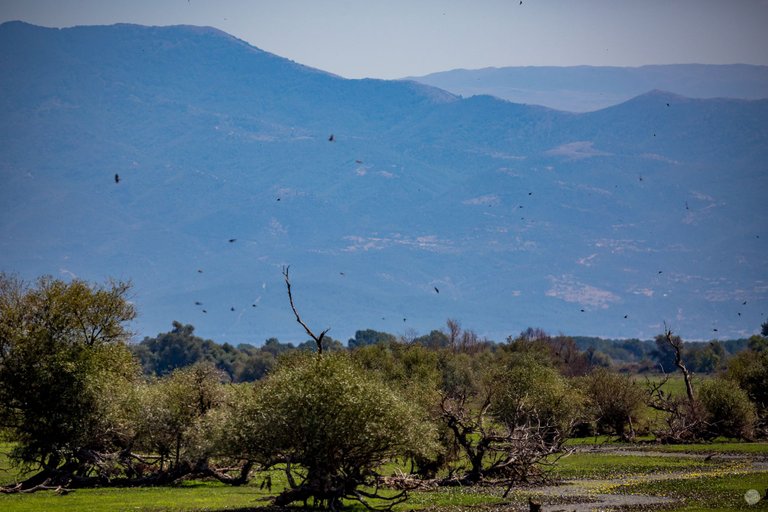 If you read Greek, then this board gives a lot of info, unfortunately the English version was totally broken. The map of Europe at the left-hand side shows the migratory path of some of the birds. I am pretty sure the bottom map shows the migratory path of the pelicans. I have seen so many Dalmatian pelicans in the spring and in the autumn at the lake.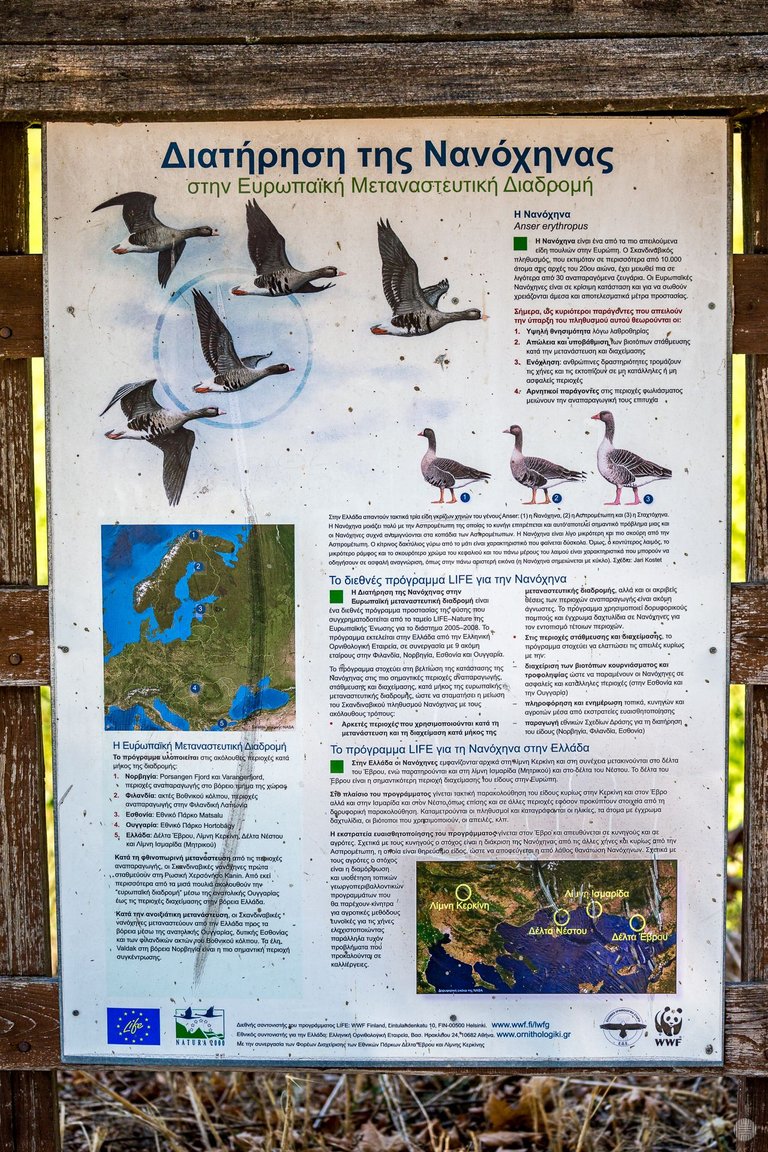 The next stop was near the village of Kerkini where is the biggest lake port and where you could almost everywhere find a boat to rent to go sail in the lake. We had a very unusual meeting there, with a stork, who at first frightened us a bit by approaching us.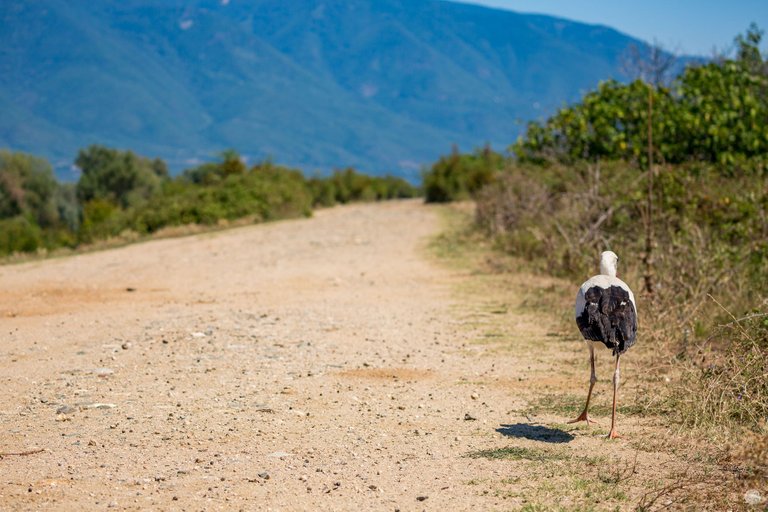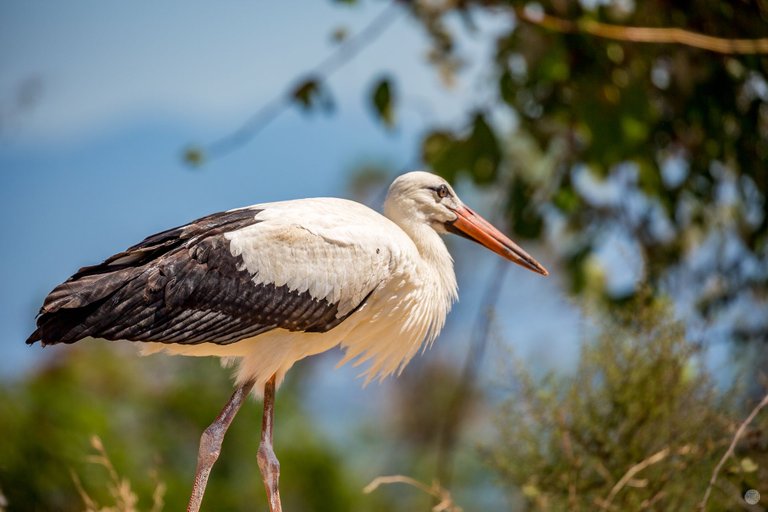 Few minutes later we found out by our captain and ornithologist, called Vassilis that this stork personally knows him and accepts people as friends who provide some food, of course. Check out how this astonishing bird approaches him from behind and begs for food. That was quite a show to watch, trust me. I didn't have the proper time to watch for photo composition, I just took few quick snaps to catch the action :)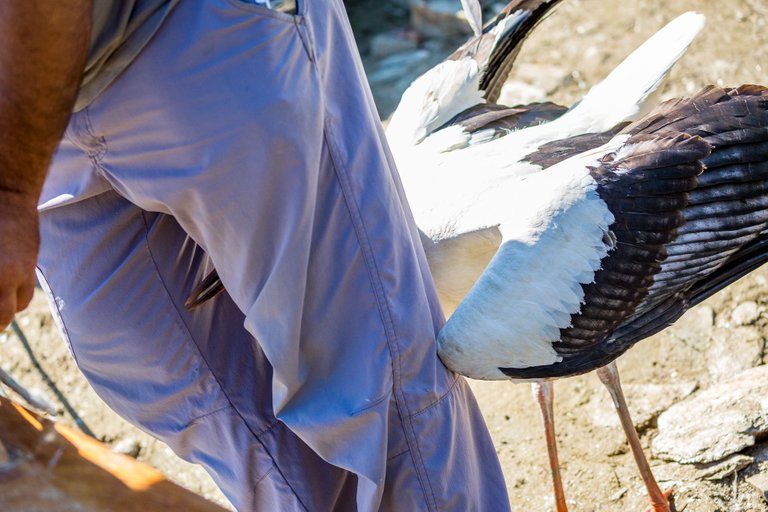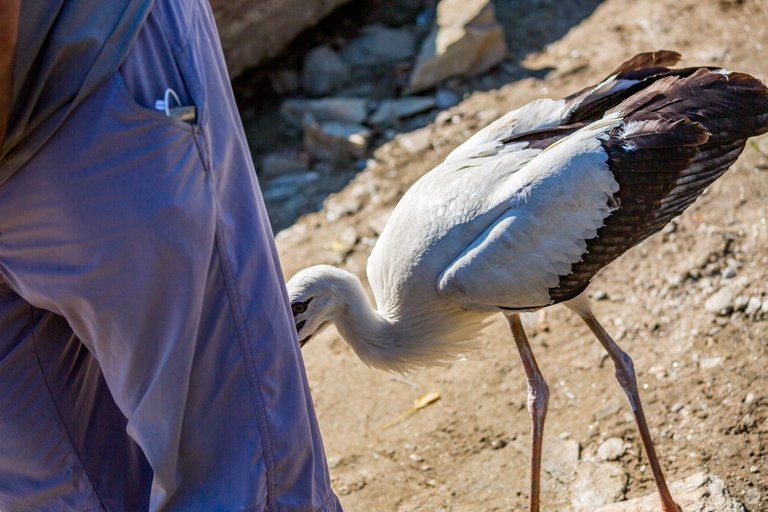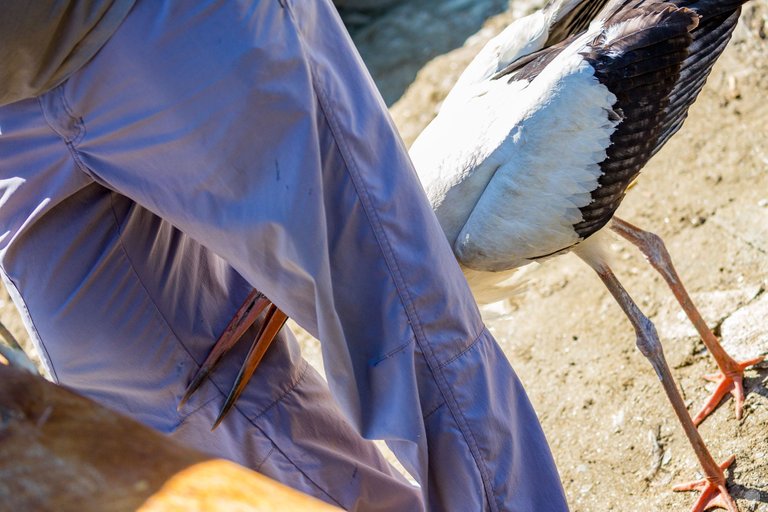 I suppose all of you have heard that clapping noise that storks do with their beaks, a sound that could be heard from kilometers away. Now imagine how loud that sounds when the bird is only a meter away from you. Something that I won't forget!
Here is a Dalmatian pelican watching us preparing to jump in the boat: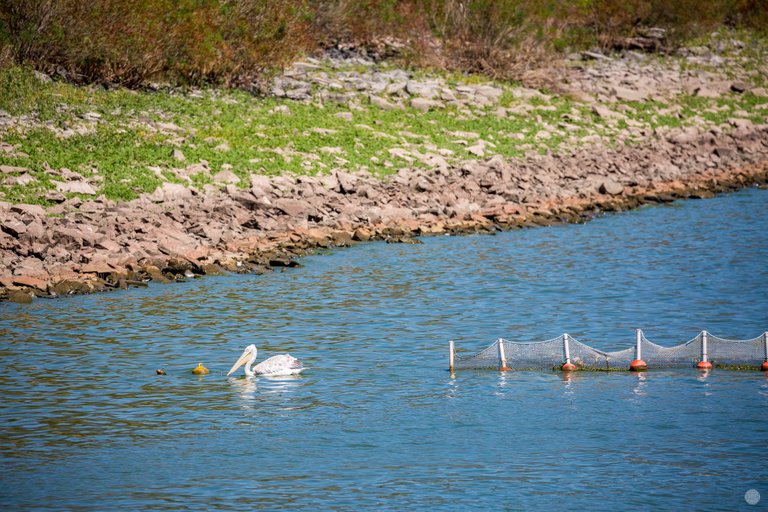 And here is the boat itself. All the boats there are relatively small in order to be able to sail in the shallow water of the lake and its wetlands.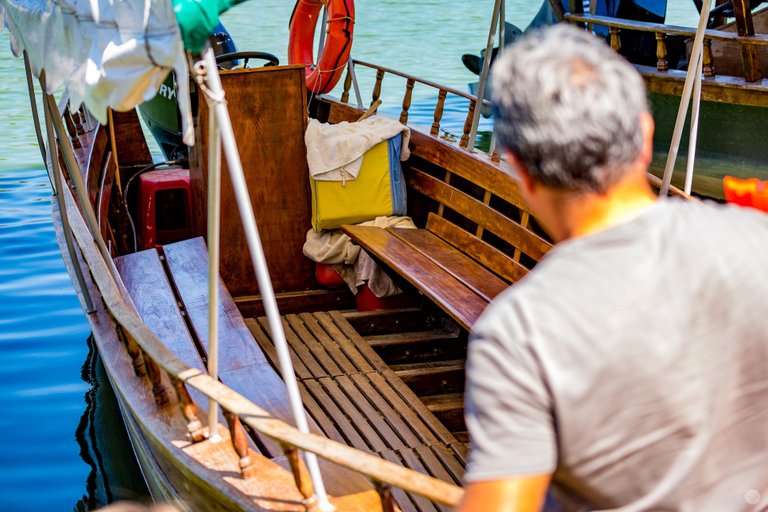 Around the lake a lot of herons could be seen as well. The Great White, Gray and few others, I don't know their names. Here is one that was watching us carefully while we were sailing away from the lake port: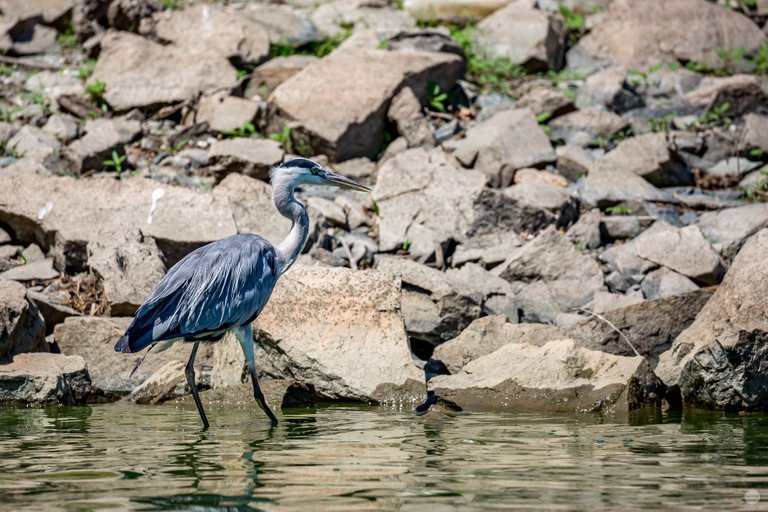 This is the closest point to the shore where the pelicans and cormorants were residing that day before the propeller of the boat engine started digging the mud from the lake bottom. The stunning birds, swimming and fishing around our boat... such an indescribable feeling.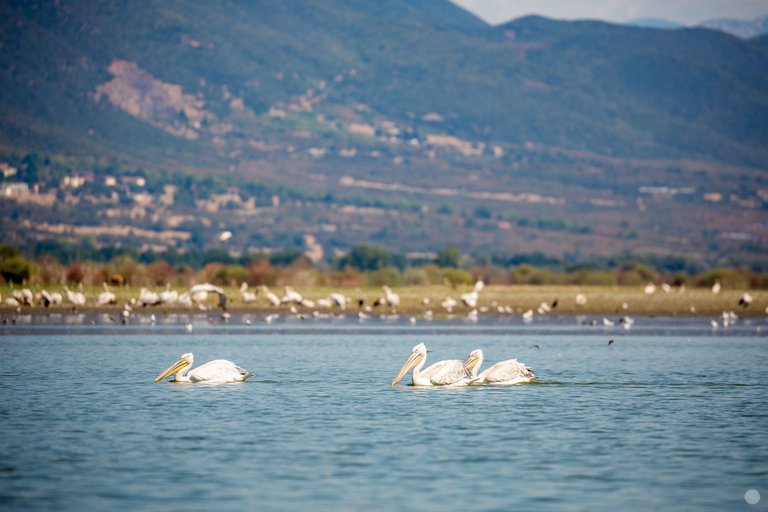 Lots of curious cormorants, taking a rest on any possible branch sticking our of the waters of the lake ;)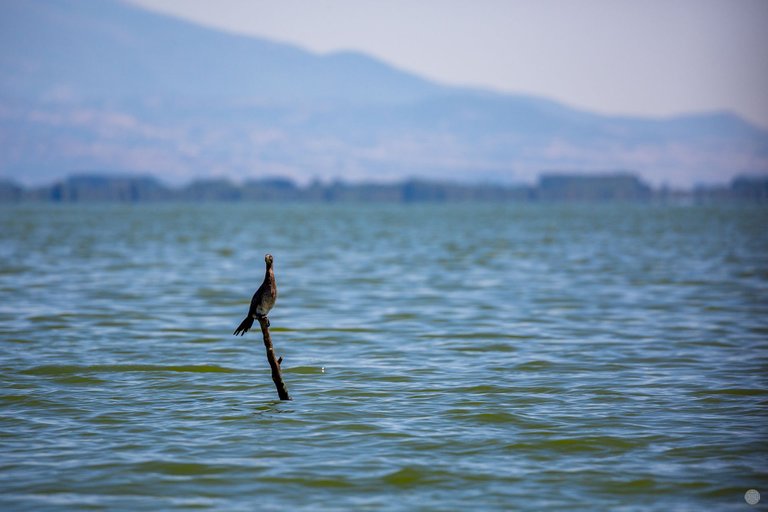 A young curious couple checked us out soon :)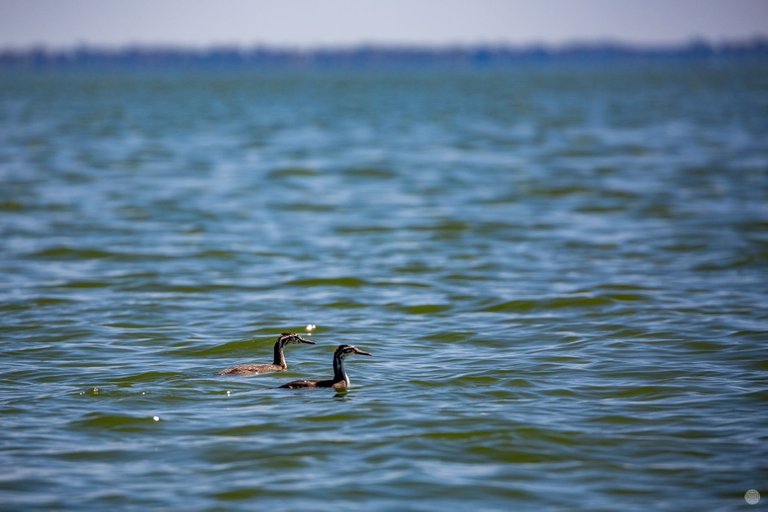 At some point I heard the noise of the wings of this amazing Great White Heron flying just above us and I was happy to quickly take a photo of it, perhaps the width of its wings is more than two meters!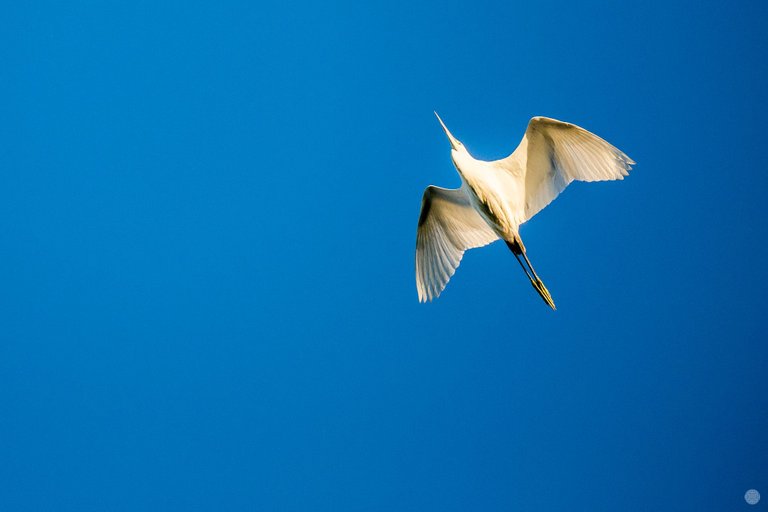 Here is a view towards what would probably be the most populated part of the nearby mountains with the only big hotel and a huge monastery above it, we tried to visit it that day but it was closed for visits. I suppose because it was a week day and not the most tourist part of the week, sort of speak...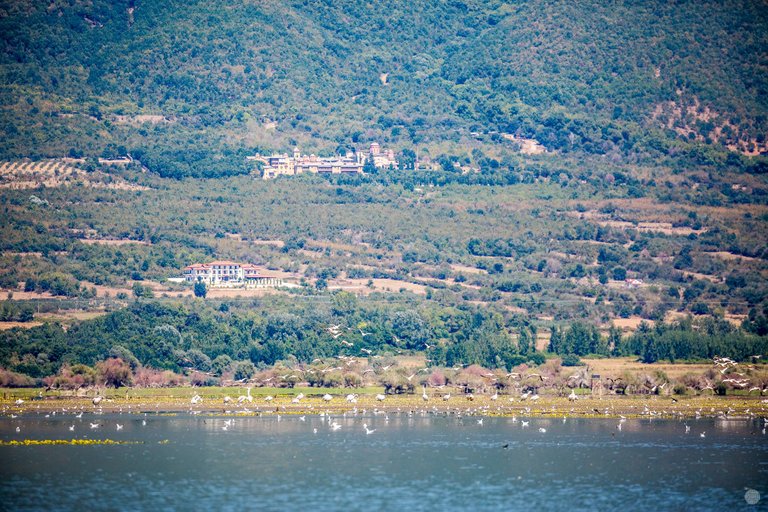 It was a great day to spend in the quiet waters of this huge lake, with amazing views and calm and silent moments and the coziness of the small Greek villages in this not so popular Northern part of Greece.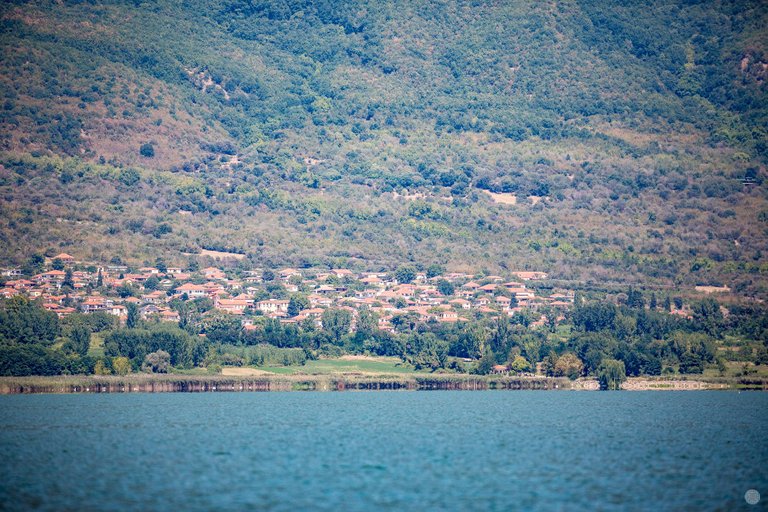 We spent the most of that day sailing which left us few hours to drive around the remaining part of the lake and it was totally worth it so stay tuned for the second part of the story about that glorious day :)
---
Thank you for your time and support, please check out below few other ways to encourage me in my difficult visual art endeavor and stay in touch!
---
My photo site: https://hadjiyvanov.com/
---
My twitter: https://twitter.com/hadjiyvanov
---
My single edition unique digital art NFT on Ethereum at OpenSea: https://opensea.io/collection/art-by-lightcaptured
---
You could get a license here for some of my visual works approved by the quality review team of Adobe, Inc.: https://stock.adobe.com/contributor/206416265/lightcaptured
---
My NFTShowroom Gallery with NFTs for art collectors: https://nftshowroom.com/lightcaptured/gallery
---
My Lensy.io Gallery with Photos for NFT collectors: https://lensy.io/lightcaptured
---
My NFT art works on EOS: https://gallery.pixeos.art/profiles/damian-hadjiyvanov
---
---
I use and recommend those services below, following my referral links is a win-win for both you and me:
---
---
Copyright: Damian Hadjiyvanov, Light Captured
For licensing my photos, please drop me a message on Discord: lightcaptured#2698
Have a great day, stay safe, stay strong and let your muse be always on your shoulder!
---
---