Euro2020 Contest - The Final League Table!
CONGRATULATIONS @jfang003. WINNER!!!
My apologies for being late, a little shit going on, off chain so I haven't been around much this week but here are the final results!
Despite the penalties and extra time, the score after 90 minutes was 1-1. Looking at the game from a neautral point of view, I'd have to say that Italy deserved it. They have been strong throughout the tournament. England had chances in the first half to push home their early advantage but it wasn't to be.
As for the penalties. They deserved to lose. All those stuttering runs and trying to be clever, rubbish. Hit the ball as hard as you can into the top corner. Simple, but too simple for some of the England players.
No problems. World Cup next year so I'm sure England will be back. There or thereabouts!
Thanks for playing along everyone, from my point of view, its taken more time than i have to update things each day but I hope that despite my delays, you've all enjoyed playing along.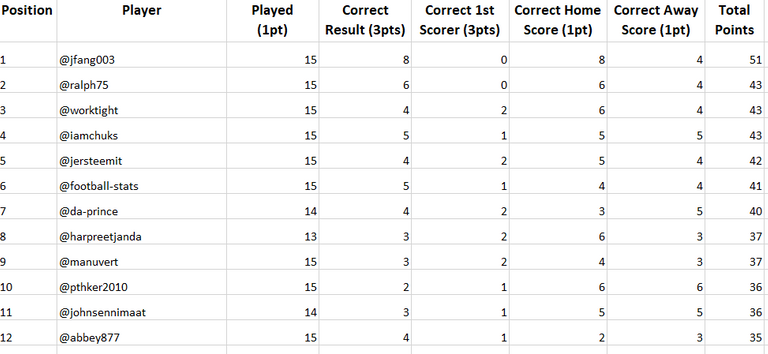 @ralph75 got a clear second but it was a close fight for 3rd between @worktight and @iamchuks so I'm giving them both 10000 tokens for 3rd place!

Everybody who entered will get a prize but I will send those prizes a little later when I have more time.
Thanks again for taking part, everyone. I will be back in a few days with a continuation of our regular competition!
Marching On Together
@jfang003
Italy 1:1 England First Goal Scorer: Sterling
@mrenglish
Italy vs England 1:2 Raheem Sterlin to score first
@harpreetjanda
Italy 1-2 England
Sterling will be first goal scorer
@friendlymoose
1-0 Immobile
@iamchuks
Italy 1-1 England
Harry kane to score first goal
@jersteemit
Italy 1 v 0 England
First goalscorer: Federico Chiesa
@da-prince
Italy 1 : 1 England
First goalscorer-Lorenzo Insigne
@chrisparis
Italy 1-2 England
First scorer Kane
@numpypython
Italy 0:1 England First Goal Scorer: Kane
@manuvert
Italy 1 - 0 England First goal scorer: Insigne
@ralph75
Italy 1 v 2 England
First goalscorer: Harry Kane
@football-stats
Italy 0:1 England First Goal Scorer: H.Kane
@abbey877
Italy 1:1 England First Goal Scorer: H.Kane
@pthker2010
Italy 2 vs 1 England
Ciro immobile to score first
@worktight
Italy 2 v 1 England
First goalscorer: Federico Chiesa
@johnsennimaat
Italy 2:1 England
First goal scorer Federico Chiesa
@olaunlimited
Italy 1 vs england 2
First goal scorer; Harry kane
---
---