Observamos la tendencia en los partidos de la primera división que se han jugado hoy | ESP - ENG | Noticed the trend in the premier league matches played today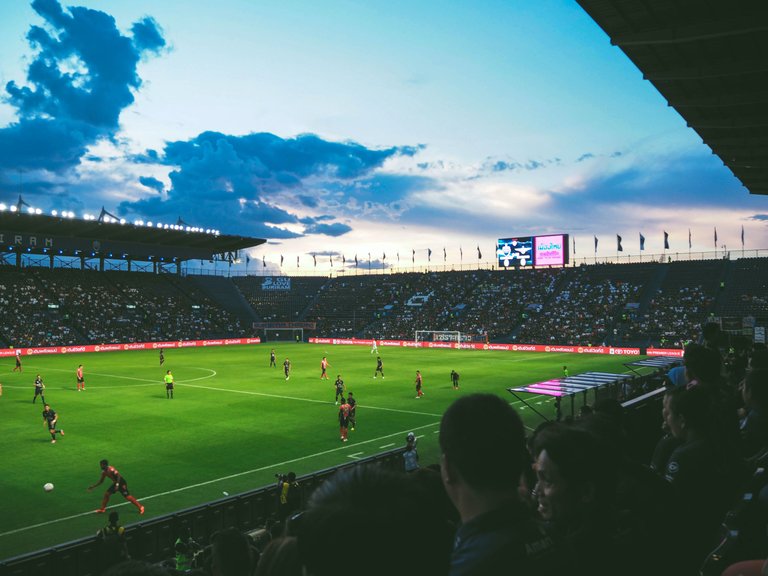 unsplash
Hoy se han disputado seis partidos de la Premier, y los resultados han sido prácticamente iguales. Aparte del partido entre los santos y el equipo del Manchester City de Pep que resultó en un empate, todos los demás partidos dieron un ganador ahora. Resulta bastante chocante ver al Manchester City compartir el botín con los santos, pero viendo el partido, pocos podrían argumentar que merecen más que el único punto que obtuvieron.
Six premiership matches were played today, and the results were almost alike. Aside from the match between the saints and Pep's Manchester city team resulting in a draw, all the other matches provided a winner now. It is quite a bit of a shocker to see Manchester City share the spoils with saints but watching the match, few could argue that they deserve more than the one point they got.
Aunque el Manchester City consiguió un gol, fue anulado por fuera de juego, ya que Sterling se puso las botas en posición de fuera de juego y el gol fue anulado. El partido terminó sin goles, por supuesto, y representa el segundo partido en el que el Manchester City no consigue marcar en la temporada 2021/2022 de la Premier League, el primero fue contra los Spurs en el primer partido de la temporada.
Although Manchester City got a goal, it was cancelled for offside as Sterling boots were placed on him on the offside position and the goal was ruled out. The game ended goalless of course and it represents the second game of which Manchester City has failed to score in the 2021/2022 premier league season, the first came against Spurs in the opening game of the season.
La segunda tendencia, por supuesto, es que de los seis partidos que se han jugado hoy, sólo el encuentro entre el Norwich y el Watford ha resultado en que ambos equipos hayan marcado en el partido. La segunda victoria de la temporada del Watford se produjo a costa del Norwich City, lo que selló su destino de terminar esta semana en el último puesto de la tabla por segunda semana consecutiva. Sin embargo, la victoria del Watford le ha permitido ascender hasta el 10º puesto de la tabla de la liga inglesa, por lo que debe sentirse orgulloso del trabajo realizado.
The second trend of course is that of the six matches played today, it was only the game between Norwich and Watford that resulted in both teams scoring in the match. Watford second win of the season came at the expense of Norwich city and that sealed their fate of ending this week bottom of the table for the second week running. The win for Watford though shot them up to 10th on the English league table and they would be proud of the job done.
Por último, los equipos consiguieron hoy más puntos que los equipos que los recibieron. Equipos como el Brentford, el Arsenal y el Watford consiguieron tres puntos jugando fuera de casa, mientras que el Southampton se llevó un punto de un Manchester City que marcó. Esto demuestra que el equipo visitante es el mejor de los equipos que juegan hoy, y sólo el Crystal Palace fue el único equipo visitante que perdió completamente los puntos al enfrentarse al Liverpool.
Lastly, the teams got more points today than the teams hosting them. The likes of Brentford, Arsenal and Watford got three points while playing away while Southampton got a point from a free-scoring Manchester City side. It shows that the away side is the better of the teams playing today and just crystal palace was the only away side to completely lose out on all points as they faced Liverpool.
Hablando del partido entre el Liverpool y el Crystal palace, que terminó con una victoria por 3 a 0 para los jugadores de los reds, crea más historia. Mané marcó su gol número 100 con el Liverpool y, de paso, estableció el récord del primer jugador en marcar en nueve partidos consecutivos contra un mismo equipo. Es un logro notable teniendo en cuenta la cantidad de grandes que han militado en la liga inglesa.
Speaking about the Liverpool versus Crystal palace match which ended in a 3-nil victory for the red's players create more history. Mane scored his 100th goal for Liverpool and in the process setting a record for the first player to score in nine consecutive games against one team. That's a remarkable achievement considering the number of greats who have plied their trade in the English league.
Salah sigue en gran forma con la roja, ya que marcó y creó una asistencia en el proceso y, por supuesto, Keita completó el círculo goleador del equipo. Los tres africanos que han jugado hoy han marcado para el equipo de Liverpool y lo han disparado a la primera posición de la tabla de clasificación inglesa.
Salah continues to be in great form for the red as he scored and created an assist in the process and of course, Keita completed the goal scoring circle for the team. All three Africans who played today all scored for the Liverpool team and shot them up to the first-place position on the English log table.
Además, el Arsenal parece estar despertando de su letargo, ya que ha conseguido un máximo de seis puntos en sus dos últimas salidas, lo que parece suponer un gran cambio en la fortuna del equipo. Después de perder sus tres primeros partidos de la liga y de ser incapaces de marcar un gol en el proceso, septiembre ha sido más justo y amable con los gunners y podrían tener una oportunidad de subir más en la tabla de la liga con su nueva forma. Aunque, al igual que en el último partido, también se impusieron por un gol.
Also, Arsenal seems to be waking up from their slumber as they managed to achieve a maximum of six points from their last two outings and that seems to be a major turnaround in the team fortune. Having lost their first three premier league games and unable to get a goal in the process, September has been fairer and kinder to the gunners and they could have a shot in raising further up in the league table with their newfound form. Although just like the last match, they won this also with a one-goal victory.
---
---