LBI earnings and holding REPORT - #4
Authored by @silverstackeruk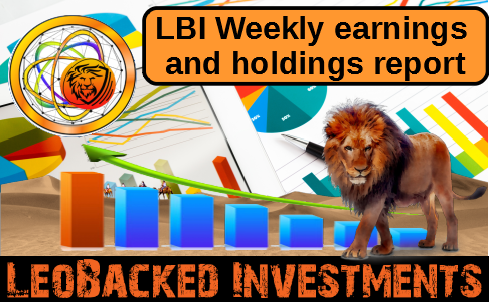 Week 4
EARNINGS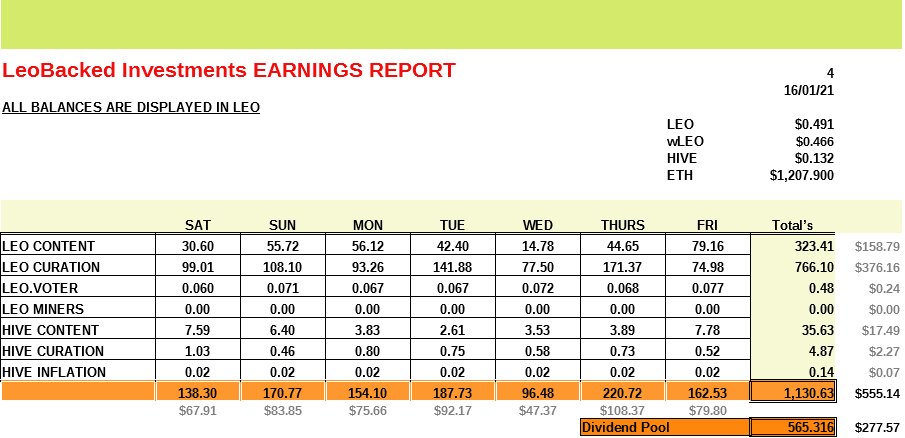 Folks, we have had another good week, we came up about 24 LEO short on last week but that's ok and there is nothing wrong with that as content rewards were high last week. LEO curation rewards are a little higher this week compared to last and this is important, content rewards will go and up and down but curation rewards should be much more consistent. Last week we earned 704 LEO from curation last week and 766 LEO this week. We are on the right path and to be honest, anything over 1000 LEO is good as this represents just under 0.5% of growth per week.
You will see int he table above, we have added in "HIVE CURATION". @taskmaster4450 promoted an idea a few weeks back which has seen the @lbi-token HIVE wallet receive 10k worth of HP delegations. Please check that post out here. We can see the earnings are small but 4.8 LEO is 10x more than we are getting from leo.voter. It all adds up and fingers crossed, compounds and grows over time.
1130 LEO is good earnings worth around 4000 HIVE give are take 100. When it comes time to start investing into the wLEO LP, we should beable to cash out 50% of this and powerup the other 50%. While we are not paying out weekly dividends to LBI token holders for at least the next 10 weeks we should go heavy on the wLEO LP, if not just to save on ETH fees. If we started in February to save for an LP investment, we could save around 2000 LEO in 4 weeks worth about $1000 if the price stays as is. This investment would only represent 1% of our assets.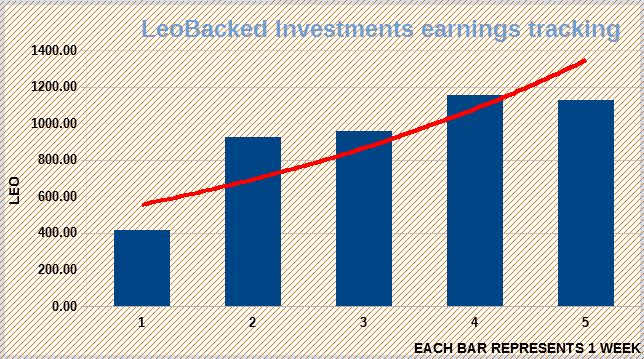 If you squint your eyes hard enough you can just see earnings are down on last week. This week im gonna talk about the red line cause it's pointing up. The trending line is the important one to watch, weekly earnings can fluctuate but we aim to keep this trending line heading northward bound.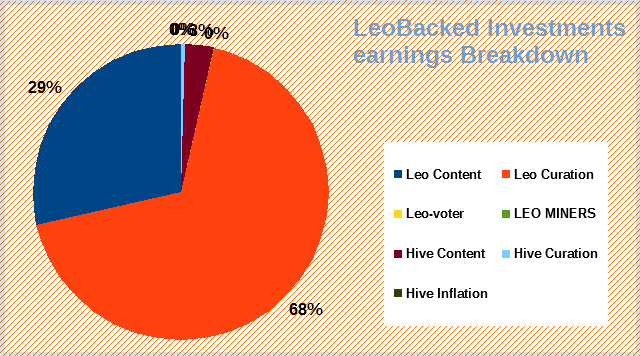 Last week content was 35% and curation was 61%. We already know that curation rewards this week were roughly the same as last week but because content earning has not been as good, they show as a smaller percentage this week. We want that content percentage to increase against curation. Curation rewards are consistentish at 100 LEO a day.
Someone last week questioned why we would our content earnings to be a higher percentage
In an extreme example
LEO Curation rewards are 10% of LBI's earning and content is 90%. We know that LBI produces 100 LEO per day from curation from its 200k LP balance. So if 10% of earnings equal 100 LEO per day, then the other 90% would have to represent 900 LEO. Curation rewards are consistent, the higher the content percentage, the higher our overall earnings. I hope that makes sense, im not the best at explaining things sometimes.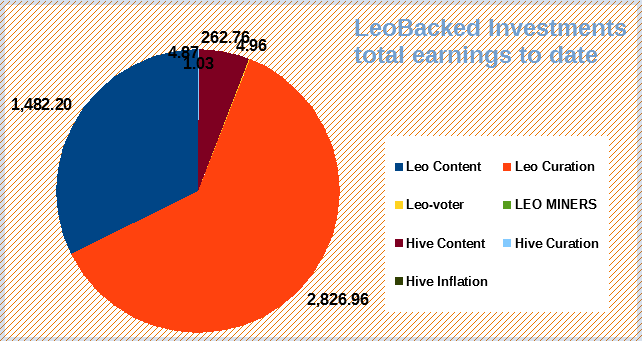 Total numbers are 4582 LEO earned to date so we will have earned more then 5000 by this time next week, than we aim for 10k :) Pointless targets we all know we are gonna hit but worth mentioning all the same as i try to fill 1000 words. lol. Half way there which is prefect timing because we are looking into holding now.
Holdings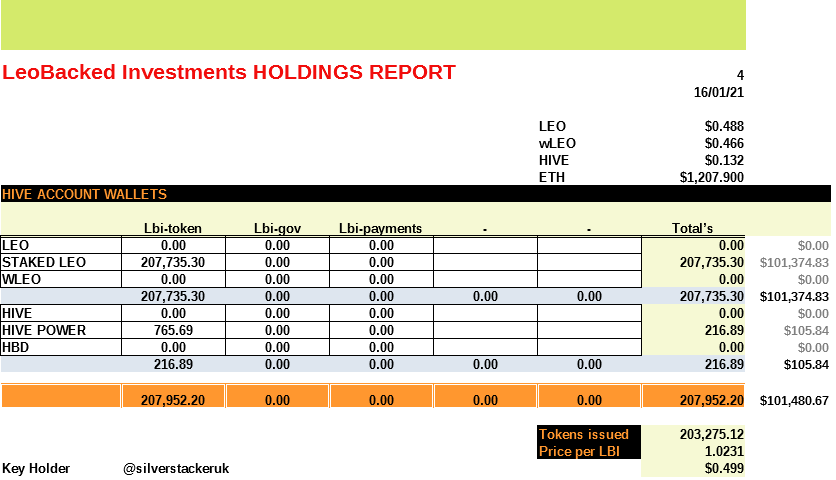 So, everything looks the same as last week but the number a little higher. Our total assets (LeoPower) is worth over $100,000 which is awesome. In fact, if we look into it a little, we can see that by powering up 100% of earnings until now has actually pushed us over the $100k mark. We have issued $99,275 worth of LBI tokens and earned $2205 worth of LEO so we sorta did it ourselves, haha.
We will continue to power up all earnings until the end of January as planned and then decrease this amount to 50% in February with the other 50% being reserved to get us into the wLEO LP.
Same last week but little higher numbers, not much to look at.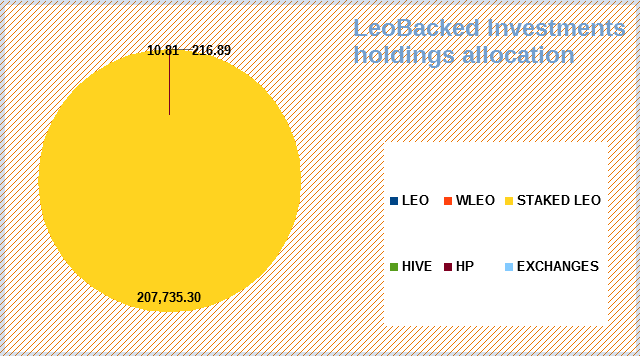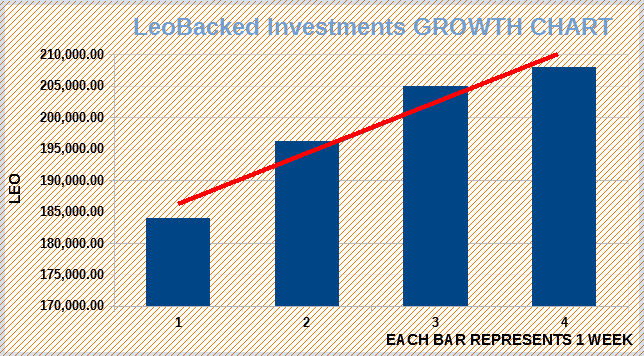 Nice straight trending line on growth. While we are only invested in LeoPower, this line can never go down because LEO is our base currency. It's like if you put $1000 into a savings account that pays 5% per year, you would expect that balance to only increase because your earning interest. Same thing with LBI and LEO. While we are invested only into LeoPower and we earn LEO every day and our token is valued in LEO, the price can only go up.
This is how our model is set up to succeed. It's basically, you give us a token and we'll use your token to earn more of that token so that the token we give you is worth more of the token you gave us in the first place.
Until we make off-platform investments, we can't lose, it's not in the model. It's not possible and even when we do start investing into other things, they will be small investments of 1-2% of our total assets meaning not that much of an impact if poo hits the fan on 1 of them. Nice straight trending line on growth is all we should care about, not so much the numbers behind the line, as long as it's up.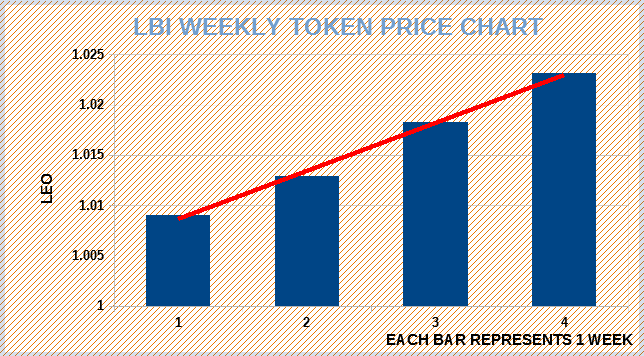 LBI TOKEN PRICE
Total assets worth in LEO
207,952.20 LEO
Total LBI tokens circulating
203,275.12
LBI token price - 1.0231 LEO
Roundup
Another good folks, we are doing well with curation, our content is getting read and the comments are amazing, i dont think we released a post yet that has had under 10 comments, most of the time it's 15-30 comments per post which is almost GOAT status, not yet as at the end of the day, LBI is still the new kid on the block and establishing itself.
We still need to push to get LBI into more wallets somehow and apart of giving them away for free by a massive airdrop, im not sure. Any such airdrop would need to be funded from earnings already made so sorta liquidates everyone tokens. Maybe we are ok as we are and we dont need to push it harder to more people. People that have invested have done so because they are aware of the project because they are active on LeoFinanace. LBI posts are always in the trending section so anyone that use's LeoFinance will have at least seen those posts, if only the title and thumbnail pic. Anyways, this could be a post in itself.
Thank you, everyone, for another fantastic week with LBI. I hope you have enjoyed looking through this week's earnings and holding report. Dont be shy with the upvote bottom feel free to re post this to show all your followers what you're involved with.
Posted Using LeoFinance Beta
---
---