Nominations are open for the LBI Gov team - 2 weeks until final vote
Authored by @silverstackeruk
LBI is now accepting nominations for its Governance team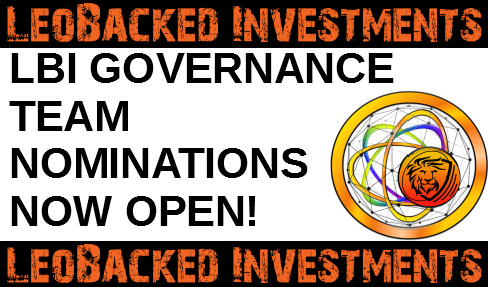 LBI launched on the 7th of December, since then we have created a content team and selected our governance model. Now it is time for us to create a governance team that will take charge of administrating all future governance for LBI. This team will be the first of many to be selected by token holders and will run independently from the content team.
Responsibilities of the LBI Gov team
The selected team of 3 token holders will be responsible for collecting proposal's, producing non-biased voting posts, counting the votes and releasing the results. In addition to that, they will repost all proposals from the @lbi-gov account, produce non-governance voting posts for gathering feedback and do other minor tasks to ensure everything running smoothly. I could go into more detail but that's the jest of what the Gov team will be required to do.
The first LBI governance team will set the bar for those that follow after so let's start out strong and get it right first time. We can always improve but starting out with a committed team that is seen to be active is the goal here.
Below shows the 6-month governance model selected by token holders that the gov team will adhere to. The struck out lines do not apply to the first 6-month cycle and will come into affect during our 2nd cycle.

Non-governance voting is not included as it will be spontaneous and mostly for gathering feedback.
What sort of person should you be
Im not saying the below are things wrote in stone but to be part of a team that is part of something better requires a few qualities.
Proven consistency
Adept in crypto and LEO
Good written communication
Organized and manages time well
Detail-oriented
Holds to trust of LBI token holders
I would assume that each of the 3 token holders voted in will carry out a specific role with the Governance team. Eg, 1 person collects proposals, another person writes the voting posts and the last person writes non-governance votes. Not like that, but as an example, each person would have there own responsibilities. Of course, the team of 3 voted in will decide among themselves who is accountable for what. Im, sure there will be some minor trial and error in the beginning but this is normal with any new team.
As an incentive, Governance team members will receive 60% of post rewards from the @lbi-gov account while within there terms. This can be either 60% to post authors are 20% split each to the team of 3, it will be up to how each team decide to manage that. I believe that everyone should be rewarded something for contributing to LBI's growth. A governance teams goal is not to produce an income but it will serve as 1 are most important teams in terms of LBI structure and always as one of LBI's unique selling points in terms of being more de-fi than ce-fi.
How can you nominate yourself?
Simple, produce a post to nominate yourself, follow the few simple rules below and you'll be in for the final vote. Token holders will decide will the top 3 by way of LBI vote. @silverstackeruk will admin this vote and after the team is selected on the 28th will not post from the @lbi-gov again.
Nominations will be collected from now until the 28th of January allowing 2 weeks for token holders to nominate themselves.
Your title should be " My LBI governance team nomination - @yourusername"
Your content is up to you, the role will require you to use your initiative so maybe explaining what you would bring to the table, share thoughts are idea's you have and how you could help better governance over LBI.
Use the tag #lbi as a first tag (helps with tracking)
After you upload your post, please comment below with the post URL link for reposting from @lbi-gov
In 2 weeks
SSUK will do his final voting post that will select our governance team. The vote will begin on the 28th and finish 7 days after being uploaded. The top 3 voted on nominees will win a place in the LBI governance team for at least 9 months until we host the next governance team member vote during our 2nd voting cycle.
Key Points
Without dragging this post out, let's recap on how to nominate yourself to be part of the first LBI governance team.
Use "My LBI governance team nomination - @yourusername" as title
Write why you're nominating yourself
Use #lbi as the first tag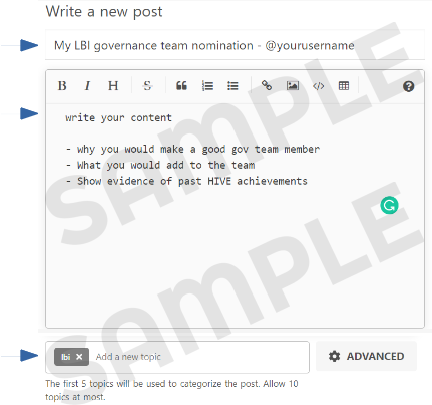 Come back to this post and leave a comment below with your nomination post URL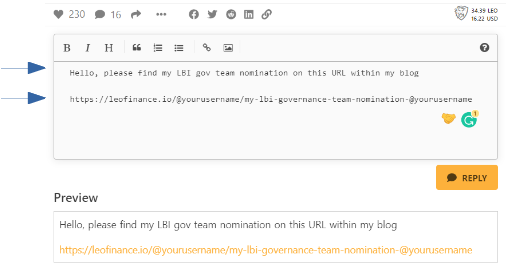 Your nomination will be reposted from @lbi-gov
---
If you have any questions please ask below, someone will get back to you as soon as possible. Thank you for taking the time to read this post and supporting LBI is any way you can.
Posted Using LeoFinance Beta
---
---