My tribute to Murray Ruthbard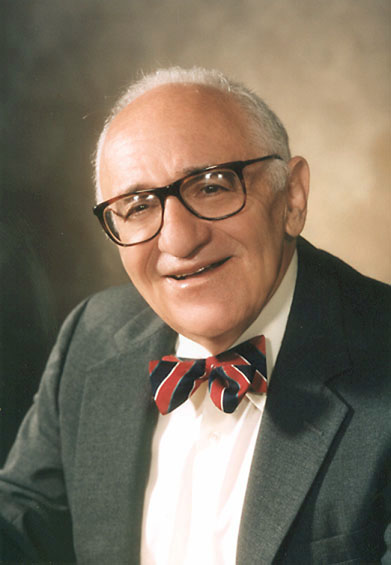 I can't tell you my whole story, I have tried to cover it in much earlier posts. But in headlines. I did study economics at Copenhagen University for an extended period of time, always looking for answers to all my questions, which I never found at University. I started studying at the economic faculty in Copenhagen University in 1997 and ended my 'master studies' in 2010. In Denmark a "kandidatgrad i Økonomi" is supposed to take 5 years ;)... and it is something in between a masters degree and a phd. We have our own system that is older then the American.
When I was in "Folkeskolen" what there come close to primary school, I was almost not accept for "Gymnasium" which is close to High-school, but for some weird reason they accepted me in the last minute. That is how my whole school career has been. In High-school I spend most of my time in the music rehearsal room close to my home and not reading books, so I was expelled and had to go to exams in all ~11 subjects, where as normal students had to go to exams in ~4 subjects.
When I graduated, almost the whole High-school was outside the examination room, waiting to see if I graduated or not.
So I spend 13 years in University looking for answers I never found, off-course I was doing other things on the side (or most of the time?) since it took so long, right?... yes, when I was about 23 years old, I was hired as a student worker for the science ministry. One evening at work, the science-minister of Denmark at that time, wanted my expertise, so I was in a meeting with the minister at the age of 23 years old, still at student, had to advise him about the Internet!
That was just to mention on special experience at the time. There where many others like that.
I was a rebel of nature and I actually wanted to make music. Singing and playing guitar. I had been in several successful bands as a teenager and I saw the job as an economist as a way to finance my music career. Which was a crazy logic I learned later.
Long story short, a young girl of 21 years, got pregnant with my daughter, after only knowing her a few months. I was happy, because I wanted to be a father. She wanted me to do all kind of changes in my life and her parents wanted to boss me around, something that my 28 years old very independence self could not accept. I had my own rules, I don't think they where bad, I where just very independent. So she ran away with the child pregnant. I never saw my daughter ever, today I know she is 12 years old.
At the exact date that Ditte, the mother to my daughter Amanda give birth (we find out 1.5 years later), Joanne (living as a student in the capital of Brazil, Brasilia) write me a letter. 3 months later Joanne and I live together in Copenhagen. We get married and move to Malmö, Sweden in a small apartment in the middle of the city, where we live while our son (born inside the marriage) come to the world. Unfortunately we couldn't get the marriage to work for both of us and we divorce in 2010, when our son Angelo is about 1.5 years old. We have kept contact till this day, even it hasn't been very easy all the time.
So what does all of this have to do with Murray Ruthbard?
That is a good question, I am not sure I have the answer for.
But Murray Ruthbard's work was exactly what I was looking for for 13 years in University, but never found. I knew that something was wrong with everything that I had learned in University, Society, family and so on, but I didn't have the exact words to describe it before I found Murray Ruthbard's work.
Now I don't know if he had children, but I think he never got that? Which if it is true is very sad, as he deserved it 10000 times more then any other 'economist' of maybe all times.
No one in university ever talked about Murray Ruthbard. I was kindof living a double life for many years. I was following the classes at university and at the same time listening to all kind of alternative people on the internet.
I know that I personally found Bitcoin in April 2013 and I don't remember when I found Murray Ruthbard, but maybe 1 or 2 years later.
In 2004 I was already convinced that the "current money system" was a fraud, controlled by Illuminati or Freemasons (or what ever you want to call those entities or people). I know that the word Illuminati doesn't sound right for most white people, many other races, seems to have a higher rate of people that know that Illuminati exists.
Now can you imagine, the type of life I been living, as the only white person in my circles that knew about Illuminati?
I was not talking about it directly to friends and colleagues for many years. It came later and then they all disappeared!
FYI in 2016, about the same time I joined Steem, I realized that there was many FLAT EARTH videos on YouTube, and for that reason I had to watch them all to understand what was/is going on. Shortly after I knew that the earth is flat. I tried to convince other people, mostly over the internet, but had to experience how deep the brainwashing is, and that most people or like 95% cannot wake up to flat earth or Illuminati from you just talking about it or sending videos.
So about the same time I see this woman called Tatiana Moroz ( http://www.steemit.com@tatianamoroz ) and I fall in love with her... till this day I understand that she is not attracted or interested in this old (little? 175 cm FYI) fatty man!! LOL...
I excuse my overweight with the extreme early waking almost ALONE to extreme topics, but that doesn't seem to work with nice ladies like Tatiana, That's life, I can move on, I was lucky to father 2 children, outside of relationship as of today.
So here we are now... there happened so many other thing in my life... extreme situations, that most people, I believe, never come close to.
I have to thank my parents for that I am not homeless and that I am still a pretty stable functioning person, I believe that many people would not be, if they experienced what I did. But that is just my thoughts, who knows if it is true?
I want to end this post with saying that Murray Ruthbard, was the only economist that I ever agreed with, after studying a lot of them for many many many years.
Thanks Murray Ruthbard for bringing reason and truth to the world.
Stay blessed
Lasse Ehlers
42 years old, slightly overweight, but overall in good health.
PS: If you don't already know, Murray Ruthbard formulated Anarcho Capitalism.
---
---