Mirror, mirror, tell me which beer is the best?
(Due to my laziness, I use an automated translator for translation.)
A magic mirror from the fairy tale about Snow White and the Seven Dwarfs reveals to the Queen who is the most beautiful in the world. But we, beer lovers, don't care much abou it... Of course, we would like to know which beer is the most delicious in the world.
But there is no right answer to this question. Each of us has taste buds set up differently. And honestly, beer is a matter of habit. What we drink, we get used to and we like it. Although I suppose you can brew beer that no one would like at all...
There were times when the Pilsner Urquell brand was clearly the best beer in the Czech Republic. But in 2016, the brewery was bought by the Japanese company Asahi. Pilsner Urquell has become an average, overpriced international beer.
Today, beer lovers prfere other brands. My favorite is the Premium brewery from Náchod. In the photo, I present their entire beer menu. It was a really nice Christmas ...And one bottle is still unopened. Cheers!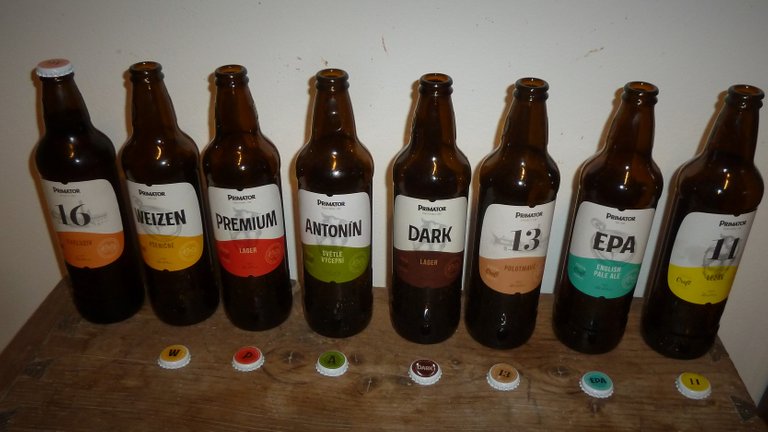 A teď česky...
Kouzelné zrcadlo z pohádky O Sněhurce a sedmi trpaslících odhaluje královně, kdo je na světě nejkrásnější. Ale my, milovníci piva, se o to moc nestaráme. Nás by pochopitelně zajímalo, které pivo je na světě nejchutnější.
Na tuhle otázku ale neexistuje správná odpověď. Každý z nás máme chuťové buňky nastavené jinak. A upřímně, pivo je věcí zvyku. Co pijeme, na to si zvykneme a to nám chutná. I když předpokládám, že lze uvařit i pivo, které by nechutnalo vůbec nikomu.
Bývaly doby, kdy jednoznačně nejlepším pivem v Čechách bývala značka Pilsner Urquell. Ale v roce 2016 koupila pivovar japonská firma Asahi. Z Pilsner Urquell se stalo chuťově průmerné, předražené mezinárodní pivo.
Milovníci piva si dnes pochutnávají na jiných zančkách. Mým favoritem je pivovar Premium z Náchoda. Na fotografii představuji jejich celou produkční řadu. (Teda údajně těch piv vaří patnáctero druhů... Ale další jsem v běžném obchodě nepotkal. A překládat se s tím nebudu.) Byly to opravdu pěkné Vánoce... A jedna lahev je stále neotevřená. Na Vaše zdraví!
Jen takový dodatek. Pro znalce češtiny a piva. Kvašení piva probíhá na spilce, v otevřených kádích. Proti kvašení v tancích je tam obrovský chuťový rozdíl.

---
---