Support Kingscrown pt.2 - Steem Engine
Actually the title should be more like support kingscrown, make money yourself and support STEEM network same time but since i had idea for the series before and started it at - https://steemit.com/steem/@kingscrown/support-kingscrown-offchain-spots-to-follow-me i thought it will be cooler to follow it. Read the first post if you havent as its different than this one.
Find Money on STEEM-ENGINE
If you login to https://steem-engine.com/ you will be probably able to find some tokens there. Some may be worth something, some you may have so little they will not be even worth clicking to sell. You sell them for STEEMP which then you can withdrawal as STEEM but it costs 1% fee. So pretty much its worth to sell coins or withdrawal STEEMP only if you have good amount as if not its a waste of time clicking for stuff worth 0.
So check if you have money by logging in to https://steem-engine.com/ with Steem account.
Decide which tokens you want to keep to have for the future or sell now.
Support Kingscrown
Those that you have not much of or want to share with me consider to send me as a support.
In this case i have some PAL worth 0.00.


Click arrow showing right next to the token and put my nick into the window.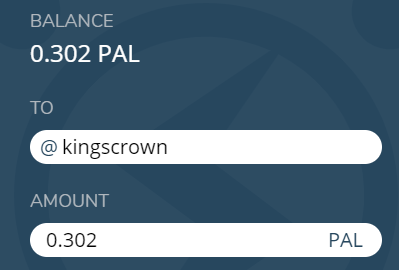 Support STEEM Network
100% STEEMP that I already have and will make out of those donations I will withdraw and power up for witness voting. Im already a proxy for loads of people and i have helped to secure our network kicking witnesses to top20, yet we need more power as we don't have enough.
This idea here is win-win as you take coins you need and send me even coins worth a cent or less which may stack to some better number and i pay a withdrawal fee.
Support STEEM Network (Bonus Method)
To younger readers - witness voting has nothing to do with your money its about choosing the right people to run the network. Since it needs constant verification and some skill to read up what's going on here is a proxy option. If you want me to be your witness proxy click this link - https://steemconnect.com/sign/account-witness-proxy?proxy=kingscrown&approve=1
Or you can go to this page, browse to very bottom and put me there (remember as proxy not as witness vote): https://steemit.com/~witnesses


REAL WAYS TO MAKE PASSIVE INCOME FROM CRYPTOCURRENCY - DOWNLOAD FREE EBOOK NOW
---
---