👷‍♀️ DIY Origami Ninja Star 🐱‍👤 You Can Make It Too ⭐️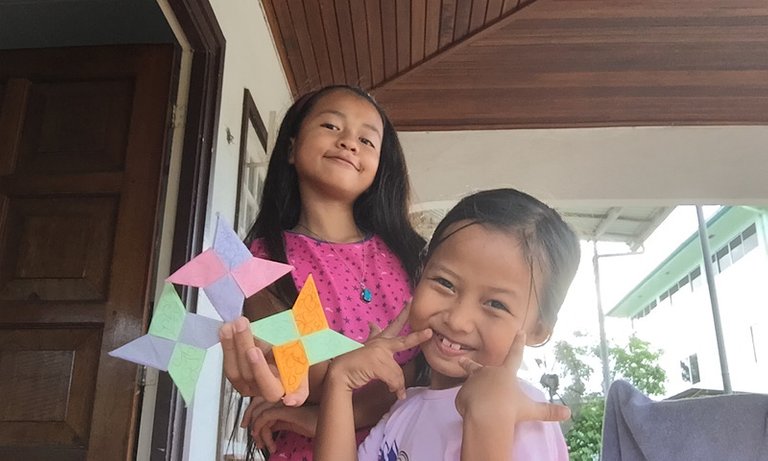 Hi, everyone my name is SreyYuu. Today I want to make origami. Now, I wantto teach you how to make ninja star. Let's go!!
In this post I is a little different from another post that I made for origami. So, watch carefully from one step to one step.
---
🤺 How I Feel About Ninja Star? ⭐️
---
     The first is easy they both the same but for step 4 is different from each other. So, I'm very confused with my first Ninja Star.
     So it is a little bit easy for me but I still not good with step 4 😐. Also, when I fold it together it also hard for me too just like step 4.
     This ninja star I learned in my Dad's computer 👨🏻‍💻. My sister know how to it before me.

     First times it was very hard for me it like extra hard.
STEP 1

     First you need a square paper then you make it between 50%.

STEP 2

     Then you have to fold it into 25%.

STEP 3

     Now, fold it together then you have fold it the same like in the picture that I show you.

STEP 4

     Then fold it again like in the picture.

STEP 5

     The make it like in the photos but watch carefully there was different between the yellow one and the green one.
     So, now step1 to steps 5 is done now I'm going to teach you all how to fold it in. Please enjoy it.
---
🤔 How To Fold It In?
---
STEP 1

     First you need to do it like in the picture as you see it is hard right.

STEP 2

     Then fold it in like in the photo and another too.

STEP 3

     Now, our ninja star is done, so enjoy it with your friends or another that you want to play with 😊.
---
🤔 How To Play Ninja Star? ⭐️
---
     Now, I'm going to teach you how to it please continue enjoy my post. Normal throw it to my sister or sometimes I throw it into the air then I catch it.
     But my sister don't know how to throw it like me. When she throw to me but she throw backwards then her friends laugh 😆. Also, my sister throw it to the dog but it hit me it is very hurt because she throw it too strong.
---
🙏 THANKS FOR READING 🙏
If you enjoyed this post, please upvote and reblog.
---
WE PROUDLY SUPPORT

Posted via neoxian.city | The City of Neoxian
---
---