Continuing My 2nd 100 Days of Saving During Week 18 by @justclickindiva | SATURDAY SAVERS CLUB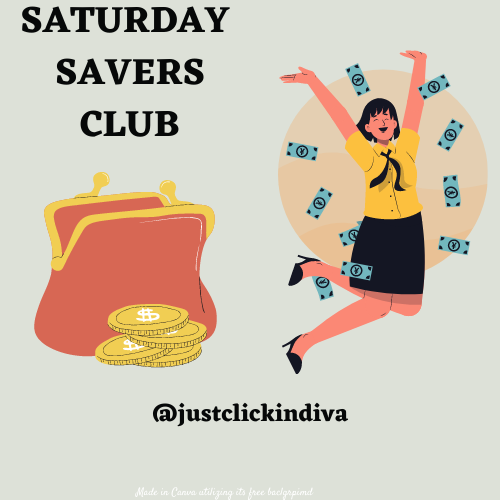 Welcome back to my weekly Saturday Savers Club progress report. I'm now in Week 18 and still going strong. I'm inching closer to 20 weeks of participating in the Saturday Savers Club by @eddie-earner and @shanibeer, at the Saturday Savers Club with @susie-saver | Week 18 - Saturday 1 May 2021 - Win EDS Tokens for Comments!
I ventured out this week for a short trip. Nothing fancy, just a break from being at home and happy to be away and outdoors for the day.
Also, watching the business news this week with the fluctuations in crypto prices, I'm happy to say I'm still holding steady my investments. Today, I'm excited to update you on my activities.
100 Days of Saving Backwards Challenge by @shanibeer and @eddie-earner. I eagerly took advantage of this new challenge that began on April 17th. I reblogged the challenge post to provide more exposure for the initiative. I hope others join in. It's not too late to participate. The challenge ends on July 31st.

EDS Miners. Reading @eddie-earner's Week 18 post, I discovered there are only about 950 Miners left. So, I bought 3 more this week and immediately staked them. This brings my total EDS Miners to 23.75.

LEO and LEO Mega Miner. I received both and promptly staked them. I plan to purchase additional tokens this month.

ALIVE Tokens. Recently received 1,024 Staked ALIVE tokens in the ALIVE airdrop. I enjoy participating in the I Am Alive Challenge.

BLURT. Discovered I had about 50 Liquid BLURT and 500 BLURT Power sitting in my account. I converted both to Hive.

BTC and other coins and tokens. While the price was reasonable this week, I took advantage of the dips, thus adding to my wallets.

Hive Power Up Day (HIVE PUD). Participated in the May 1st HIVEPUD. I powered up 200 liquid Hive. This will help grow my Hive account so that I have more resources available to engage with on Hive. If you want to learn more about this initiative by @traciyork, then visit my Power Up Day post here.

HIVE SAVINGS interest. On May 1st, I received 0.025 HBD into my Hive Savings account as interest. What a sweet deal. Did you realize your savings earn interest currently at 3.00% as determined by the witnesses? A great incentive to save.

Saturday Savers Club. Continued my participation in the Saturday Savers Club. This week I'm continuing to save backwards per my report below.

WEEK 18: MY SATURDAY SAVERS CLUB PROGRESS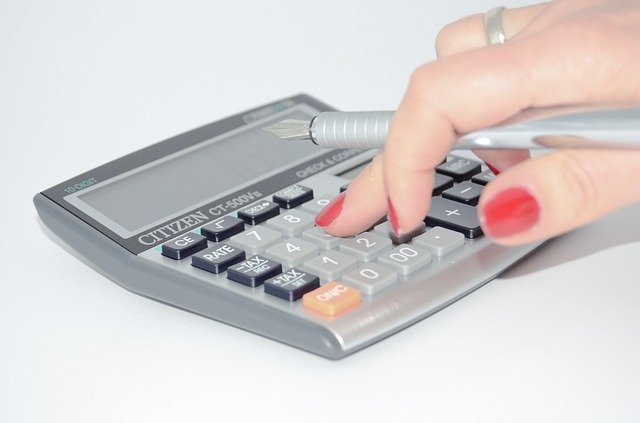 Image by jarmoluk from Pixabay
Week 18 Activities: 4/25/21 - 5/1/21:
| DAY | Amount Hive Saved | Hive Balance | Amount HBD Saved | HBD Balance |
| --- | --- | --- | --- | --- |
| | BACKWARD | | | |
| 4.25.21 | Beginning Balance | 163.450 | Beginning Balance | 10.461 |
| 4.25.21 | +0.85 | 164.300 | +0.025 | 10.486 |
| 4.26.21 | +0.84 | 165.140 | +0.026 | 10.512 |
| 4.27.21 | +0.83 | 165.970 | +0.027 | 10.539 |
| 4.28.21 | +0.82 | 166.790 | +0.028 | 10.567 |
| 4.29.21 | +0.81 | 167.600 | +0.029 | 10.596 |
| 4.30.21 | +0.80 | 168.400 | +0.030 | 10.626 |
| 5.1.21 | +0.79 | 169.190 | +0.031 | 10.657 |
I'm proud of my achievement.
The balance of my Hive Savings Account as of 5/1/21 is:
169.190 HIVE
10.657 HBD (made a computation error last week)
Since January 1, I have saved 69.190 Hive in just 18 weeks. In My HBD Savings, I've accumulated 0.657 in just 31 days by following the savings formula for the 365 Day Money Saving Challenge chart shown below. IT REALLY WORKS! and that's why I'm spreading the news.
Why not join in this fun initiative and start saving whatever amount you can. Tell me what your savings plan is. I'd like to hear about different ideas.
See you next week.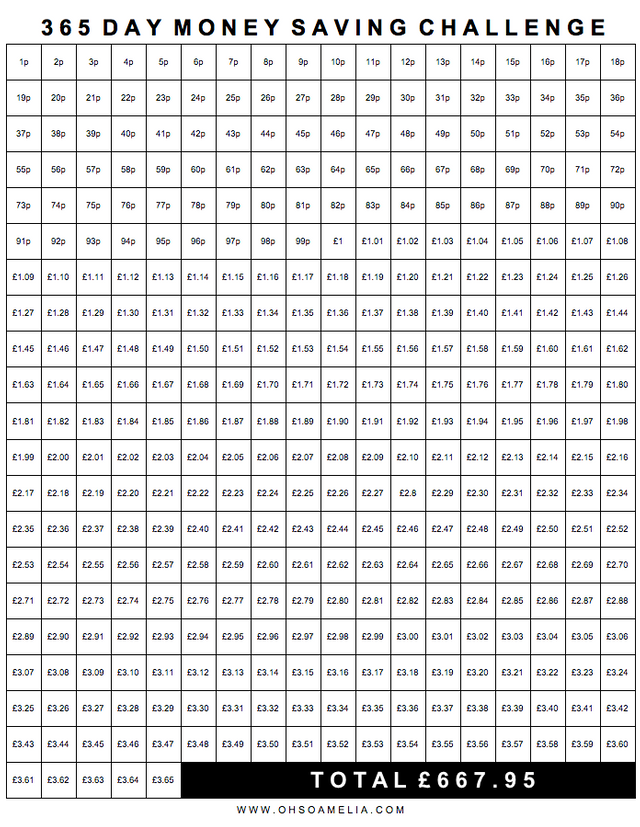 Proof of participation for Week 18: 4/25/21 - 5/1/21:


---


---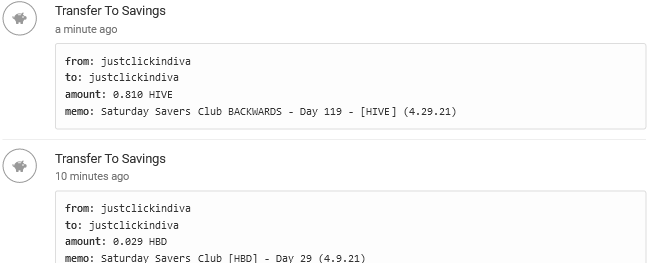 ---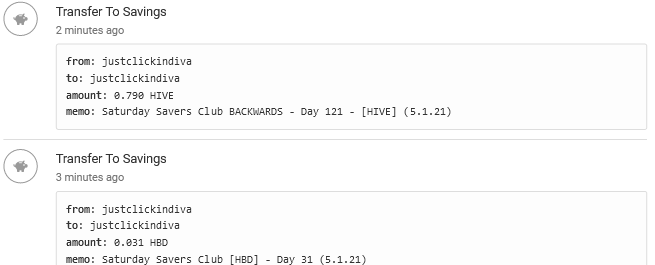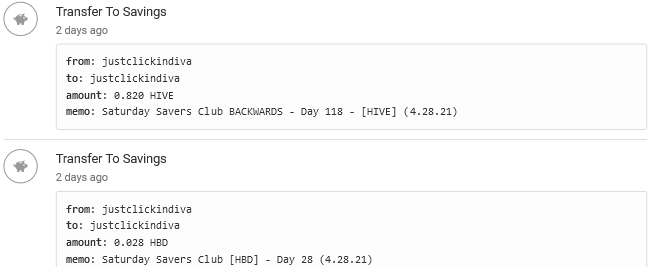 ---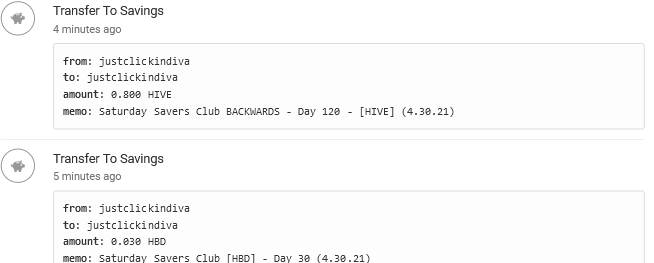 ---



@traciyork initiative #hiveblopomo (Published my Saturday Savers Club weekly update today for my blog)
@flaxz initiative #iamalivechalleng (Published my post for my blog today)

Thanks,
@justclickindiva
Happy rest of the week everyone with whatever your endeavors.



SOURCES:
a) JustClickindiva's Footer created in Canva utilizing its free background and images used with permission from discord admins.
b) Unless otherwise noted, all photos taken by me with my (i) Samsung Galaxy 10" Tablet, (ii) Samsung Phone, & (iii) FUJI FinePix S3380 - 14 Mega Pixels Digital Camera
c) Purple Butterfly part of purchased set of Spiritual Clip Art for my Personal Use
d) All Community logos, banners, page dividers used with permission of Discord Channel admins.
e) Ladies of Hive banner used with permission of and in accordance with the admin's guidelines.
f) Saturday Savers Club logo created by me @justclickindiva in Canva utilizing its free backgrounds and images.

Your Personal Terminal Discord Invite


---
---