Prepping my bug-out cave for the possible coming collapse of civilization
I have considered the situation on the planet and decided that it's time to head for the hills, or in my case, head for the caves. Life on earth has become a bit of a concern on the ground and it's almost time to leave. And I've found a nice cave at the coast here on the southern shores of Africa. I'm getting ready to sit this one out in my new cave which has a beautiful view.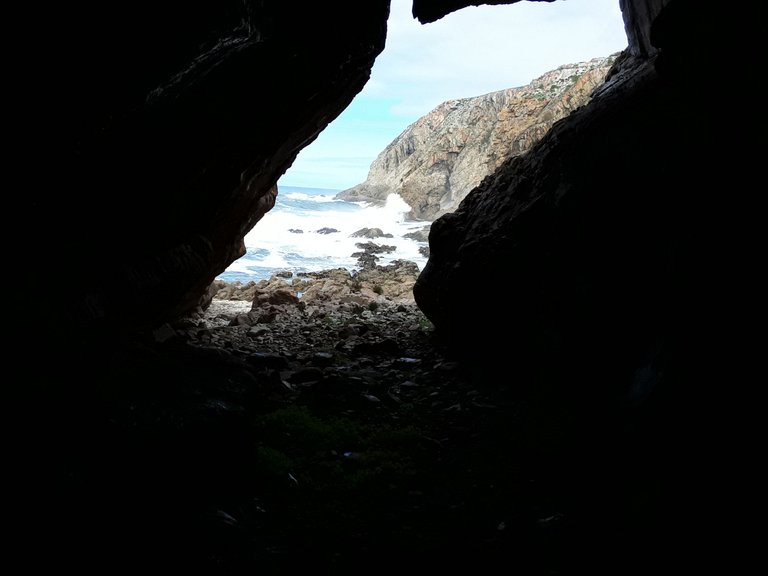 My cave with a view will shelter me from the coming storm. On one hand there is the alleged covid flu and on the other hand there is the wave of vaccination deaths and illnesses. It looks like the Agenda of the NWO elites is being rolled out, so the cave is my bug out bunker.
I don't want to get the covid flu and I certainly won't be taking the jab, which is not a vaccine but appears to be a culling device to thin out the herd on the planet. Bill Gates comes from a long lineage of eugenicists, people who want to reduce the world population. And this jab appears to be the mechanism they are using to deliver the culling device.
I could be wrong of course, but I have seen too many reports of people dying or getting sick from the jab. Also there is the rumor that the jab releases spike proteins or creates a cytokine storm which is contagious. In other words non-vaxxed people can be infected by vaccinated people. Those that took the jab are now walking zombies who are walking toxin factories. They are releasing the same killer poison that the jab should be protecting them from.
It's all become a rather absurd apocalyptic horror movie. Our leaders are sold out to the NWO elites and are pushing this pandemic narrative, which has crushed the economy and already killed many. Those that have survived and not been pushed into poverty or caught the Wuhan flu virus that was leaked from the lab, those survivors are now being given the jab. And the jab is the killer as thousands die from it.
Blood clots are killing so many who took the jab that it looks certain that the one leads to the other. Getting "vaccinated" leads to death by blood clot in thousands. That is an indicator that it's cave time for me. Especially since it looks like the global economy is tanking and social collapse is due. Add to that the possibility of world war, and it looks like everyone needs to find their cave as bug out time arrives.
As the world goes mad and turns on itself, I will step out of the firing line and out of civilization by retiring to my cave at the coast. I'm vegetarian but am willing to scavenge on sea food if it means survival. Many globally may run out of food too, so the supply chain may break down for everyone anyway.
Now I just need to build up my bug-out bag, the survival kit for the long haul. My cave has only rocks across the floor so I will need some bedding. There is no sand on my particular beach, only rocks. There's firewood around so a fire will be easy if I have a starter. It just needs some basic camping equipment, like pot, knife etc. Also a medical first aid kit will be important and some warm clothing.
Then of course the crucial ingredient is food and water. Fortunately there are small streams that run down the cliffs toward the shoreline. They may not be all year, so water will be crucial. I will need to stock up. Maybe I can start carting bottled water there over the coming weeks, bit by bit. This could be a vulnerable link in my plan. I wonder if there is a desalination system that I could use?
As for food, I will need to stock up on dry grains and pulses, perhaps oats. A few kilograms of those will see me through a few weeks. Long term survival might require more thought and planning. I'm no expert at this survival bug out strategy, nor do I have loads of cash to buy stocks. My money is in crypto, like bitcoin and Hive. I'm reluctant to power down and sell my Hive right now, so maybe it can sit there while I retreat to my cave for a few weeks or months.
When I return to wifi connectivity, I may be able to sell a small amount of crypto each time for more rations. That's if I can keep my laptop and phone charged up and tap into wifi. It all depends on how the cookie crumbles. Who knows how fast things could escalate? Or what will still be up and running in the infrastructure? Obviously I'm still hypothesizing and considering the worst case scenario. At least I have the cave available. If things get worse on the ground then I will up my game and implement the next stage of my bug out plan.
Life has never looked so bad on the planet in my half century of life, and that cave has never looked more attractive. It's good to be prepared either way. Civilization has reached this point. Collapse looks more possible than ever and we are at the most vulnerable time in modern history. If the vaccine police start going door to door, then we know it's time to bug out big time. Get your cave ready guys.
(photos my own)
---
---