This trip back to Germany was further proof to me that the COVID 19-84 thing is just about control and coercion.
I returned from Italy on Tuesday night. Whenever I go back to Germany I am always confronted with the letters and papers I have in the buro after being away for more than three weeks. But well, it's not about my German problems that this post is about so I'd better get to the point.
On Sunday, three days before my trip I received an email from Ryan Air, the company I was flying with, informing me that in order to enter Germany I needed a negative PCR test, otherwise I could not fly. And well, I also needed to register online in a list where you have to give the details of the flight you are arriving in Germany, your place of residence and personal contact details. All this without counting the paper that had to be done for the Italian authorities that I had to hand in at the Italian airport when entering. On that paper you put, apart from your personal data, the data where you come from, where you are going and why.
I had never had a COVID test of any kind. The simple idea of letting something up my nose has always seemed unnatural to me and the comments from my friends who had done it that it felt like they were sticking the isopod up to your brain didn't help much. Well, this time it was my turn. I had the test done on Tuesday morning and I can tell you that I still have a strange sensation on the right side of my nose. Oh, and it is not free, the cheapest test costs 25 euros.
Well I took the test as I said, filled out all the necessary papers for Italy and downloaded the confirmation document for registering on the German website. On Wednesday I arrived at the airport in the city of Milan with all these papers in hand. Entering the airport there was a policeman who asked me for the paperwork for the Italian government. I of course, thinking it was mandatory and important gave him also the paper of the test. The policeman simply looked at the paper and told me that it was not necessary, that what was important was the other paper with my data.
Of course! The test was only required by Germany to enter, how had I forgotten that 😅.
---
Once inside the airport transit area, every ten to fifteen minutes they repeated an audio that said something like "Together against COVID, all passengers are reminded to keep a safe distance of 1.5 - 2 meters between people and to keep their masks on at all times". You can imagine how many times I heard that audio because I arrived about two hours before flying to the airport. Well, it was time to board the plane and the people checking the ticket and passport started asking for the registration confirmation document on the German website. When it was my turn I tried again to show the negative proof of COVID and again I got the same answer, that it was not needed.
How stupid of me! I had forgotten again, the test was only required by Germany to enter 😅.
---
And here something really bizarre started to happen. When we went down to the runway they put us on a bus to take us to the plane.
Well, we were waiting almost 30 minutes in the bus and it was full of people!
---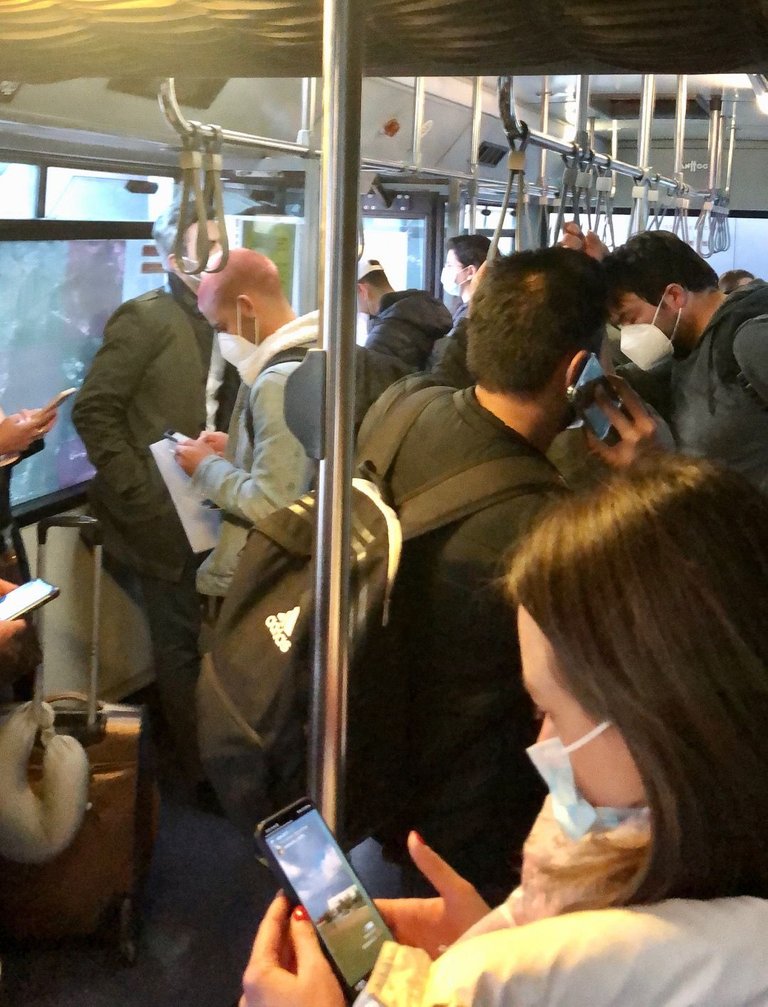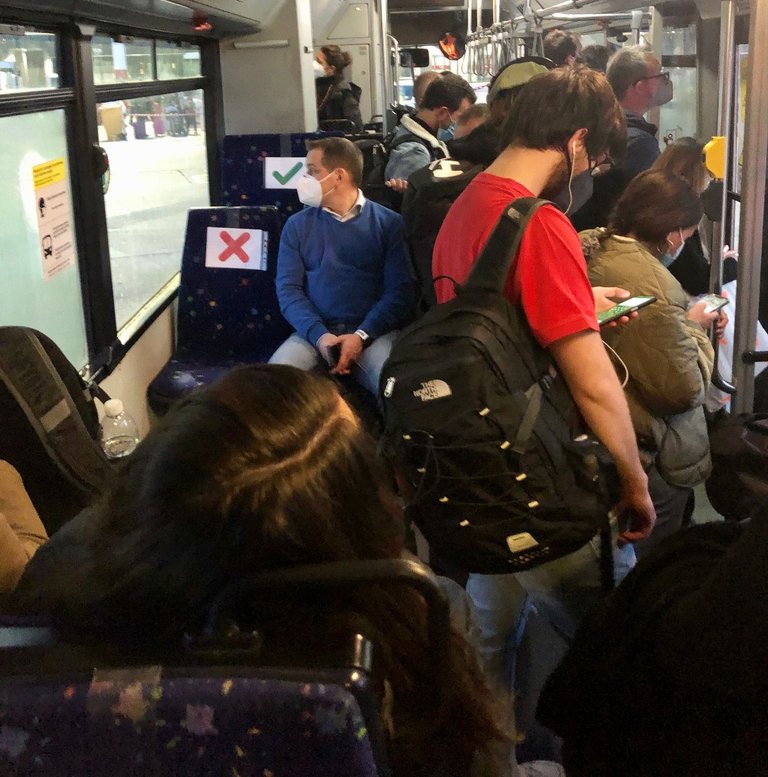 After spending almost two hours at the airport listening to the audio about the need to keep a safe distance, this seemed like a bad joke. I should clarify that I personally have no fear in approaching anyone, I don't even care to wear a mask, because I don't think that would work at all and I am one of those who get angry when someone forces me to do something I consider unnecessary. And well, the fact that they put us all in the bus like this for so long, was for me one more proof that all this was unnecessary.
But the most bizarre thing happened at the moment when the bus started and simply turned around the plane in front of us and stopped next to it.
Well yes, the plane in front of us was our plane, there was never any need to get on that bus.
---
Do you see in the photo how close the plane was to the airport? Do you also see how they piled us all together to get on the plane? And well, in the plane, which was completely full, we were side by side.
When we arrived in Germany, at the exit of the transit area of the airport, there were two policemen who simply asked if you had the document downloaded from the German website. I didn't even bother to show them the result of the medical test and, of course, they didn't ask for it 😏.
The only paper that was really valid from a medical point of view was the only paper that I carried during the trip for pleasure because none of the "authorities", neither in Italy nor in Germany, were interested in it. They were more interested in the papers where all my personal data were and by which, supposedly, they could keep me "controlled" or at least it seems to me that this is what they want people to think.
I have realized that I have spent 25 euros not to prove that I am COVID negative but to prove how little governments really care whether people have the, misnamed, pandemic or not. This is definitely not about a respiratory disease that can kill us in 0.02 percent of cases but more about the "mental illness" of those who govern us.
The mental illness of wanting more and more power over us.
---

30% from the rewards of this post are going to @pob-fund.
---
Posted via proofofbrain.io
---
---