Polycub airdrop issue (or lack of communication) + CAKE insane APY (6.800,74%)!

I'm sure that it has happened to more than just to me, but we all have not found any answear to the issue.
Whats seems to be the problem?
I wasn't able to claim the polycub airdrop for 2-3 weeks now. I think that 60 days since Polycub have already passed, but I'm not really sure I was able to claim all.
Is there any way for you to check if you have claimed everything you were eligible to?
Furthermore, this is confusing when you check airdrop balance on cubdefi, which states there's still some "pending Airdrop".

All of this (if there's nothing more to claim) might prove me being a moron, but on the other hand this is a example of communication issue, because others have been complaining about the same issue.
**CAKE APY 6871% **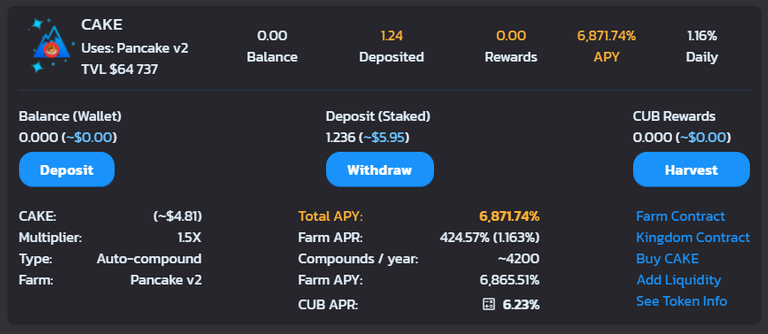 Since I have your attention, what do you think about CAKE kingdom APY? I'm looking for a way to recover from CUB depreciation and I wonder if it would be a good idea to move my CUB holdings (that made my total profit go away to the land of eternal hunt (-68.54%)) into CAKE Kingdom to use this insane APY and recover quicker. Do you know why Cake Kingdom APY has reached this high value?
Posted Using LeoFinance Beta
---
---