Crafting Production Instruments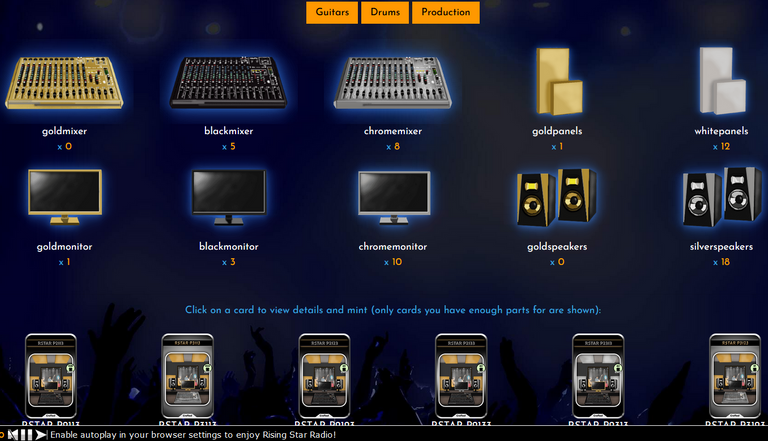 As promised, I started investing my Starbits into crafting some Production instruments, I gather a maximum of parts at the moment as it seems really difficult to get the gold ones.
As you can see I could craft some cards, but it would consume the goldmonitor. O prefer to stack them for now, until I got everything to make the P1111, for that I still need a goldmixer and gold speakers (not yet found any of those)...


I crafted some already, to help my keep my top 30 rank, but it seems also more and more competitive in there.
StarPro
I asked in the discord what are those STARPRO new tokens, but I haven't got any reply yet, so, if YOU know what it is, feel free to tell. I suppose they keep it mysterious atm on purpose.
Coffee and whisky
I am using a lot of coffees at the moment with the craftin, cool, cause it was kept unused for a long time now, good to see that I can use them again.
For the whisky, I use them to trap the drunks, and I dump them away when I know I will go on lessons and crafting. Cause as I mainly do high level missions, those bottles take several thousands of drunks at once, not that easy to use them in a productive way afterwards.
Pizza and Cake
I have enough pizza slices to do my daily routine, I think that as soon as I get the cake, I will try to sell some of my pizza boxes.
Instrucments and lessons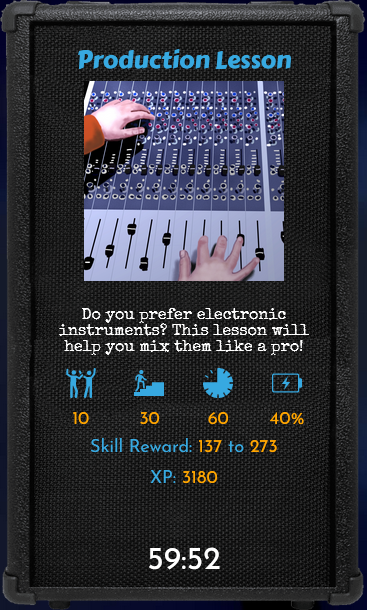 My choice is still the production lessons, upto 273 skill points per mission, and as note here above, I craft the production category at the moment. It mught change later, but for the moment I focus on them.
Stats update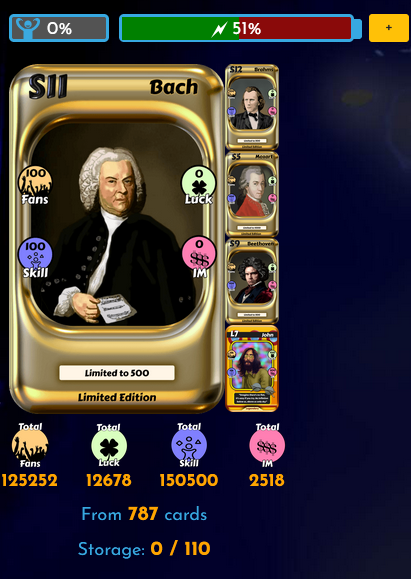 Really not easy to climb that ladder, lol.
Wanna try it out ? Just join in here : https://www.risingstargame.com?referrer=itharagaian
---
A bientôt,
≋𝕴𝖙𝖍𝖆𝖗𝖆 𝕲𝖆ï𝖆𝖓≋
@itharagaian
≋≋≋≋≋≋≋≋≋≋≋≋≋≋≋≋≋≋≋≋≋≋≋≋≋≋≋≋≋≋≋≋≋≋≋≋≋≋≋≋
Helping my projects / Tipping :-) ???
Helping the author : https://www.paypal.me/Lordolivier
We of course accept cryptos:
All the ones on Hive-engine
Steem / SBD /Hive / HBD
BTC : bc1qxtaam3mq62kpa0vlafjlpdfluqt6anh22qyu3k
DASH: Xuetc3zEDQfx7WGHpJUtPdrgB4tQJEQbat
DOGE: DD5MZYCeEA68D4FLNmqt51VUEg8mG3yeHR
LTC : ltc1q32fq9ae55l0zmrqjc5h763s8x0y2dv7pwk699c
ETH : 0x710c5Ea59F8ae07b7C005C516B7865CDd94Fa52a
All donations are appreciated and welcomed,
thank you.
≋≋≋≋≋≋≋≋≋≋≋≋≋≋≋≋≋≋≋≋≋≋≋≋≋≋≋≋≋≋≋≋≋≋≋≋≋≋≋≋
---
---