Friendship at first sight or wait....is it love at first sight?
I met Eunice, and my life has never remained the same. I have gotten used to having friends that I have to support emotionally. So meeting a different person who doesn't need emotional support to live is so relieving.
Eunice is a jovial lady, and she takes life at face value. She understands everyone has to get what they want out of life by their actions and attitude. She has a positive attitude and this is the best part of her that I appreciate so much.
This is a change from listening to my old friends whine about life every day and at the slightest provocation.
I look forward to always meeting her and for the first time in my whole life, I am opening up to someone of the same sex without the fear of being judged. She is also comfortable around me because she opens up about certain topics that I can swear I only talk to guys about, never with a lady.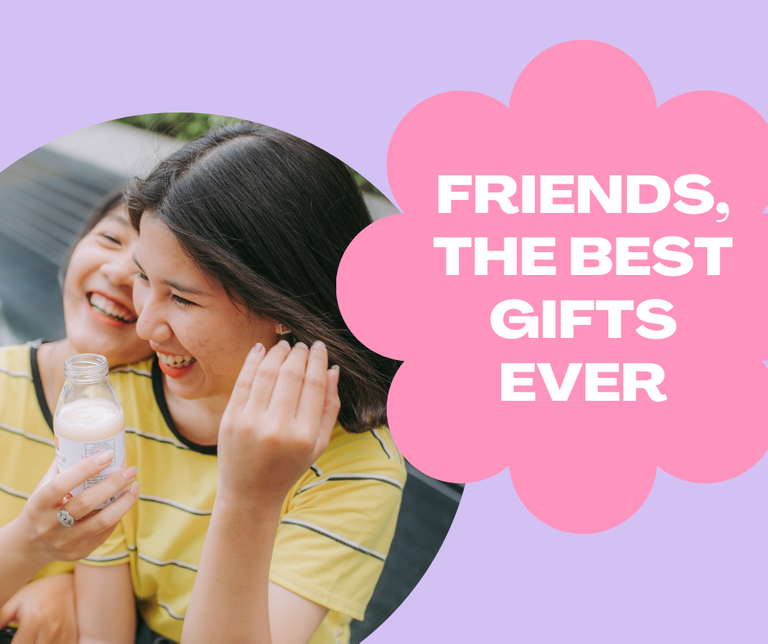 Image edited with canvas
It's so fulfilling, that I have forgotten to speak to an old friend in one week. I just checked my phone and found I have called Eunice more times than I have called anyone. She takes my entire day and I am not complaining.
The other me would have complained about needing my own time. Instead, my spirit identifies with her, and always wants to be around her too.
I am conservative, and would always want to spend time alone. I had gotten used to this life, until my favorite author said, "never build a fortress around yourself, isolation is not good". He also advised that I spent time with the gregarious instead if I am always prone to isolation.
I couldn't do the last part because all my previous friends were isolated beings too. So when I met Eunice and she had the gregarious spirit that my author asked me to roll with, I let my guard down, and allow her to lead me on.
In the last three weeks, I know a lot about her, and I can tell what she would do and what she wouldn't do. Interestingly, I know that somewhere in that jovial and happy personality, there could be pain lurking. The mere fact that she can switch between the phases is a good thing to me.
I always feel it's better if the world doesn't know you are hurting. I feel we all should always try to keep our pains to ourselves or to the people that are closest to us. The world shouldn't be able to figure out we are struggling with something.
Do you think this is a terrible way to live? Always hiding our pains? I can't tell either.
Eunice allows herself to enjoy the abundance that life offers with open arms and a gratitude-filled heart. She doesn't allow things to bother her for too long. I do this too. I allow the things that I can solve to bother me, then, let go of the ones I cannot solve.
Recently, we added a new friend to the list, while deleting some. We made Dorcas close, sent Blessing packing for a few days, and today, we included, Korode, and now the number of people I know in Abuja just increased.
Whenever Robert Greene says, love is a psychological thing, I believe him. Now, this has transcended into friendship for me. Friendship has become a psychological thing for me too.
Now, I am beginning to think everything is a psychological thing. The way we respond to the influence of another is as a result of the psychological effects they are having on us.
I wouldn't be surprised if my friendship with Eunice and Dorcas grows deeper. I have no idea where it will lead. At least for the first time, someone is my friend without having to ask for permission to become one. It has happened just as love at first sight does.
The most amazing thing happened today. This morning I was supposed to publish a post for the blog I am currently working with. I was late. I woke up late. This was a post that was scheduled for 7:45 am. As of 9:30 am, I wasn't done. Then Eunice called, she did a video call on Whatsapp. I responded. She ended the call because she had to attend to something very quickly. I was happy.
After a few minutes, she called back. I didn't respond. She called again. I dropped her messages on Whatsapp.
"Hey, please give me a few minutes let me edit and publish this post. I am already late. I should have finished since 7:45 am."
I saw the read receipts, and she ended the second call.
When that happened I was surprised. I have never done this before. I do not explain to anyone why I do the things I do. This includes missing calls and canceling them. Never, but here I was explaining to someone I just recently met. Someone I just recently explained that I write for a living. And she understood. Gosh. That was mind-blowing.
Right now, I can say my life is changing every day. Maybe, all of these attributes have been here. Hidden. Waiting to be awakened. I didn't realize I needed to have someone I can rely upon and explain my actions too. Now, I have one and I'm grateful to the universe, for bringing her.
---
---